The real estate industry is one of the most competitive industries with an over-saturation of agents and brokers competing to win the same clients.
51% of customers want businesses to be available 24/7, which is why it is crucial to be available around the clock, in order to prevent the loss of a potential buyer. 
Live chat for real estate websites can be very helpful at such times. It enables you to quickly convert potential buyers into paid clients.
In this article, we'll discuss live chat for real estate top benefits, the installation process, and more. If you are looking for the best live chat software for real estate then keep reading to get to know all the things.
Top Benefits of Live Chat for Real Estate Business
Over the last few years, live chat software has evolved into a full-fledged real estate CRM solution. This is possible because today's chatting software is not just about instant messaging, it's also built with powerful CRM and marketing tools.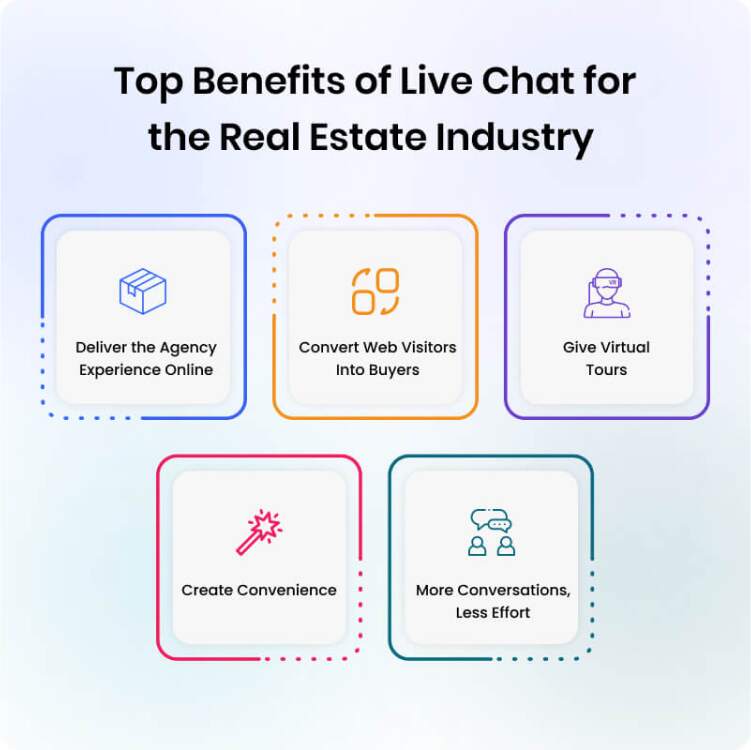 Live chat leads convert at an average rate of 7.5% – nearly 3x higher than the 2.7% average for general online real estate leads.
Live chat for the real estate industry has become a necessity for professionals working with clients over long distances. 
Research shows that real estate agents and property managers who use live chat for the real estate business find that it improves customer relationships and saves time and money on advertising, marketing, and managing telephone calls.
Let's take a look at some of the key benefits of live chat for the real estate industry; 
1. Deliver the Agency Experience Online
The real estate industry is one of the oldest and most time-honored businesses in the world. But this seemingly traditional business isn't immune to disruptive technology that has changed the way we live our lives and conduct business.                          
One new disruptive technology that is shaking things up in the real estate industry is live chat software. Without live chat, you can't deliver the agency experience online. 
With live chat software, you can easily transform your website from a mute brochure to a digital service desk. 
Plus, live chat software allows real estate agencies to dramatically increase customer service, which has the potential to drive revenue growth for organizations of all sizes and industries.
2. Convert Web Visitors Into Buyers
It is always a great idea to consider the advantages of live chat support for your website to convert web visitors into buyers. 63% of customers said they're more likely to return to a website that has a live chat.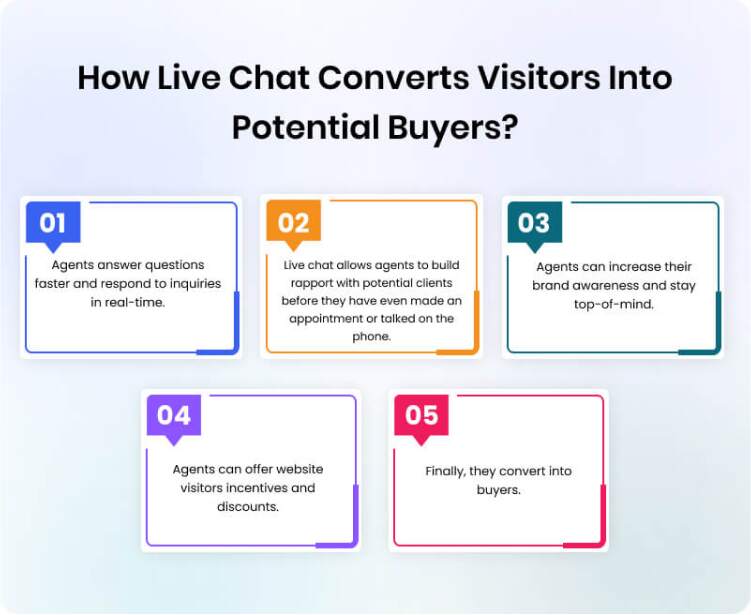 How live chat converts visitors into potential buyers?
Agents answer questions faster and respond to inquiries in real-time 

Live chat allows agents to build rapport with potential clients before they have even made an appointment or talked on the phone 

Agents can increase their brand awareness and stay top-of-mind 

Agents can offer website visitors incentives and discounts

Finally, they convert into buyers
3. Give Virtual Tours
In today's competitive market, many buyers begin their search online and can be easily convinced by a virtual video tour of the neighborhood and property.
Sometimes a customer wants to buy overseas property. Sometimes, they lack the time or are unable to book an appointment. When the physical demonstration is problematic then the live chat for real estate websites enable interactive virtual tour for the customers. 
However, when people are considering a real estate purchase, they want to be able to visualize the space. 
Unfortunately, many agents may not have the software or know-how to offer virtual tours. This could impact their ability to convert web visitors into buyers. In this case, live chat software for real estate can be a groundbreaking solution for the business. 
Benefits of providing virtual tours:
Virtual tours provide customers with an easy way to see a property without having to go through the hassle of scheduling a showing.

It can create a more personalized experience for your audience.

It gives the clients ability to explore a home or property on their own time and on a device of their choosing.
4. Create Convenience
Whether the issue is with a specific property or with a realtor, buyers, and sellers need to have their queries answered as quickly as possible.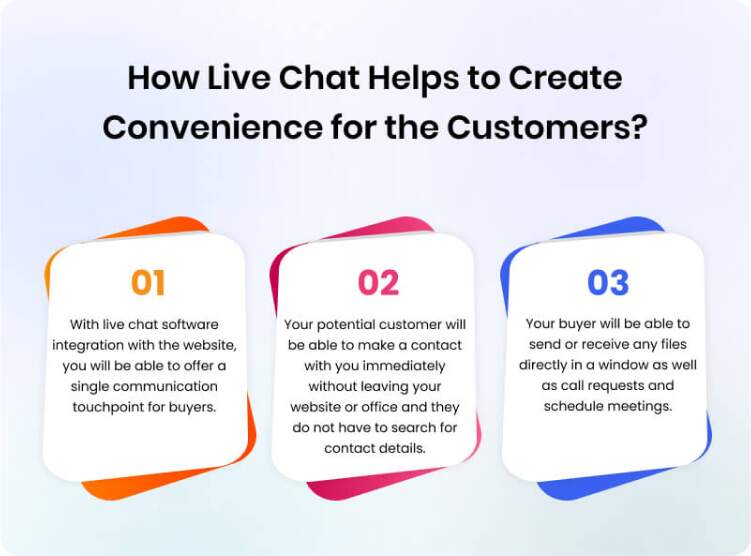 How live chat helps to create convenience for the customers?
With live chat software integration with the website, you will be able to offer a single communication touchpoint for buyers. 

Your potential customer will be able to make contact with you immediately without leaving your website or office and they do not have to search for contact details. 

Your buyer will be able to send or receive any files directly in a window as well as call requests and schedule meetings. 
5. More Conversations, Less Effort
Buyers now expect more interaction with businesses. In 2016, more than 40 percent of consumers who traveled to a local business said they made a purchase after having a positive online interaction, according to a 2016 report by Investopedia.
The benefits of live chat software for the real estate industry may not seem all that apparent, but when you look at chat from the perspective of the customer. It's one of the best things in terms of increasing lead generation and sales.
Key stats:
On average, sites with live chat get 88s% more page views per hour than sites without live chat. Customers who have a live chat agent on their site can expect to have significant traffic increases. 

Marketing professionals who are already using live chat see an average of a 58% increase in site visits and a 19% increase in gross profit sales.
Top Live Chat Software Platform for Real Estate Companies
REVE Chat is the top live chat software designed for real estate companies (brokers, agents, etc.). It helps agents provide their customers with better and faster support in a single online place. 
REVE Chat is the top live chat software platform for real estate companies because it has everything you need to implement a full-blown customer support approach to online lead management.
Key Features of REVE Chat:
Fully integrated into your website, which means your available agents can start chatting with visitors instantly.

Advanced pre-qualification logic that allows agents to engage only the most interesting leads and run lead generation campaigns through the platform.

Integrates with popular CRM and

marketing platforms

. Use the platform effortlessly together with your automated lead follow-up emails and call nurturing campaigns.

The platform allows you to send targeted messages to each visitor based on his or her interests, visitor's license plate, previous visits to your website, and many other parameters.

It lets you easily view chat history, as well as manage chat sessions in your CRM system.
How REVE Chat Can Help Your Real Estate Business? 
Whether you are a real estate agent or investor, a broker, or a property manager, live chat can help you increase your business.
Over the last 20 years, the real estate industry has transformed from a retail-centric model to a full-service model.
The internet has changed how people search for homes, and agents must now be prepared to meet their customers at any number of touchpoints throughout their experience.
The result? A real estate agent's typical day could consist of talking on the phone, text messaging, emailing, or even engaging in conversation via Facebook Messenger or WhatsApp.
This growth in digital communication has made it necessary for real estate agents to implement live chat software into their daily routines.
Real estate companies that use live chat not only see increased productivity of their agents but improved customer satisfaction as well.
How to Install REVE Chat's Live Chat on Real Estate Business Websites?
Installing the REVE Live Chat Software is not complicated. Now I am going to tell you 4-simple steps to install the REVE live chat software to your website hassle-free. You can do it by yourself or your website IT administrator can help you to complete the installation process. 
So what are you waiting for? Let's see how you can easily integrate REVE live chat software simply.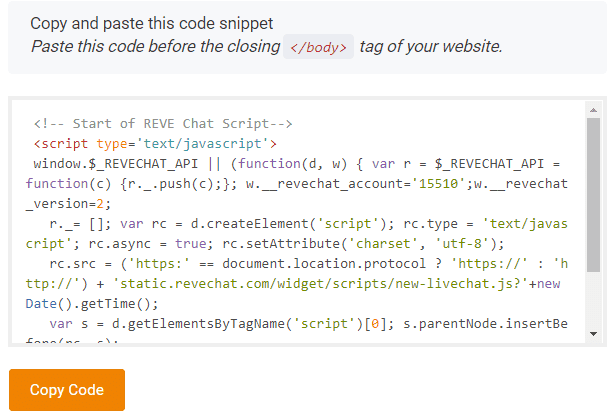 Step 1: the first stage started with signing up with the right credentials in the REVE chat dashboard. After logging in successfully it will take you to the How To Install REVE chat on your website. 
Step 2: Once you click the "How To Install REVE chat on your website'' you will see two options which are:
Install REVE chat code manually 

Email the code to the IT administrator 
Step 3: If you select the first step which is "Install REVE chat code manually'' you can paste the code manually before the </body> tag on your website page.
Step 4: If you do not have the required credentials to log in to your website then you can email the REVE chat code with the required instruction to your website IT administrator.
Why is REVE Chat the Best Live Chat Solution for Real Estate? 
Live chat support has become a necessity for real estate agents. Everyone is aware of how the real estate market is evolving and the importance of having a strong web presence to lure potential clients.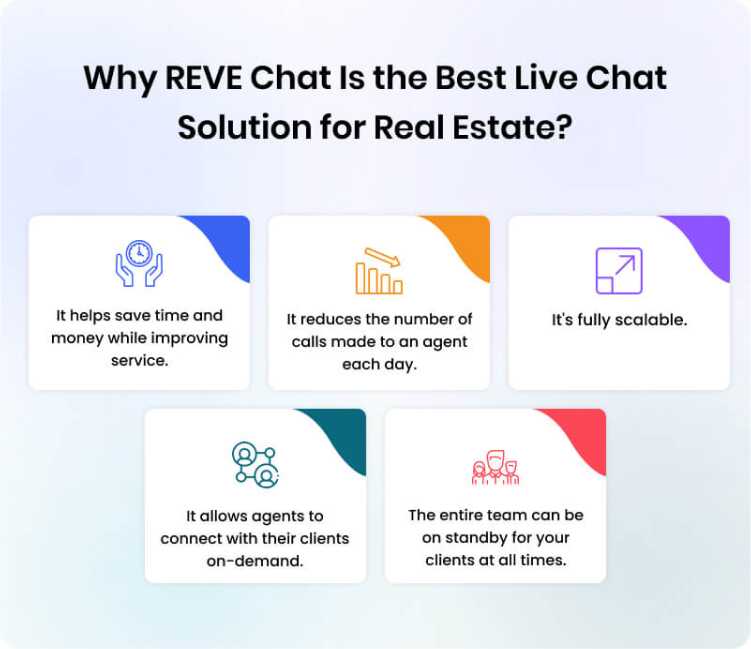 It is necessary for real estate agents to keep their clients engaged via web and social media for them to be able to convert them into paying customers. Most real estate agents are trying to cut costs by obtaining free forms of marketing like paid Facebook ads, blog posts, and newsletters. 
However, this strategy doesn't always work as expected because there are no live agents behind these platforms, who can respond to questions or resolve problems quickly.
Where realtors see the biggest benefits of using live help software is in the area of customer engagement. Now let's take a look at some of the key points why REVE live chat is the best live chat software for the real estate business. 
It helps save time and money while improving service. Agents can more quickly communicate with clients and get them what they need on time. For example, if a client has a simple question about paperwork or a property showing, they can ask questions without a phone call or in-person meeting. 

The agent can answer their questions quickly and move on to more important tasks. This reduces the number of calls made to an agent each day, which saves time and money by reducing the cost of cell phone plans and other expenses associated with staying in touch.

It's fully scalable. You can start with one agent and easily add more agents as your business grows.

The entire team can be on standby for your clients at all times. There are no limits to the number of people you can have on your team.

It can boost your customer support with

faster customer response time

and help you achieve better customer satisfaction.

It allows agents to connect with their clients on demand. This reassurance to buyers that can get help at any time of day or night when they need it, allows them to make smarter decisions that they feel are in their best interests.
Summary 
It's important to give the visitor a personalized experience and live chat does this by responding in real-time and thanking them for visiting which makes them feel special and valued.
Live chat has the highest customer satisfaction level of 73% versus 61% for email support and 44% for phone.
Live chat for real estate can be used to provide the visitor with useful information regarding specific listings, the location, or even useful tips about homeownership.
REVE is simple and easy to set up. We partner with the top real estate CRMs and MLSs to power your online presence. 
With REVE, you can instantly start a live chat with any website visitor to convert them into leads or to answer any questions they have before they become a lead. Sign up now and enjoy a 14-day free trial.