Have you ever contacted a business and waited for a few days to get an answer? Well, if you are like me, you have struggled with this scenario more than once. Brands that take the effort to make their customers feel special almost always secure a spot in their customers' hearts. 
Businesses that believe customer service is more of a cost center, tend to downplay the importance of proactive customer service. When we compare reactive vs proactive customer service, it's very clear who has the upper hand in delivering a better customer experience (CX).
A moderate improvement in CX would impact the revenue of a typical $1 billion company an average of $775 million.
Being proactive in customer support helps you to identify and resolve issues in the preliminary stage. This maximizes the number of important SLAs, comprising first call resolution, and reduces the rate of escalated calls.
What is proactive customer service?
Proactive customer service means anticipating and identifying potential customer issues and addressing their issues proactively before they face them. A proactive approach can take many forms from forums, knowledgebases, FAQs, instructional videos, and face-to-face visits.
Proactive customer support is going to be an integral part of next-generation customer service. It will allow businesses to make a move to help customers. Usually followed, the reactive, methodology is premised on the assumption that the customer seeks help either via phone or email to resolve his issues.
Why proactive customer service is important?
Proactively enabling your customers to help themselves empowers the customer and improves the overall customer experience. 40% of customers want companies to focus on taking care of their needs quickly. The future of service belongs to those who deliver proactive, convenient, and personalized service in the customer's channel of choice.
A proactive approach of customer support makes your business productive with many benefits such as:
Improve customer loyalty
When customers see businesses making extra efforts to anticipate and solve problems before they occur, they feel valued. It goes a long way in building long-term brand loyalty and advocacy. Proactively communicating concerning possible problems helps you establish a reputation for transparency and it builds trust with your customers.
Reduce support requests 
Approaching customers proactively helps businesses in learning customer pain points and guide them using customer engaging tools before they become big problems. Eventually, it reduces the number of customer request tickets.
Acquire new customers 
When you like a brand you certainly refer it to your friends. The virality effect of word of mouth helps in acquiring new customers. Adapting a proactive support method helps you to reach out to prospective customers, and encourage them to go with your brand.
Create brand advocates 
Proactive customer service offers you the chance to not only reduce unhappy customers but turn them into brand advocates in the process. The happy customers advocate your brand by sharing their success stories across social media and refer the brand to friends & colleagues.
Reactive vs Proactive customer support
When it comes to reactive vs proactive customer service, the difference between the two is quite clear. The main variations are as follows:
Proactive support entails reps taking precautions and being beforehand ready for certain issues they anticipate to relieve the frustration of customers. On the other hand, reactive customer service lacks any preventative measures, and simply requires customer care agents to take action once customers raise their concerns.
A proactive customer service approach is imperative for brands focusing on being customer-centric. It can relieve the client's & agent's frustrations, allow better flow of communication, and easy resolution. Businesses following the reactive support approach face loss of income due to operational downtime, repair costs, dissatisfied customers, and damage to their reputation.
How to implement proactive customer support (with examples)
A proactive customer service approach provides ample opportunities to meet customer expectations, strengthen client relationships, and boost the value of your customers. Starting from using proactive triggers to the visual engagement tools or automated support through chatbot, delivering an excellent customer experience is should be the end goal. Implementing a proactive approach often requires a strong customer experience strategy, as well as an investment in new technologies. 
Here is a list of tips and best practices to be followed for a successful move proactive approach.
Let hop into the comprehensive discussion on the strategies to improve your customer support and deliver a better experience.
1. Plan a customer-centric strategy
Streamlining the focus towards defining a customer-centric strategy is the key ingredient of delivering effective customer service. Broadly, it means offering a great customer experience by proactively guiding the customer in their entire buying journey and even post-sale processes.
Here are the best practices for an effective customer-centric strategy.
Revamp your customer communication strategy
Choosing to communicate with visitors proactively helps to convert them to loyal customers by building a strong trust. The tip to be a customer-centric company is to plan & employ a well-mapped customer communication strategy. Hence, it is important to understand what your customer wants and use customer data to gain valuable insights. 
Make proactive support an organizational goal
Being proactive mainly means foreseeing the problems of your customers and initiating contact with them to assist against the consequences in their journey. For acquiring new customers and delivering better customer satisfaction, proactive customer service should be made an organizational goal.
Use of right customer service tools
In order to understand customer behavior of their overall journey, you can use different marketing tools, feedback, live engagement, or sales tools. Visual engagement tools like video chat, co-browsing, screen sharing make the communication personal and contextual. It allows real time collaboration, identifies issues faster, and delivers personalized resolutions.
2. Provide real time omnichannel customer service
Modern-day customers choose their own preferred channel such as website, social media, Facebook messenger, etc. to connect with brands. By being where your customers are you can deliver the best omni channel customer experience no matter how a customer reaches out.
Often customers look for support while perusing a website. If you keep waiting for them to contact you through a communication channel, you are possibly losing valuable business. Live chat is the best solution to provide real time assistance to customers.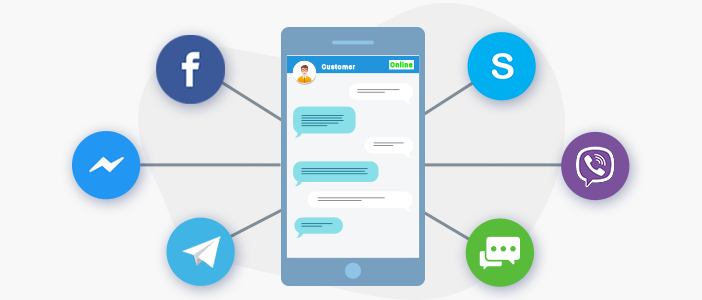 Amazon for example anticipates questions on delivery dates and times, notifying customers in advance of any delays via email.
Key ways live chat helps to improve proactive customer service across all channels.
Proactively offering live chat to customers encourages them to take the next step in the sales cycle. 

Live chat eases the entire process and at the same time adds a human touch to an automated interaction. 

You can deliver real time assistance to your website visitors & customers by implementing live chat. 

It helps to gain valuable insights through customer analytics and learn their behavior. It helps further use the

proactive live chat triggers

.
3. Make the best use of live engagement tools
Stats show that maximum customers prefer complete engagement in real-time rather than just call support. Using the live customer engagement tools have changed the way companies interact with their customers.
Proactively engaging visitors and customers when they land your website through visual engagement tools like co-browsing, video chat is one of the best ways to make the conversation effective.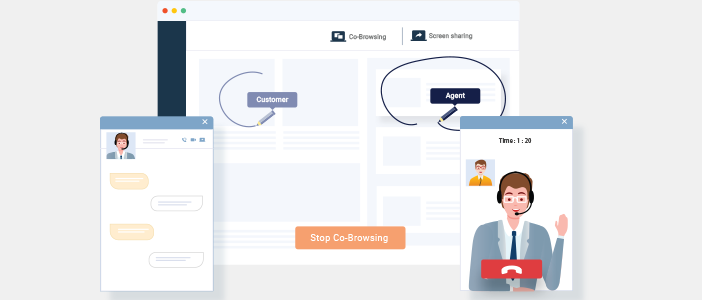 How live engagement helps to improve proactive customer service?
Getting connected with the customer face to face in real time helps to

gain a first-hand understanding of the problem

and offer an effective solution in fewer touchpoints.

Visual tools enable agents to identify the root cause of the issue that might not be conveyed rightly over chat by improving the resolution time. 

Customer support agents can combine video chat with co-browsing

to make the support session quick, conversational, and productive.
4. Personalize your communication
Gaining insights through visitor analytics has made communicating with customers so fast, flexible, and personal that it is also changing customer expectations and behavior. They expect businesses to understand their needs and provide relevant and desirable information and solutions. 
Personalized communication often sets a tone for future relationships. Engaging with customers across their preferred platform in real time makes customers feel comfortable and develop trust for your brand. 
AT&T helps their subscribers avoid the kind of shock they generally get from the bill they receive and fail to understand, which results in confused inbound customer service calls. To combat the issue, they started providing a link with that first bill, which leads customers to a personalized video that walks them through their bill.
Customers do not value the companies that don't make the effort to communicate in a meaningful and pleasing way. Hence, understanding the customer's perspective to deliver service is a great way to retain them for a longer time.
5. Measure your customer support effectiveness
Customer service metrics and KPIs are vital because they provide a look behind the scenes at how businesses interact with customers.
Measuring the customer support effectiveness helps to understand the workflow and effectiveness. Using the different metrics helps you to measure the customer service level of your company. 
Key customer service KPIs to measure customer service success are as follows: 
First Response Time (FRT)

– It refers to the time between the chat made by the customer and agent responses.

Customer Retention Rate (CRR)

– It refers to the quality of customer service offered. Higher CRR is the result of a 

great customer service

experience.

Customer Satisfaction Scores (CSAT)

– It evaluates the client's service satisfaction with your business, products, or services. 

Average Resolution Time (ART)

– It refers to the total time taken by the team to resolve the support ticket once it is looked upon. It is measured in days or online hours.

First Contact Resolution (FCR)

– It gives you insights into how good your agents are at understanding and addressing a problem without needing multiple interactions.
The above metrics measure how effective your customer support is and how willing your customers are to recommend your product or services to other people.
Copa Airlines for example implemented a live chat virtual assistant to reduce the communication friction so that customers can contact the chatbot 24X7 with questions about their trip and resolve issues accordingly. 
Best practices to improve customer service.
You can reduce your response time by scaling your support agents or deploying a

chatbot

 that

 can handle the basic queries 24×7 when your agents are busy or unavailable.

A higher CSAT score indicates better customer satisfaction. Implement the ways to collect qualitative & quantitative feedback, that helps you know the areas working well and the gaps that need to be improved.

You can optimize the FCR metric by training your customer support team to improve their communication skills and deliver quality service. You can provide

live chat scripts

and customer surveys to improve resolution in the first interaction itself.
6. Make your team trained with your product knowledge
57% of customers will give up on an online purchase altogether if finding the answer to their question proves too difficult. 
It is one of the big risks for businesses that can't be afforded. Hence, having a knowledgeable team for both sales and customer support results in enhanced customer trust on a one-to-one level.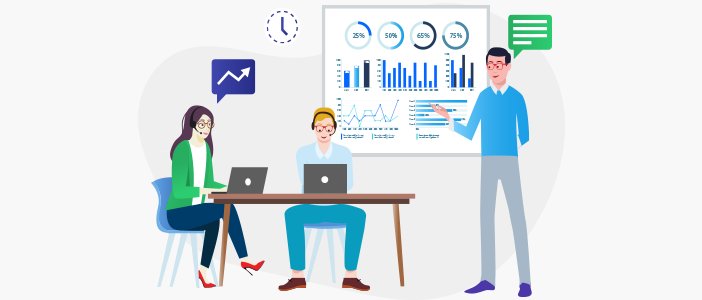 For example, Debenhams, the UK Retailer offers online buying guides via its website. Such services drastically reduce the rate of exchanges and returns while also saving on costs and freeing up resources.
A well trained with in-depth product or service knowledge has the following benefits.
Boost sales conversion –

When the support team handles the queries by providing quick and authentic answers, it encourages customers in making quick purchase decisions.

Quick resolution of customer issues –

Roofing a well-trained staff across your core products and services, helps in addressing faster and provides effective solutions to all the queries.

Positive customer reviews –

When customers receive superior customer service backed with efficiency and knowledge, it impresses customers. And they share positive reviews about their experience, which impacts brand credibility.
Note: Many companies have made thorough product knowledge an integral part of their brand and culture.
7. Create a knowledge base for proactive support
One of the ways to offer proactive support is to make easy ways to find the answers to common queries on their own. 
An HBR survey found that customers were 86% more convinced to buy a product and 115% more convinced to advocate if you update self-service information about your products & services.
Offering proactive support in real time means the customer support team needs to get a clear understanding of the issues beforehand to implement the solutions to the knowledge base. So, when the customer lands on the page he comes across the relevant steps or solution for the issue.
For example, AutoPilot is a company that reaches out to customers who visit their online knowledge base. The proactive follow-up makes sure that all customers are able to find a solution to their problem. It helps to reach those customers who were unsuccessful in resolving their issues, got frustrated, and decided to give up.
8. Define internal process clearly
Defining the internal processes that may span across multiple teams such as marketing, sales or product provide customers real value of using your solution. For this, your information must be updated as well as organized.
For example, let's say you anticipate that the customer may not understand your product well. So you can collaborate with your team to prepare informative tutorials or videos explaining how to use it and share it on your website or email it to them.
Streamlining such processes can have an impact on your business significantly in the following ways.
Guiding customers to understand your products well, encourages them to make a final purchase.

There is an increase in the customer retention rate and the number of loyal customers.
Tips for improved proactive customer service
Businesses who prioritize customer experience and want to deliver proactive customer service need to adopt certain strategies and best practices to meet and exceed client expectations. By following proactive customer support examples, brands will prove to be customer-centric and witness overall growth.
Follow the below tips to deliver enhanced proactive customer support.
Recorded answers to common queries
Preset answers or canned responses help agents proactively support or guide the customers that reduce handling time and engage customers in meaningful conversation. It also improves the accuracy of answers as well as the agent's productivity.
Video chat & live chat for real time support
Imagine you are shopping online and the size of the dress you selected changes as you go to the checkout page. You retry and the same thing happens. But with the help of live chat and video chat the agent asks for assistance before you make your effort for support.
Creating content to self serve customers
FAQs, tutorials, and videos are considered one of the best ways to provide self-service informative content to your customers. Your customers or app users can learn about your product or service usage with a detailed step by step guide without reaching out to your support team
Arranging workshop or webinars
In many businesses, where customers are not very tech-savvy and they need a real person to guide them to understand, webinars or offline workshops are very useful. Such events help to connect with your customers to educate them.
Final thoughts
Proactive customer service keeps your customers happy and turns them into your brand advocates, which is considered as one of the powerful marketing tools to help drive new business. The above-mentioned tips and best practices to implement a proactive customer support approach helps to increase satisfaction, loyalty, and revenue.
So are you proactive in the support you deliver? What benefits you have marked since shifting from reactive to proactive?
Post your comments below.