Do you wait for customers to reach out to you with their problems?  You should not because 87% of customers expect to be proactively reached out to by brands for customer service-related issues.  
The right approach obviously is to make the first move, take the effort and go the extra mile to make customers happy. 
By adopting a proactive customer service approach, a business is able to not only anticipate but also resolve the problems in the preliminary stage itself. This puts less pressure on the support team and increases customer loyalty.   
And taking the effort shows that you as a business are proactive and understand your customer's issues even before they become problems. It means, your business needs to be prompt in identify, resolve customer issues, and ensure great experiences.
Your business however can never go a step ahead of customer issues unless it fully grasps the concept of proactive customer support. 

What is Proactive Customer Service? 
Proactive customer service means anticipating and identifying potential customer issues and addressing them proactively before they face them.  
A proactive approach can take many forms, right from getting customer feedback to joining forums to creating knowledge bases to using FAQs to leveraging live engagement tools, and face-to-face visits, etc.
 In order to develop a proactive customer service strategy, we need to consider the key aspects.
What matters most – i.e. what are your customers' priorities? It can be identified through customer-driver insight.
When it matters – i.e. wherein the customer journey can you provide an answer, before the question is asked?
How can you fulfill it – i.e. the digital channels that will be used for proactive messaging and what wider impact will it have on your business culture?
Why Proactive Customer Service is so Important?
A faster response is a key ingredient of superior customer service as 40% of customers want companies to focus on taking care of their needs quickly. They also expect businesses to show a willingness to help even before an issue occurs.  
You need to know why is being proactive important can help on many levels:  
Higher Customer Satisfaction: 

Reaching out to customers when they exactly need help businesses to achieve improved CSAT scores and create more happy customers. 

Reduced support tickets: Approaching customers proactively helps businesses to learn customer pain points and solve them timely, which reduces the number of support requests.
New customer acquisition: 

 Adopting a proactive support method helps you to reach out to prospective customers and encourage them to go with your brand.

Generate brand advocates: 

Businesses that adopt a proactive customer service approach create happy customers who advocate your brand and refer you to friends & colleagues. 

Superior control over communication:

 One of the 

customer service examples

is to involve in customer conversations and engage with them in a way that creates a positive vibe around your brand.  
Reactive vs Proactive customer support
Following a proactive approach is a vital part when you think about customers' delight. When businesses are familiar with reactive vs proactive customer service, it will be able to better serve customers and enhance their experience with your brand.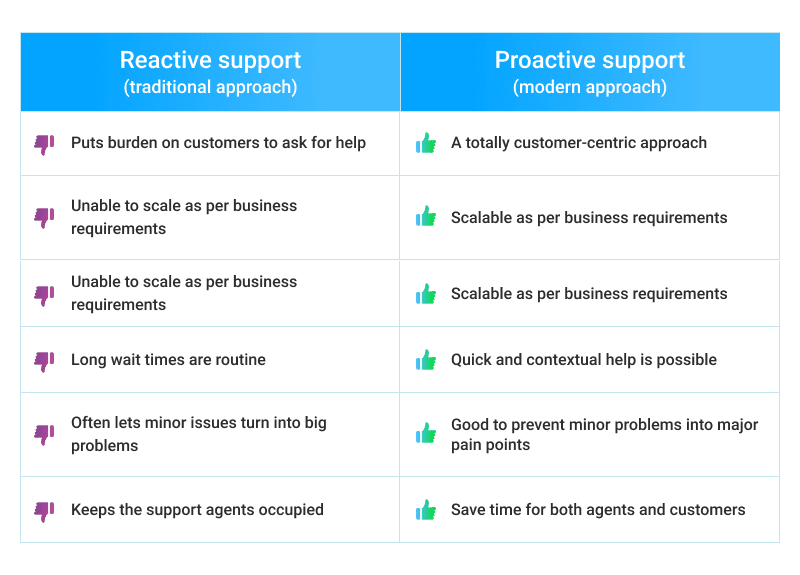 Proactive support is the modern approach to handle customer problems and offer solutions. Its key advantages are:
Proactively answering customer's questions 

Scaling as your business grows  

Quick, contextual help to enhance customer satisfaction  
Reactive support is the traditional approach to handling customer problems and offering solutions. Its downsides include: 
Such support is not customer-centric in approach.

Long wait times can lead to customer frustration. 
How to Implement Proactive Customer Support?  
A proactive customer service approach provides ample opportunities to meet customer expectations and strengthen client relationships. It helps your business boost the value of your customers and deliver an excellent experience. Implementing a proactive approach often requires a strong customer experience strategy, as well as an investment in new technologies.  
Here is a list of tips and best practices to be followed for a successful proactive customer support strategy. 
Let's dive deep into each of the ways to understand how to implement a proactive customer support strategy:
1. Offer Faster Assistance with Live Chat
82% of customers consider a quick response very important when asking a customer service question. Live chat support is a dynamic way to interact with your customers and provide instant sales and support assistance
Live chat helps to understand customers' pain points and provide the help that aligns with their expectations, which improves customer experience. It makes every customer interaction is an opportunity to build longer relationships and you can leverage it to achieve better customer satisfaction and higher sales.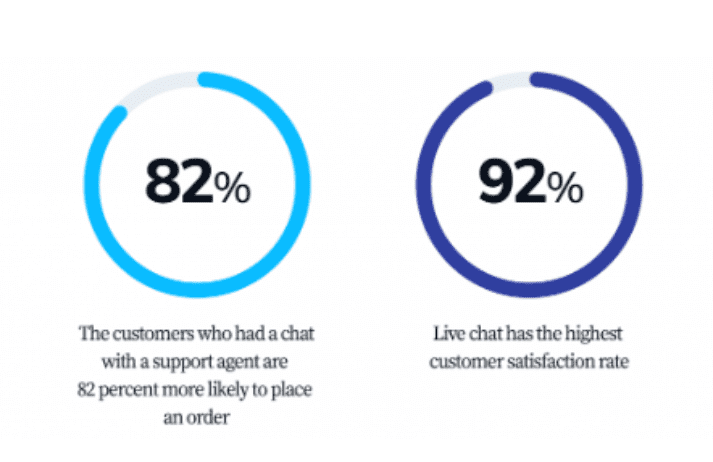 Betterment, a leading online investment advisor, leverages the power of proactive chat offers to let their advisors provide quick and personalized financial services to new clients.  
 Key ways live chat help to deliver proactive support?
Live chat can help you identity repeat visitors based on demographic data and cater to their needs in a proactive manner. 

You can Identify your busiest customer hours and provide live chat support to resolve issues in real time.

The use of proactive live chat technology can help you predict customer queries and see whatever customers type and then respond to them accordingly.  

 
2. Provide Real Time Help with Co-browsing
46% of customers leave a website in case they're not able to find what there are looking for.
To avoid such a situation, you should consider helping your customers instantly with co-browsing which is a software-driven technique that helps solve the customer issue by using their web browser.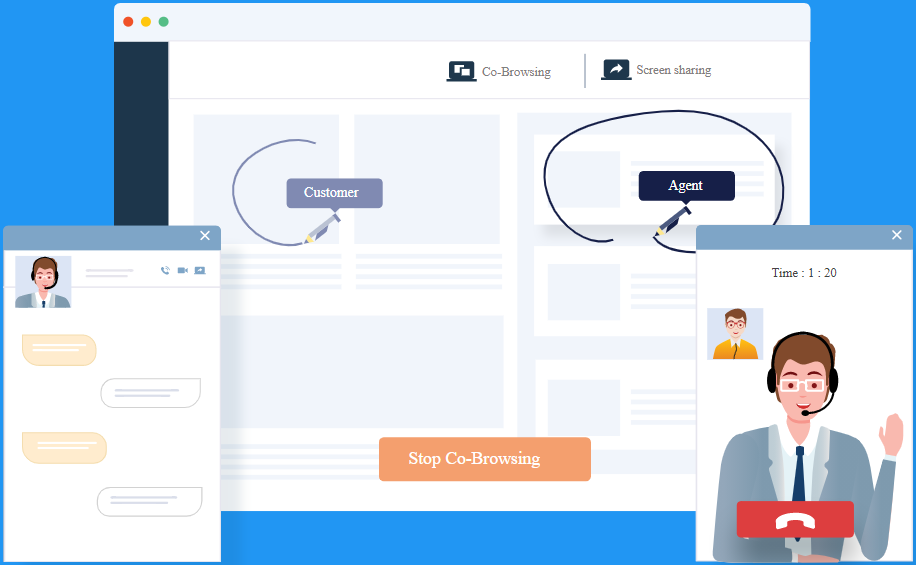 Co-browsing is a great way to offer real-time support to customers who face problems in filling up forms or other personal details. 
Your customer service agent can easily connect with customers and start co-browsing by sharing PC screens. Doing this can reduce response time and increase customer satisfaction. 
Here is how co-browsing solution helps to deliver proactive customer support
Co-browsing can help you collaborate with customers and fix the issues quickly as if sitting right beside them. 

Agents can use the co-browsing feature to customize the advice and feedback according to the specific customer's problems.  

Real-time customer support happens when agents see the customer's browser and resolve the issue in a timely manner. 

 
 3. Automate Your Support with Chatbots
Businesses that give priority to customer experience (CX) achieve higher revenue than their competitors. And chatbots help a lot when it comes to prioritizing your customer service. 
80% of businesses today deploy some form of chatbot across their sales, support, or marketing departments. 
You can use AI bots to hold real-time conversations with customers and increase engagement. The best part, chatbots can provide 24×7 support even when you or your team members aren't available.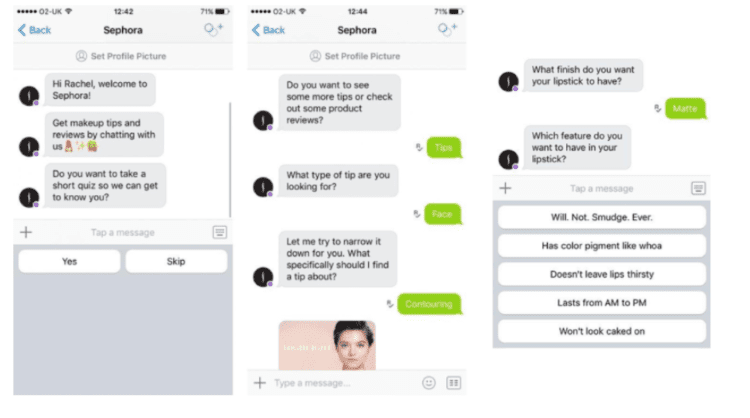 Sephora is a cosmetic brand that has implemented a chatbot in partnership with Kik messaging application. It gives customers an opportunity to use the chatbot to ask for makeup recommendations or request product reviews and get relevant products or videos.   
Chatbots prove to a great tool for proactive support
AI-driven bots can help your business understand customers' purchasing habits and analyze customer data. It can help in offering personalized recommendations based on the purchase history. 

You can leverage the power of artificial intelligence and text analytics to understand which customer issues need to be resolved urgently and then address the same.  

 
 4. Real-time Support with Video Chat
Visual engagement is a hot trend in the industry to achieve higher customer service standards and improve customer experience. In fact, the use of video chat for customer service can help make conversations interactive and personalized. 
Brands that use video chat for customer support find it easy to deliver faster responses that boost customer satisfaction and improves brand credibility. Video chats are always greatly helpful to ensuring a delightful user experience.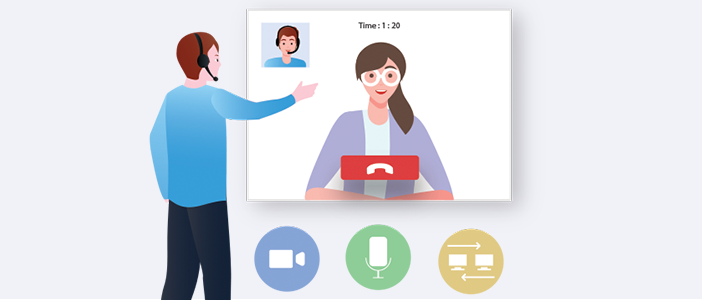 Goldsmiths is a well-known jewelry brand that uses live chat with voice and video chat support for better customer communication. This feature helps it mimic the personal service that it offers in its physical stores.  
How to use video chat for proactive support?  
When video chat is used as a part of customer support strategy, businesses are able to identify issues faster in the first go and offer effective responses.  

Video chats can help deliver contextual solutions which significantly reduces the number of touchpoints. 
 5. Create a Knowledge Base
Not all your customers would like to call the customer service team or email you when they have questions or doubts. Many prefer to find answers to their problems themselves and this is where knowledge bases make their presence felt. 
51% of customers prefer technical support through a knowledge base.   
Knowledge bases are the best tool for offering proactive support. You can create a knowledge base that contains it information about your company, products/services, or anything that customers may be interested in.
Adopting this approach means you're proactive in terms of customer service and are ready to offer help in the early stage itself.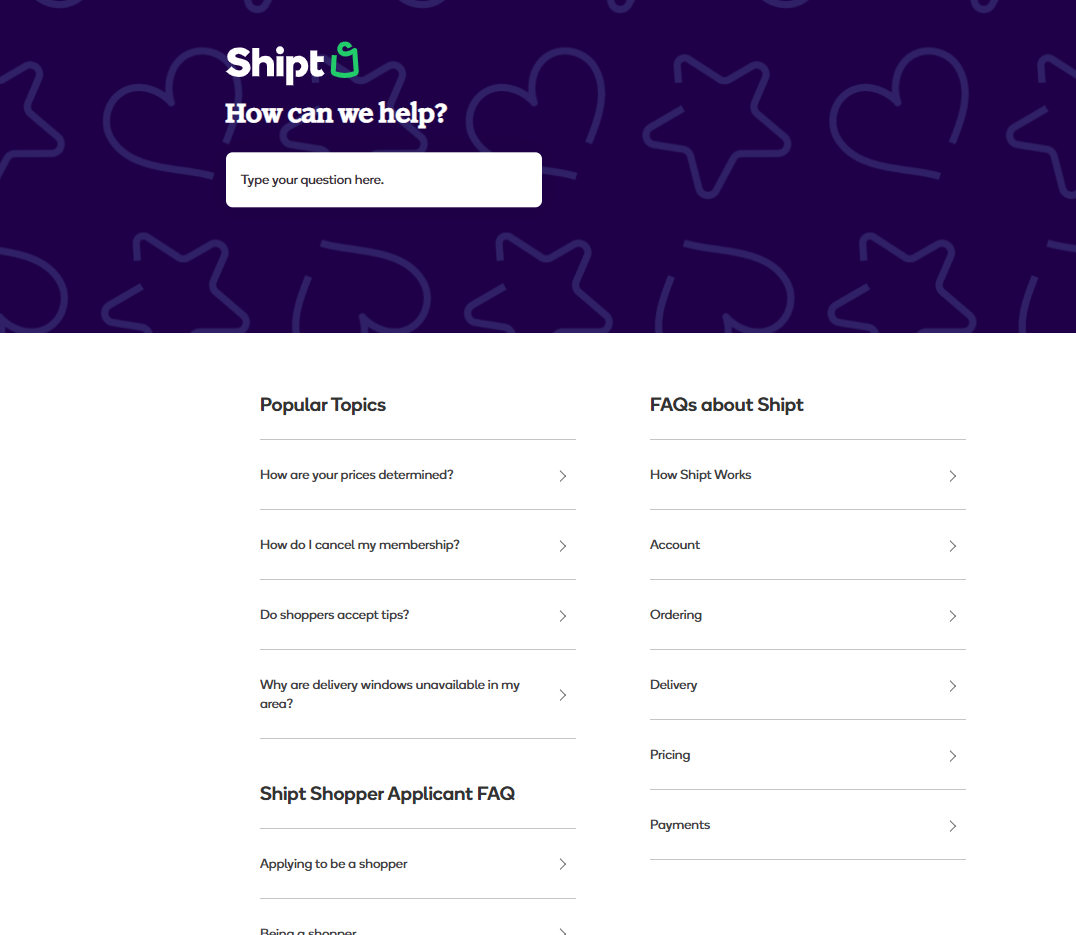 Shipt is a grocery and alcohol delivery app that has a simple yet effective on-brand knowledge base with several categories to help its customers with their problems.  
Here is how knowledge bases are as part of proactive customer support 
Create articles, how-to-do posts, FAQs, video tutorials in a way that they can help customers solve problems independently without requiring any help from the support team.   

Make sure the content you create anticipates possible problems and gives customers access to the information required to address their issues before they occur.   

 
6. Train Your Team with Adequate Product Knowledge
57% of customers will give up on an online purchase altogether if finding the answer to their question proves too difficult. 
It is one of the big risks for businesses that can't be afforded. Hence, having a knowledgeable team for both sales and customer support results in enhanced customer trust on a one-to-one level.
For example, Debenhams, the UK Retailer offers online buying guides via its website. Such services drastically reduce the rate of exchanges and returns while also saving on costs and freeing up resources. 
How a trained team help deliver proactive customer support?
Quick resolution of customer issues –

A trained team with product knowledge can always help address customer problems faster and provide effective solutions to all the queries.
Pre-empt customer queries

– A trained team not only helps spark customer interest in products or services but can also preempt customer queries and enhance their experience. 
 7. Devise an Omnichannel Customer Service Strategy
Customers choose their own preferred channel to connect with brands. They can use either website, social media, Facebook messenger, etc., or any other channel to reach out to your business. 
So, you need to be where your customers are to deliver the best omnichannel customer experience no matter how a customer reaches out. This approach can prove very helpful when you want to improve your online customer service.  
Amazon for example anticipates questions on delivery dates and times, notifying customers in advance of any delays via email. 

Key ways omnichannel strategy help to maximize proactive customer service
Proactively offering

live chat

to customers encourages them to take the next step in the sales cycle and it also adds a human touch to an automated interaction. 

Reducing response times on social media can help you provide quick and effective solutions which can significantly improve your customer relationships.    
 8. Ask Customers for Feedback
Giving customers what they want is always the foundation of good customer service. And without knowing what your customers want, you would never be able to meet their expectations fully. To find out what customers want, there is no better way than to learn how to ask for customer feedback.  
You need to frequently check in with the customers to timely identify issues and then take the right measures to fix them. This is where collecting feedback from your customers helps a lot as it prepares you for the challenges that need resolution.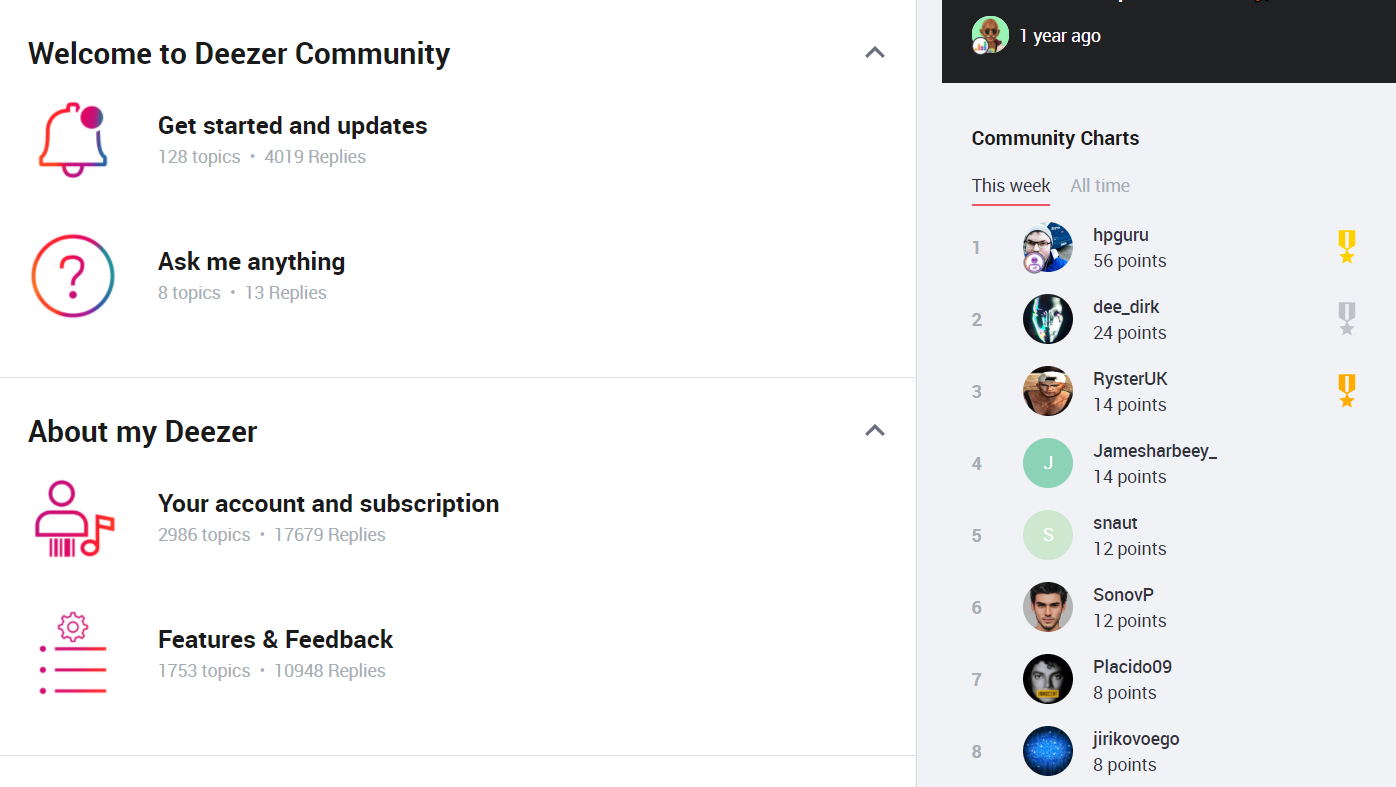 Deezer is one of the leading music streaming sites in the world and is a great example of how to get your customer feedback right. It has created a community to let consumers talk to one another about music and boost the engagement level. 
How to use customer feedback for proactive support?
Include a feedback form on your website

and encourage your customers to share honest reviews about your products or services and them implement the changes.  

Send online surveys to your customers

in order to understand their tastes and preferences and then apply the input to become proactive in approach.    

Check your social messages across platforms

to be aware of customer conversations and then be ready to solve issues before they become problems.   

Your business needs to

review the customer service tickets

on a regular basis in order to analyze the most common questions and prepare the right responses for them. 
9. Define Internal Processes Clearly
Great customer support is not possible unless there is a sync between different teams and departments. In fact, one of the key aspects of well-defined internal processes is to keep your team on the same page with a clear idea of what needs to be accomplished.  
All your processes and teams across marketing, sales, or product must provide real value to customers and enhance their experience.  For this, your information must be updated as well as organized.
How to leverage internal processes for proactive support? 
You can collaborate with your team to prepare informative tutorials or videos explaining how to use the product.  

Build a customer journey touchpoint to gain a thorough understanding of the process and people, and ensure that your team is ready to enhance customer experience at each step of the way.  
 10. Introduce a Recommendation Feature 
Introducing a recommendation feature is a form of offering proactive customer service as you're going a step ahead to enhance their experience. When a recommendation is offered, it saves customers from searching for new products and it also gives an option to consider. 
These recommendations can be based on individual buyer behavior or you can also use algorithms to better understand the patterns behind previous purchases. When you recommend things, customers get the feeling that you care and they may also feel encouraged to make an additional purchase.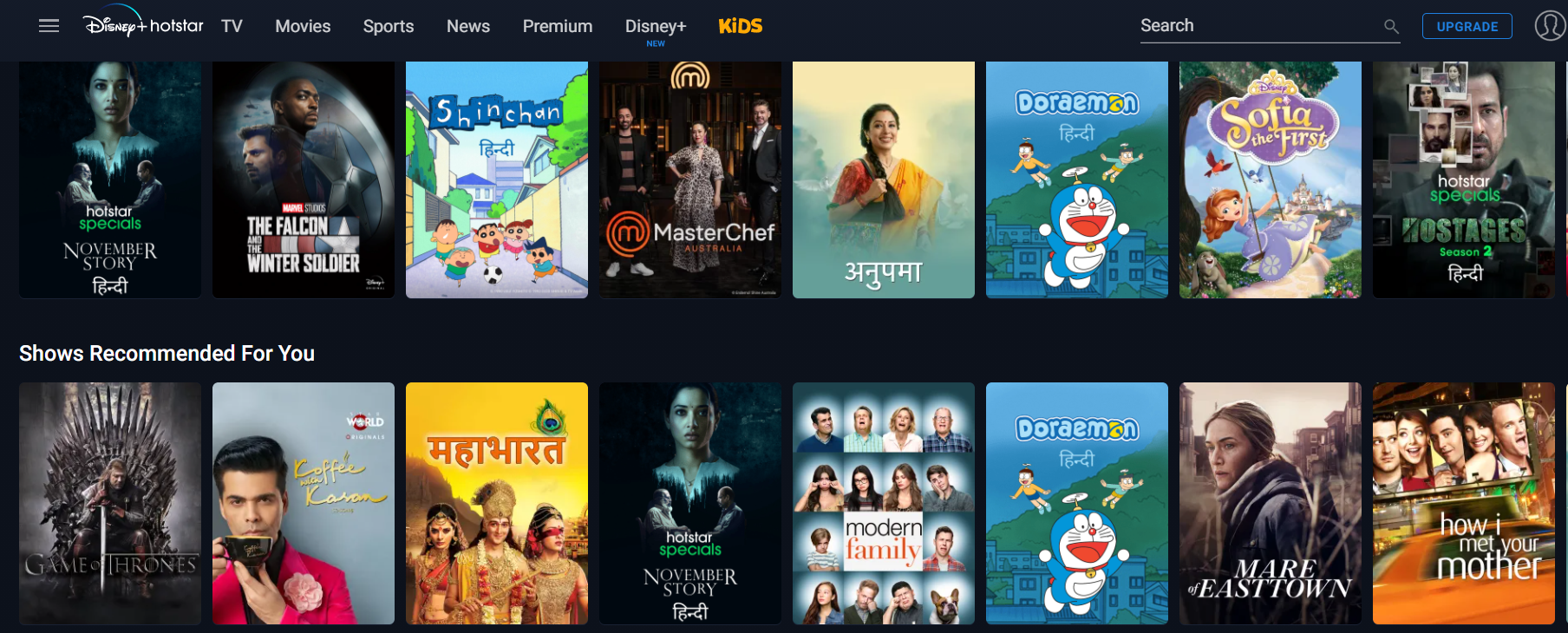 Disney Hotstar is a popular streaming platform with a huge database of movies, shows, TV programs, and sports documentaries. Its recommendation feature which is based on user's past history and search preferences is one of the top reasons behind ever-growing hours of content consumption by users.   
How to use the recommendation feature for proactive support?
Make sure the product recommendations are based on individual buyer behavior as giving personalized touch will help you become proactive in your approach.  

The focus of product recommendations should be on enhancing customer experience as nothing else matters to customers much than an individualized approach. 
Put your customer first with proactive service 
Proactive service is the feature of customer support as it can help improve customer experience and engagement. This approach can win your customer's trust and set your business up to prioritize customers and solve issues before they become a problem.   
Your business can seek customer feedback, create a knowledge base, devise an omnichannel strategy, provide real-time support to answers common questions and handle pain points before they become a problem. So, implement a proactive customer service strategy to delight your customers and turn them into brand ambassadors.