Happy customers are often loyal customers.
And when customers are loyal, they stick for longer and even don't mind paying higher for your products and services. 
Needless to say, such customers are the reason why sales go up and how brand reputation gets a boost. 
But yes, loyalty does not happen overnight. It takes effort. It binds you to have customer loyalty program ideas achieve the result. 
More importantly, winning loyalty takes careful planning and implementation of giving customers value over a period of time.  
After all, unless you reward your customers for sticking with your brand unless you offer value for their faith in your business, how can you expect them to be loyal.  
For that reason, you need to find some really impressive loyalty program ideas to incentivize customers. 
In this post, we'll discuss some great loyalty program ideas that can work wonders for your business in a true sense. 
What are Customer Loyalty Program Ideas? 
A loyalty program is a part of your overall customer success strategy that rewards the customers for doing business with the company. It does have a positive impact as 66% of customers say the ability to earn rewards changes their spending behavior. The reward can be in several forms like store credit, gifts, discount vouchers, prizes, or any other offer that will entice a customer to stay loyal to your brand. 
Such a reward program can help a business in many ways, including; 
Improve brand image amongst customers
Enhance your customer happiness
Ensure better sales conversions
Turn customers into brand ambassadors
Build social proof for your business
Bring more customer referrals
Retain customers in an economical way 
Some Great Customer Loyalty Program Ideas for Your Business 
Winning customer loyalty should always be a top priority for businesses. You should also understand how 84% of consumers are likely to stick with a brand that offers such programs. The focus should be on offering incentives to those who become your customers or those who decide to stick with you for repeat purchases. 
There is no dearth of amazing loyalty program ideas when you aim to retain the customers. 
1. Have An Exclusive Club for Loyal Members
2. Make the Reward Point System Much Simpler
3. Support a Noble Cause with Reward Points
4. Create WOW Moments through Customer Loyalty Program Ideas
5. Give Rewards for Referrals
6. Offer Free Gifts After Purchase
7. Partner with Other Companies to Provide Better Offers

Even when you have the best loyalty program ideas, you can't succeed unless you give it the right execution. And above all, such programs would fail if their purpose was anything other than to improve customer experience with your brand.  
Let's discuss each of the loyalty program ideas in detail. 
1. Have An Exclusive Club for Loyal Members
Many brands follow this practice — they create an exclusive VIP club for their loyal members and offer them something amazing.
Such customer incentive ideas neither cost much nor take a lot of effort to implement. Plus, they always help increase customer loyalty in a big way.  
You too can take a leaf out of this common practice and make customers happy.
For such a program, you need to set a limit your customers must reach to be a part of your VIP program.
The set limit can be total dollars spent within a specific time, the number of orders, or customer referrals.
Under the VIP program, they will be offered special services, deals, discounts, and gifts.
Sephora's VIB program is a good example of how to use loyalty program reward ideas in the best way possible.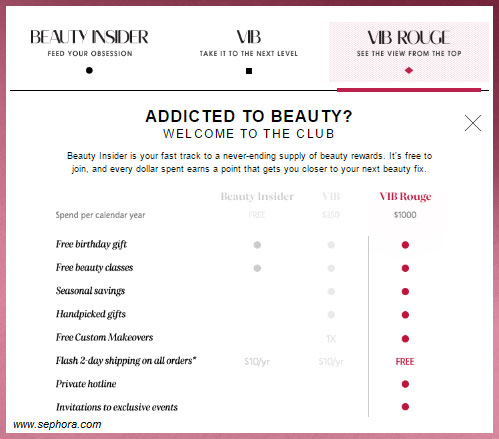 2. Make the Reward Point System Much Simpler
Customers often expect brands to have in place a simple and easy-to-understand reward point system. 
And if the system is complex, they might take it wrong, and even might doubt the intention of the program in the first place. In fact, reward systems with complexity make it hard to attract and keep repeat customers. 
One good example of a simple loyalty program is one where after every purchase, customers earn some points as a reward. Those points can be redeemed later at a special discount or for special services.
However, many companies make this simple process so complex that customers get confused. For example, '20 reward points equal to 1 dollar and earn 30 dollars to get 20% off on your next purchase.'
It actually is not a reward, but a headache for customers to understand. You need to avoid these types of customer incentive ideas. 
So, don't do this kind of mistake. Make your reward point system as simple as possible.
3. Support a Noble Cause with Reward Points
Most customers are a game for supporting a noble cause. If they find the cause worthwhile, there is no reason why they won't contribute. 
In fact, many look for opportunities to add value to various charity programs or give something back to society. 
To tie this universal human urge with the loyalty program, you should let your customers donate their earned reward points for a charitable cause.
The American Red Cross is a great example of how to enable customers to donate to charity using their earned Air miles. You can also do similar things on your website.
For example, if you have a pet food company then you can allow customers to donate their earned points as a form of money to any rescue program for animals.
In a way, you need to find a creative way to make your customer loyalty program ideas different from others.
4. Create WOW Moments through Customer Loyalty Program Ideas
Creating WOW moments for your customers is surely one of the best loyalty programs ever.
Top brands routinely employ this as one of the most preferred customer retention strategies, so you should follow the suit. 
And when it comes to creating such moments, you needn't be too extravagant. Even simple things too can do the magic. 
For example, emailing reward points or sending a cake on the customer's birthday or anniversary is a great way of showing love and affection for your customers.
You just need to be subtle in the way you surprise, or delight, your customers, or make them feel special. 
After all, who does not like surprises that too on his/her special day? Trust us, such customer incentive ideas always deliver great results.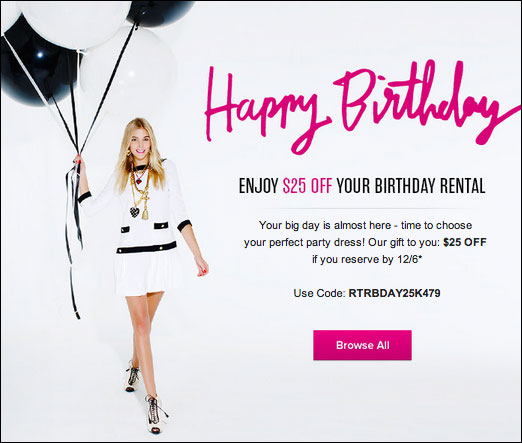 5. Give Rewards for Referrals
Gaining new customers is much tougher than maintaining your existing ones. It's also costlier. Maybe that's why most businesses always try to reduce churn rate and keep existing customers happy. 
So, you must focus on retaining the existing customers rather than stretching yourself thin in winning new ones. 
This is where loyalty program ideas can help. They can always prove one of the top customer incentive program ideas for any business. 
If you offer value for bringing new customers, your existing ones will take up this purely for rewards. 
You can encourage existing customers to promote your brand amongst their friends and family. Many top brands do this and get handsome results as well. 
You too should adopt this strategy and reward both of them — the existing as well as the new customers — with attractive deals or discounts which they can use for their next purchase.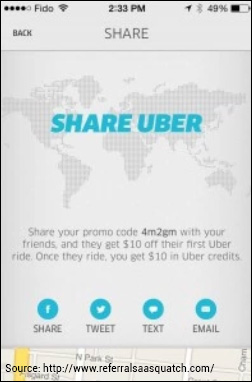 6. Offer Free Gifts After Purchase
You should know that 46% of customers want loyalty programs to offer gifts and similar stuff. 
Well, people love to get gifts and it can always entice them to repurchase from you.
No matter in which way the gift comes, or whatever you offer, whether monetary or otherwise, customers are going to love it for sure. 
So, one of the good ways to offer gifts is by letting your customers try your new products or services before you actually launch them. 
You can also offer them free samples of your upcoming products and have them try in advance. This is how eCommerce loyalty program ideas can work best. 
Such initiatives not only win customer loyalty but you may also get a boost to brand awareness through word of mouth.
7. Partner with Other Companies to Provide Better Offers
Strategic partnership with other companies is really effective in retaining customers. In fact, such plans are always among the top customer engagement strategies for any business.  
You can use such small business loyalty program ideas to boost sales without spending big. 
This also helps in leveraging the customer base of the partner company which, in turn, can bring further sales.   
But to achieve success with this kind of loyalty program effort, you first need to understand the customer's needs and buying behavior better choose companies fit for the partnership.
Suppose, you sell beauty products online, so, it would be great if you partner with a spa or beauty parlor for providing more co-branded deals and offers.
This way customers will feel that you really care for them and are keen to walk some extra miles for offering them the best.  
Make Your Loyalty Program Ideas More Effective with a Chatbot from REVE Chat 
Chatbots not only help in customer service and marketing but also prove beneficial in devising loyalty program ideas.
With REVE Chat, you can create a chatbot for your website in simple steps and then use it to successfully run your program.
Many brands use AI bots to let customers know their rewards points quickly. Some also use to give people a quick run down of loyalty program name ideas.
Plus, you can also use it to automate common loyalty program FAQs. 
Similarly, you can integrate the bot with a live chat software solution to quickly respond to customers and bring human support as and when needed. 
Win More Customers with Innovative  Loyalty Program Ideas 
Loyalty programs are always a great tool when it comes to retaining existing customers and winning new ones. However, they should always be dependent on your business objectives.
Similarly, you need to consider the tastes and preferences of new-age customers before deciding on loyalty program names ideas. 
You can also use AI chatbots to devise great customer loyalty program ideas for modern users. At REVE Chat, you make it simple to Sign up and build a bot for your business.
But yes, always decide what you want your customers to do next. And once it's decided, based on that, you can always plan your customer incentive ideas in a better way.