Digital transformation and Artificial Intelligence (AI) have evolved customer expectations. They have become more demanding in terms of faster responses. According to Forrester reports 23% of B2B CMOS see improving the customer experience as a top three objective.
How customers perceive your brand ultimately comes down to their customer experience. Consistent and innovative CX has a great impact on the bottom line of businesses. Hence realigning the customer service experience has become a top priority for businesses. 
Contact center trends provide businesses a futuristic view of how digital transformation and the use of artificial intelligence (AI) would help their call centers to deliver an optimal customer service experience.
Key Challenges Faced by the Contact Centers 
Most businesses see investing in call centers as additional costs. But with the changing times, they can be transformed into a revenue channel. Going forward there are some challenges faced by modern call centers that need massive changes in order to streamline revenue generation.
Some of the key challenges faced by most of the contact centers are as follows:
Uncertainty about the customer journey
Many businesses operate in the siloed model which lacks insights into the customer journey. As it is one of the important factors, you have to move your contact center under a unified omnichannel model. 
Higher resolution cycle
Due to communication issues and lack of live assistance, the customer issues require multiple touchpoints to get resolved. As a result of which the queue time becomes longer which the customer leaves with frustrated.
Impact customer service costs
The customer service costs include human resources, and infrastructure costs to manage the call center process. When customer issues require multiple interactions for the right solution it impacts the cost factor.
By adopting the call center trends, businesses can overcome the above challenges and improve the overall support KPIs in a true sense. 
The Top Contact Center Trends to Watch Out For in 2023
Going ahead, it's time to assess what will be the future of call centers. Which contact center trends will make an impact and enhance CX? What tools & technologies will empower businesses to gain an edge over the competition?
Let us hop into the top contact center trends you can implement.
1. Deliver contextual support with omni-channel communication
Omni channel communication provides better contextual support to customers with a seamless consistent experience across all channels such as desktop, mobile, phone, or in person. Research shows businesses with omni-channel customer engagement retain 89% of their customers.
As omnichannel is consumer-centric, it makes navigating between company touchpoints easy and seamless. Customers don't want to repeat their problems with many agents. They want the agent to know their history and resolve the issue in the shortest time frame possible.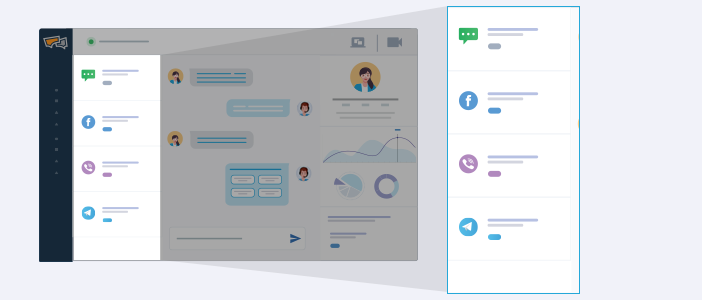 Agents with access to details across all channels provide the best service. Omni channel approach keeps the communication consistent and unified across touchpoints and channels for efficient follow-up.
Unifying customer communications across channels:
Gives businesses a better context for their customers

Help to resolve customer issues more quickly 

Help the sales agents identify better opportunities for future sales
2. Guide your customers with live engagement tools 
The three most important aspects of customer service are fast response, knowledgeable service agents, and quick resolution. Loyalty360 says, 95% of customers are looking for some degree of proactive communication from businesses.
Modern businesses are adopting live engagement for proactive communication as customer experience trends. At times, it becomes very difficult to figure out customer issues due to a lack of real-time communication. The explanation is not clear enough to give a transparent understanding of the problem. Live engagement tools are boon contact centers to handle such scenarios.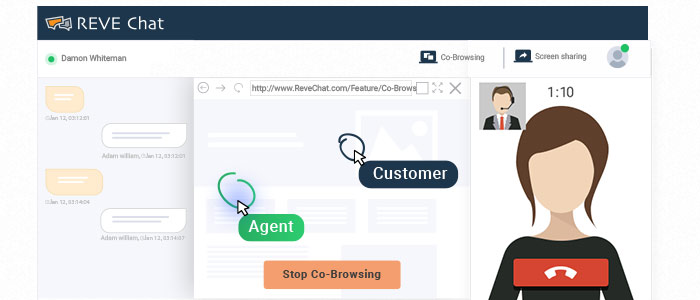 Live engagement boosts customer experience in the following ways:
Real-time resolution

– Live engagement tools like video chat and co-browsing help to identify the issue faster by collecting the information. Diagnosing the issue helps in offering faster solutions by chatting directly and collaborating with the customer browser. 

Better experience across the customer journey

– With the live tools, you guide your customers across entire their entire lifecycle – from awareness, acquisition, engagement, and retention. The customers are able to make quick decisions that boost their satisfaction.

Improve team productivity – With video call center solutions, you can deliver instant customer support, what they actually expect. Faster support enables agents to handle more conversations effectively, which improves their productivity.
3. Integrate AI into your customer conversations
Artificial Intelligence (AI) will enable new trends in customer behavior to be identified at very early stages in their development. Frank Sherlock
Businesses can achieve optimal customer experience if they are able to guide their customers throughout their journey. Using artificial intelligence hastens the mining process of customer insights.
AI-enabled customer journey analytics helps businesses in predicting the future behaviors of customers with high accuracy. With predictive analytics, you can get valuable insights to enhance the customer experience by assigning the right conversation to the right agents in an automated fashion.
In-depth customer insights can help businesses in the following ways:
To determine the resource requirements for your business

To know if product rollouts will perform at the specific times

To learn the kind of changes they need to make conversations effective
You can respond to your customers faster with AI-enabled chatbots. You can use chatbots as the first point of contact for 24×7 customer engagement and filtering complex conversations. The chat is handed over to the human agent to deliver comprehensive support.
The ability to identify trends in customer data will also enable call center executives to strategize best practices and predict the outcomes or the consequences of a particular course of action. So, it is worth investing in AI and follow the call center trends.
4. Improve FCR rates with a co-browsing solution
34% of U.S. respondents listed the "inability to connect with a live person for support" and "automated IVR" as some of the most frustrating aspects of the customer service experience.
First call resolution (FCR) is an important call-centric metric that determines customer satisfaction. At times, customers face complex issues that require multiple interactions for getting the right solution.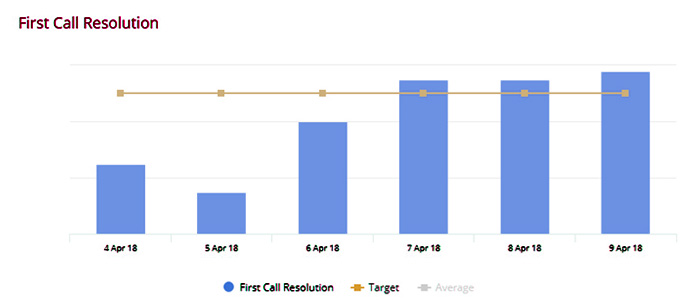 When the customers have to interact multiple times with the call center executives for the same issue, the customer experience gets diluted. Co-browsing can be the best solution in such a scenario.  With co-browsing, agents can address customers' queries in the first contact by reducing the multiple calls back times, call transfers or handing over to a call center supervisor to get it fixed. The faster resolution that too in the first contact increases customer satisfaction.
How co-browsing overcomes poor FCR rates?
It empowers call center agents to resolve customer queries faster to improve the FCR rate. 

It helps to engage in root cause analysis. It diagnoses the authentic reasons why customers end up connecting with call centers and uses that information to fix specific problems at the source.
 5.  Call center automation with self-service tools
Self-service problem-solving or DIY fix methods can be greatly emphasized on business websites. This is an efficient way of handling most preliminary concerns where call center agent support is not compulsive. 
Implementing a self-service resource library to offer 24×7 support to customers. You can follow the customer service trends by automating your support tasks self-service tools such as:
video tutorials 

FAQ pages 

virtual agents

Infographics
Customers look for faster solutions and they don't mind managing the process themselves. Many customers prefer fixing on their own before reaching out to the support agent. Modern call centers offer comprehensive self-serve alternatives as well as live agents.
Delivering faster solutions to your customers help your contact center to: 
To reduce call volumes for your support team.

45% of companies offering self-service have reported an increase in site traffic and a decrease in phone calls. 

Significantly reduce customer service costs.

Accenture

reports say –

by adding self-service, a typical utility could see $1-3 million in annual savings.

Easy-to-navigate FAQs help narrow down calls to those with complex issues. The complex issues will be looked into by the contact center representatives for delivering a comprehensive solution. 
As contact center operators are facing complex challenges, they are adopting Dynamic Decisions Trees (DDTs) as powerful tools to deliver a better customer experience, lower operational costs, and help customer service associates resolve tough issues.
6. Use of AI for better sentiment analysis
Both AI voice agents and chatbots can capture a lot of granular data around each customer interaction, which can be fed into analytics engines to help optimize the call center process. AI tools such as sentiment analysis can also help speed up this process by quickly identifying the sentiments within a large data set, often faster than a call center representative.
Sentiment analysis finds out the overall sentiment score of your call centers. It works best for a contact center when combined with predictive analytics. It helps in determining the tone of customer expression by looking for specific keywords in the text message. This helps to analyze and manage customer experience across different touchpoints throughout their journey with the brand.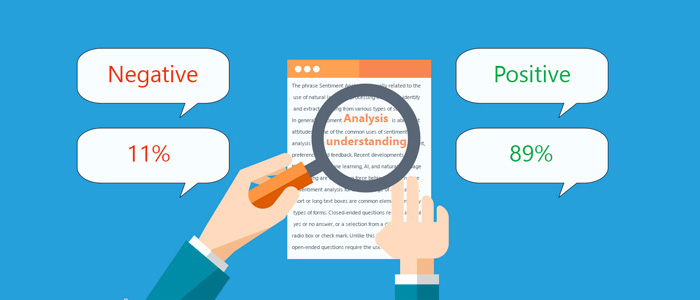 Here is how sentiment analysis works in a contact center:
Customer raises a support ticket

– The customer raises a support request via communication channels such as email, chat or social media.

Artificial Intelligence (AI) analyzes the text expression

– The algorithm set for sentiment analysis tries to capture specific keywords and phrases to determine customers' emotions.

Business rules are triggered Based on customer sentiments

– Business rules like chat routing, adding tags, or setting priority are initiated based on the analysis of the sentiments of the customers.

Context-based personalized support

– The call center reps understand the current emotions of the customer and provide support in an empathetic manner to boost his service experience.
Innovative call center software can use sentiment analysis algorithms to handle the calls in an intelligent manner by routing the calls to the right agents at the right time and automating the ticket prioritization process to improve agent productivity and ensure a better customer experience.
7. Real-time insights with contact center analytics 
Finally, the time has come to bid goodbye to that restrictive dependence on supervisor skills! Using digital tools, help businesses and admin to get a better pulse about what is happening without relying on manual observation and monitoring.
Data analytics can enable businesses to take vital decisions for accelerating growth in the right direction. To understand the root cause of a problem, it is imperative to analyze the agent's performance. Thus, you can find out what your customers prefer and how you can deliver better service levels.
The power of analytics can be used for better decision-making in the core areas such as:
Improving customer conversations

Enhancing the key business metrics

Impact on customer experience

Gauge customer satisfaction level

Learn customer expectations
Call centers use advanced analytics programs to build dashboards with statistics that impact their businesses. The display of statistical dashboards on user interfaces helps contact center agents and managers to get real-time updates on customer experiences (for which they make heavy investments).
8. AI-enabled IVR and voice bots
An interactive voice response IVR system may seem impersonal, but when combined with Artificial intelligence (AI) it can help resolve problems and provide better customer service around the clock. AI elevates the importance of IVR and changed the future of call centers.
AI includes areas such as Natural Language Processing (NLP) and Machine Learning techniques, that understand statements instead of simply giving the user a set of choices. With AI, a predefined input may give a completely different output depending on what the system has learned through probability calculations.
Voice bots or voice assistants are in a way to replace IVRs. With voice bots, it will be easy to identify the voice commands and respond to the queries via voice as well as text. As speaking and listening are the main parts of natural communication and collecting information, the evolution of voice bots can complement the natural process. This will be the next level of AI-based interactions that can be part of contact center trends.
AI improves the caller experience by ending the often frustrating "Press 1 for sales" or "Press 2 for customer service", followed by a queue that negatively impacts modern contact center customer service interactions.
9. Connect your contact center with your business systems
Most business tools can not get accurate customer behavior data when they work as silos. The same goes for the contact centers. In order to get all customer data in one place, they need to be connected with other business tools such as BI, CRM, or ERP systems.
Hence, as a contact center, one of the key elements to deliver a satisfactory customer experience, is to integrate your business systems so that your agents can understand the customers in a unified manner. 
Final Thoughts: Call Center Technology Trends and Innovations 
The future of call centers will be more data-driven and predictive. New technological advancements are likely to impact the ecosystem of contact center operations and communication. The emergence of voice bots, intelligent IVRs, and chatbots will be the main drives of call center innovations.
The contact center trends are to engage and support customers in ways that are enabled by live engagement and AI technology. The call center agents and executives will be armed with nifty tools and data-driven intel to automate tasks, and improve overall agent and customer satisfaction.