Artificial Intelligence (AI) has created a buzz across the globe in different business verticals. Amidst the tremendous value, AI promises to provide meaningful returns across various areas and one of them is customer experience. The speed and precision of AI technologies, in addition to human insights, will provide the continuous intelligence needed for customer experience (CX) trends.
As per the customer engagement statistics report, "Companies that earn $1 billion annually can expect to earn, on average, an additional $700 million within 3 years of investing in customer experience trends."
When it comes to digital customer engagement, CX is an important factor as customers' perception is a key attribute to drive brand loyalty. If your consumers like you, they will choose to remain with your business and eventually be your brand advocates.
Top customer experience trends for digital engagement 
Technology is a vital element of customer experience initiatives. It has been identified that the top emerging customer engagement trends will have the biggest impact on your CX.
If your business wants to improve customer engagement the latest customer experience technology trends can help your strategic plans to leverage.
Here is a list of digital customer experience trends 2023 for businesses to follow.
Let us discuss in detail about the latest customer experience (CX) trends.
1. Omnichannel customer experience: A non-negotiable expectation
Today's customers are likely to have multiple touchpoints to contact a business and expect their customer journey between each touchpoint or channel should be seamless. This is why brands are considering shifting to an omnichannel customer experience.
How omnichannel communication approach can be a part of customer experience trends?
Map your customer journey –

Understanding the journey helps you to gain visibility on your customer personas to design end-to-end service journeys across digital and live channels. It means customers can interact at all levels with your brand and receive a cohesive experience. 

Outline strategies to engage customers –

Businesses need to create customer service strategies to deliver an excellent experience. The strategies should have a balance speed within every channel across all the touchpoints. 

Identify the channels

– You need to know what are the most preferred channels by your customers to get in touch with you. Be active across those channels where your customers are to deliver real time engagement.

Consistent experience throughout the journey

– Whether a customer is in-store, on a mobile device, or within the website provide your customers with a unified service experience across the journey.
By adopting the customer experience trend, Singapore Airlines sets a good example of offering an omnichannel experience to its customers. SGA Airlines has always been lauded for its innovation, and for a while, they are creating a powerful, customer-oriented omni experience by fusing online and offline experience. 
The customers can easily shop, pre-book, enhance in-flight options, and earn loyalty points in real-time.
2. Convert data into insights with predictive analytics
Today's businesses have more access to customer data than ever before. They can use the data to deliver personalized customer experiences. Thus, brands are focusing on investing more in predictive analytics.
With the help of predictive analytics and AI, businesses dive deeper into data to target the right customers and provide personalized service and recommendations. Predictive analytics has captured the support of a wide range of businesses, with a global market projected to reach approximately $10.95 billion by 2023.
How predictive analytics is a customer experience trend for businesses?
It helps businesses to predict customer needs. By using the previous data of the customers, brands can know when the customers need to purchase again or are looking for new products. 

Businesses can generate future insights, forecast trends & behaviors with significant accuracy by using analytics tools and models.

It can be used to predict important events in a customer's life cycle and boost its revenue. When you are able to predict life events, you can proactively approach customers about new products right when they need it.

Businesses can find and use patterns contained within data in order to detect risks and opportunities. Data helps to know which customers are most at risk of leaving. 
By optimizing marketing campaigns with predictive analytics, brands can generate new customer responses or purchases, as well as promote cross-sell opportunities. Predictive models can help businesses attract, nurture, and retain their most valued customers.
3. Data-driven marketing for better customer experience
Undoubtedly, data-driven marketing is the future. A study says, 88% of companies have used data to improve their understanding of each consumer.
Data enables businesses to target, engage, and connect with consumers more effectively, which is what customers expect. They value experience with your business keeping the price and quality of your product aside. A single bad experience is enough to deter visitors from becoming customers.

How data-driven marketing has become customer experience trends?
Personalized marketing

– It enables businesses to understand customer profiles and create customized campaigns to send the right messages to the right audience, at the right time. It is essential to reach out to the audiences in a relevant way than similar messages for all.

Improved customer experience

– The campaigns backed with data allow you to have a closer view of your customers. Customer satisfaction surveys can help you understand the areas you need to improve. You can focus on those specific areas to improve 

Effective cross-selling

– You gain valuable insights that help you to identify where your products can be sold to customers more frequently. It also helps to identify the segments of the audience that would benefit from special and targeted campaigns.

Improved product development

–  Data-driven marketing proves to be the best for product success. When you are able to understand your target audience better, the products you develop are undoubtedly matching to their needs.

Enhanced sales process

– With a data-driven marketing strategy, you can identify the content motivating your customers towards the sales funnel and optimize campaigns accordingly. Thus, resulting in higher conversion rates and positive RoI.
4. Chatbots automation for improved customer experience (CX)
Artificial Intelligence (AI) is restructuring the ways businesses communicate with customers. Chatbots are predicted to move from simple user-based queries to more advanced predictive analytics based real time conversations.
How conversational AI bots have become the latest customer experience trends?
AI bots will be self-learning and capable of

creating contextual customer engagement

through messaging applications. 

Understand customer needs and

deliver personalized customer experience

to build better customer relationships. 

Bots, with the

help of sentiment analysis,

will be able to imitate the emotional quotient of the user queries

Improve the user experience with your brand and boost customer loyalty

.
With growing chatbot trends, more brands will be embracing messaging platforms to increase customer engagement and strengthen customer loyalty. 68% of consumers note that messaging is the most convenient way to stay connected with businesses.
Take an example of WhatsApp, which is one of the popular messaging channels. Book my show, the highly accepted Indian online booking app has integrated WhatsApp for Businesses to send ticket confirmations as WhatsApp messages by default.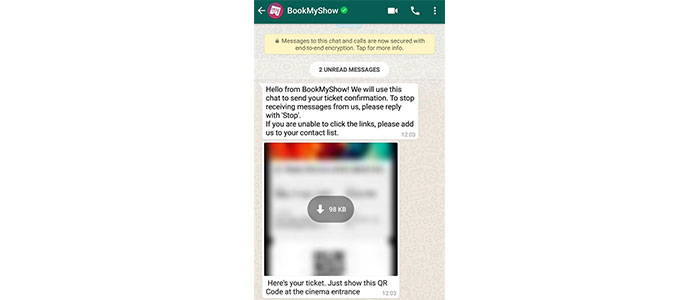 The users who book tickets on BookMyShow can be notified through a WhatsApp message along with the confirmation text or QR Code.
5. Assist customers in real-time with visual engagement
Forrester research indicates that visual engagement is a powerful real-time concept that enables agents and their customers to reduce conversation clutter, better understand each other, and drastically save time in problem resolution.
By using visual engagement tools like co-browsing and video chat, you can figure out customer problems quickly and provide the right solution at the first contact. You can collaborate with customers in real-time and deliver a virtual in-person experience.
Here is how video engagement is a B2B customer experience trend.
Seamless shift to visual engagement –

Leverage real-time engagement tools for your agents and customers to be able to intuitively transition to video engagement from their channels or devices. With the advanced co-browsing solution, you can guide customers in complex form fill-up by jointly navigating through the browser.

In-app video integration –

When businesses embed video engagement into their websites or applications, it enables customers to easily connect with the support team for immediate assistance.

Visual observations –

Direct video interactions with customers enable agents to diagnose the issue faster and find out an effective solution very quickly. Video chat enables the customers to quickly engage on the specific problem for quicker resolution.
6. Augmented Reality: Enriching customer service experience
More and more brands are increasingly stepping into the augmented reality trend. Augmented Reality (AR) can help both online and offline businesses to enhance how they interact with customers. 
As per MarketsandMarkets,  "Augmented Reality market figure to reach $61.39 billion USD by 2023."
How AR can be a digital customer experience trend in 2023?
Customer service training

– With AR, you can make training programs quicker and more efficient. Businesses that have a wide range of products can use AR to train customer service agents to expertly explain each item to potential customers. AR models can replicate a real product so you can train your staff in a fraction of the time.

Virtual product testing

– Providing customers with a trial run of a product or service is a classic tactic to win the sale. Businesses can now offer an enhanced trial experience by using AR.

Enable decision-making

– AR can be used to address customers' issues quickly. Through interactive apps, AR can be used to provide customers a good impression of a product. 
IKEA furniture used AR to improve the customer experience at both ends of the buyer's journey. It removes friction before purchase by showing the customer how the product will influence their everyday lives. By judging the product better at the outset, customers will be less likely to return it later.
7. Voice commerce will boom
55% of households are projected to own some sort of smart speaker device by 2023. 
While voice technology is evolving, it is having an impact on many spheres, including eCommerce. They are virtual assistants that can help customers to find products online using voice search and make their shopping process easier.
Brands will greatly invest in this customer engagement trend to make their products and shopping experiences available on a broader platform like kiosk screens.
How voice technology has become a digital customer experience technology trend?
24×7 Availability

– When you use voice commerce 24/7, it allows customers to do it more easily and quickly, without a lengthy browsing and purchasing process.

Personalize buying experience

– As voice commerce is so easy to use, customers tend to interact more with their devices. Devices can then gather more data from their owners, and use the data to personalize their customer experience.

Build trust among customers

– Businesses can lower the confidence hurdle of their business by leveraging voice technology as customers get great convenience, privacy, and security.
Retailers like Best Buy have created their own Alexa skills that allow customers to make orders via their Alexa-enabled voice assistants.  Carter, a clothing store for children uses Alexa skills to enhance the digital customer experience by answering questions, offering support, promoting daily deals, and sharing product information.
8. Adopt a video marketing strategy
A fact that can't be denied – your products or services might be great, but you won't maximize your reach without giving customers a reason to choose your brand. Here comes the video marketing strategy, which is highly engaging in every stage of the customer journey.
97% of marketers claim that videos help customers understand products.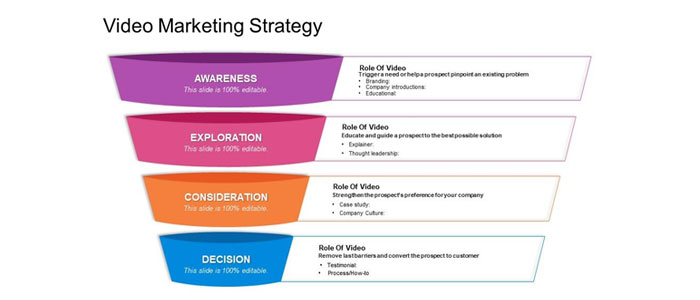 Video marketing strategy is reshaping the digital customer experience standards. It helps brands during the initial phases of a marketing campaign and supports a smooth transition down the sales funnel.
How has video marketing strategy become a B2B customer experience trend?
Use videos to demonstrate pain points –

Every video should have a purpose. It can cover customer pain points to actively enhance CX. In case you want to promote your videos, there should be an emotional interest that resonates with potential customers on a personal level and clearly provides something beneficial.

Include psychological triggers

– Triggers are a great way to create a lasting impact on your customers through

video storytelling

. Emotion as a psychological trigger can help businesses to improve the digital customer experience while encouraging customers to convert.

Identify channels that your customers prefer

– By using social media monitoring, and analytics you can know where your target viewers are.  You can focus on different types of videos (format, length, instructional, live, how-to, Q&A, etc.) and their performance across channels.
9. Centralize customer insights with the Internet of Things (IoT)
The Internet of Things (IoT) helps businesses with asset utilization, improves safety, increases productivity, and saves costs. Businesses are greatly taking advantage of IoT to not only improve profitability but also enhance customer experience. 
Why is IoT the latest customer experience technology trend for businesses?
Gain real-time data

– Businesses can capture real-time insights that help to know what customers think about their products or services. Instant access allows us to deliver better services to customers.

Enhanced products or services

– The insights can be used to improve existing and produce new products. You can map out the areas in your products and services that need to be modified or changed. Based on the analytics, you can plan your actions to improve customer service.

Personalized customer communication

– IoT helps to understand customers' behavior and generate important data for your business. The insights can help to personalize communication with your customers and increase satisfaction. 

Superior customer support

– IoT can increase customer satisfaction by controlling problems (the IoT sensors can predict problems before they occur). The IoT device can send an alert about the problem.
10. Customers expect more data transparency
One of the key factors of how businesses are perceived by customers is their transparency on data collection and usage. Customers are very much conscious about the data they are sharing, how it is used, and by whom. 
As a lot of hacks and scams happen around, customers are wary of sharing personal details. A lot of data is exchanged during conversations and customers expect more data transparency. 
There is no reason to hide while asking for customer details as customers have the right to know what happens after they share. For example, if you are acquiring data to enhance personalization or for any other purpose. Needless to say, if your intention is not to misuse the data, then everything should be transparent. It enhances customer communication and enhances brand credibility.
How maintaining data transparency is a part of the digital customer experience trend? 
The easy way out of this is to seek permission from customers and update them on how their personal information is being used. 

Convey your customers what is the purpose and '

why

' it is used this way. 

Be honest and clear with your customers. It earns more loyalty and can be one of the best

customer retention strategies

for your business.

There is no downside to maintaining data transparency when you are ethical. It's a matter of effort and you do reap the financial rewards when your customer trusts you.
11. Increased customer engagement with loyalty programs
Today's customers have a lot of choices. If they are not loyal, it can adversely impact your brand. Loyal customers are five times more likely to purchase from the same company again, and they are four times more likely to refer to another customer. 
Loyal or repeat customers can create the best opportunity for conversions, which is why businesses need to increase their focus on maximizing revenue from these customer segments.
Enrolling customers in paid loyalty programs by rewarding them based on their buying habits or customer referrals is one way to increase engagement.
For example, Marina Bay Sands offers 'The Sands Rewards Lifestyle. By being a Sands Rewards member for free earn and redeem instant Reward Dollars. You can also enjoy a slew of rewards and perks when you visit Marina Bay Sands.
Digital customer experience statistics 2023
The customer experience stats mentioned below provide valuable insights into customer expectations. With the help of customer engagement statistics and reports, businesses can identify the latest trends and plan out strategies to be more consumer-focused.
Here are some of the customer experience statistics provided by companies after deep research. 
96% of consumers say customer service is important in their choice of loyalty to a brand. (

Microsoft

)

83% of companies that believe it's important to make customers happy also experience growing revenue. (

Hubspot

)

Two-thirds of customers will share personal information with brands, but only in exchange for some kind of value. (

Accenture

)

81% of companies view customer experience as a competitive differentiator. (

PRNewswire

)

63% of CEOs want to rally organizations around customers as the top investment priority. (

Business2Community

)

90% of global executives who use data analytics report that they improved their ability to deliver a great customer experience. (

Medium

)

70% of Americans have spent more money to do business with a company that offers great service. (

American Express

)

75% of marketers say they will be responsible for the end-to-end experience over the customer's lifetime. (

Deloitte

)
Final thoughts on digital customer experience trends 
With digital advancement, customer experience trends are going to be shaped continuously.  By encouraging AI chatbots, predictive analytics, video marketing, and personalized and consistent communication, businesses can find new avenues to engage their customers. 
Businesses at the same time develop chances to strengthen their customer relationship and build loyalty. By staying ahead of the curve, businesses can put customer engagement as the top priority to improve customer experience to delight customers.