Prompt customer service is one of the key challenges faced by small businesses. Using business live chat helps in addressing queries instantly with effective solutions that boost customer satisfaction. From big banks to small online shops, more and more businesses are implementing live chat for their customer service. 
44% of online consumers say that having questions answered by a live person during an online purchase is one of the most important features a website can offer.
So what are customer expectations that small business owners should be concerned about?
Delivering consistent customer experience

– SMBs should deliver consistent experience by streamlining all conversations under one platform and prompting engaging across their preferred channels. Thus making your businesses customer-centric by

implementing the live chat strategy

.

Helping website visitors to make quick decisions –

You need to be available to engage your website visitors in real-time and provide instant solutions to their queries. You can proactively start a conversation if they are stuck on a specific page and guide them for successful conversion.  

Provide 24×7 customer support

– Being able to provide prompt solutions to customer queries increases customer satisfaction. Happy customers turn out to be loyal and have a higher lifetime value (LTV). With live chat and chatbots, you can offer 24×7 support without losing the human touch.
What is the Best Live Chat Software for a Small Business?
REVE Live Chat is one of the best live chat software for small business organizations. While developing the live chat software and setting strategy, prices, and everything else, we focused a lot on making it small business-friendly. 
There are some distinct characteristics of a small business. You need growth faster than any other type of company. Here are our live chat pricing plans. 
At the same time, you might have to win with limited resources. All these considerations have been taken into account while making our live chat software. 
Want to see how REVE Chat helps you serve your customers better?
Start a 14-day free trial now. 
How Does Live Chat Software Improve Customer Experience for Small businesses?
Customers expect businesses to be prompt across social media, text messaging, and websites. Live chat software helps to understand customers and provides interactive support by using customer engagement tools. By setting welcome greetings, and having proactive chats, you can guide customers in the right direction. 
The live chat on your website makes customers easy to interact with your brand due to the key reasons:
Deliver instant response to sales and support queries of the website visitors and customers.

Collect real-time customer feedback after every conversation. 

Identify the customers who drop off and reach out to them in the future.

With live tools, like co-browsing and video chat collaborate with customers in real-time with personalized conversations.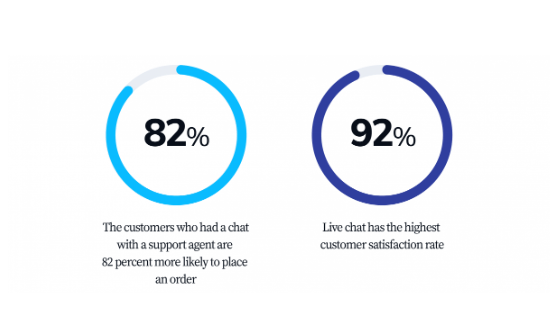 Live chat connects with the customer in real-time to address their queries and guide them in their journey. The agents collect feedback about the products and services after the chat ends from the customers so as to improve their services and products.
Why Live Chat is the Best Channel to Grow Your Small Business?
Website visitors that engage with your company via live chat are worth 4.5 times more than visitors that don't.
For small business owners that start to gain traction, choosing reliable live chat software is even more important. Adding live chat as a new channel to your small business definitely creates value. 
Let's consider a fundamental question why use live chat for small businesses? Some key reasons to use live chat are as follows.
Deliver effective support by streamlining all conversations from multiple channels like websites, social media, apps under one platform.

Interact with targeted customers in a meaningful way and improve sales conversions.

Gain insights and performance metrics on the customer journey to enhance interactions with clients and reduce resolution time.

Handle multiple customers simultaneously as compared to reactive channels such as email or phone support.

Get instant feedback from customers regarding the quality of service and improve support strategies.
What Are the Top Features of Live Chat Software for Small Businesses?
According to Forbes, "92% of customers feel satisfied when using the live chat compared to other communication channels."
So, for evaluating the best live chat software, what are the factors to be considered during decision making.  
The top features that make live chat software work for your small business owners.
Co-browsing

– It allows you to collaborate with your customers in real-time and guide them through a complex form fill up the process and deliver the best conversational experience.

Video chat

– Connect with your customers via face-to-face video chat at a single click in real-time for sales and assistance.

Omnichannel communication

– If your business requires engaging with customers across multiple channels then having an omnichannel live chat platform is the key to managing your conversation and team productivity.

Mobile SDK & Developer API

– Integrate live chat support inside your mobile apps API & SDKs for delivering in-app chat support and boosting your user engagement.
There are some of the common features that are part of the live chat software and help in better customer engagement. They are widget customization, tags, visitor analytics, queuing, visitor notes, tags, and automated triggers.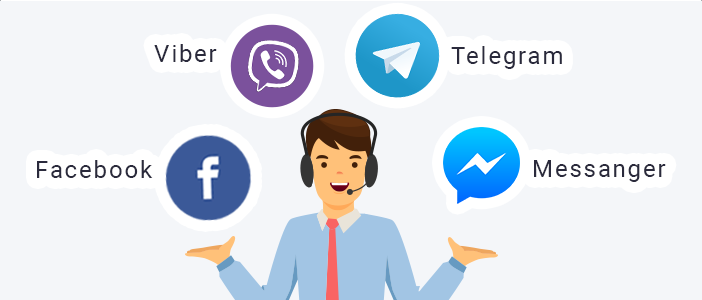 There are some of the common features that are part of the live chat software and help in better customer engagement. They are widget customization, tags, visitor analytics, queuing, visitor notes, tags, and automated triggers.
How to Select the Best Live Chat Software for Small Businesses
Let us discuss one by one how you can grow your small business productively by implementing live chat software. Provide better engagement to your customers and raise the chances of sale conversions.
1. Turn Your Website, Visitors, Into Customers
For small business owners, the cost is one of the major challenges to adopting an online lead generation strategy for which the website is the main alley. Adding live chat to your website can provide valuable insights into the interests and behavior of website visitors. 
How can live chat help to turn web visitors into customers?
You can trigger a personalized message based on the visitor activity at the right time to guide them effectively in their journey. 

Start a proactive conversation with visitors when they get stuck for some time on a particular page like a product or pricing page.
Assisting the visitors in their journey and addressing their queries effectively in real-time encourages them to make quick decisions then and there for your product. With a timely and personalized message, you can develop trust and enhance your live customer service experience.
2. Provide Live Assistance at a Single Click
Live chat for business websites whether for startups or small businesses, can connect with customers with a single click. Using live customer engagement tools, like video chat, co-browsing, screen sharing helps to interact face to face and makes the conversation effective.  
Sending proactive messages helps to respond to customers' queries at that point in time and close sales faster.
Being available for chat assistance without delaying or queuing the incoming chat requests helps to resolve the customer queries instantly and take quick decisions for the products and services. Providing live assistance in real-time provide maximum customer satisfaction.
3. Deliver Better Customer Experience
Adding a live chat feature to your website helps to communicate immediately without letting the customer wait. The real-time assistance provided to your customers helps to get a quick response to queries or problems. 
Personalizing the chat through video chat develops trust in customers and improves customer experience. Providing better assistance and support by using customer engagement tools to make your conversations effective.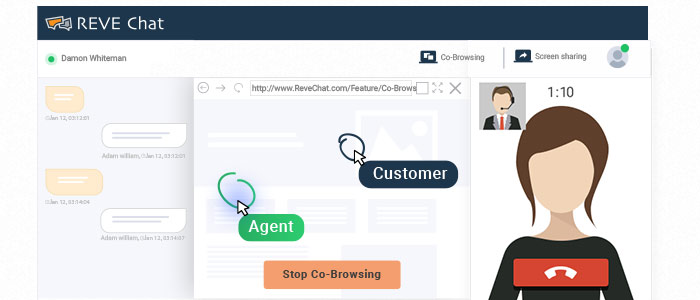 A co-browsing solution helps the support agents to guide the customers to fill form complex forms or applications. It provides a better contextual experience in real-time. Combing co-browsing with live chat and video chat makes conversations interactive and delivers a great virtual in-person experience.
4. Improve Sales Conversions Rate
Connecting with customers at the right moment and assisting them encourages quick decision-making. Triggering the right messages based on the visitor's journey resolves the queries instantly and increases sales conversions.
How live chat strategy can improve conversion?
Talking about online chat services for small businesses, there are some basic do's and don'ts that need to consider in order to keep your customers happy. Follow some of the live chat best practices to give your customers a memorable experience.
Better Engagement of Website Visitors
Gain insights from visitors' analytics about their interests and behavior. Start a proactive conversation with them by sending personalized messages. By using visual tools, provide face-to-face engagement and effective solutions in the first contact. 
Best practices 
Use automated triggers and welcome greetings to start a conversation with visitors

Make use of visual tools like video chat and co-browsing to identify issues faster and deliver effective solutions.

Rightly use canned responses for answering customer queries faster.
Nudge visitors towards sales conversion 
Provide complete engagement to visitors in real-time to resolve their queries and make a quick decision. Guiding the visitor effectively throughout the journey improves sales conversion.
Best practices 
Integrate live chat with different sales and marketing tools to transfer leads.

Attract customers with a promo or offer after a fixed time with proactive triggers.

Engage customers effectively restrain customers from cart abandonment.
Turn visitors into loyal customers 
Delivering better engagement to customers throughout their journey with personalized communication turns the visitors to be your loyal customers.
Best practices
Document the answers to FAQs use them for better customer engagement

Routing the chat requests across the right teams for improving resolution time.

Distribute the chat to the departments to deliver effective customer service.
5. Live Chat Is Cost-efficient
Live chat is an excellent way to minimize the operating costs related to sales and support.  
Specifically, for any startups or small businesses where hiring resources is a big constraint. 
Comparatively, it is expensive to handle a customer query than to resolve it on the first point of contact. Routing the queries to the most qualified agent saves customers from needing to repeatedly explain their query to different agents – and improves your First Call Resolution (FCR) rate.
Live chat for small businesses and startups helps to save money. The reasons that make it cost-effective are:
Live chat agents can handle multiple chats simultaneously. This increases efficiency and no need for hiring more agents.

As the customers are delivered real-time assistance average order value increases. The agent satisfies the customer by delivering the exact product or service he was looking for.

Minimizes the help desk costs by lowering the waiting queue time with faster resolution.
6. Develop Lasting Relationships With Customers
Generally, satisfied customers are less likely to switch. They tend to remain less price-sensitive and value the way they are taken care of. The customers with who you live chat tend to come back and buy more often. They have familiarity with your business and the processes.
Effective communication is the key to building customer relationships. Listen to your customers' experience with the products and services. Learn what your customers need and explain the solution that you have for their requirements. 
Foster good communication skills with customers while onboarding new employees. Follow an employee policy, requiring timely follow-up, to ensure that the customer's needs are met.
7. Builds Trust and Customer Loyalty
Customer trust and loyalty take your business a long way. By personalizing the live chat sessions with your visitors you build a personal connection in between that helps in more conversions and business growth. 
Apart from enhancing the customer experience, companies using live chat can gain more customers. By adding visual live engagement tools such as co-browsing, video chat the conversations can be made more engaging and effective. 
These tools help to collaborate with your customers in real-time and offer instant solutions. Customers value businesses and are loyal to those who treat them as individual people through personal conversations.
8. Connect With Your Business Tools
Most of the startups and small businesses are resource constraints. Every business uses different tools to automate and streamline things in a better way.
Adding a live chat feature to the business website helps to cope with the problem of resources. Automating tasks by connecting live chat with your other business tools can be a big time saver and productivity booster.
Having such integrations can really help you to spend your time more on customers and less on administrative tasks.
So what are the tools you can integrate live chat with? Some of the key tools that you may be using quite frequently are:
Redefine Your Customer Experience With Our Small Business-Friendly Live Chat Software
Live chat for small businesses empowers in making customer communication effective. It not only benefits the SMBs but also the big enterprise as well. Companies using live chat software are an integral part of a customer-centric strategy. Following the above guide startups, & small businesses can reap significant benefits and grow.