No matter how big or small your business is, if you want success, excellent customer support should play an important part in your business strategy. In case of live chat customer support, there are some basic Do's and Don'ts, and getting all of them right is very important in order to keep the customers happy.
Bad experience on the customer's side can make him/her leave your website. On the other hand, if the customer has a good experience, he/she may buy your products or services and may return back. This is a very basic business practice which many live chat agents are unable to understand.
So, here are some tips on the live chat customer support etiquette which will help you to improve the overall chat experience with the customers. Let's discuss!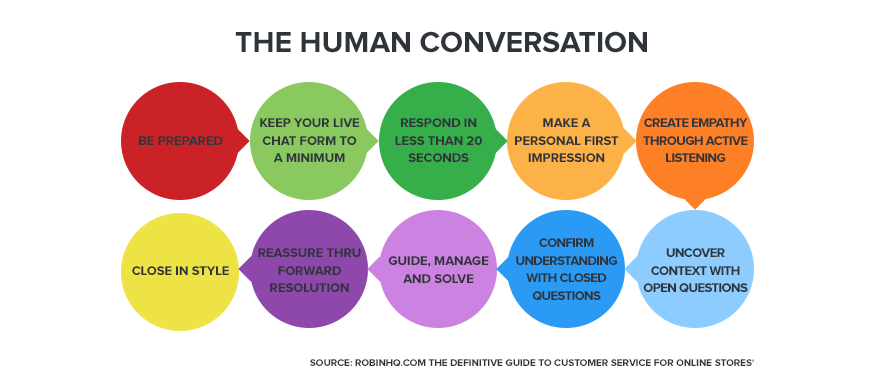 1.  Don't make your customers wait
Live chat is best known for providing instant assistance. So the faster you offer assistance to the customers by responding to their queries, the better will be your support quality. As per Forrester report, '71% visitors expect assistance within five minutes and if they don't receive it, 48% will abandon the site.' So make sure you accept the chat invitations and start responding to the website visitors ASAP.
2. Proper product knowledge is important
Make sure that you know each and every thing about your product offerings and if the customer asks something you should be able to provide the right answer. So attend product training sessions on a regular basis to brush up your skills. Offering right information confidently is a great way to make the customers happy.
3. Add a human touch to your conversation
Many people feel that in live chat, whoever is chatting as an agent acts with them like a robot. The reason probably is that agents don't act lively while providing online customer support through live chat. This way customers will never be satisfied. So it's a must to add a human touch to the live conversations.
Here are some tips for you:
i) Send personalized greetings
ii) Add your image, name and designation in the chat profile
iii) Avoid using frequent canned messages
iv) Make sure that your answers are personalized and to the point
4. Admit when you don't know the answer
Many times customers may ask you something about which you don't have any idea. It's absolutely ok! Don't panic. Here you need to smartly handle the issue. There can be 2 ways: first tell them that currently you can't answer as you don't have the right information and need some time to look into it. The second option is to tell them for solving that issue, you need some information which cannot be accessed by you and forward that chat to one of your team mates who can handle it.
5. Communicate in a professional manner
Being in the live chat support team, you are the first point of contact for the customers. As you are representing your company, you need to communicate with them in a proper way. In live chat, what you write should be grammatically correct. Using correct sentences and punctuation is important. Avoid using too many exclamation marks and emoticons. Your tone of language should make your customers feel that they are in the right hands. Lastly, always avoid using sarcastic phrases which may create a negative impact on the customers. 
Some more tips:
i) Introduce yourself while initiating the chat session
ii) Don't lose your patience
iii) Listen carefully what the customer has to say
iv) Use proper spelling and grammar while typing
v) Make your answer short and to the point
vi) Don't argue with your customers
vii) End the chat on a high note
In your live chat sessions with your customers, your words are all that you have, to convey the right message to your customers. Any phrase that would have passed 'OK' in face-to-face or telephonic conversation may be misinterpreted in live chat. For providing excellent online customer support, every live chat agent should build up good communication skills, vocabulary that excludes any dubiety and provides a pleasant experience for the customers.
Though customer service is not an easy job, but don't take it as a burden. After all, it's a very good sales opportunity, so don't let it go away from your hand.