Offering personalized assistance and building stronger relationships with customers is now super easy. All you need to do is install Facebook Messenger Chat Plugin and you're good to go! 
This plugin is a great tool for businesses that wish to support customers while they browse their websites. It allows integration of the Messenger experience directly into the website. With this integration, both you and your customers can interact with each other anytime with the same Messenger-like personalized, rich-media experience.  
More importantly, the Messenger Chat plugin enables a single experience for customers and helps you continue the conversation even after they have left your webpage. Thanks to this wonderful plugin, you don't even need to worry about customer analytics for tracking purposes as you can use the Messenger conversation for the same. 
In this blog post, we will discuss the Facebook Messenger customer chat plugin, how to integrate it with your WordPress website, and how to use it to achieve a robust omnichannel customer support strategy. 
Benefits of REVE Chat Facebook Messenger Chat Plugin for WordPress Website
Facebook Messenger app is a huge platform when it comes to getting prospects, driving conversions, and ensuring quick support to customers. The kind of user base it has is something no business can afford to ignore. For that reason, its very own chat plugin holds immense value for businesses.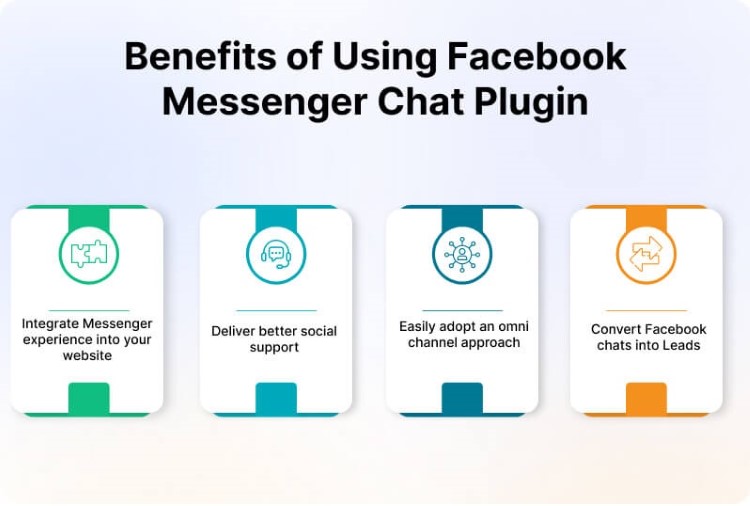 Using the Facebook Messenger Chat Plugin can bring a variety of benefits to your business. 
Integrate Messenger experience into your website

– The chat plugin enables your business to bring the Messenger experience into your website and leverage a popular social network for a whole range of benefits. 

Deliver better social support

– Your business can easily engage customers and deliver improved social support when it uses the Chat plugin. 

Easily adopt an omnichannel approach

– It's now possible to engage, communicate and interact with your customers across

Facebook comments

, messenger and website chat in one place. 

Convert Facebook chats into leads

– By using the Messenger Chat Plugin, your can get more customers with Facebook Messenger and comments. Plus, there will a great possibility of converting Facebook chats into leads and sales.

 
How to Add Facebook Messenger Chat Plugin to Your WordPress Website    
It takes only a few clicks to add the Facebook Customer Chat Plugin to your WordPress website. You don't even need much technical knowledge to install the plugin. Facebook has made it really easy to add Messenger Chat plugin WordPress to any website in seconds.  
‍You can follow these simple steps to add the Messenger Plugin to your WordPress website. 
Step 1: Install the Facebook SDK on Your Website
In the first step, you need to copy and paste the chat plugin's JavaScript into the HTML code of your website. You can insert it directly after the opening tag of the web page you want the chatbot plugin to show up. This will help install the Facebook SDK on your website.  
Step 2: ‍ Add Your Domain on the Facebook Page Settings 
After installing the Facebook SDK on your website, you need to add your domain by going to the page setting option. There, you need to add your domain to the whitelist.   ‍
Step 3: Paste the Code 
In the next step, you will have to paste the code and add the attribute of choice in order to add the chat plugin to your website.   
These steps are enough to add the Facebook Messenger chat plugin in your website. Now your website is connected to the plugin and you can start the conversation with users.     
Tips to Use Messenger Chat Plugin WordPress  
Engaged customers often bring value. And when it comes to engagement, personalization rules the roost. With a huge platform like Facebook, there is always a great possibility of getting tons of leads and converting them into sales. This is where the Messenger Chat Plugin can help.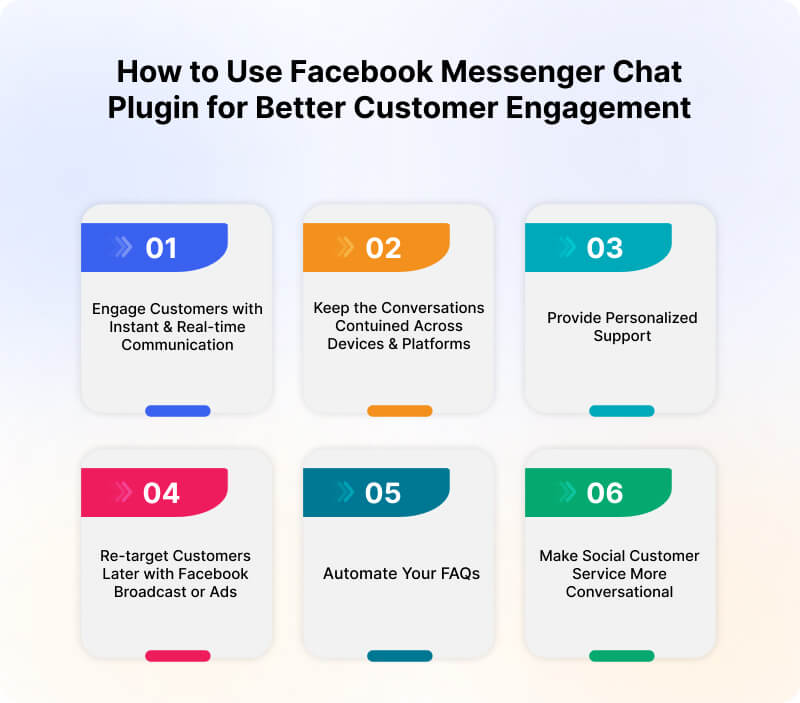 Your business can add a new dimension to customer engagement & customer communication by using Facebook Messenger Chat Plugin. 
1. Engage Customers with Instant & Real-time Communication 
Customers always expect instant replies and quick resolution to their problems. And if you're not able to provide that, it can prove a big impediment to your customer engagement initiative. 
Worse still, 89% of consumers have switched to competitors following a poor customer experience. So, you need to be aware of how you engage with users and provide them quick service. 
With the Messenger chat plugin, you can interact with your website visitors in real-time and provide instant solutions. More importantly, you can engage users better as you will already know a lot about them, courtesy of their Facebook profiles.   
You can also easily solve their problems with your products service etc. and add value to their experience. 
2. Keep the Conversations Continued Across Devices & Platforms 
Using the Messenger chat plugin gives your business the flexibility to keep the conversations ongoing across various device platforms and websites. 
For example, if a conversation begins via your business Facebook page, you can easily keep it going via your website or vice versa. This flexibility is not only helpful for businesses alone but can add great value to customers as well. 
Now customers will find it effortless to take the conversation from their social media pages to your website and vice versa. They can seamlessly continue to move back and forth devices, channels, or platforms and maintain the flow of communication with your business.
3. Provide Personalized Support 
When you use the Facebook Messenger chat plugin, it helps website customers reach you with a click. You can then engage and delight them with personalized service and advice. 
At the same time, you can offer quick answers to commonly asked questions and enhance their experience with your brand. 
In addition, your business will have persistent conversion threads where all the interactions are inherently centralized. Having access to such threads ensures you always keep a track of customers' original requests or complaints. 
And when you know a customer issue inside out, it always helps to offer great personalized support.  
4. Re-target Customers Later with Facebook Broadcast or Ads
Not all customer communication follows the path your business may desire. A lot of them would abandon the chat midway for one reason or another. And when chats are left midway, it somewhat becomes difficult to reach out to the customer in question.
This type of problem is quite common with other chat systems as they won't help in receiving a user's information in case the chat is abandoned mid-way. However, no such problem happens when you use the Facebook Messenger customer chat plugin. 
With this plugin, potential customers will always be in your Messenger and you can re-target them any time in the future with Facebook ads or broadcasts.  
5. Automate Your FAQs
You can deliver great customer experiences only when your service agents are motivated. And if they are overworked and stressed, it might compromise the quality of customer service to a great extent. 
Automation is one of the best ways to reduce agents' workload and keep them motivated for longer. Plus, it's now a necessity for businesses given how ver 80% of business leaders plan to speed up work process automation in near future.  
By using an AI-powered chatbot for the most common questions, you can not only deliver instant replies but can also keep reps more productive. 
The bot will deliver answers to their queries in a few seconds and that too without requiring the intervention of humans. This will lessen the pressure on your customer support team. 
6. Make Social Customer Service More Conversational    
Social platforms are increasingly becoming a favorite way for customers to reach out to businesses for queries and information. Plus, social conversations are fun and quick and this also makes these platforms fit for support.
However, not all businesses take their social support strategy seriously. Most make the mistake of replying late to queries or ignoring complaints about there. Well, this kind of strategy is not helpful in a time when customer service on social channels is supposed to remain more conversational. 
With the Facebook Messenger chat plugin, it's easy to start conversations on the website and stay in touch over Facebook, making social customer service more conversational.   
Facebook Messenger Live Chat Integration with REVE Chat
Facebook is a popular messaging channel preferred by customers a lot. For a business, it's important to fully leverage FB's messages or comments by having all the conversations under a single platform. This will help your business have one place to deliver a unified customer experience on the Facebook platform.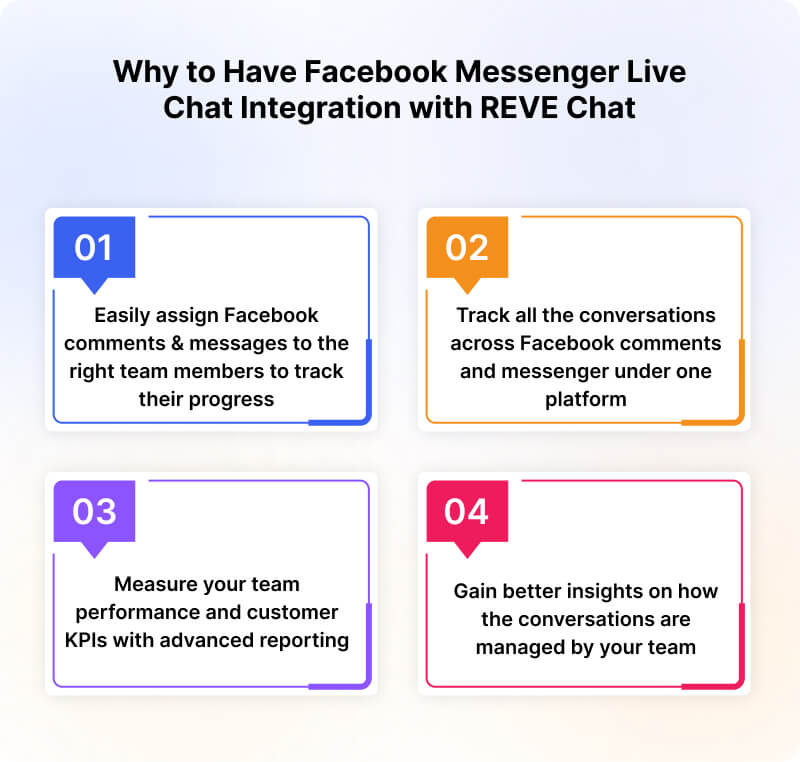 Integrating Facebook Messenger Live Chat Integration with REVE Chat can assist your business in a variety of ways.   
It will be easy to assign Facebook comments & messages to the right team members to track their progress, therefore

improving engagement

and making customers feel valued.

Your business can track all the conversations across Facebook comments and messenger under one platform.  

Thanks to the integration, you can measure your team performance and customer KPIs with advanced reporting. 

When you use the Facebook Messenger chat plugin WordPress, it would be easy to gain better insights into how the conversations are managed by your team.
How to Integrate Facebook Messenger Chat Plugin with REVE Chat?
You can follow some simple steps and quickly integrate the Messenger chat plugin with REVE Chat.
The steps are: 
Start the process by going to the Integrations menu on your dashboard. Now select the Social Media Channels option and then click on the Facebook option.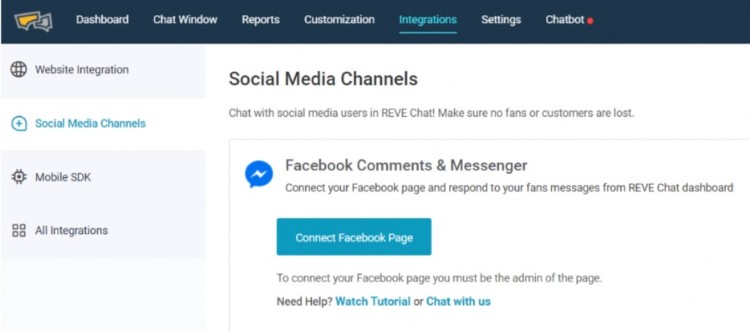 A click on "

Connect your Facebook page

" will redirect you to your Facebook account. You can log in by using the registered email or phone number.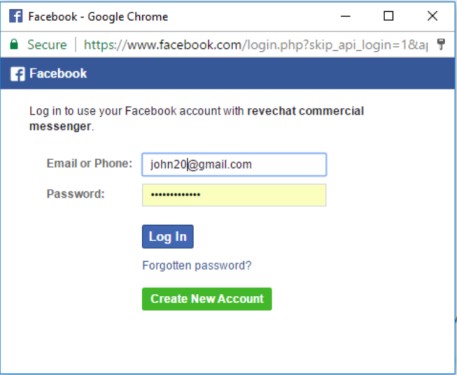 Right after connecting successfully, there will appear two ways to manage your Facebook messages and comments – (I) Managing Direct Messages and (II) Managing Comments Separately.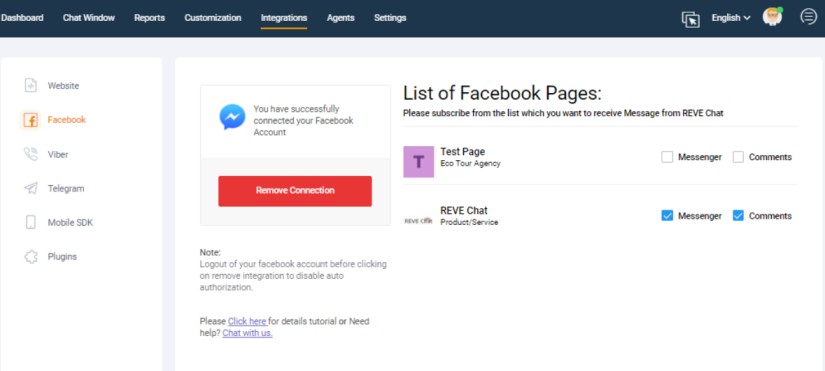 From the options, enable the checkbox to meet your business needs. You can choose either Messenger, Comments, or both of them.
When you enable the Messenger check box, it will help you check the direct messages from the REVE Chat dashboard and respond to them. 

And when you enable the Comment check box, it will help your team get a real-time view of the comments left by the customers.          
Final Thoughts on the Great Value of the Facebook Messenger Chat Plugin 
Social customer service is set to grow in scale and significance and your business needs to keep pace with this changing trend. You should stay prepared to efficiently cater to Facebook customers if you want to grow the business. 
With REVE Chat, you can start a free trial of top-notch customer service tools and also benefit from its integration options with leading social networks including Facebook. You can also integrate the Messenger Chat plugin WordPress to your website in a quick time.  
So, the time is right to think of integrating the Messenger chat plugin with your website and taking the right step towards adding value to your customer service strategy.