Let's take an example. You wanted to buy some chocolates and went to a shop. You were in a very good mood and gave a smile to the cashier while making the payment for the chocolates but he gave you a dead look. Will you feel good? Obviously not. You would come out of the shop with your favourite chocolates in hand, wondering why such a small thing bothered you so much. Same goes with other customers also.
 Customers always want to be appreciated and well treated when they talk to the sales and support personnel. There are some basic customer service etiquette which support personnel should keep in mind while ending a chat session.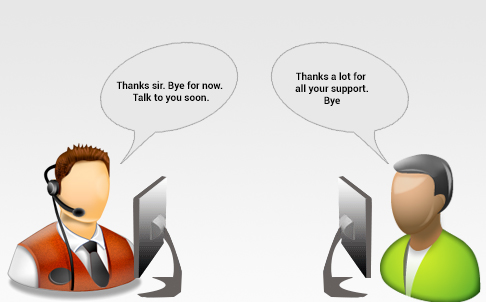 1. Always sound polite and cheerful
As a support personnel, you may handle a customer really well, but the last few lines before ending the chat, can ruin the overall experience. Your customer may feel awful because of your way to end the chat session.
Customer care tips: "you should be cheerful and polite throughout the chat session." 
2. Don't forget to thank your customer
One important live chat etiquette is never forget to thank the customer before ending the chat session. Let them know that the chat session was more than just about money.
Customers have chosen your company amongst others for business: it's a much easier way to feel gratitude if you think this way. So always treat them in the same way you want others to treat you if you were the customer.
You can thank them in several ways like: "Thank you for contacting us, hope to hear from you soon"
3. Make sure all their issues are resolved
Always ask the customer if he /she has any other issues to be resolved. Don't let them go with any unmet needs.  When you feel that the chat is about to end, don't react like you have done all the possible things for that customer, as there is always a chance to improve. Grab the opportunity to go some extra miles to make her happy and more satisfied. Don't forget that customers will return to those companies, whose support service is extraordinary and exceed their expectations.
Customer care tips: Before ending any chat session, always show some extra effort like: "Is there anything else I can help you with?"
4. Good Bye should mean 'Hear from you soon'
While ending any chat session, always remember that this is not the last time that the customer has come to you for doing business or any assistance. Hopefully he will return. So never show any negativity by saying 'Good Bye' even if the customer is terminating your services. With your kindness, there is always a chance to make him return to the company in future. So make him feel that you are always there for providing support.
Good customer service tips: Here you may use lines like: "Thanks a lot for your patience, hope to hear from you soon"
 Or 
"Thanks for using our services. Please let us know if you have any more issues. We will be happy to help you. Have a great day"
5. End the chat in a more personalized way
Many live chat software provide details of website visitors. The details include: customer's country, geographic location, IP address, name, email address, past visits, viewed pages and much more. All this information will help you to end the chat in a more personalized way.
For example, if the customer is from India, you can end the chat in his own way: "Bye for now. Please let us know if you need any further assistance. NAMASTE"
6. Let customer end the chat first
Who will end the chat first? This is an important question. Let your customer do that. For the last time, ask him if he has any more queries and if the answer is 'NO' let him end the chat session. If he forgets to close the chat window, wait for half a minute after your last message and then close the chat window.
Try the above mentioned good customer service tips! These will work for sure.