All of us know this old proverb, "You will never get a second chance to create the first impression!" But have you ever thought that this concept is also applicable to your live chat customer support?
Yes, it's not easy to create the right chat greeting for gaining the trust of customers who visit your website. But the way you greet will make him understand whether you are capable of helping him or not. Remember that customers don't use live chat only if they have questions. It allows you also to engage with them proactively for offering instant assistance.
It matters a lot what you will write to the customer for initiating a live chat session. So, let's take a closer look at how you can create the perfect live chat greeting for your customers and make a good first impression.
1. Use targeted greetings

Live chat's 'Auto Trigger' system allows you to send automatic greetings to the website visitors based on some predefined situations. Here you can personalize the customer greetings based on certain criteria like time, page, location, referral, etc.
Suppose a website visitor is browsing your 'Pricing' page for a while and someone getting an idea about the costing is a great signal that he is actually interested in your services. So with the live chat trigger, you can personalize your greetings and it will be sent to him automatically.
For example, if the customer is browsing your pricing page then the greeting can be:
"Hi. Do you have any specific queries regarding our pricing?"
Or,
On your online store, if a customer is checking out the 'Shoes' section, you can start with something like this:
"Hi. We are currently having special deals on shoes. Interested?"
2. Greetings should be formal, friendly and personal
Create your customer greetings properly as it sets the tone of the conversation. Don't make it too short or too long. Your greeting should be formal, friendly, humorous, and personal at the same time.
Live chat allows you to get detailed visitor information like geographic location, country, etc based on which you can also welcome the visitor in his local language. It will help you to start the conversation on a personal note.
REVE Chat offers powerful customer engagement tools that can help you boost interactions with users. Sign up to enrich your business with advanced live chat solutions and start creating effective chat greetings for customers. 
Here are some customer service script examples for your reference:
"Hello <customer name>. Thanks for contacting <your company name>. How may I help you today?"
"Hello <customer name>. Welcome to <your company name>. How are you doing?"
3. Add agent's name and photo to look like human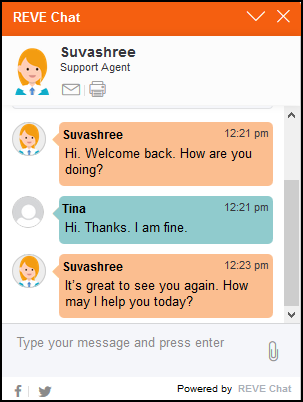 It's true that in the case of live chat support, both the agent and customer cannot see each other. It may sound a bit robotic. So, to break the monotony, show the human side of you. Add a friendly avatar, name, and designation to your agent profile. 
It will make you and your company much more credible to the customers. It's an easy way to give a personal touch to the live chat sessions. Don't use any generic image of a boy or girl wearing a headphone, try to be specific.
4. Reflect positive energy
Live chat greeting with high energy even pumps up the customer also. It a great way to create a good first impression. This kind of greeting makes the customer comfortable and lets him open up about the requirements freely. This will allow you to help him in a better way.
You may be thinking how to reflect enthusiasm over live chat where no one can see each other? But it's not that hard. Live chat's 'Visitor Analytics' feature provides details of visitors by which you will know their names, past visits, countries, current page views, etc.
So, here if you see that the person is a returning visitor, you can start your chat like this:
"Welcome back <customer name>. It's good to see you again. How may I help you today?"
Or if he is an Indian, you can start with something like this:
"Namaste. Welcome to <your company name>. How may I help you?"
Key pointers:
Add human touch to your conversation

Balance the use of canned responses to make conversation effective

Introduce yourself first

Avoid typo errors, grammatical and spelling errors

Make your greeting short and precise