Multi-channel customer support provides several options to customers on how they would like to communicate with a brand for any kind of assistance. It is the combination of several support tools like traditional phone calls, email, live chat, help-desk, and social media. 
Learning the difference between omnichannel vs multichannel helps you to choose the right way to deliver customer support. Different people like different methods to communicate. Being an online business owner, you have to understand this first. Always assist customers in the same way they want and the omni-channel customer support approach makes it possible.
But before going for this kind of service, few important things should be kept in mind. Let's discuss this. 
1. Offer your customer's preferred channels
Which support channels to choose? It's simple: channels your consumers would like to use. Don't forget that your customers are important and they will be happy only if you provide support to them in the same way they want.
To know their preferred channels, you can run customer surveys and get ideas from them. Certain customer support channels like phone, email, and social media are being used by most of the companies nowadays.
Here is the extended list:
Phone
Email
Live chat software
Help-desk
Social media
Self-service (FAQs, case studies, tutorials, etc.)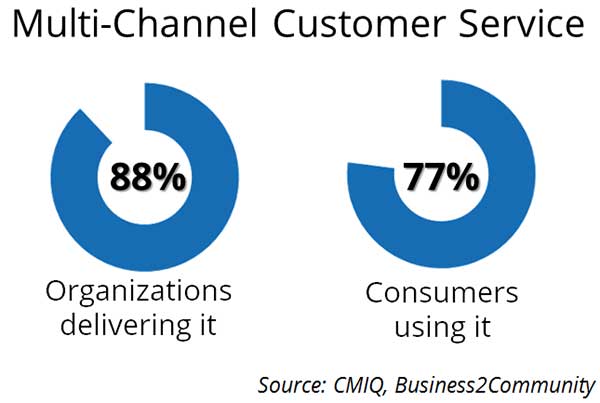 2. The multi-channel customer experience should be seamless
It means the whole customer support experience should be smooth. If it's required to shift from one channel to another, then the system should be able to pick up the conversation threads without any obstacle.
All details and conversation history should be documented properly so that the support agent doesn't get confused and ask the customer to repeat his concern after the switching, for example from self-service to live chat or live chat to the phone call.
[Tweet "60% of consumers have higher expectations for customer service now than they did just one year ago."]
3. Consistency is important
Here any information given to customers must be correct and match properly irrespective of all the channels. If it does not happen, then there is no point in consolidating all the channels together.
Use a common workflow process and knowledge bases to provide accurate information. If customers find any inconsistency, then chances are that they may doubt your customer support quality and think that your company as a whole is disorganized.
4. Offer only those channels which you can handle efficiently
It's true that you should offer all the favorite channels of customers but there is no point if you can't handle those efficiently. You need enough manpower and tools to handle this kind of support system and if you need time, don't start offering all the channels together.
For example, email and live chat support are much easier to handle. So, initially, you can start with those only. Compared to these two, phone support is much more complex as it requires huge manpower to handle call volume and a dedicated IVR system.
[Tweet "67% of consumers use web self-service knowledge to find answers to their questions."]
5. Review call recordings, emails, and chat history regularly
Take some time out to review call recordings, emails, social media messages, and chat history from customers to understand the quality of your overall support service and what is coming up from the customers.
You should try to find out the most used channels and common flaws. If customers discuss the problems associated with any of your support channels, work harder to solve those issues ASAP.
6. Don't confine your support agent to a single channel
Let all the agents of your support team switch between different channels from time to time. Supporting customers through only one channel will become monotonous for the team and gradually they will be tired and lose enthusiasm.
For example, if one agent constantly provides support over the phone, the monotony of doing the same job will harm his effectiveness. On the other hand, if he switches between different channels after a certain time, he will learn to provide support in multiple ways, at the same time will be more flexible and efficient.
Your omni-channel customer support strategy should focus on providing exceptional experiences to customers. Offering such experience is not that easy as it requires time and investment in certain areas. So, before the start, understand it thoroughly.