Nowadays, increasing your conversion rates is become crucial because of high level of competition. Having a good conversion rate is the foundation of high sales volume. No matter whether you are running a small or large organization, it become very important to improve web traffic through the conversion optimization strategy. If you are much familiar with the Conversion rate optimization, process then you can easily convert more visitors into customers.
Here's 13 website optimization tips that can increase your website conversion rate
1. Identify your target audience
It is one of the most critical tasks that involves the study and identification of your competitors and your audience. It is important because only then you can be able to develop ads and also write content such as blog, articles etc. You should write your content in more attractive way only then your audience will enjoy your content. 
The sources available on your website whether it be products or services, helps to understand the attractions of the target audiences who will visit your website if it satisfies their needs and wants.
2. Understand visitor behavior by using analytics tools
It is important to analyzing the visitor's behaviors through exceptional effective tools like heatmap , hotjar etc. With the help of these tools you can easily see the interaction of the visitors with your blog or live website. Benefits you will get,
Truly understand your web and mobile site visitors.
Understand what your user want.
Find the biggest opportunities for improvement and testing in your web pages
Give your visitors an easy way to leave instant visual feedback on your website or app.
3. Use strong headlines
Making use of strong headlines will eventually lead to more attraction of the visitors. To create an influence on the visitors, the initial thing you require to do is to make your headlines crispy and resourceful. Let your headline take all the attention of the visitors by making them interesting and educating.
Look at the example of In Movexa, adding the word "supplement" to their headline improved conversions by 89.97%.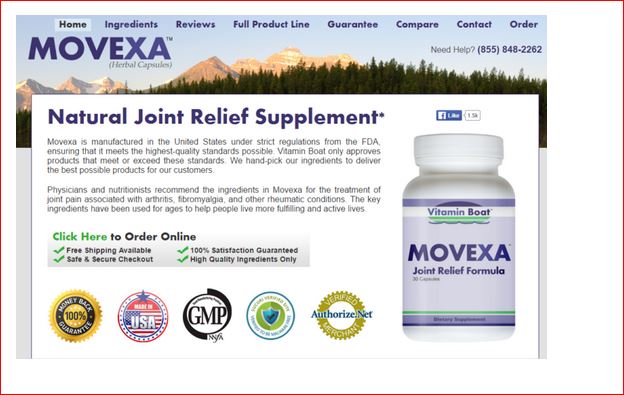 4. Add relevant images
Images do speak more than what you have presented in your content. A relevant image related to your website products or services that you offer must be mentioned.
It must clearly depict what your business wants to convey as images or visualization leads to better understanding.  Thus, this helps in tremendous conversions of the visitors into customers.
5. Use 8 second rule
The general rule of thumb is that you have only 8 seconds to get a visitor's attention, because that is the length of the human attention span. You only have a very tiny window of opportunity to engage a user when they first land on your site, so make those seconds count! Follow below mention tips for grabbing attention and boosting conversions within the first 8 seconds:
Make signup buttons large, simple and clear.
Use eye-catching headline or banner image that conveys the main point or purpose of your page.
Use hover effects on your buttons.
Incorporate multimedia such as video, audio etc.
6. Manage and include relevant content
For acquiring an effective website conversion optimization technique, another most important thing is to include a quality and relevantly rich content. The content that you display on your website will help the readers in understanding your products and services.
This will eventually make them more interested in your website and thus end up becoming a loyal customer of your products or services that your caliber.
 7. Check your page loading time
Increase your web page loading speed will directly affect your page loading time. If your page makes the audience wait more than 10 seconds, people will thus abandon your site. Ensure that you use effective tools for improvising the page load time to maintain the built interest.
8. Add genuine customer testimonials and brand logo
One of the major impacts that have always influenced the market is the experiences shared by your genuine customers. You can demonstrate your social proof by showing your customer's genuine reviews on your website. You will get some major benefits like,
Add more credibility in your business
Authenticity will increase
Example – A client testimonial on CTA, on Neil Patel's blog.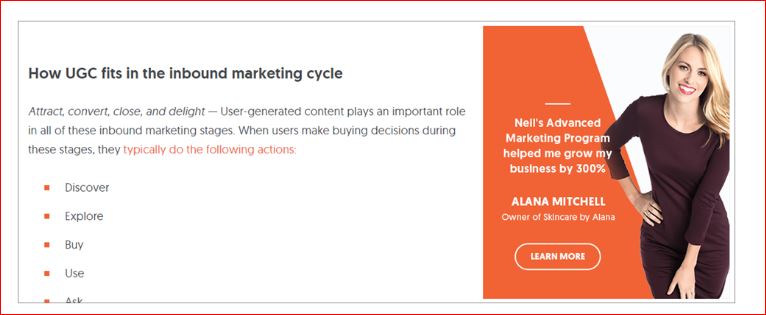 9. Create goal oriented call to action button
No doubt that if you don't have call-to-action button throughout your site, you will never grab the opportunity to convert your website visitor in to leads. Always include signup opportunities in the side bar and calls-to-action in the body of your blog post or website.
Bonus Tip: It is good to have a lot of information about leads but giving out too much information can be a big turn-off for visitors.
Below mention is the example which shows that how NETFLIX uses persuasive text to guide their visitors how to use their product conveniently with just one click.
(Image Source – Netflix)
10. Provide real time assistance with live chat software
Adding a live chat software helps the customers to stay connected with the customer support system for any query or any issue which is related to the products or services. Study conducted by VWO found that adding a live chat widget increased sign-ups by 31%. Below mention is the example of how chat feature can be seen at the bottom right hand side of the web page.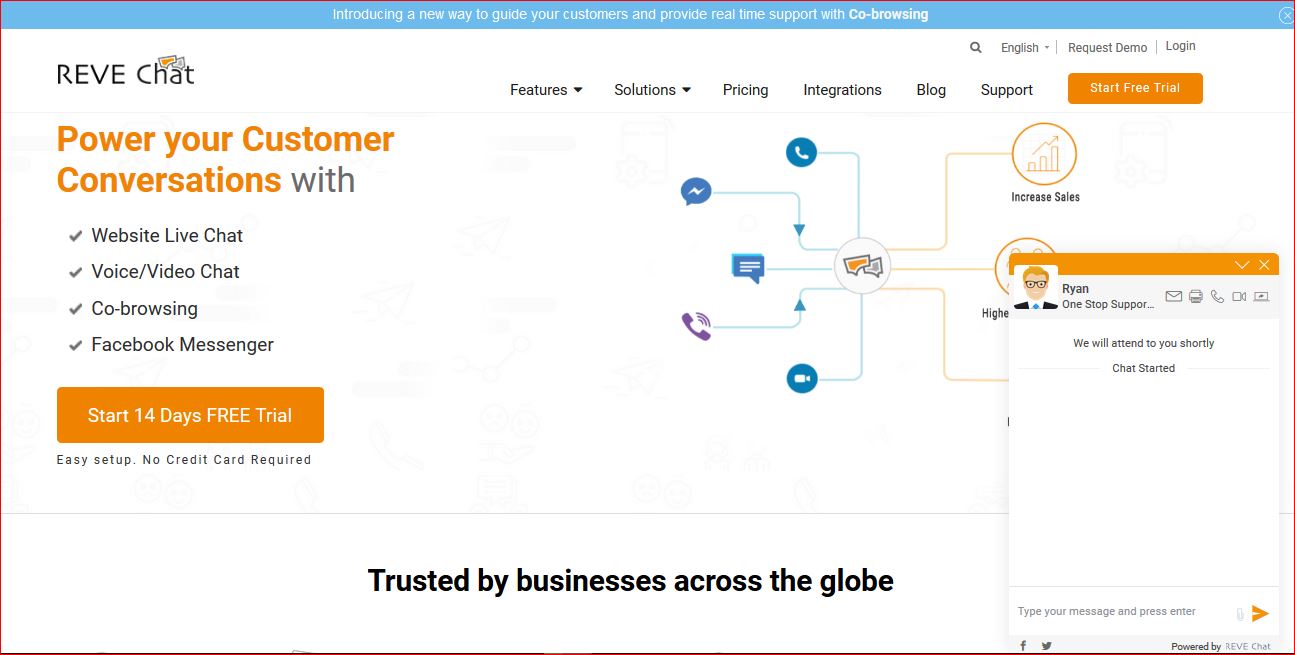 (Image Source – REVE Chat)
11. Provide promotion offer by using pop-ups
Pop-ups are one of the latest ways, through which you can attain a good conversion rate on your website. This feature is being used for providing better promotional sale offers that will make the visitors wonder about the discounts they will be receiving. After all promotional offers are intended to help in saving some bucks so, who doesn't want to?
 12. Create traffic specific landing pages
Landing pages are meant for conversions and education of the visitors. A perfect landing page provides all the important information which is require to inspire website visitors to convert. Thus, your landing pages also need to be optimized and thus helps in the conversion of visitors into leads. Having a longer landing pages helps in increasing the lead generations.
Bonus Tip: The more landing pages your website has, the more leads it will generate.
13. Enhance trust factor by adding contact information
Including your contact details can eventually result in a higher conversion rate. Put all your contact information very clearly like Email, Phone no, office address. So, that visitor can easily reach you.
Key Takeaway
By working through the above listed website conversion rate optimization techniques you will definitely go a long way to improve your website conversion. Additionally, you will be able to identify which changes had the biggest impact on your conversions.