No matter how comprehensive your website is, your visitors will inevitably ask questions. It's best to answer those questions instantly, also when you are not available. 
That's where using WordPress chatbots can come in handy.
Modern-day businesses are greatly relying on and deploying chatbots for WordPress meet their requirements and offer an unrivaled customer service experience. 
Hopefully, you agree because according to Cognizant "The global chatbot market is expected to reach USD$1.3 billion by 2025, growing at a CAGR of 24%." 
Hence, the future is here. 
By leveraging AI-enabled WordPress chatbots, businesses can off-load a huge chunk of their customer support operations, deliver better customer experiences and dramatically cut their operational costs in the process.
The advantages of incorporating an NLP-powered chatbot on a website help to decode the meaning from the user input. In fact, there are countless benefits of WordPress chatbots for a business.
What is a WordPress Chatbot?
WordPress chatbot refers to chatbot plugins that help businesses to automate interactions with prospects to increase user engagement and drive revenue. It's used to qualify and engage with leads round the clock regardless of whether the marketing & sales team are available online.
By deploying the best WordPress chatbot plugin, you can start conversations with users to provide site search, 24×7 support, collect feedback, email subscription whenever they request for it. 
AI chatbots for WordPress help businesses to promote their products or services with targeted messaging to boost customer engagement and increase brand visibility.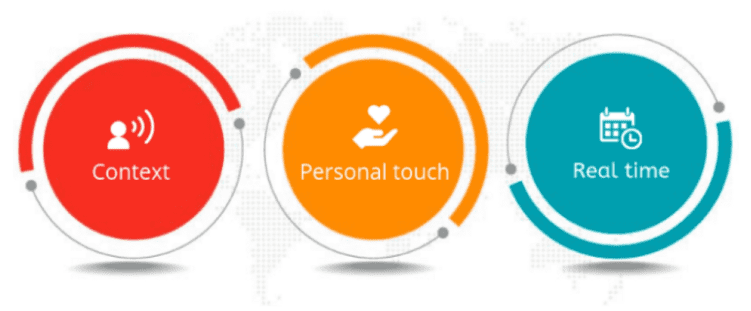 The WordPress chatbot notifications and the on-site retargeting feature can be used to get users to focus on a product or service that you offer. Furthermore, it leads to boost customer satisfaction, collecting user data, easy scalability without extra costs, and improves the ability to engage users.
Key Benefits of REVE WordPress Chatbot?
Chatbots process input from their users – statements, questions, and so on – and reply with the most relevant answer they have access to. Some chatbots are entirely pre-programmed, set up with lists of responses they can give and the words or phrases that will trigger each one.
Others are designed to do a little of the work themselves, like searching the internet for the correct answer or even learning over time. Most work through a text-based chat system, although some can also understand audio inputs.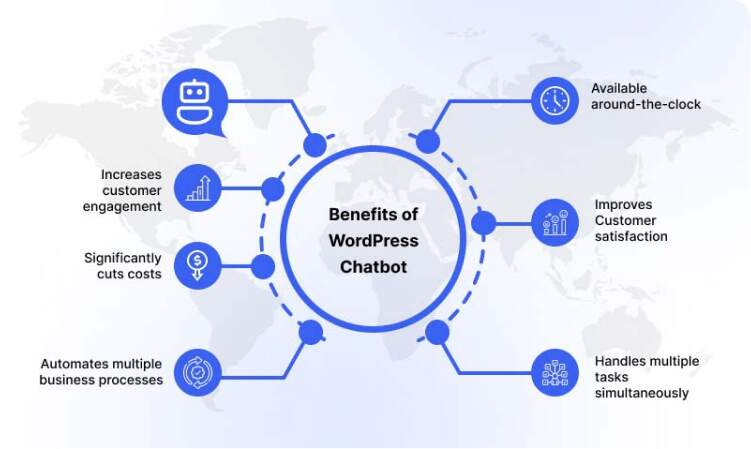 Sign up with REVE Chat to try out out the WordPress chatbot to enhance your customer conversations that delivers a great experience to them at the same time boosts your team productivity.
So how can you use chatbots to help your WordPress site? Here are a few common approaches:
Let us dive into knowing more about how REVE chatbot benefits your business.
#1. WordPress Chatbot Increases Customer Engagement 
Deploying REVE Chat WordPress chatbot plugin helps businesses to take customer engagement to the next level. With conversational AI chatbots, engagement can be driven based on the user data and made more interactive.
WordPress chatbot functions based on user intents for commands. The predefined intents can work without integration to DialogFlow API and AI and include simple text responses such as FAQs. 
Bots help in delivering consistent answers that help in offering relevant information to customers. With relevant and instant responses, users prefer to stay longer on your website.
Here is how REVE Chatbot can boost user engagement for your WordPress website?
Personalized conversations:

WordPress chatbots can analyze responses based on the customer details & history that help to engage users personally and drive engagement. 

Immediate response 24x7x365:

Bots help to deliver instant responses to customers and avoid losing them to competitors. 

One-on-one responses:

Users look for immediate one-on-one responses and bots fulfill their expectations and enhance their experience with your brand.   
#2. Boost Lead Generation & Sales
REVE WordPress chatbot is packed with advanced features that help businesses in engaging customers with personalized messaging throughout their journey. 
Using chatbots for lead generation helps in guiding customers in the right direction so that they make quick decisions. 
Chatbots for WordPress can use a preset questionnaire to persuade the visitors for lead generation and ensure higher conversion rates.
How to use REVE chatbots for lead generation? 
Level up lead qualification:

Bots can qualify leads by asking relevant questions and directing them to the sales team for immediate sales conversion or scheduling an appointment if the team is busy/unavailable. 

Better lead nurturing:

Once the leads are qualified, based on their journey they will be nurtured. 
#3. Significantly Reduce Customer Service Costs
Choosing the best WordPress chatbot plugin helps to optimize customer service costs. By investing in chatbots, you can save extra costs that otherwise go into hiring more support resources. 
With chatbots, a business can reduce costs on different levels: salaries, training, and infrastructure.
Additionally, you can accelerate your customer service level by converting your business website to a help desk with zero waiting time.  Customer service with AI chatbots can benefit in many ways:
Easy scalability of chat support during busy hours without any further costs.

Automate routine business processes that improve team productivity.

Enable new customer service models to enhance brand face value.
By ensuring a seamless brand experience for customers, bots also reduce a significant amount of money and add value to the bottom line.  
#4. Monitor Consumer Data to Gain Insights
Deploying the best chatbot for your WordPress website empowers your team to track purchasing patterns and analyze consumer behaviors by monitoring user data. 
You can also use a Messenger chat plugin for the WordPress website and gain great insights into csustomers.  
The valuable customer data collected helps in engaging customers in a personalized way as well as marketing the products differently to expand brand outreach. 
Similarly, AI chatbots can be used to collect feedback via simple questions and improve products or optimize the website. 
Even if the visitor may not decide to buy, they can still interact with your chatbot and share valuable information about their purchasing habits. The data can be stored and analyzed in the future to gather insight into what they are looking for.
Best practices for using AI chatbots for collecting customer data:
Create customer profiles:

Bots can be used to collect customer information like name, contact details, etc., and create a customer profile. 

Send push notifications:

REVE WordPress chatbot helps in keeping existing customers engaged via timely push notifications.  

Relevant content suggestions:

AI-powered bots are able to provide product details to customers and suggest relevant content as well. 
#5. Target Wider Audience with WordPress Chatbot
If you are looking to scale your business on WhatsApp, Viber, and Facebook Messenger you need to provide the experience of your website on these apps. 
You'll be recommending products, showing categories, and sending reminders and you'll definitely engage with your customers. 
How can you do that 24×7? 

How many sales/support live chat agents can you hire to handle even say 1000 customers' chats per day?
REVE chatbots can be deployed across popular messaging channels to promptly address customer concerns in real-time and in a personalized manner. Thus it has become easier for businesses to target a wider audience.
Automating conversational experience across the messaging apps with WordPress chatbot helps in the following ways: 
Assist users even during non-working hours.

Save the cost of hiring additional resources.

Handle multiple chats at a single time and allow human handover for complex queries.

Fast and highly efficient.
#6. Streamline Your Customer Onboarding Process
Customers actually like being guided. Irrespective of the comprehensive tutorials or content guides you provide, they will still show some reluctance to find the information on their own. They want brands to take the lead to show the way.  
It is where chatbots prove handy as your business can use them to educate customers and ease the onboarding process. 
How to use chatbots for WordPress can help for onboarding customers? 
Chatbots can ask questions and based on the answers they route to whatever customer is looking for. 

Bots can help brands route customers to the best place to find the information they search to make informed decisions. 

Using the best chatbot plugin helps to understand what a customer has or hasn't found in order thus pushing them along the conversion funnel.

Chatbot can ask personalized questions and then create a better user experience during the purchase journey. 
#7. Deliver Personalized Experience with WordPress Chatbot
Personalization acts as a catalyst that transforms a prospect into a customer and then compels him to be a returning customer. 
Conversational chatbots are designed to engage customers in a way that they feel that they are interacting with a human. 
Chatbots for WordPress make customers feel comfortable by offering information or services in a friendly manner. 

AI bots can be integrated with your CRM, ticketing, payments, and other software to pull relevant data and create personalized messages. 

Bots can offer logical and benefit-driven assistance that can considerably help businesses.
For example: Implementing a chatbot for a retail website is equal to a salesperson, who helps the visitor with relevant product information, making payments, tracking the delivery status and more.
#8. Chatbot Helps in Payment & Checkout
Usually, a complex checkout process is one of the main reasons for shopping cart abandonment. More steps slow the user from finishing the payment and make it difficult. 
As customers are looking for a simple, convenient process, any additional steps hurt your user experience.
Providing 24×7 real-time assistance to customers by deploying chatbots can reduce the hassle during payment or checkout.
While building the chatbot, you need to integrate the API of a payment system like PayPal, Stripe, EasyPay, etc. It helps shoppers to seek answers to queries that stop them from completing the checkout process.
#9. Makes Push Notification More Relevant
Engaging the existing customers is equally important to acquiring new customers. 
Chatbots can be deployed for sending notifications to your customers regarding latest product updates, new or enhanced features, discounts as it is an integral part of running a successful online business. 
REVE Chat offers the best conversational AI platforms that support chatbots that can create personalized messages by using customer data gathered during website interactions. It is a great way to please customers by sending relevant notifications and business updates.
#10. Collect Customer Feedback
Usually, conducting surveys is one of the most tedious tasks, and most of the survey attempts via emails and websites go in vain as the audience stay apathetic because of many reasons including lack of time. 
Leveraging chatbots to your WordPress website, can be used to survey the user experience with a purchased product or service matching to their needs & expectations. 
With chatbots, you can engage customers in a discussion in real time and make the survey successful.
How to Add REVE Chatbot to WordPress Website?
Adding REVE chatbot to your WordPress website is easy. Once you have decided on a specific chatbot plugin, you need to follow the below-mentioned steps to have it ready to engage user in no time:
On your WordPress Dashboard, go to the tab labeled "Plugins".

On the page that pops up, click on the "Add New" button.

A search bar tool will appear. Type in your desired chatbot plugin. For instance, REVE Chatbot.

Your desired plugin should appear. 

Then click on "Install Now" to continue.

After the plugin is installed, you will need to activate it. Do this by clicking on the "Activate" button.

From here you will just have to create an account. 

The setup of your account will vary depending on the best WordPress chatbot plugin you have selected.
Best WordPress Chatbot Plugin
REVE Chat offers a ready-to-use chatbot platform that allows brands to create customized bots with zero coding based on business needs. You can deploy chatbots in a short time frame, train the bots and measure their performance much quicker compared to a custom solution.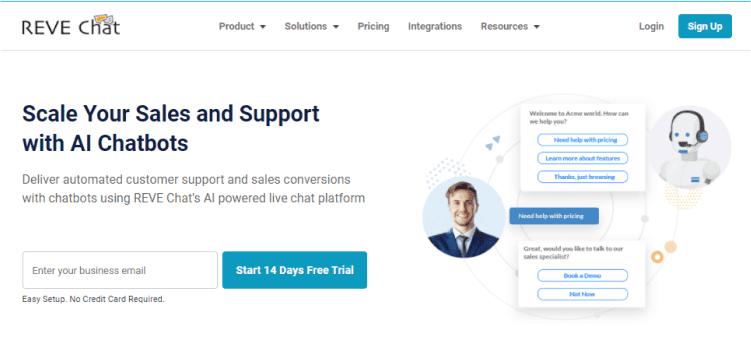 REVE Chatbot is ideal for enterprises or small businesses for managing conversations in a hassle-free manner.
Key Features
Visual Flow builder:

You can create your bot flow with the help of nodes and actions such as text, image, carousel, button, and others. You can set triggers as per the use case with no coding efforts. Plus, you can give a

cute bot name

as well. 

FAQs:

Train your bot regularly by creating FAQs. It allows the bot to identify the user intent and have effective communication with the users. 

Human handover:

You can set a live chat takeover in case the user asks a complex query that the bot is not able to answer.  

Sentiment analysis:

The advanced sentiment analysis feature helps to train the chatbot against offensive and negative expressions. It trains the bot to nullify such responses and focus on the business objectives.

Fallback options:

You can set the fallback options such as alternate phone, email, or connect to the human agents. Identifying the break-up points in the conversation and defining an alternate solution is offered to the bot by the users. 
Benefits of REVE WordPress Chatbot
REVE Chat provides an intuitive chatbot builder to build the best AI chatbot.

Training your chatbots with normalization and bulk machine learning (ML)

Empowers seamless handover between chatbot and live support to deliver the best conversational experience.

Allows connecting with your Google calendar to book appointments & meetings. 

Easy integration with WhatsApp channel. 
Pricing
The chatbot platform is available at $50 per month with any of the plans. 
REVE Chat offers three pricing plans with 14 days of a free trial. The Standard plan starts at $15/month, the Advanced plan is at $25/month, and the Enterprise at $50/month. 
And for any customized chatbot solution, you can request a quote by contacting at [email protected].
WordPress Chatbot is the Future
AI Chatbot for websites can be an excellent backup for your customer support team.
Bots can be used to automate repetitive tasks that reduce support tickets and boost customer satisfaction. Sign up today with REVE Chat to deploy AI chatbot to your WordPress website so that to give your customers a best way to connect with you, whenever they like.
Chatbot integrated into your WordPress website helps to interact with visitors by employing a text interface automatically. Because of their robust ability, WordPress chatbot plugins are gaining popularity globally as a prime communicating tool.