Do you know customer service is the most important factor in building a successful business? Customers are at the heart of your business; they are your lifeblood. They are the ones who give you their loyalty.
According to Salesforce, 92% of consumers agree that a positive customer service experience makes them more likely to make another purchase.
From the time they first walk into your shop, you have only a matter of seconds to make an impression that will last and be seared into their memory banks. What remains to be seen, but when all is said and done, they will be remembering something, whether it be positive or negative.
In this article, we'll highlight the ways to improve retail customer service, its benefits, and its importance. 
What is Retail Customer Service? 
Customer service is a system of policies and methods used by an enterprise to provide service to customers before, during, and after a purchase. There are several types of retail marketing programs and customer service among them.
Whether you're a small business owner or a marketing professional at one of the world's largest corporations, you have one thing in common: Customers expect nothing less than great customer service.
Great customer service is vital to your success. According to Harris Interactive study, "A majority of customers (57 percent) would pay more for better service from their favorite brands. And the numbers don't lie: a retailer's failure to meet customer expectations leads to lost sales."
10 Great Ways to Improve Customer Service in Retail?
A customer can be your best friend or they can be your worst enemy. It all depends on what kind of experience they have in your store. Every time a customer walks into your store, it is an opportunity for you to make a good sale, to up-sell a customer, or turn them into a brand advocate. 
Now, let's take a look at 10 great ways to improve customer service in retail. 
1. Provide Immediate Support with Live Chat
Having someone to guide them when customers are online is a great help that makes them feel happy.
The easiest way to remove frustration and make them happy is by live chat software.
62% of customers are likely to return to a website that offers live chat support & 38% say they make purchases due to the chat session itself. 
Here is how the live chat tool helps to deliver better retail customer service.
Learn customer pain points – Live chat helps to analyze the chat histories to understand customer pain points and create effective ways to address and resolve the problems.
Boost sales conversions – You can empower support reps to respond faster to customers' queries and positively impact sales. Using live chat increases sales and higher average order value.
Reduce support tickets – Using live chat for retail business is the fastest way to help customers. It provides immediate answers to the sales and support queries and reduces the number of support requests.  
Increase customer loyalty – Having live chat instills trust and increase customer loyalty over time. Moreover, customers who chat prior to purchasing tend to spend more money and are more apt to become loyal customers.
2. Deploy Chatbot to Automate Retail Customer Service
An AI chatbot can conduct a conversation via auditory or textual methods. The objective of a chatbot is to simulate human-like communication in the form of text or speech. 
As technology enables people to use a wider range of devices, customers have increased expectations concerning customer service. 
No matter which channel a customer uses to communicate with their company, whether it be e-mail, web chat, or social media.
How will it be beneficial for you?
It works as a virtual assistant to help your customers in their shopping experience, with a seamless and personalized experience.

An artificial intelligence (AI) powered

customer service chatbot

(or virtual) assistant, is the ultimate tool for retailers to scale their business and increase customer satisfaction by delivering the most personalized customer service over the chat.

A customer service chatbot is able to

deliver a great customer experience

through personalized, contextual, and real-time interactions.
3. Offer Phone Call Support
A phone call is the most effective way to determine whether your customers are satisfied with your company, products, and services. You should not avoid the calls from the customer because not all customers are comfortable with chatting online. 
Key reasons to pick up the customer's phone:
Not all customers would like to chat online. There are still many people who prefer to communicate with the seller directly. Not only because of safety issues but also because they want to get the answer they are looking for. 

Chat cannot fully replace the call, especially during busy hours when the normal chat service is overloaded or the customer needs immediate assistance.

Different customers have different needs and preferences. Some are willing to provide more information online while some want to do business with you face-to-face.
4. Don't Make Fake Promises
The example of "fake promises" is not only the attempts to sell any product.
There are often made by people whose skills are aimed at achieving quick results, or who do not have all the necessary information about the goods or services, or for some other reason, such as limited time, do not want to fully understand the situation. 
When you guarantee or promise your customers something, e.g. free delivery, keep the promise and spare the disappointment in the future.
It shows that you can't respect your duties regarding your customer for reasons outside your ability to control them. So, never being over-promising to customers is one of the best live chat etiquettes.
Another example of common "false promises" is usually a result of the desire to quickly return money or goods to customers who have found that the goods do not meet their expectations.
5. Listen Actively to Your Clients
When people are unhappy, it's your job to make them happy. One of the ways is to delight customers is to practice active listening. If you're not listening to your clients, they're going to find someone. 
Listening attentively to the customers should be the chat etiquette at work. One main reason why businesses receive a large number of customer complaints is just the fact that agents do not "listen" to them.
Active listening to them helps to figure out what exactly your customers want, their opinions, feedback, etc. The information collected can be passed to the teams across respective business teams to implement it.
You don't want to create customer service problems by being too tough or snobbish. No matter how successful you've handled things in your life, you need to listen to your customer feedback," says Keith Cunningham-Reid, owner of a global staffing and consulting firm, three restaurants, and a bar in Atlanta. 
6. Don't Avoid Your Customer Complaints
Customer complaints are inevitable. One of the biggest mistakes business owners make is to avoid complaints rather than address them.
The business owner runs the risk of making the situation even worse; it's an ineffective way to deal with the client's issues. The volatile emotions come from the customer which leads to a downward spiral. 
It's important to understand that criticism is an opportunity to improve, rather than something to be afraid of. A negative experience can become positive if you manage it correctly.
How complaints can benefit your business? 
Complaints play a very important role in the success of any business. Complaints from the customers help in maintaining the quality and standard of services offered by the business. 

Moreover, complaints are the only method through which customers can express their dissatisfaction with a product or service that they have received. 

Without customer complaints, businesses would be unable to improve themselves and go ahead on the path of growth.
7. Train Your Customer Support Staff
The number one reason why businesses fail is that they don't understand and apply the basic principles of customer service. A few minor changes to your service process can mean the difference between success and failure.
Training your staff on how to deliver great customer service will bring you and your business much further.
There is no doubt that it is important to provide a good service to all your customers, so they remember you and come back again to buy from you.
How training your staff can benefit you?
Helps staff how to deal with angry customers in the office and how to leave the conversation without making it worse.

Allows them to personally grow their talents and their skills.
8. Give Extra Effort
Giving customers extraordinary service is a challenge, and it's an art. It's easy to become so focused on the bottom line — getting customers through the door and selling products — that we forget our ultimate goal of exceeding their expectations.
The good news is that extraordinary customer service can be achieved by focusing on improving your sales and service teams' efforts in a handful of key areas:
Make a positive first impression.

Listen actively, anticipating needs.

Act on the customer's behalf.

Do what you say you will.

Show the customer you care.

Make it easy to do business with you.

Give customers reasons to give extra effort to make them happy.
9. Provide Outstanding Retail Customer Service
Your customer service experience is often the difference-maker between a brand that converts or gives up. You should be confident that your customer service team is there to help you and your customers. 
But not all businesses understand what it means to have great customer service. Even more importantly, not every business knows how to deliver great customer service. 
Benefits of providing extra service: 
Providing extra service for your customer can actually increase your business.

By providing support beyond the ticket, businesses can lessen the appearance of poor service, troubleshoot problems before they escalate, and make sure customers are happy.
10. Personalize the Customer Experience
Personalization isn't a buzzword anymore. It's table stakes for today's customer-obsessed businesses. From prioritizing individual interests to building trust and empathy, there are endless benefits to personalizing the customer experience. 
What may surprise you is that all of these benefits start with one thing: The ability to communicate with customers at scale.
Ways to improve customer service:
Deliver intelligent answers and recommendations using customizable surveys and

self-service options.

Automatically attribute customer issues to the correct support user based on real-time data collection.

Prioritize issues to identify and solve the most critical ones first.

Flexible segment customers for targeted campaigns and automated content delivery.
Retail Customer Service Skills
Retail customer service skill is a tough job to command among employees. The retail customers are demanding and rude most of the time. Thus, the employee in the retail store should be well trained with soft skills and hard skills to handle the situation if a customer is rude or breaks any policy rules.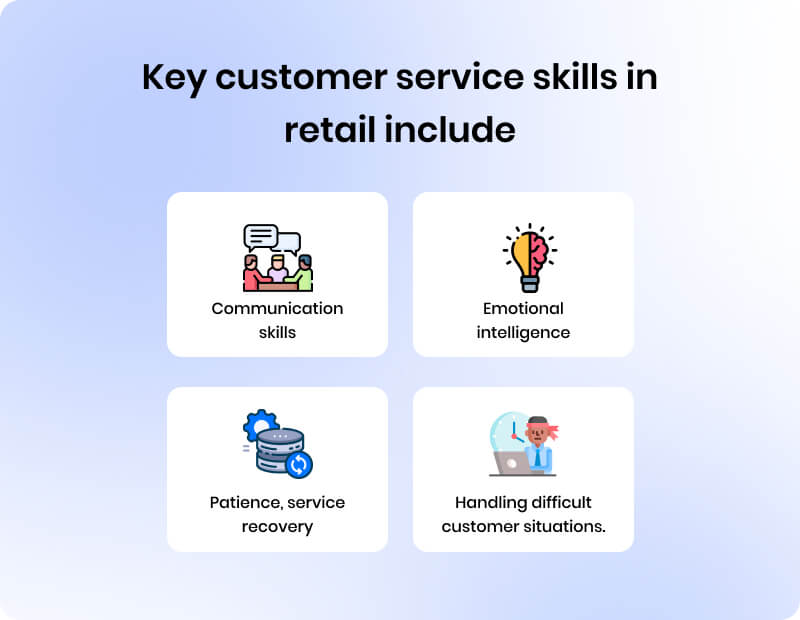 Key customer service skills in retail include 
Communication skills

Emotional intelligence

Patience, service recovery

Handling difficult customer situations. 
In addition, they should also have hard skills such as cash handling, POS and retail software knowledge, and inventory.
The customer service representative (CSR) or an order taker needs to be friendly, soft-spoken, and calm at all times because angry customers are one of their biggest challenges. 
These people should have good listening skills and know-how to keep calm under any circumstances. Being polite and respectful is another must-have trait because they have to deal with people all day long. 
In addition, they need to be well organized and able to multi-task, as they will often have several customers in line, along with a telephone ringing in their ear with someone else wanting help.
Why Customer Service in Retail Is Vital?
Customer service is vital in retail. Neglecting to pay attention to your customer's needs and complaints could be the end of your business, so it is crucial to treat customers well.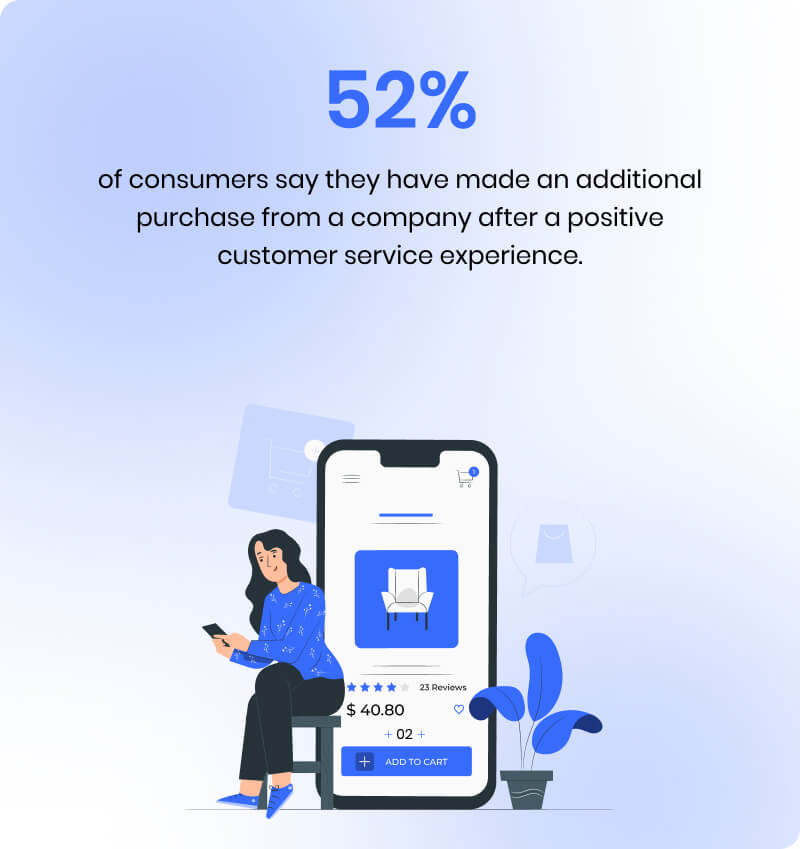 Your image as a store, whether good or bad, is often based on your customer service. Many stores that have good products and services can still get negative feedback because they have an inexperienced staff or a poor attitude. If you want to be known as a great company, invest in the right people and the right tools.
Key reasons why customer service is important in retail;
If you provide good customer service, customers will come back again and again.

If they have a good experience when they visit your store, they'll be sure to look out for your brand online. – Good customer service will make you stand out from your competitors.

Customers who are satisfied with your company will be more inclined to make repeat purchases and tell their friends about your product or services

It will boost your business' online search rankings and visibility.
Key Benefits of Retail Customer Service
Retail customer service is one of the most important factors a company must consider when it comes to establishing and maintaining a successful retail business. Correct customer service will establish good relationships between your company and your customers.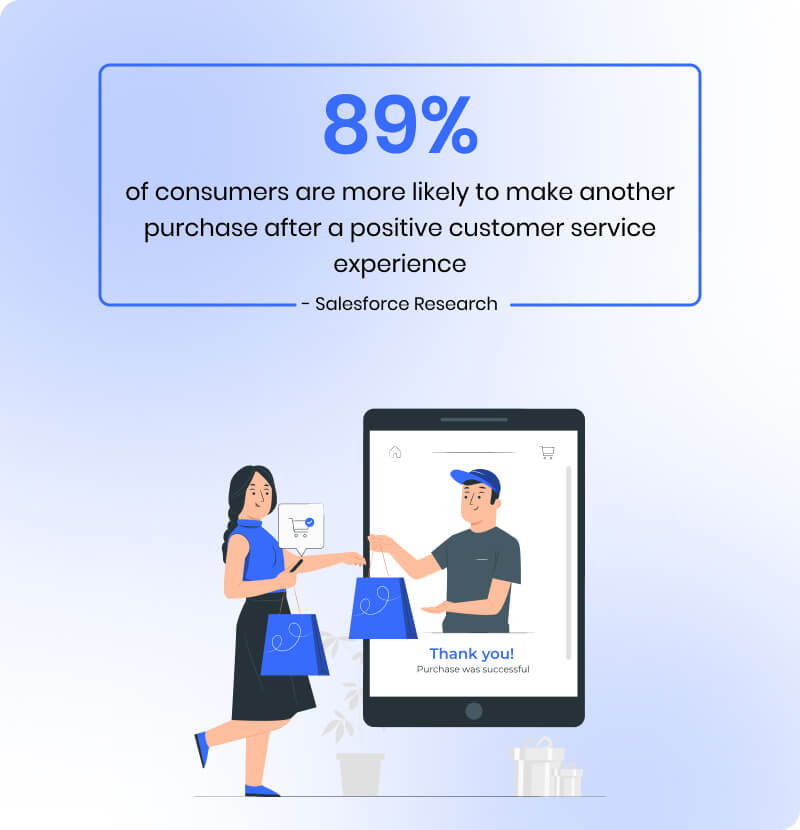 89% of consumers are more likely to make another purchase after a positive customer service experience. – Salesforce Research
Customer loyalty – As a retail business owner, you know that how you treat your customers can make or break your business. To put it plainly, happy customers are great customers. There is no doubt that customer loyalty is the name of the game in business today. If you want to win the race then you have to provide excellent customer service to build customer loyalty. 
Increase conversion – According to experts, the primary goal of any business is to make the most profit possible. The best way for that to happen is for businesses to provide excellent service to their customers. If you want to repeat customers then make sure you're providing the best customer service in logistics or your retail business. 
Customer retention – This is more than a benefit for your own business; it's also a benefit for the local community. After all, when you keep loyal customers buying from your company, you're spending money with other local businesses, helping them to grow as well.
Customer satisfaction – Successful retail companies focus on keeping their current customers happy. Companies should do everything they can to assure that existing customers are happy with their products and services so they will be prone to returning or recommending the company to their family and friends.
Resolve the issue – For the consumer, this often means resolving an issue with a product or service purchased. For the retailer, customer service may be about addressing internal issues in their businesses (i.e. increasing sales, growing profits, improving efficiency, etc.
How Can REVE Chat Help You to Provide Seamless Customer Service for Retail?
The world of commerce is changing fast and it's important to recognize that the way we interact with companies and the way that companies interact with us is shifting. We're getting more comfortable with AI, and when thinking about it, customer service chatbots are a natural extension of our current expectations from technology.
Chatbots are simple programs that let you communicate over the internet in natural language with computers and other people.
Bringing in a chatbot to help with customer service is a great way to optimize your business. You can handle many of the issues that come up with customers to free up time for you to focus on more pressing matters. So, what are you waiting for? Sign Up for REVE Chat and enjoy 14 day free trial.