With the advancement of digital transformation, it is imperative for the retail business to adopt modern technologies to engage customers in an interactive manner. Personalization and customer engagement are highly essential for retail brands to grow.
88% of retailers say personalization has improved their marketing effectiveness.
Retail customer engagement is not just about giving customers a satisfactory experience during their sales journey. It is also about personalizing interactions and encouraging customers to partake in the experiences created by the retailers. Because driving relevant contextual customer experience improves sales and profitability.
Excellent retail consumer engagement isn't difficult, but it does require training and planning, which is much easier to achieve with a retail learning management system. Hence, having focused on a well planned retail engagement strategy is the key to long-term retail success.  
What is retail customer engagement? 
Retail customer engagement refers to how a brand interacts with its customers across touchpoints and channels, both in-store & online. It determines the extent of the relationship a customer develops with a brand and further can be strengthened.
Having an omnichannel retail strategy helps brands to engage customers closely across their preferred channels in their entire journey from making a purchase to join a loyalty program. A personalized retailing experience can always increase the revenue and profit margins, while also strengthening customer loyalty.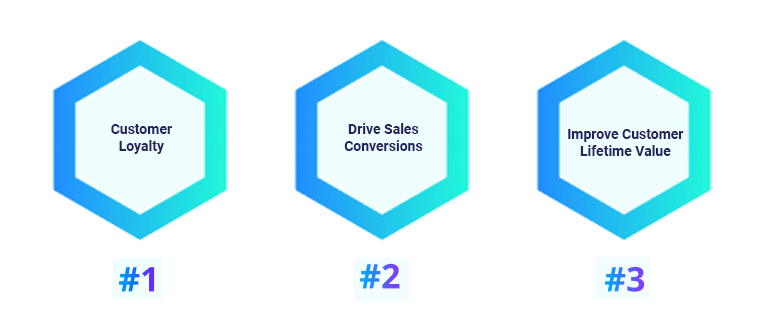 Here are the key benefits of a well-defined retail engagement strategy.
Increase customer loyalty
Value your customers with a well-planned retail engagement strategy to deliver a holistic experience across touchpoints. Personalized experiences that are contextual and coherent make a huge difference to their overall perception and continued association with a brand. 
Drive sales conversions
When customers have a smooth shopping experience, they are likely to return for frequent purchases. Also, customers tend to share their positive experiences on social media which impacts sales conversions.
Improve customer lifetime value (CLTV)
Personalized experiences contribute towards higher customer lifetime value (CTLV). It is calculated as the value of a customer to a brand, over the entire duration of their relationship. Higher CLTV is the advantage earned from providing an impeccable overall experience.
 10 Innovative ideas to improve retail customer engagement
For retail marketers, it is extremely crucial to focus on customer engagement for value creation. They give people something meaningful beyond a sales pitch: real time customer support and end-to-end customer experience. 
Here are the top 10 best practices on how to improve retail engagement with your customers.
Let us discuss the ideas comprehensively to understand retail consumer engagement. 
1. Focus on omnichannel retailing
Customers expect a personalized consistent experience across all channels like brick-and-visual mortar stores, online catalogs, social media platforms, etc. By being available to your customers over all the channels, you ensure never to miss an opportunity to impress or delight. And you can achieve this goal easily by leveraging the power of an omnichannel contact center solution. 
If you're not available everywhere, your limited presence will derail both the user experience and your bottom line.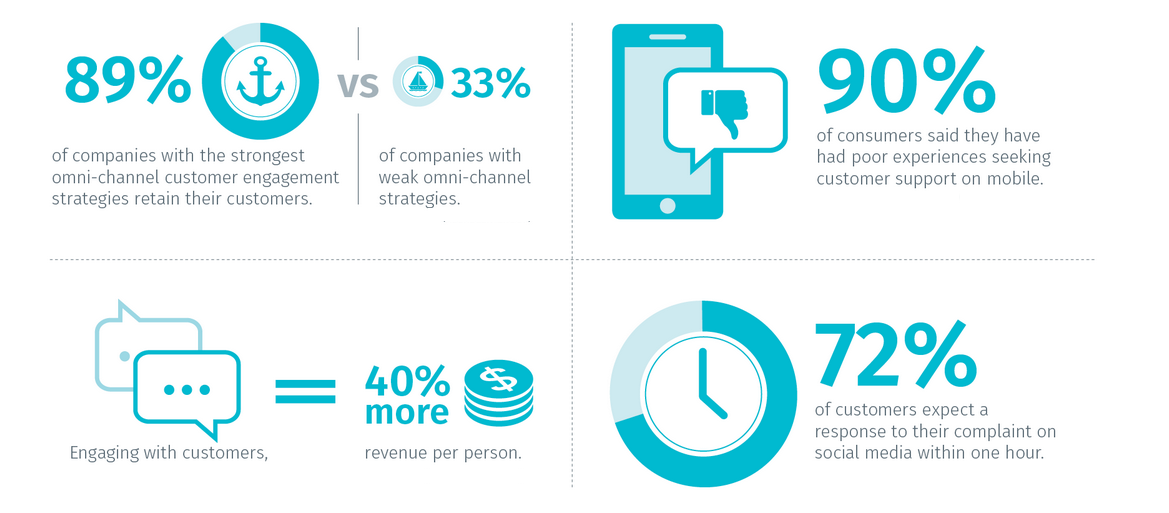 Your omnichannel retail strategy should offer customers different ways to request and receive service like submitting a ticket, calling for support, direct messaging to the social media accounts, chatting with a live agent, interacting with a chatbot, and looking for information in a knowledge base.
Here is how shifting to omnichannel improves retail consumer engagement.
Capture a better view on the customer journey

– An omnichannel retail engagement strategy streamlines all the interactions under one platform and provides insights into the right actions for improving your business.

Deliver enhanced customer experience

–  When brands engage across all online and offline customer service channels and deliver consistent support, there is a boost in customer experience.

Increase customer retention

–

Omnichannel customer experience

strategy empowers customers to connect with the brand through their preferred channels. The smooth transition in the same interaction, which increases customer retention.
2. Use live chat for retail customer engagement
Stay ahead of your competitors and communicate quickly with your customers in real time. Live chat support generates higher customer satisfaction levels, and 79% of customers prefer online chat support because of the immediacy it provides. 
Implementing live chat support helps retail brands to guide customers in their buying journey through proactive chat. Also, provides customers the ease to connect whenever they face issues after purchase of products or services.
How to engage customers in retail with live chat?
Post purchase support – Live chat empowers your customers to reach out to you instantly during and after purchase to raise their queries. 
Insights into customer behavior

– You can understand customer needs based on their page visits and enable chat surveys to collect feedback. You can also identify your customer's pain points and their overall experience.

Build strong customer relationships

– Providing the digital live chat platform to the customers to connect with your brand after-sales for support strengthens relationships and creates a better brand image.
3. Deliver better experience with Augmented Reality
When we narrow it down to Augmented Reality in retail, Wikitude approximates that 32% of shoppers are regular users of AR, and 73% of smartphone AR users are highly contented with the experiences.
Deploying AR for the right use cases can prove to be a successful tool for capturing consumer's attention and driving successful campaigns. The impact of AR on retail is from streamlining the process to making shopping easier for people (both online and offline).
Sephora's beauty retail concept allows customers to try on thousands of shades of lipstick, eyeshadow, false lashes, and other makeup products and allow them to personalize their shopping experience.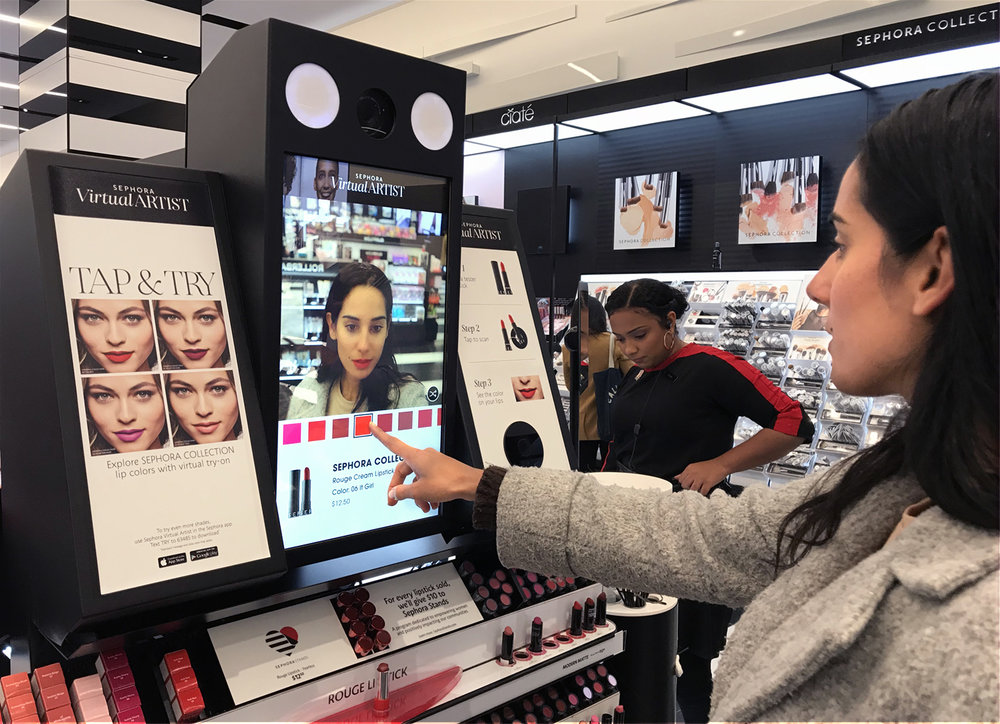 By using advanced AI and AR  technology for consumer engagement, Sephora has been able to improve customer interaction. The company has experienced more than 8.5 million visits to its Sephora Virtual Artist feature since its launch.
Here is how AR can be used to enhance retail consumer engagement.
AR in advertising and marketing

– With the introduction of web-based AR platforms, advertisers and marketers have a big opportunity to create innovative campaigns that integrate the digital world into the physical world.

Merges traditional retailing and online shopping

– With so many retail stores, shopping for the right things becomes jarring at times. AR for retail consumer engagement replicates the feeling of traditional shopping ways that excludes the inventory costs and long queues. 

Personalization of user content – Retailers often personalize content to engage their audiences and meet their expectations. The retail stores' filter out content so that you look for relatable items without wasting time. 
4. Leverage AI chatbots for retail consumer engagement
Customers demand quick, personal, and real time convenient support, 24×7, on their preferred channels. To build brand value and retain customers via quality customer support, retailers need to rely on artificial intelligence to resolve issues within seconds.
Retail chatbots provide a smart way to scale exceptional customer experiences. Retailers can leverage bots as a user engagement tool and grow far quicker with loyal customers. 
HelloFresh, a meal-kit delivery service, offers discounts to people looking through their meal boxes. Additionally, by offering chatbot-exclusive discount codes, they can track exactly how many customers they are getting through their chatbot.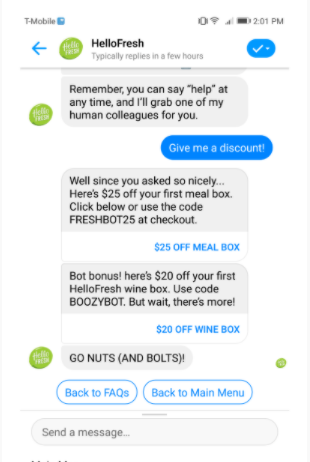 Businesses that provide a range of products and services at different price-points can use this chatbot use case to offer upsells, downsells and cross-sells, to increase sales.
Here is how AI chatbots help in boosting retail consumer engagement.
Engage customers 24×7 –

Customer service chatbots efficiently operate round the clock, process multiple queries simultaneously, and offload human teams from routine for more intellectual work.

Send product notifications

–  Deploy chatbots to redefine marketing strategies by sending promotional emails and nurturing customers through pre-defined flows. Brands can use bots to promote products in real-time in a conversational way. 

Bots as in-store assistants – Bot can be used to assist the retail sales executives to interact with customers and minimize their time behind workstations handling repetitive tasks. You can also use an AI-powered chatbot to track some of the popular metrics to measure customer engagement. 
5. Merge in-store & online purchase behaviors
Retailers today are transforming both physical and online offerings by prioritizing the overall customer experience. It is achieved through the addition of digital technology designed to make frictionless connections between the physical and digital shopping channels. 
As today's customers want a seamless transition throughout their shopping journey, from their mobile device and desktop all the way to the store — and they want this journey to be easy and convenient.
Hyundai Motors has launched live video chat to digitalize the car-buying process, making it easier for consumers to get personalized information.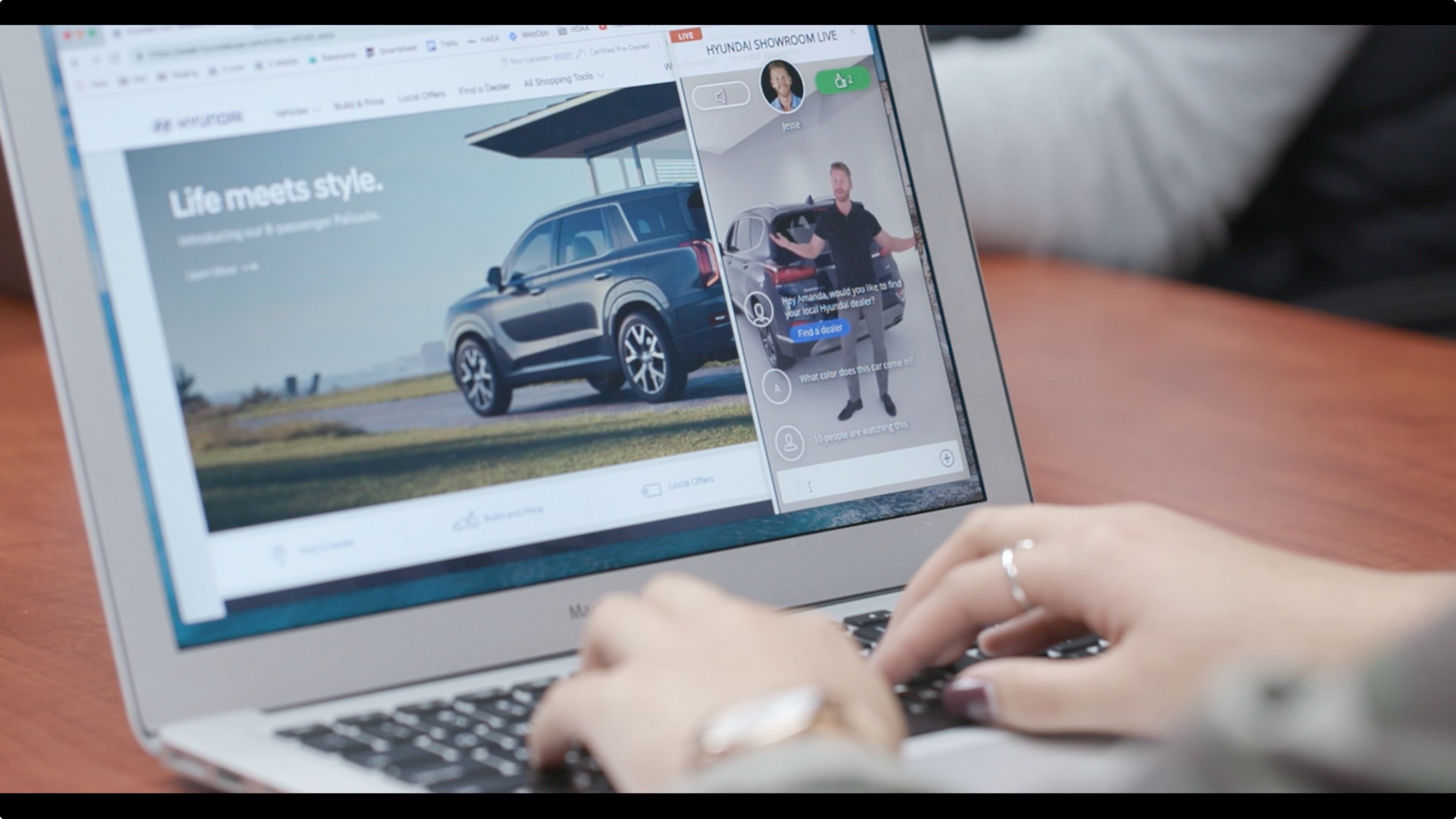 The video chat technology requires no additional software installation. The customer just has to click a button to request a video chat. This feature can be used on any device with a browser, including tablets and smartphones. Customers can book a slot at a time that is convenient to them.
Here are some innovations that focus on retail customer engagement.
Proximity marketing

– It uses geomagnetic technology to send targeted offers like coupons, discounts, directly to customers' mobile based on their in-store location via push notifications.

Buy online, pickup in-store –

It enables consumers to purchase items online and collect from the store at their convenience with the safety and immediacy they desire.

Browse full product catalog –

Customers can browse items that are not physically in stock. When they order the products are shipped directly to their door. It removes customers' frustration of looking for items that aren't in stock and saves retailers from having to carry inventory at all store locations.
6. Engage customers in real time with visual tools
Visual engagement is a great way to improve customer engagement for retail businesses. The conversational tools can be used across banking, finance, healthcare, or the automotive industry. 
B2B buyers can also benefit from video chat, as it builds rapport with personal interaction. Visualization allows customers to see the company's physical space, the look, and the professionalism of the support agents, which can be a key factor to pursue a business relationship.
Lowe's Inc, an American retail company uses an AR video chat tool to help professionals visit clients or homeowners. The video chat tool is viable to those who are members of the retailer's loyalty program free of cost.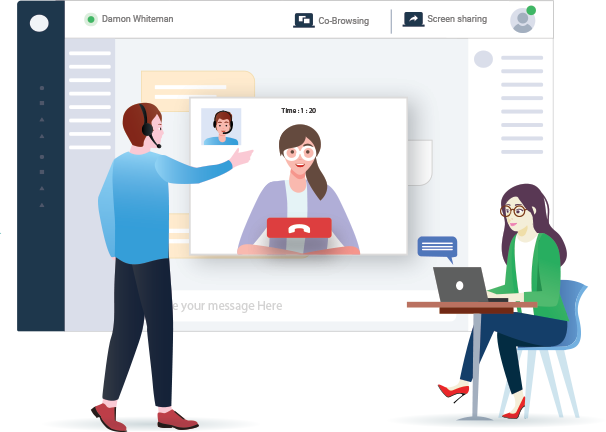 Video chat offers immense opportunities for enhanced customer service and customer conversion during the information research phase.
Here are key ways how visual tools can increase retail customer engagement.
Increase sales with live interaction

– Automobile dealership reps can instantly engage website visitors with video chat and help them in making quick sales decisions thus, converting visitors into customers.

High-end customer service

– While agents can engage customers with live chat or video chat for personalized support in real time, they can collaborate with

co-browsing

to instantly guide them to fill up application forms for car insurance, offers for their old car, or price quotes.

Complete security of online transactions

– When the agent co-browses with the customer to complete the financial transaction, all the fields related to private information are "masked" and the reps do not have access to any of that information.
7. Drive retail engagement with social media
Social media has now become indispensable for brands to ensure they not only have the right presence on major social media networks but also work consistently towards engaging their customer base on those networks.
Customers see more value in owning a product or being associated with a brand that they feel worthy of telling their network about. Even when visiting a store, they look for experiences that they can talk about on social media.
Best Buy adopted the retail engagement strategy of asking playful questions while subtly featuring their products at the same time.
Key ways to drive retail customer engagement across social networks 
Build robust content strategy

– It is crucial to deliver informative, refreshing content, rather than merely providing product descriptions. 

Supplement your paid campaigns

– If you are running a promotion, launching a product, or have time-sensitive offers – allow your followers to learn about them. Consistently publishing coupon codes, offers and discounts is fair game for encouraging impulse buyers.

Collect feedback from social customers

– Customers tend to follow retailers in pursuit of a sale, hence you need to go beyond selling in making good connections. The feedback gathered from customers can not only inform your content & product strategies.
8. Prioritize mobile shopping experiences
Mobile experiences can no longer be an afterthought. The keys to fine-tuning mobile are simplicity and accessibility. Retailers should pay special attention to delivering effortless navigation, clear on-page elements, and mobile-specific web page designs.
39% of consumers said they frequently make purchases through their mobile devices, and 41% of those surveyed said they plan to increase their frequency of mobile shopping via smartphones or tablets.
Consumers have shifted greatly towards buying products via mobile than other devices. They actually prefer shopping on mobile apps compared to websites, as it is more convenient, faster, and easier to store settings.
Tips to improve the mobile app shopping experience.
Identify problem areas

– Pinpoint the key challenges encountered by mobile shoppers that impact digital experience in real time and respond quickly to avoid customer frustration.

Quantify mobile app experiences

– After making clear adjustments to the app as behaviors, retailers should measure against their initial score to understand how the mobile app experience has improved over time. It helps brands to identify the improvements that have been made and the areas to focus forward in the future.

Capture experience data

– Understanding how a customer interacts with the brand, across all digital and offline properties, enables departments to operate more efficiently. Insights into how customers interact with mobile apps can inform experience strategies and help the advertising team to prepare for the next campaign. 
9. Use store relationship management (SRM) technology
Strengthening the in-store locations by implementing store relationship management (SRM) technology is another retail engagement strategy. SRM system basically fits the current scenario created by the COVID-19 pandemic, where customers were restricted to the in-store locations. 
SRM systems can help retailers in ways that impact customer engagement. They are:
The technology helps to update associate training programs

Easily track key store performance metrics

Leverage the customer engagement best practices
Actually, SRM technology streamlines the retail business processes on the back end so that you can focus on providing a better overall experience to your customers.
The data collected by SRM can also provide valuable insights into store operations, such as what a store's peak hours are, and which touchpoints customers most frequently come into contact with, as well as targeted recommendations on how to optimize existing processes. With an SRM, retailers can deliver an in-store experience that delights customers.
10. Personalize your communication
Today's customers generally ask for digital receipts. When customers request a digital receipt, they have to provide a valid email address, which helps to increase the retailer's reach and engagement potential. 
Big retail brands like Aldo shoes are adding up to 25% more emails to their databases, and leaders like GNC reducing their bounce rate by as much as 25% by the same retail engagement idea. 
When brands put efforts to capture more, valid emails and enrich customer profiles, it can be monetized in different ways including by sending smarter, more personalized post-purchase shopper communications.
Drive retail customer experience with innovation
Hyper personalization and the use of modern technologies is the future of retail customer engagement. It enables retailers to give customers exactly what they are looking for. Combining new tools with a personal touch can help you to improve your retail consumer engagement and achieve lasting customer loyalty.
Retail customer experience should not be limited to just in-store experience but can be enhanced across all touchpoints, be it offline or online. It establishes trust, which is becoming increasingly difficult to ensure in an ever-crowded market