Have you ever contacted businesses and waited for a few days to get an answer? Well, if you are like me, you have struggled with this scenario more than once.
Businesses who believe customer service is more of a cost center, tend to downplay the importance of proactive customer service. When we compare reactive and proactive customer service, it's very clear who has the upper hand in delivering a better customer experience.
Being proactive in customer support helps you to identify and resolve issues in the preliminary stage. This maximizes the number of important SLAs, comprising first call resolution, and reduces the rate of escalated calls.
What is proactive customer service?
Proactive customer support means predicting customer issues and addressing them proactively. It is about identifying and fixing customer issues before they become big problems. Proactive customer service can take many forms from forums, knowledge base, FAQs, and instructional videos.
Importance of Proactive Support
The proactive approach of customer support makes your business productive with many benefits. They are:
Improve customer loyalty

– Companies using a proactive approach found an increase in customer retention rates by 3-5% – as per

GDS international group report

.

Reduce support requests

– With a proactive approach, you learn the issues and guide them using customer engaging tools before they become problems. Eventually, it reduces the number of request tickets.

Conversational engagement across multi-channels

– Customers like to share their experience over social media with your brand. With a proactive approach, you can get involved in their conversation and engage with them in such a way that brings your business to the limelight.
A study by inContact concluded that customers are satisfied and positive with proactive customer service. The survey showed that maximum customers are happy to be contacted proactively by companies regarding customer service issues.
What is reactive customer service?
The reactive approach also is known as the "break-fix approach" means waiting till the problem crops up, and then putting resources towards resolving it. The companies react only after the issues have occurred.
For example – At times server runs down in organizations or there is an application failure.
Customer support is approached to diagnose and fix the issue. This causes operational downtime with the cost of high figures and consuming time to get fixed.
The organizations following this approach face loss of income due to operational downtime, repair costs, dissatisfied customers, and damage to your reputation.
Downsides of Reactive Support
Companies following a reactive approach might ultimately have to invest more to fix complex issues.

The company may not get the durable quality of the equipment as it doesn't proactively maintain and repair the item.

High indirect costs due to improper care of the equipment.
Why proactive support is better than reactive support?
Proactive customer service approach provides ample opportunities to meet the expectations of your customers, build loyal customer relationships and boost the value of your customers through both their business and their advocacy. Here are some benefits of proactive support that businesses can reap.
Benefits of using proactive support for your business
Retain loyal customers –

Bain & Company

found that increasing customer retention rates by 5% leads to a significant increase in profits 25% to 95%. 

By being proactive with your customers, strengthens the relationship between customer and business. As more customers are turning towards social media for customer service, you have to move a step ahead to meet up their expectations of good service.
Develop brand advocacy-

With proactive support, you not only make your customers happy but also turn them into brand advocates. The proactive approach being customer-first support, helps to create a brand image and strong brand value. 

For example, the psychology behind the brand recall is when you talk about shoes  'Nike' comes to mind.
Fewer chances of escalation-  

Identifying the negatively surrounding elements for your brand at the earliest is the only best way to safeguard yourself against a social crisis.

Altimeter research

concluded that the main cause for customers' complaints online was due to poor experiences.
Acquire new customers –

When you like a brand certainly refer it to your friends. The virality effect of the word of mouth helps in acquiring new customers. Adapting the proactive support method helps you to reach out to prospective customers, and encourage them to go with your brand.
Proactive customer support examples
Recorded answers to common queries – Preset answers or canned responses help agents proactively support or guide the customers that reduce handling time and engages the customers in meaningful conversation.
Video chat & live chat for real-time support – Imagine you are shopping online and the size of the dress you selected changes as you go to the checkout page. You retry and the same thing happens. But with the help of a 

live chat solution

 and video chat the agent asks for assistance before you make your effort for support.
Creating content to self serve customers – FAQs, tutorials, how-to videos are considered one of the best ways to provide self-service informative content to your customers. Your customers or app users can learn about your product or service usage with a detailed step by step guide without reaching out to your support team.

Arranging workshops or webinars – In many businesses, where customers are not very tech-savvy, and they need a real person to guide them to understand, webinars or offline workshops are very useful. Such events help to connect with your customers to educate them.
7 Strategies to make a shift from reactive to proactive customer service
Moving from a reactive approach to proactive customer service often requires a new customer experience plan, as well as an investment in new technology and tools. Starting from using proactive live chat triggers to the visual engagement tools or automated support through chatbot, delivering an excellent customer experience is should be the end goal.
Let us discuss the seven tips to be followed to move from a reactive to a proactive approach.
1. Plan a customer centric strategy
Customer centric strategy is the key ingredient of effective customer service. It means offering a great customer experience by proactively guiding the customer in the entire buying journey and post-sale process.
Change in your customer communication strategy – Choosing to communicate with the visitors proactively helps to convert them to loyal customers by building strong trust. The best practice to be a customer-centric company is to plan and employ a well-mapped customer strategy that focuses on creating a profitable and loyal customer. It is important to understand what your customer wants and use data to get customer insights.
Make proactive support an organizational goal – Being proactive mainly means foreseeing beforehand the problems your customers and initiating contact to them to assist against the consequences in their journey. For acquiring new customers and deliver better customer satisfaction proactive customer service should be made an organizational goal.
Use of right tools – In order to understand your customer behavior over his journey by using various tools such as Marketing, Feedback, Live engagement, Sales, etc. Visual engagement tools like

video chat

, co-browsing, screen sharing make the communication personal and effective. You get to understand the customer query and issues in real-time, and quick resolutions help to deliver better support and lower handling time.
2. Provide real-time customer service across omni channels
Customers choose their own preferred channel such as website, social media, Facebook messenger, etc. to connect with you. Engage your customers over their comfortable channels and provide a unified customer communication platform.  
Deliver real-time assistance to your website visitors and customers with the live chat software. You gain valuable insights through customer analytics and learn their behavior. This helps to trigger the right message at right time and give your customers the best omnichannel customer experience.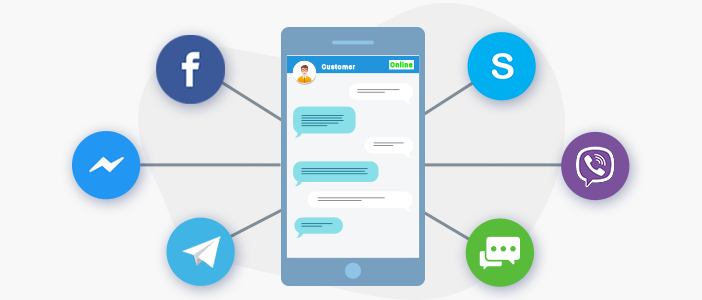 Often customers look for support while perusing a website. If you keep waiting for them to contact you through the communication channel, you are possibly losing valuable business. Proactively offering live chat to customers encourages them to take the next step in the sales cycle. Live chat eases the entire process at the same time adds a human touch to an automated interaction.
3. Make the best use of live engagement tools
Proactively engaging your visitors and customers when they land your website through visual engagement tools like screen sharing, video chat, and co-browsing solution makes the conversation effective. Getting connected with the customer face to face in real time gives first-hand understanding to the agent about the customer's problem or query.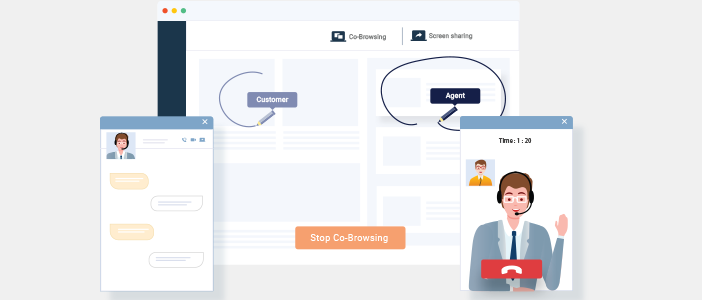 Agents can combine video chat with co-browsing to make the support session quick and productive. Stats show that maximum customers prefer complete engagement in real-time rather than just call support. Using visual engaging tools has changed the way companies interact with their customers.
4. Personalize your communication
Gaining insights through visitor analytics has made communicating with customers so fast, flexible, and personal that it is also changing customer expectations and behavior. They expect businesses to understand their needs and provide relevant and desirable information and solutions.
Personalized communication often sets a tone for future relationships. Engaging with customers across their preferred platform in real-time makes customers feel comfortable. It also develops trust for your brand and improves the quality of customer service. Customers do not value the companies that don't make the effort to communicate in a meaningful and pleasing way.
5. Measure your customer support effectiveness
Measuring customer support effectiveness helps to understand the workflow and effectiveness. Using different metrics helps you to measure the customer service level. The different KPIs are as follows:
conversion rate

customer retention

average resolution time

customer satisfaction surveys

monitoring of social media
The above-mentioned metrics measure how effective is your customer support and how willing your customers are to recommend your product or services to other people.
6. Train your team with your product knowledge
A Forrester survey reveals that 57% of customers will give up on an online purchase altogether if finding the answer to their question proves too difficult. Having a knowledgeable team for both sales and customer support results in enhanced customer trust on a one-to-one level.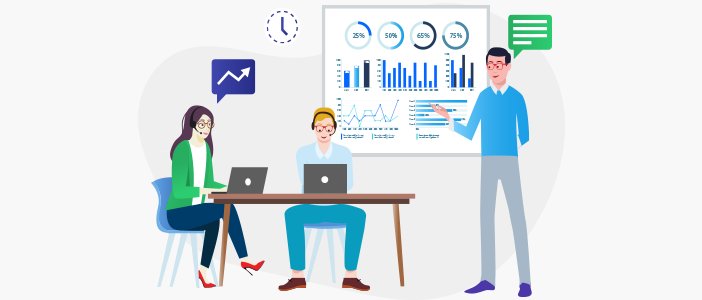 A well trained with in-depth product or service knowledge has the following benefits.
Boost sales conversion

Quick resolution of customer issues and queries

Positive customer reviews
Thus, many companies are have made thorough product knowledge an integral part of their brand and culture.
7. Make internal processes
One of the ways to offer proactive support is to make easy ways to find the answers to common queries on their own. An HBR survey found that customers were 86% more convinced to buy a product and 115% more convinced to advocate your website to others if you update self-service information about your products and services.
Offering proactive customer service in real time means the customer support team needs to get a clear understanding of the issue beforehand to implement the solutions to the knowledgebase. So that when the customer lands to the knowledge base page he comes across the relevant steps or solution for the issue.
Hence defining processes that may span across multiple teams such as marketing, sales or product provide customers real value of using your solution. For this, your information must be updated and organized.
For example, let's say you anticipate that the customer may not understand your product well. So you can collaborate with your team to prepare informative tutorials or videos explaining how to use it and share on your website or email to them.
Conclusion
Proactive customer service keeps your customers happy and turns them into your brand advocates, which is considered as one of the powerful marketing tools to help drive new business. The above-mentioned tips to shift from reactive to proactive approach helps to increase satisfaction, loyalty, and revenue.
So are you proactive in the support you deliver? What benefits you have marked since shifting from reactive to proactive?
Post your comments below.