Nowadays, it is critical to provide customers what, when, and where they want. The growing customer expectations is increasing pressure on retailers and consumer product companies to ensure that the promise they are making to the customer is kept. And this is what omnichannel eCommerce and retailing are all about.
With eCommerce sales increasing 25% last year alone, and customer expectations soaring along with sales, businesses are being vaulted into a new era. 
Updates that could have been put off for the next few years are becoming increasingly important to do as soon as possible, and implementing an omnichannel strategy certainly falls into that category.
No matter how you slice it, omnichannel is here to stay, and it's the right move for a lot of businesses. Hopefully, this guide can help you decide if it's the right choice for you.
What is Omnichannel E-commerce?
Omnichannel retail or e-commerce omnichannel refers to the sales approach of using multiple channels that focuses on delivering a unified purchasing experience to customers irrespective of whether the shopping is made across all channels, whether it's from in-store kiosks or other digital channels.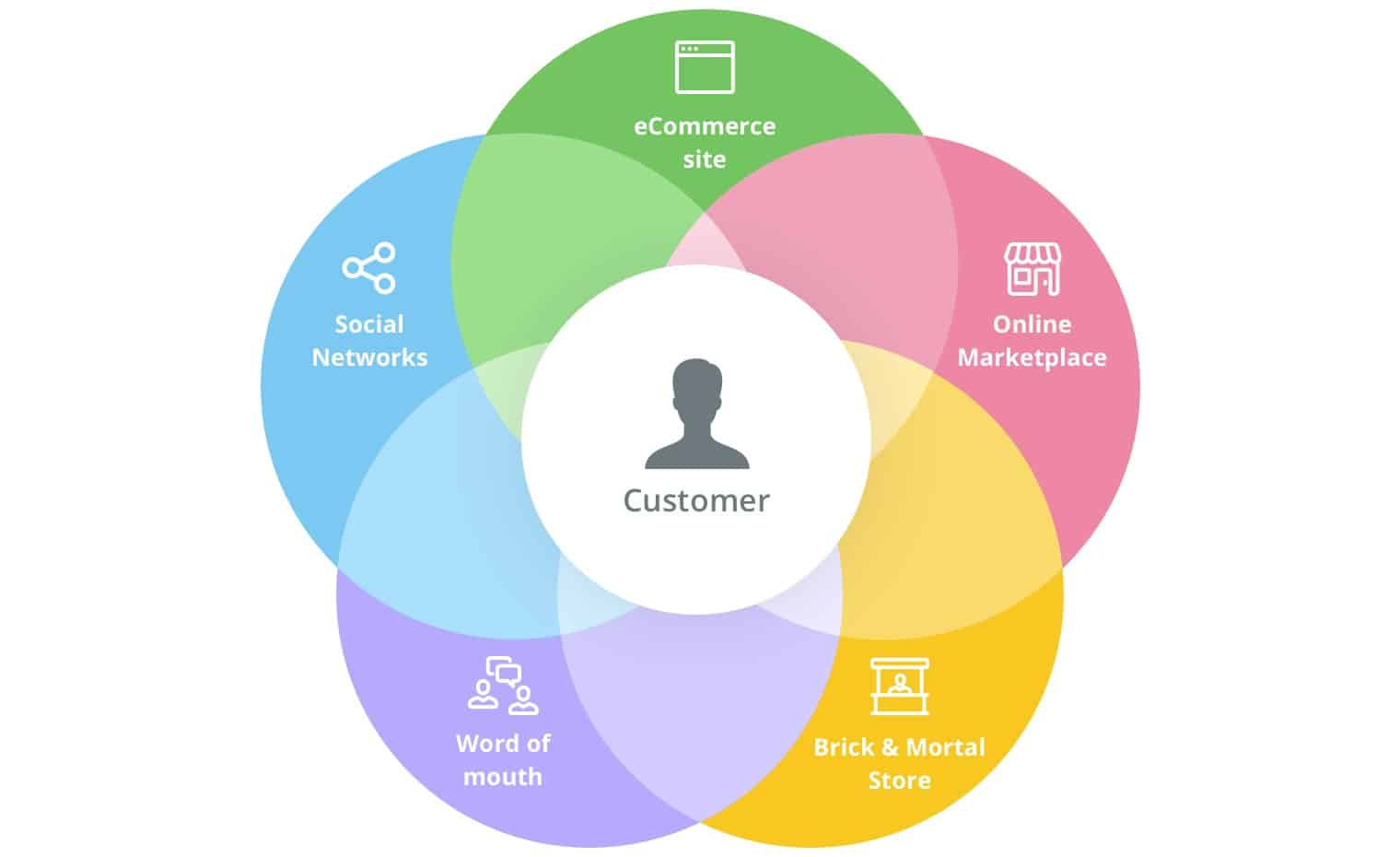 Having a strong omnichannel ecommerce strategy focuses on the entire buying experience of the customer not just the individual experiences on different channels. The final purchase decision happens based on the information collected by the consumers from different sources.
Difference between omnichannel vs multichannel ecommerce
Let us break down both the strategies one by one:
Multichannel ecommerce focuses on selling products on different channels, both online and offline. You interact with customers via social media, website, apps, phone, and in-store. But the channels are not connected, which fails to deliver a similar experience. As customers expect a consistent experience across all these channels which is where omnichannel comes into play.
The omnichannel ecommerce focuses on delivering a consistent shopping experience irrespective of the channel preferred by the customers. As all the channels are connected, brands can foresee what customers are looking for and deliver a personalized experience across all platforms. 
Omnichannel Ecommerce Platform with Smart Solutions
Ecommerce brands that are going omni channel witness many significant benefits. Having an omnichannel ecommerce platform impacts the business by delivering a great omnichannel customer service experience and enhancing brand credibility.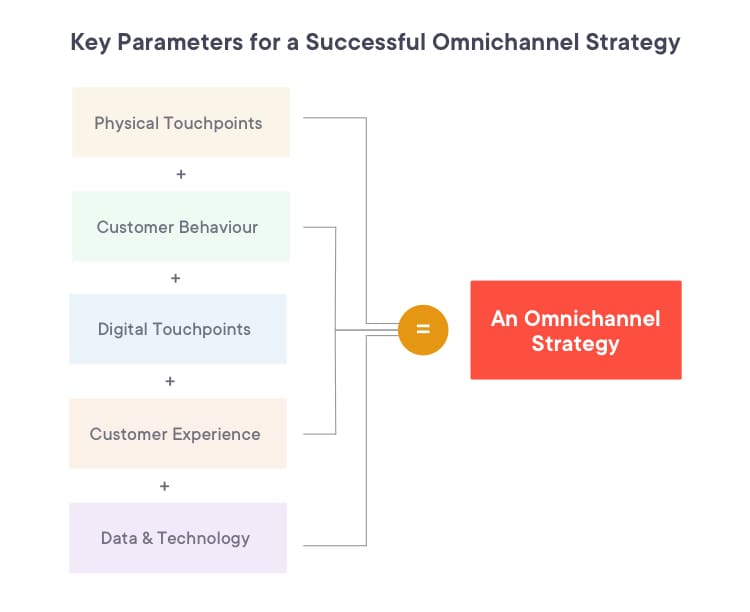 The brands that offer an omnichannel ecommerce platform to can offer excellent solutions to their customers and also witness significant benefits to their business.  
Here are the key reasons why brands should shift towards an omnichannel ecommerce platform:
Consistent brand message
Providing omnichannel ecommerce solutions focuses towards offering customers with cohesive messaging about your brand. No matter where a customer reaches out to your brand, the messaging remains unaltered.
Understand customer journey better
Omnichannel commerce platform allow brands to collect and merge customer data from multiple channels. The amalgamated data gives a full picture of types of customers interested in your brand, their behavior, which helps to personalize customer journey.
Personalized customer experience
A thorough understanding of the customer journey can help you to personalize your customers' experience. Creating a personalized experience is vital to omnichannel customers as they have a 30% higher lifetime value over shoppers who only purchase using one channel.
Boost sales conversion
Having an omnichannel marketing strategy for eCommerce in place helps in understanding customer's purchase behavior and developing stronger relationships with customers, which has a direct impact on sales. 
How to Build an Omnichannel Ecommerce Strategy?
Now that we have comprehensively discussed the differences between omnichannel and multichannel ecommerce and the key benefits of the latter, let us discuss the key components of building a strong omnichannel strategy.
1. Map the Customer Journey
While there won't be just one journey that every customer takes as they work their way from discovering your brand to purchasing a product to raving about it on social media, it's useful to start defining various potential journeys they might take.
A good place to start is by defining the different stages of your customers' purchase behavior – problem recognition, interest, research, purchase, etc.
Once you do that, you can start dissecting why they're interacting with you at each stage, and what their goal is – research, comparison, purchase – and start making it easier for them to achieve those goals.
Developing your customer personas is a good way to start identifying where and why they're interacting with you.
For example, maybe your customers are finding you through your Instagram, while older customers are more likely to find you in the Google search results.
Now, bring it all together and map the customer journey. Each of the touchpoints during their journey is a chance to interact with them in a way that makes their experience better, and more likely to convert – and the crux of all of it is recognizing that every channel in your strategy matters.
2. Create Engaging Content 
Using that nifty map you just created for yourself, you can start brainstorming targeted content that aligns with the platform it's going on and helps you achieve your goals on those platforms.
Here are some tips that you can follow to make content more engaging.
Take some beautiful product shots of a new line that you want to announce on Instagram, to get your customers excited about the new launch and keep them in the loop for when it's going live.

Film behind-the-scenes TikTok that's interesting, use trending audio, and show interesting parts of the process that people will be interested in watching.

Write some

captivating email subject lines to the A/B test

for your next email marketing campaign.
No matter what you create, all of the content you produce should be able to point back at the customer journey and customer goals.
3. Select the Right Customer Engagement Tools
Now is not the time to throw darts at a board and go with whichever platforms they land on – but it's also not good to assume that the most popular ones will be the best choice.
It is when you put your knowledge of your customers to use, study your customer personas and align them with platform demographics to find the perfect match(es).
The tools that can be used to enhance omnichannel customer experience at different touchpoints.
Chatbots – Leverage

chatbots

to engage with customers 24×7 and deliver real time responses for simple queries.

Live chat – Deliver real time assistance to the sales or support-related queries with

live chat

and boost customer satisfaction.

Visual engagement tools

– Tools like co-browsing and video chat, you can have a direct conversation that helps to identify the issue faster and deliver personalized solutions. 
By using digital tools and customer engagement strategies, provide real time response, and effective solutions. You can strengthen your relationship with existing customers and increase brand loyalty.
4. Define the Purpose of Channels
So far we've focused on selling on various channels because that is the foundation of omnichannel, but it's important to remember that you don't need to use every channel you're on for selling products directly to your customers.
Once you select all the channels you want to be present on, decide the purpose of each one – selling or not.
Defining the purpose for each channel also means committing to creating content for each of those channels – not reposting the same content everywhere, but creating (or at least reworking) content that is tailored for each platform.
A one-size-fits-all approach will not yield the same results from one channel to another. 
A classic example of this is when a B2B eCommerce company creates content and then publishes it on Twitter, Facebook, or LinkedIn without even tweaking their caption or changing the hashtags from one channel to the next.
Not only does each platform have its own guidelines for content best practices, the way your audience uses each platform will vary. Your content should meet their expectations for the channel it appears on.
The channels are different, the users and user expectations are different, your customer base is different – why would you want your content to be the same?
5. Keep the Website Mobile-Friendly
Honestly, whether you are selling on your own website or not, you need to make it optimized for mobile. Anyone who visits your website on their phone, customer or not, should be greeted by an experience tailored to their usage.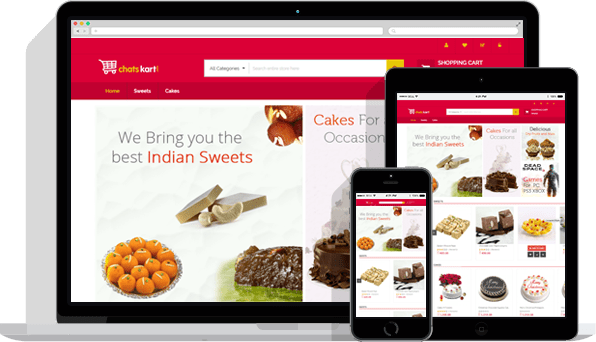 An effective mobile website is easy and intuitive to navigate, has clearly labeled and separate sections, accessible buttons, and an easy-to-use search bar. You want viewers to be able to find what they want as quickly and easily as possible.
6. All Omnichannel, All the Time
The biggest mistake that businesses make when implementing an omnichannel strategy is thinking only of the sales. Sure, sales are important, but so is every other part of your business, and it all needs to be omnichannel too.
These days, when a customer has a question about a product, they're not afraid to comment on the brand's Instagram asking them about it.
Does your customer service team know that? Are they prepared to not just handle questions coming in through the website, but on all channels?
This also applies to recognition when moving from platform to platform. When a potential customer adds something to their cart from your store while on Facebook, they should be able to head to your mobile website and still see that item in their cart – i.e. you should be able to recognize them no matter what platform they're using.
Omnichannel applies to everything: customer support, campaigns, websites, automation tools, social media comments, and any other facet of your business.
7. Integrate Data Analytics
The only way you're going to be able to use analytics and data about your customers is if you have it integrated across all channels (that should be starting to sound like a familiar refrain). When you have your analytics integrated across all channels, you can continually build more well-rounded customer personas as you get to know them better, and more well-informed customer journeys.
8. Test, Test, Test
As usual, this is not a "set it and forget it" kind of scenario. Very little in the business world is. Instead, do your best to implement all the changes as well as you can, address speed bumps when you hit them, and once you're comfortable, start iterating. The only way you're going to know if your current methods are working the best they can is to see how they hold up to other methods.
Time to Follow the Omnichannel eCommerce Trends
Omnichannel has a tendency to get lumped in with the other eCommerce buzzwords, but it is far from a fleeting trend. It's been gaining speed even before the worldwide pandemic forced people to stay home and shop online, so the last year has really been the final boost to push omnichannel to the forefront. So, to be ahead of the competitors, keep yourself updated with the eCommerce technology trends and take business decisions accordingly.
It's not the right choice for every business, though. If you're happy selling on one platform or can manage your social media channel and selling channel just fine without any fancy analytics, there is no need to go into the trouble of overhauling your strategy. But for businesses that are looking to grow and expand into new channels (or are already present on quite a few), and increase their efficiency and conversion while doing so, it can be more than worth the work.