Lead generation is a key growth challenge for most companies. And marketers are held responsible for driving growth. It is elusive for many businesses, which is why generating growth is the top priority for CEOs.
According to Forrester, " The average data-driven business is growing more than 30% year-over-year and before 2023, the companies will take $1.8 trillion annually. 
In the fierce competition of the modern marketing era, if you want to thrive, you have to be smart enough to identify and keep a tab on the lead generation metrics and KPIs that are relevant to your goals. 
The relevant key performance indicators (KPIs) and metrics play a vital role as they provide a 360-degree view into the customer journey. The metrics offer deeper and more holistic insights into the real performance of your marketing and sales efforts. Evaluating them from time to time, helps you to leverage data insights and grow your business. 
How to Identify the Right Lead Generation Metrics and KPIs?
The one size fits all rule cannot be applied for the KPIs, as every business has its own defined set of goals, target customers, and processes. Thus, the lead generation and customer acquisition approach also differ. Hence, you need to consider your business goals to figure out the right metrics for your business.
The key aspects to identify the lead generation KPIs and metrics are as follows:
Target audience
Target audience determines whether you are selling to a small business or an enterprise. In order to select the lead generation KPIs and metrics, you need to have the answer to three main questions. They are:
What is the customer profile?

What industry they are domain are they in?

What are the right channels to engage with them?
B2B or B2C business
The marketing lead generation strategy is primarily based on whether you are a B2B business or B2C. Further, depending upon the type of business you are in, the lead generation channels also vary greatly. Accordingly, you can determine the metrics and KPIs that will help to increase your customer base.
Pricing model
Your product and service pricing will help to understand how much amount you need to acquire new leads. Pricing plays an important role in selecting the right lead generation channels that help in identifying the metrics for your business.
Top 12 Lead Generation Metrics and KPIs Critical for Your Business
When you acquire a clear understanding of the fundamental facets of your business, it will help you to choose the right metrics to monitor your sales and lead generation efforts. With the right set of lead generation KPIs, you will be able to know the loopholes in your efforts and improve them for business growth.
Here is a list of important lead generation metrics that can help your sales team regardless of the size or structure of your business and how to measure lead generation performance metrics.
Let us discuss comprehensively how the lead generation KPIs can impact the growth of your business.
1.  Leads Acquisition via Live Chat
Live chat is an ideal channel for boosting lead generation results since it's the fastest and simplest way to start a one-on-one conversation with a lead. 94% of customers who were proactively invited to chat were somewhat or very satisfied with the experience.
Live chat for lead generation helps businesses to communicate directly with their prospects in real-time by converting your website as a lead generation machine to capture more leads and drive sales.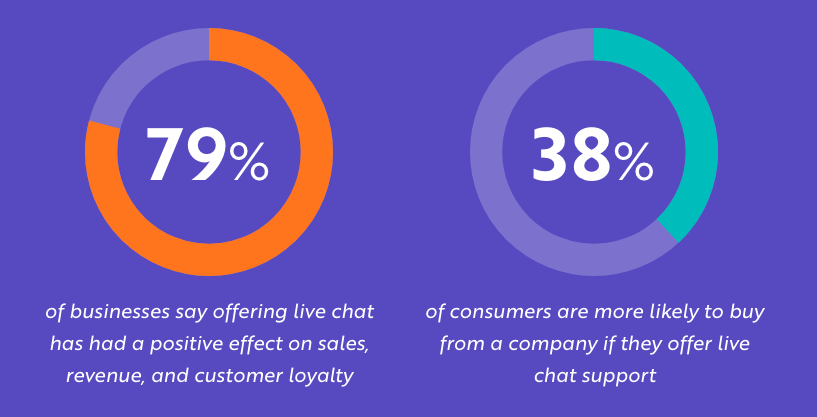 By implementing live chat, you can shorten the sales process by delivering prompt answers, proactive triggers, personalized messages throughout the customer journey, and help them to make quick purchase decisions. 
Here are the key live chat metrics that you should track to measure the effectiveness of your live chat and increase lead generation performance.
New leads from live chat – 

It refers to the chats that closed sales successfully out of the total number of live chat conversations.

First Response Time (FRT) –

FRT metric measures the average time taken by the agent to reply to the sales query for the first time. A lower first response rate indicates more satisfied customers and higher lifetime value.

Sales velocity

– Sales velocity refers to how quickly you connect with your leads, moving them through your pipeline, and how much value new customers provide over a given period.
2. Automate Leads with Chatbots
Before making a purchasing decision, usually customers ask the same types of questions regarding what they are buying. Answering such repetitive questions will take up a lot of time. A better solution would be to deploy a chatbot on your website to answer common questions your salespeople get regularly.
Chatbots for lead generation help marketers to connect and engage with their prospects 24×7 even when the sales team is busy or not available. The bot also helps customers to take the action they want.
For example, Seattle Ballooning, a company that offers hot-air balloon rides, executed a strategy to ask sales-oriented questions to their audience and guide them to and through the checkout process with their Seattle Ballooning Assistant.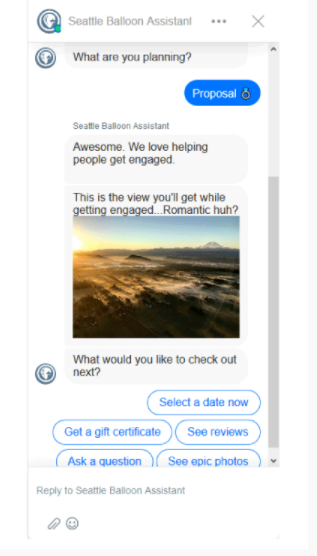 The bot asked relevant questions and offer options to select the problem the customer is facing.  By using the answers, they built customer profiles to provide personalized services throughout the purchase process.
How to implement chatbot metrics as a part of lead generation goals?
The number of orders –

Bots helps in placing orders or booking tickets instantly, which increases the number of sales leads.

Total form fill-up –

With bots, you can replace the tedious task of filling up lead forms with bots to reduce friction and streamline the data collection process.

Number of appointments –

Lead bots

allow customers to book slots for an appointment on the website and the booking notification would go to the relevant team.
REVE Chat brings a suite of automation tools that can help you put your customer support on autopilot. Sign up to get your business some really advanced customer engagement tools and take the right step towards automation. 
3. Cost Per Acquisition (CPA)
Cost per acquisition (CPA) is the key financial metric for determining your revenue generation efforts and return on investment (ROI). The customer acquisition KPI matters for the reasons like:
Determining which channels to invest more money in 

Judging the effectiveness over time of the marketing budget
For example, if you are selling to an enterprise, the CPA will be high and in case you are selling to a B2C business, the cost per acquisition will be below.
CPA can be calculated by dividing all of the costs spent on acquiring more customers by the number of customers acquired during the period in which the money was spent.
Here is the formula for calculating your CPA:

Suppose a company spent 1000 dollars to acquire 100 new customers, your CPA would be 10.00. It means you spend 10 dollars each to acquire a new customer.
Note: The effectiveness of your marketing efforts results in low CPA. Further, you can combine the CPA with metrics like customer lifetime value (CLV) to acquire valuable insights into the overall profitability of the channel or campaign.
4. Customer Lifetime Value (CLTV)
Customer lifetime value (CLTV) is one of the important lead metrics you can measure as a marketer.
CLTV is used to project the revenue that a single customer will generate throughout their lifetime for your business. 
It can be influenced by many facets of your marketing, customer service, upselling, and customer service operations.
For calculating the customer lifetime value the elements taken into account are:
Average purchase size of each customer 

Number of purchases a customer makes in a year, and

Average profit margins to determine a yearly profit margin average per customer
Here is the formula for calculating the CLTV: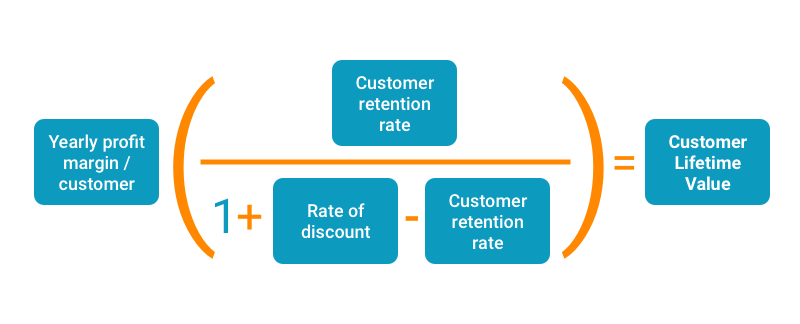 Higher CLTV shows that your demand generation funnel is not just turning leads into customers but is generating higher-value customers.
5. Average Revenue Per Customer (ARPC)
Average Revenue Per Customer (ARPC) refers to the average revenue generated from each customer per month (or per year).  It is an important key performance indicator the is effective for your lead generation goals.
ARPC can also be used in calculating your monthly recurring revenue (MRR) and average recurring revenue (ARR), and it is also referred to as Average Revenue per User (ARPU).
Calculating the ARPC is done by applying the formula below:
Average Revenue Per Customer differs on customer types. You will have to identify client types to understand the profitability and address that market segment over time, using sales funnel information to plan for future marketing campaigns. However, it can be increased by focusing on:
Combing products

–  adding products, bundles, and cross-selling/upselling

Scalable pricing

– developing multi-dimensional pricing that allows scaling pricing for larger customers that derive more value from the product. 
6. Website Traffic
Website traffic is one of the important lead generation metrics that help to understand who these people are, their demography, and their actions after discovering your website. This information can help you determine what it is they are looking for. It further helps in anticipating your potential customer needs.
Website traffic comprises many internal metrics that can be measured to monitor customer engagement to increase website conversion rate. They include:
Click-Through Rate (CTR)
Lead generation campaigns comprise many call-to-action (CTA). CTR measures the click performance of any CTA and shows the percentage of visitors who have clicked the CTA on any given ad, link, email, or landing page, etc.
CTR can be calculated by using the below formula:
Average session duration
The average session duration is the typical amount of time that a visitor spends on the webpage. 
Higher duration means your visitors are interested and engaged in the information you are providing. Usually, low average session duration happens whenever a page has a high bounce rate
Bounce rate
Bounce rate is a measurement of how many people come to a page on your site and then navigate away from it without navigating other pages. 
A high bounce rate is a bad indication as it shows many people find your site, go through the information, and then leave without converting. On the other hand, a low bounce rate is great, as people are finding the information helpful and continue navigating your site.
Grab some effective tips to reduce the bounce rate of the website.
7. Lead Conversion Rate
Lead conversion rate indicates the total number of conversions on your site. It is the percentage of people who come to your site and actually convert. Conversion rate tells whether you are efficiently generating new leads with your website.
A higher conversion rate means you are giving people the information they want and successfully convincing them to contact you. 

A low conversion rate means people are not getting the information they need and are likely leaving your site for your competitors.
For calculating the percentage of conversion you have to consider the total number of visitors in a specific time period and divide it by the number of conversions on your site to get the overall lead conversion rate
Note: In case your conversion rate is low, evaluate your pages and identify the areas where you could improve them. You can do that in the following ways:
Improving your brand messaging

Adding visuals,

Using appealing CTAs

Focus on user-generated content (UGC)
8. Qualified Leads
The lead generation efforts can happen through your sales team, marketing, or the product team directly. With complex sales funnels, it is crucial to define and segment your most qualified leads.
Here are the three segments of qualified leads.
Marketing qualified leads (MQLs):

Marketing qualified leads are customers who have engaged with your marketing team but are not ready to receive a sales call. 

Sales qualified leads (SQLs):

These are customers who have taken actions that express their interest in becoming a paying customer. 

Product qualified leads (PQLs):

Product qualified leads are those who have used your product and shown interest in becoming a paying customer.
The two main ways to assess if a lead is more likely to become a customer are: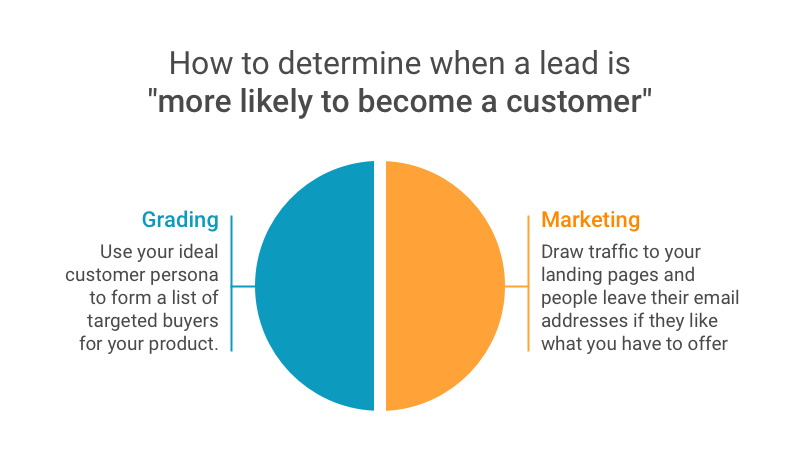 Grading

–  With the help of your customer persona, you create a list of targeted buyers who want to learn more about your products or services and favors specifically the B2B industry. 

Marketing

– You grab attention with your landing pages and interested visitors leave their email addresses. It means they expect more interaction with your brand.
9. Capture vs Conversion Rate
One of the key lead gen metrics, capture vs conversion rate – measures the percentage of new traffic that provides some level of contact or other information on your website. It tracks how that rate lines up with the ultimate conversion rate.
This rate is calculated by applying the formula:
Capture vs conversion rate = Number of leads / Number of sessions. 
The closer to 1 your session to lead conversion rate is, the more qualified your visitors are, which is a good indicator and shows your marketing efforts are effective. 
Note: A low conversion rate increases your cost per lead and impacts the overall revenue of your business. 
10. Email Marketing Performance
Email marketing strategy is a crucial aspect of every business. Each email marketing campaign can be different, especially if you have different goals for different campaigns (e.g., generating leads and growing a subscriber base). 
However, there are some basic lead analytics that email marketers should track.
Open rate

– It is vital to understanding how well your subscribers are receiving your messages. The open rate tracks how many subscribers opened the email you sent.

Conversion rate

– This KPI will assess how many people clicked on the link and then completed a specific action. 

List growth rate

– It tracks the rate at which your list is growing. It is calculated by deducting the total number of new subscribers from the number of unsubscribes, then dividing the total number of email addresses on your list, and then multiplying it by 100.

Forwarding rate

– It measures the percentage of recipients who either shared your post via social media or forwarded it to a friend. It tells you what percentage of subscribers are recommending your emails to others.
11. Social Media Engagement 
Social media is a vital part of the lead generation strategy as it includes so many inbound marketing efforts. It allows you to share your content across different channels to initiate engagement. You can interact with your current and potential customers and know what they are looking for. 
Social media platforms allow tracking as well as analysis that makes it incredibly easy to get this information when needed. 
You can track the growth of this lead generation KPI to evaluate its effectiveness. Consider the number of followers on Twitter, likes on Facebook, expressions on Linkedin, upvotes on quora. 
You can also track engagement through metrics that determine lead conversions, customer conversions, and the percentage of web traffic associated with your social media efforts. 
Note: Not all social platforms will fit your business. Make sure to track the right ones that connect you with your target audience.
12. Connection Rate
The connection rate metric explains the efficiency of the leads. Usually, it is short term and gives you a daily snapshot of your leads. 
The benefit of using connection rate KPI is that it gives a picture of the number of calls placed on a particular day to leads. 
To calculate the connection rate, you need to divide the calls answered (including voicemails) by the total calls placed. 
For example, if 50 calls are answered / 100 calls dialed = Connection Rate of 50%.
Lead Generation Metrics and KPIs Based on Channels
The lead generation campaigns for businesses are typically made up of a number of marketing channels. It provides an overview of channel-wise performance. Each of these channels can have marketing budgets that vary from each other. 
To optimize your demand generation funnel, you have to optimize specifically for each channel and appropriately assign your budget toward the highest performing channels. These channels include:
Organic or SEO
The number of leads that come from content-driven marketing by targeting the right traffic. Understanding the target audience helps how to get them interested in your business. SEO activities attract valuable traffic and potential customers. It improves your website's ranking in search results to reach more people interested in your business.
Paid channels
Running campaigns across paid channels help in getting the relevant traffic right away. Social media channels like Facebook and Twitter offer paid ads that operate on a PPC model. By using paid options, you can reach more customers and better engage with those who follow you on social media. 
Public relations
The public relations channels have always been influencing audiences to take action. Some PR tactics that can help your business generate more qualified leads are editorial outreach through magazines or newspapers, sharing media on Facebook or using Twitter handle, participating in events. 
Every Business Has its Own Set of Lead Generation Metrics and KPIs
Whether you are a B2B business or B2C, offline or online business model, your lead generation metrics and KPIs will vary. Hence, you need to plan a strategy to understand who your customers are, identify the channels to engage with them for lead generation.
The next step should be to have the right engagement tools to track the KPIs. REVE Chat offers a range of advanced customer support software that can help transform the way you offer support. Sign up for the right tools and ensure a great value to your support effort. 
At the same time, you also need to realize how it is not wise to track all the lead generation metrics and KPIs else the marketing efforts will go to waste. Instead, track the right ones that are relevant to your business and get the best results for your business.