As the old proverb says to 'know your customers' is still as true today as it was earlier. With customer behavior changing rapidly, businesses need to stay up-to-date with customer expectations. Customers have always expected efficient and reliable customer service, but with technological advancement, their expectations have even gone higher.
Co-browsing solution is one of the advanced ways to deliver superior customer service in real time to assist your visitors and customers.
Customers expect more from your business and with the right technology, businesses can meet customer expectations. You have to make your customer experience a priority with customer service as the key competitive differentiator. It is imperative to build a strong customer service strategy as customers expect instant solutions for their queries.  
How businesses can adapt co-browsing solution as part of the customer service strategy?
Customer service is all about meeting the expectations of your customers. The previous experiences of the customers shape their current expectations. Every business should set goals to meet and exceed customer expectations.
Today's customers have much higher expectations in terms of customer service. If a business has the capability to deliver support in the right context, then it maximizes customer experience and boosts team productivity. However, this isn't as easy as it may seem.
Every company should plan a customer centric strategy to deliver better customer service. Customer centric companies are 60% more profitable compared to companies that are not focused on the customer.
Some of the key areas that act as a benchmark for all businesses are as follows:
Identify your customer needs  
Identifying customer needs is a crucial step that will help your company in delivering better customer service. Understanding the challenges the customer is facing makes easier to fix the issue straight away. Some of the challenges are
Customers are not able to get real time assistance

Complex issues are not resolved in the first contact

Need help when filling up forms
Select the right tools
It is very crucial for business teams to be effective. Using the right tools play an important role in your customer service strategy and also help to achieve the KPIs you have set. The benefits of using tools are:
Help businesses to measure their customer analytics.

Identify the point during their customer journey where they need assistance.

Assist customers in real time as per customer expectations.

Help to know how well your team is performing.
Train your team
Improve the service and experience you offer to your customers by training your team. Your team should be clear in terms of tools, technology, products, and services to assist customers satisfactorily. Focus on improving the following skills:
Improve communication skills of your help desk support team for better customer engagement.

Train your team on the new updates after the latest product version is released.

Interpersonal skills training for better customer interaction and communication.
Co-browsing solution for customer service
Like other tools, co-browsing software is also a vital tool that can provide customer service agents with the ability to view the customer's screen and gain an in-depth real-time understanding of the customer's issues/queries while browsing a website.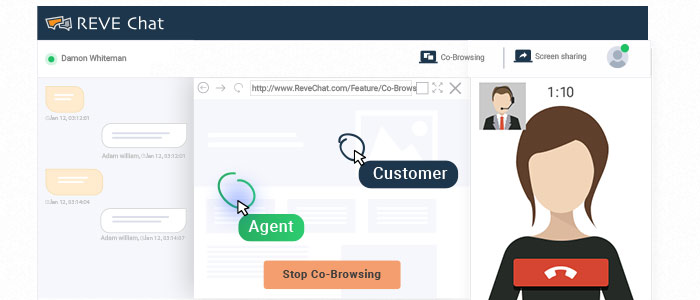 Co-browsing for customer service gives a visual understanding of the exact problem, hence allowing agents to sort out the issue the very first time it reported. Thus, reducing the number of touchpoints for the resolution of the problem and deliver better customer service.
The best co-browsing solution stands first to overcome all response rates coming from other communication channels as the real time solution.
Key use cases for customer service
Technical support –

With co-browsing, the agents help the customers to resolve their technical issues remotely.
Form fillups –

Customers face problems at times while filling online forms and with co-browsing, the agent help to complete it.
Online support –

Step by step assistance in understanding the product or feature helps customers during a complicated transaction and deliver in human customer service.
Website assistance-

Helps your website visitors in navigating the site and take necessary actions right on the first visit without letting them call or email you.
Implementing visual engagement tools to your business will enhance better customer service and take customer experience to a new level.
Key criteria to choose best co-browsing solution for superior customer service
While choosing co-browsing for customer service, you should evaluate the key criteria to avoid any confusion later. Whether you are looking co-browsing solution for website engagement or sales or help desk support, the below questions will help you to evaluate the best co-browsing tool to deliver better customer service and meet customer expectations.
1. Does the co-browsing solution come with live chat & video chat?
Businesses looking for co-browsing software for better customer service should seek co-browsing solution that comes with a complete suite of customer engagement tools such as voice chat, video chat, and live chat.
Let's take an example, if a customer is having an issue during filling up an online form or submitting the form, co-browsing along with live chat and video chat can be the best way to guide the customer. The interactive way customer engagement in real time resolves the customer issue instantly.
A co-browsing software that combines video and live chat brings the right set of tools to
Identify the nature and complexity of the customer query in real time.

First-hand knowledge of the provide helps in delivering instant customer support.

Face to face communication makes customer communication interactive.

Deliver instant solutions and improve the chances of conversions.

Direct personalized chat with customers builds trust and loyalty.
Integrating video chat and live chat with co-browsing provides a better in-person experience to your customers. It reduces the total resolution time and can achieve the highest customer satisfaction rates.
2. What are the data security measures offered?
Data security is the top priority for every business. And whenever a customer shares sensitive data or information, the first thing that comes to mind is –  is all the data secured and complaint?
Co-browsing for customer support secures all the data shared customers by
Data masking – it masks all the sensitive information of the customer with HTML elements or form fields.

Enterprise level security, 256-bits encryption

The crucial details of the customers (credit card or login details) are hidden from the help desk support agents.

It protects unauthorized access to and disclosure of the confidential information of customers.
The entire conversations with customers are highly secured. It means all the documents, video chats, conversation history, sensitive information that is shared during the co-browsing sessions is safe and secured.
3. Does co-browsing support mobile apps?
People generally choose mobile apps over other channels when they face any kind of problem. And they do not prefer leaving the app and go to the website to get the resolution. Co-browsing is possible with the easy integration of mobile SDK to engage with your iOS and Android users right inside the apps. You can also deliver real time assistance to app users for any assistance.
Co-browsing in mobile apps helps to:
Deliver instant assistance within the mobile apps in real time

Reduce resolution time by identifying the exact problem

Enhance customer engagement with meaningful conversation
4. Does co-browsing for customer service need any setup or installation?
There are several online tools that require customers to change their setting or download a special plugin. And all customers look for a hassle-free way to get instant customer support. Hence, having a co-browsing tool powered by WebRTC (Web Real-Time Communications) brings flexibility and seamless experience so that your customers would not feel any hassle during any conversation.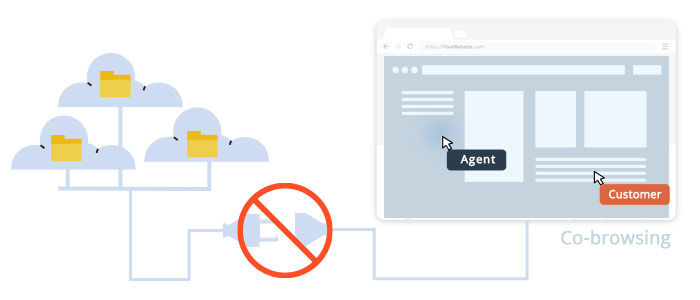 Co-browsing solution built with WebRTC technology requires no installations or plugins. You can communicate instantly with the website visitors by co-browsing with live chat and video chat simultaneously. It also provides in-context communication to the customers and delivers seamless customer experience.
The main benefits of WebRTC based co-browsing are
It provides a seamless customer experience

Improves first contact resolution for customers

It is a completely browser-based solution

No downloads or installations that means no malware threats
5. Does any shared data ever leave the host's computer?
It depends upon the nature of the problem, the customer has to share the data. So it is important to know what happens to the data shared after the co-browsing session ends. Is it shared with the host's computer? What if it is misused? These questions create doubt and insecurity in the customer's mind. Make sure you verify about it before selection your co-browsing for customer service.
6. Can it be integrated with your business tools?
Businesses, no matter big or small look for hassle free integration. So it is essential to select co-browsing for customer service that can smoothly integrate with your applications or tools. Easy integration will help to connect with your customers in real time and offer effective customer service. With the help of API, easily connect with the tools smoothly and engage customers with the right assistance to deliver a better experience.
7. Seat-based or capacity based – which co-browsing license is better?
Choosing the co-browsing solution completely depends upon the size of your company. Depending upon the size of the company choose the co-browsing license. The seat-based licensing is suggested for the small businesses or company with small teams. Whereas for the big companies capacity based licensing is recommended. So before you select the co-browsing license you have to make sure about the strength of your business.
Conclusion
The above mentioned criteria will certainly help you to choose right co-browsing software that will meet your business objectives. Once you are through with your evaluation criteria, you can implement and use co-browsing for customer service.