E-commerce has been growing at a rapid rate. People are shopping online now more than ever. With increased competition, it is becoming tougher for businesses to grab the attention of their customer. And customer attention is always dependent on how he felt while browsing your website. That's why every company is in the race to provide a better customer experience.
If you just rely on technology, then let me tell you that some aspects of your business can be copied like technology or the flow of your e-commerce website. What will you do then?
One thing which your competitors won't be able to copy is how you treat your customers. If you provide a customer experience like no other than the customer will come back to you only.
You can measure the performance of your store by analyzing sales. But do you know how to measure your customer experience?
Below mentioned are some metrics which will help you analyze and improve your e-commerce customer service experience:
1. Net Promoter Score (NPS)
NPS is the key metric that refers to the percentage of your customers who are going to recommend your business to their friends, family or colleagues.
It is measured by a customer survey asking, "How likely are you to recommend "ABC Corp" to your friends?" Your customers will rate your company on a scale of 0 to 10.

Source: Net Promoter System
Higher NPS indicates that your customers are satisfied with your overall brand. Likewise, if the score is low you need to implement the right ways to improve your NPS score. People always believe in their friends more than advertisements. So, if your customers are not willing to recommend your brand, then you'll have to work for every penny.
But if your customers are happy with your services, they will refer your business to others as well. And become your best brand ambassadors.
2. Customer Effort Score (CES)
CES determines the effort your customers had to put in to accomplish a task. It also shows how fast and smooth the experience you provide to your customers. For example, if your customer has a query, then how fast can, it gets resolved or what he/she has to do to get it resolved would be counted.
For making your customers store experience smooth, make sure you're not asking fill-in too much detail or you're not taking them to a lot of pages for purchase.
You can measure it using a customer survey asking a simple question like "How much effort you had to put in to get the issue resolved?". Your customers will rate you on the scale of "Very Low Effort" to "Very High Effort".
Or you can ask them "ABC has helped me in finding the exact product I was looking for." Your customers may revert by rating on the scale ranging from "Strongly Disagree" to "Strongly Agree".
Source
More you move towards the "Low Effort" or "Strongly Agree", better is your score and you're more likely to thrive in the business.
Tip: You can use live chat for helping your customers find the right product or resolving their issue instantly. This will boost your CES score.
3. Conversion Rate
You might be already aware of this metric. This is the ratio between the number of customers you acquired to the number of visitors on your website. E-commerce industry is working hard to push this figure. The average global conversion rate across industries is less than 3%.
Though it is perceived as a business goal, the conversion rate is an indicator of your customer experience. It shows how your customers are behaving on your website. It is affected by an important factor, i.e. Card Abandonment Rate.
Cart Abandonment

Source
It is defined as people adding products in the cart, but not making a purchase. This is one the most sought issue on which many marketers today are working. It shows that your products are good to generate interest in people, but not enough for them to close the sale.
There could be many reasons which affect the final purchase, some of them could need more clarity, lack of payment options, lack of trust, lengthy process, shipping costs, etc. You must analyze and resolve those issues to get that sale.
Tip: You can assist the customer with live chat to solve the queries like providing more information, building trust, and increase your sales.
4. Repeat Customer Rate (RCR)
It can simply define as the ratio between customers who have purchased more than once to the total number of your customers.
This metric simply indicates customer loyalty and trust among your customers.
You may have been spending a lot of money on the acquisition of new customers, but it won't until you have customers who do repeat business with you. Repeat customers are the lifeline of any business as they are the ones who give you actual value.
You can never buy loyalty but can provide a better customer experience in order to increase repeat purchases. Offering coupons, discounts, or free shipping exclusively to your existing customers is a great driving factor for them. This way you can make a better experience for them to deal with you again.
Below are some facts which will tell you the importance of repeat customers:
Repeat customers are responsible for generating 40% of the store's revenue.

A repeat customer has a 60-70% chance of converting.
Repeat customers spend more than new customers. A study by Bain & Co found that an online shopper's fifth transaction was 40% larger than their first. The tenth transaction was 80% larger.
This brings me to my next point.
5. Customer lifetime value (CLV)
This is a simple metric that can be defined as the total value that a customer has spent on your eCommerce store. It can be calculated as
Average Revenue Per User X Gross Margin X Average Retention Time
As discussed above eCommerce players are spending a huge amount of money on acquiring new customers. Repeat customers, however, play an important role in increasing CLV. When a customer comes back to you, they also recommend you to others. This increases your sales, you can also do the upselling to increase your CLV.
According to Forrester research analyst Sucharita Mulpuru, product recommendations like upsells and cross-sells account for an average of 10-30% of eCommerce revenues.
This way you can increase Average Order Value hence overall CLV. But repeat customers will come only if the customer experience is good hence CLV is a great metric to judge the customer experience of your store.
6. Customer Satisfaction (CSAT)
CSAT is the satisfaction score calculated on the basis of a survey filled with the customers stating how satisfied they are with your service.
This can be calculated by sending a survey to the customer immediately after a purchase or support interaction. The customers rate your company on the scale of "Not Satisfied at all" to "Very Satisfied".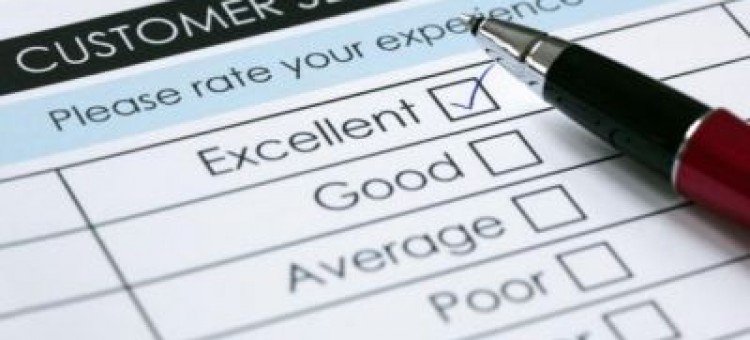 Source
The answers are dependent on the experience, the customer had while making interaction with your website. If the customer had to fill in too much information then they are likely to say not satisfied. Or if a customer had to wait in the queue before being connected to your customer representative, they are less likely to be satisfied with you.
Tip: Offer live chat assistance on your eCommerce store to offer instant support and increase your CSAT score.
7. Customer Churn Rate
Churn Rate can be defined as the percentage of customers who would not like to make a repeat purchase with your business.
It can be calculated by dividing the total number of lost customers by the total number of active customers for a given period.
It tells your performance in keeping your customers happy and how well was their experience with you.
8. First Response & Average Handling Time
First Response Time is the average time in which your customer gets the initial response on their support request. This can be measured by averaging the time taken to respond to the first query made by the customer.
Often overlooked, this is an important metric as this makes an impression on the customers how well he'll be treated.  The faster the response time, the more are the chances of building trust. Big companies like Godaddy.com also understand this and are providing support via live chat to reduce first response time.
Average Handling Time is the average amount of total time taken to resolve customer queries from beginning to end. This time includes the time spent interacting with the customers, whether on calls, emails, chat, etc., and the time between interactions.
The lesser the average handling time, the more satisfied, are the customers and the higher the chances of them coming back to you again.
Conclusion
Now that you know how to track and measure the customer experience of your store, go and check it. And don't just track them using this analysis to make your customer experience better. There is no end to improvement. These tools might be of great help in measuring customer service efforts.