Customer Experience is your impression in the minds of your customers based on how the company treats them. This impression is what defines their behavior towards your company and drive their loyalty.
It can seriously make or break your business.
Even a single bad experience of a customer can hurt your badly since the customer is going to discuss this with his/ her friends. With the advent of social media, you must have heard about the horror stories of bad experience with a brand gone viral.
In order to keep your customers happy, you should know them well and deliver personalized services/ experiences to make them loyal to you.
And if you're wondering why to improve customer experience, image below is the answer.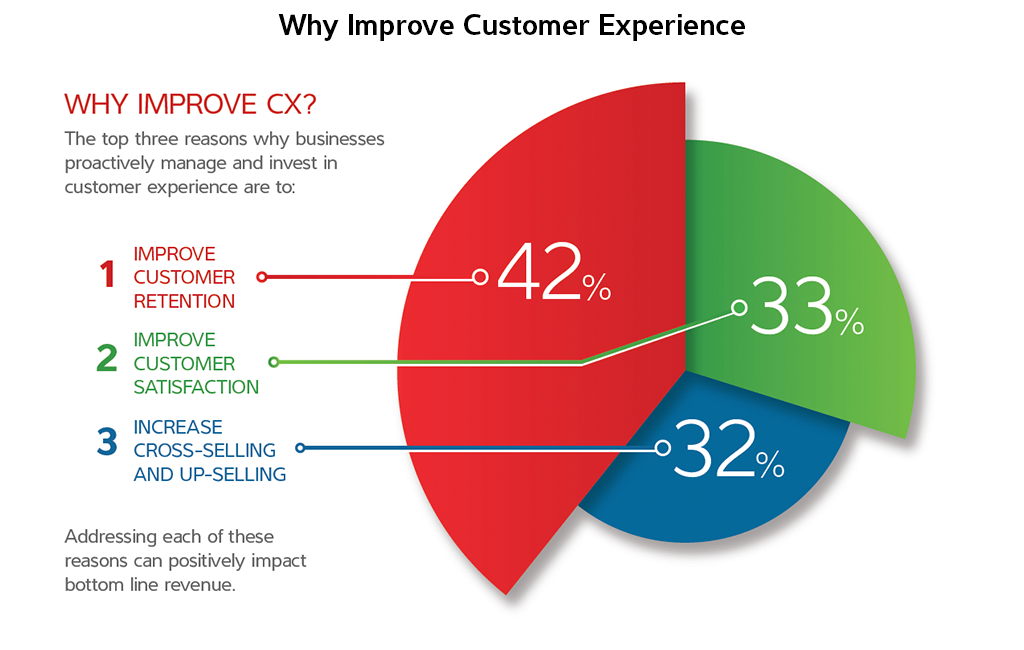 (Source)
Since the customer experience is becoming so important, companies have also taken this as a task. By making this their primary objective, companies are getting ready to increase their market share.
According to Gartner's research, 89% of businesses are going to compete mainly on customer experience. Those who are going to take this seriously will win loyal customers.
75% of companies said their top objective for 2016 was to improve the customer experience. –Spigit
Customers Need Faster Service
You need to respond faster to your customers. In today's time, customers hate to wait and hence a faster response means a better experience. Traditional support options like phone and email are either costly affair or not fast enough to be in sync with today's time. If you're having a website for your business, then you can install live chat software. A live chat software will help you communicate with your website visitors in real-time.
64% of consumers (B2C) and 80% of business buyers (B2B) expect real time communication with companies. –Salesforce
75% of online customers expect help within 5 minutes. –Mckinsey & Company
Bad Stories sell More
You must be aware about the fact that bad customer experience stories going viral on social media. Sometimes, these instances damage the image of the brand beyond repair. It's not only on social media but people tend to share their bad experiences with their friends more as compared to good experiences. Below mentioned are some of the stats for the same.
According to a study by American Express, 95% of consumers talk about poor customer service experiences with other people.
And as I said that bad stories sell more, a research by Esteban Kolsky states that if the customers are not satisfied, 13% will share it with 15 or even more people that they are not happy. Whereas, 72% of customers will share a positive experience with only 6 or more people.
Single Point of Contact
Customer Experience also depends on how soon he can reach you. In today's time companies reach out to customers wherever they can, be it events, social media, print media etc. They want to pass on their message to the consumers.
Similarly, consumers also want their queries to be resolved on all the channels. They do not want to go on different channels for support. They get really frustrated in doing so and hence thinks that you do not care for them.
Kampyle found out that 87% of customers think that brands need to put in more effort in providing a consistent experience.
So, if you're available on email to support them, then you should also be available on Facebook Messenger to sort their queries.
Even repeating your queries can be very frustrating which can be seen from the fact that 89% of customers feel frustrated when they need to repeat their issues to multiple representatives.
How to tackle this?
Use a multi-channel platform which can help you build engagement and provide support to your clients from a single dashboard. REVE Chat is one such tool which helps you connect with your customers on website, facebook messenger, viber messenger and mobile app.
Conclusion
One thing for sure, in order to provide an amazing customer experience, you need to understand then solve their queries faster than ever before. Do you have any good or bad customer experience story to share?
Share it in comments below.
Cover Image Stat Source