Modern customers expect more efficient service than before. They don't just want friendly; they want to feel like the service has been personalized for them. 
89% of consumers have switched to doing business with a competitor following a poor customer experience.
In today's hyper-competitive business atmosphere, it's important to know the consequences of poor customer service interaction and the benefits of using digital engagement tools to make conversations effective.
Businesses using co-browsing for customer service can provide real time help by collaborating with the customers and deliver a virtual in person experience. 
Knowing what is co-browsing and applying its benefits for customer support can make a huge difference. Hence, these departments should capitalize on live engagement technologies while navigating a complex customer-centric marketplace.
Challenges faced by contact center teams 
The digital transformation is reshaping customer expectations and maximizing business competition has made it harder for contact centers to meet customer expectations. Rising customer expectations result in increasing customer attrition. 
Though contact centers are the front line of customer service many common challenges can stand in the way of top-tier customer support.
Here are some of the major challenges that the call center executives have to face frequently:
Long wait times: 

Call center reps can handle one agent at a time hence, the queue time is longer and the customer declines due to frustration.

Multiple touchpoints: 

Agents can't identify the issue accurately as they can't see it as a result of which the number of touchpoints increases.

Communication issues: 

Customer support over the phone can lead to miscommunication. There are many things that can not be easily relayed properly. 

High service costs: 

When solving a problem requires multiple touchpoints there is an increase in the customer service costs.
Co-browsing is a key tool that can solve some of the above contact center issues with live assistance and in a true sense can help to improve the overall support KPIs. With co-browsing solution, call centers can add proactive support to their existing channels. 
Key benefits of using cobrowsing in customer service 
Creating happy customers just requires getting the basics right, specifically, what existing and potential customers need throughout their purchase journey. The customer support reps equipped with visual tools like co-browsing and live video can turn frustrated and stalled customer journeys into successful interactions.
The significant benefits of co-browsing that can help businesses to deliver top-notch customer service are discussed below.
Let us discuss how the co-browsing benefits help to enhance the customer experience as well as business revenue.
1. Deliver faster customer service solutions
Real time customer engagement is all about being able to see, engage, and resolve customer issues. Using the co-browsing tool goes a long way towards promoting first contact resolution (FCR) and reducing the number of touchpoints.
When you empower your support team with visual engagement tools allow them to connect with customers at the right moment and diagnose the issue.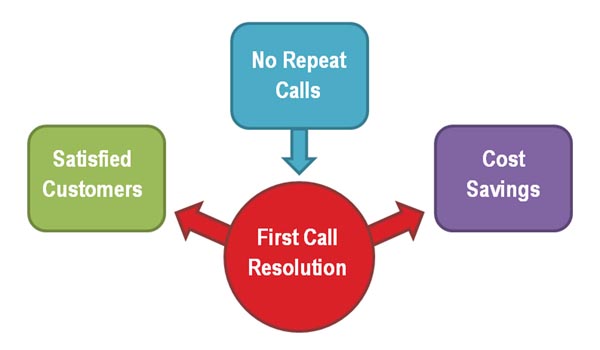 It enables them to provide better, faster resolutions to the majority of support issues, thereby improving the first contact resolution metric significantly. 
Here is how co browsing solution helps to deliver faster solutions and improve the FCR metric
Real time collaboration

– The co-browsing tool allows agents to collaborate with customers by controlling their browser and guide them in accomplishing complex tasks.

Identify issues faster

– Combine co-browsing and video chat to diagnose the root cause of the issue faster and provide an effective solution through personalized conversations.

Reduce touchpoints

– Cobrowsing solution enables meaningful conversations and delivers effective solutions that reduce the number of touchpoints.
2. Continue conversations across messaging channels to website
As an online business, your customer communication happens across multiple channels. Imagine your customer comes from Facebook messenger and needs real time support.
How would you handle the situation?
Cobrowsing by code helps to continue the conversations from phone or messaging channels to the website via unique code without losing the previous conversation. It shortens your resolution time by collaborating with the same agent using code.
Here is how co-browsing by code can help you:
Continue conversation to the website

from the messaging channels or phone with the same agent without losing conversation

Help sales remotely by providing

instant assistance in filling up complex forms
Improves first contact resolution

by sharing the unique 5-digit code, to resolve issues in real time and reduce touchpoints
Industries like Banking & Financial Services, Insurance, eCommerce, or Contact Center can be immensely benefited by the co-browsing application to help their customers remotely.
3. Increase customer satisfaction scores
Real time engagement is a powerful real-time concept that enables agents and customers to reduce conversation clutter, better understand each other, and drastically save time in problem resolution.
The ability to provide positive customer experiences with superior customer service is one of the best ways to drive customer loyalty. 
Adding the co-browsing tool to your customer service efforts, can improve the response time and help you to gain an edge over your competitors. It facilitates hassle-free communication and real time collaboration to guide your customers through complex workflows. 
How co-browsing helps to engage customers in contact centers and increase CSAT scores?
Drive a positive customer experience by effective solutions in the first contact.

Faster resolution results in higher customer satisfaction for the brand.

Develop a better understanding between customers & agents during interactions.

Significantly reduce frustrating and stressful customer service situations.
4. Reduce customer churn rate 
One of the key reasons why customers churn is the lack of real time engagement. By using live tools like co-browsing, conversations can be meaningful. 
Companies have experienced 9.5X customer retention rates after the adoption of digital channels to differentiate their customer service.
Co-browsing helps companies to successfully convert website visitors into buyers. It is also important to nurture, delight, and retain existing customers via smart customer service. It helps to reduce customer churn rate significantly.
Key ways how cobrowsing helps preventing customer churn are as follows:
Assist your customers through complex forms or technical processes.

Educate them by providing the right information they are looking for.

Strengthen relationships with better customer service communication
Note – Adding co-browsing as a customer engagement channel transforms the support experience into a better, simpler, more intuitive process.
5. Higher customer lifetime value (CLTV)
Implementing cobrowsing for customer service communications drives more meaningful customer engagement. 
A fully-engaged customer is likely to spend 20% more on average throughout the lifetime of their brand relationship. 
How does using co-browsing solution increase customer lifetime value (CLTV)?
Offer excellent customer service

– Using co-browsing tools, help to collaborate with customers in real time, and provide effective solutions at the first touchpoint.

Enhance customer onboarding process

– Co-browsing and video chat together is the best way to onboard customers by creating a personal experience that creates positive brand sentiment.

Personalize customer experiences

– With co-browsing, agents can customize their advice and feedback to suit each person's specific problems. 
By offering experiences that are tailored to their specific needs is an effective way of increasing retention rates and supplementing CLTV.  
6. Seamless customer onboarding
Usually, businesses that are difficult to learn during onboarding, tend to lose potential customers. To ensure that you gain more and more customers, you need to put the right onboarding support systems in place, like co-browsing.
The co-browsing tool helps to give a complete product tour to your customers. It improves product understanding for the customers to make quick decisions for their business.
When customers explore your product, they need help in taking actions on how to integrate or analyze data. Your product support team can provide an interactive demo to them on how to use the product efficiently.
How co-browsing benefits the onboarding process.
Respond to issues in real time, so that customers don't have to wait.

Save plenty of time that is usually spent in miscommunication.

Deliver impressive product demos and help customers get set up.

Offer prompt resolution to customer queries and doubts before/during onboarding.
All the pain points during customers onboarding can effectively be resolved using collaborative browsing. Essentially co-browsing behaves as a high-impact tool to increase conversions, grow revenue, and reduce operational costs.
Best practice: If you are a SaaS product or any other business where you need to help your customers with product demos or customer onboarding then co-browsing can be your right tool.
7. Co-browsing secures customer data
Studies show that many internet users are making continuous efforts to stay anonymous online and to stay protected. Co-browsing software is a complete package of important features that helps to deliver better customer service. 
Data masking is one of the key features that allow customers to control the support agent's access to sensitive information. Co-browsing assures utmost security to the conversations and sensitive information (such as credit card/personal details or login credentials) during the live sessions. 
The customers need to approve the request before the agents can start the co-browsing session. All the customer data is completely protected and is not stored on any devices.
During the co-browse session:
Customer support agents can view only the browser screen

The customers can also restrict the agent from accessing other tabs that contain sensitive information.
For example, a field that requires you to enter your credit card details will be a sensitive field you don't want to expose.
8. No extra downloads to co-browse
Co-browsing is an advanced solution that is powered by WebRTC (Web Real Time Communication) technology. 
WebRTC based co-browsing solution requires no installations or plugins, which means customers can collaborate in real time with the agents without any hassle. 
It means no matter from what device customers access your website, they can quickly have a cobrowsing session with your customer service agent if they have challenges using your product, technical issues, or filling up forms/applications.
Faster and interactive engagement delivers a better contextual experience to the customers who look for instant in-context communication while browsing your website.
9. Higher sales conversions & ROI
Businesses witness an increase in their conversion rates by up to 2.5X by using visual tools like co-browsing to deliver high-end customer service.
With customers running into fewer issues, they are less likely to abandon and drop off. It means greater customer satisfaction which, in turn, means they will respond to calls-to-action with increased frequency. In other words, better conversion rates.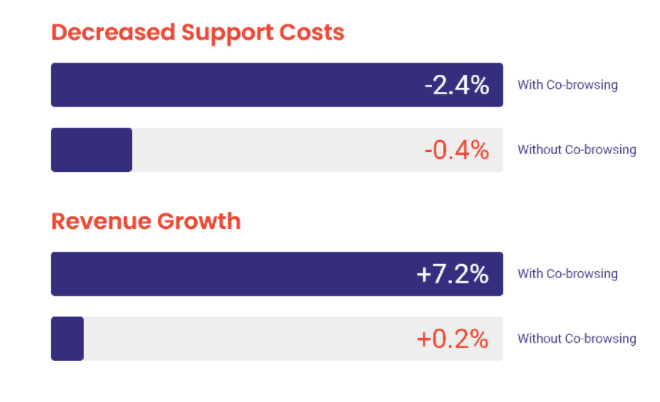 Simply by engaging with them at the right time and guiding them through tricky stages of the process, agents can improve conversion rates and encourage repeat sales by upselling and cross-selling products or services.
How does co-browsing help to increase conversions?
Reduce sales cycle

– Agents can collaborate with customers in real time and assist them in filling up complex forms for faster check out.

Provide product demos

– With co-browsing, product demos can be made more convincing for the customer. 
10. Guide customers across their online journey
Customer satisfaction is a priority for any business and co-browsing goes a long way in this regard. With 90% of customer's interactions begin after using a product on a company's website, a large part of their customer journey context is wrapped up in their browsing session.
Businesses using cobrowsing enjoy 10% year-on-year growth compared to 6.2% for those without cobrowsing.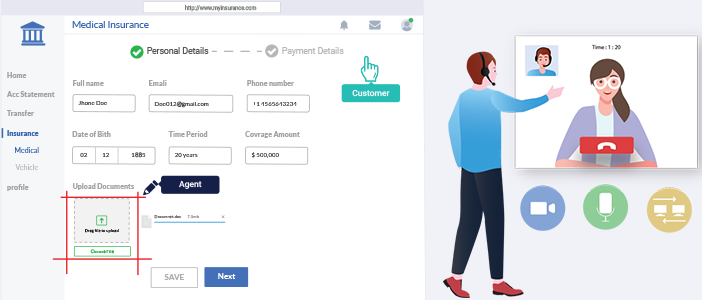 Co-browsing solution helps to guide customers across their journey and deliver a superior customer service experience. Whether it is a complex form fill-up or any technical query, combining co-browsing with video chat can handle it effectively.
The customers get effective support rather than typing out questions or trying to explain their problem verbally on the phone but also are guided successfully to get the problem to be fixed. 
11. Boost support team productivity
Co-browsing solutions are being extensively used by software-as-service (SaaS) companies. The support agents can click on, scroll down to or highlight any information on the customer's screen. 
Using co-browsing for customer service allows agents to annotate the customer's view of the website, overlay documents, as well as insert demo videos. 
Hence, it has also great potential to hasten up the onboarding process or provide help with installation, troubleshooting, maintenance, or upgrading.
How does co-browsing tool help in increasing team productivity?
By getting a closer view of the problem in real time helps to resolve it faster. It allows the agents to

handle maximum conversations

successfully.

Identifying the root cause of the issue helps to

close the conversation effectively

. It reduces the number of touchpoints and improves the agent's performance.

Significantly

improve the key customer service metrics

like total issues resolved, average resolution time, lesser touchpoints. 
Businesses using cobrowsing for customer service not only increases team productivity at the same time delivers a superior customer service experience.
Impact of co-browsing on customer service metrics 
Many companies are using cobrowsing solution as it enables real time digital interaction with higher efficiency. Businesses view customer experience management (CEM) as a blend of processes and technology. It impacts both the service quality and positively meeting the customer service metrics and KPIs.
Here are the how the key metrics that are directly influenced by using cobrowsing for customer service.
Improve

First Contact Resolution (FCR)

by identifying the issue in the first contact and deliver an effective solution.

Deliver higher

Customer Satisfaction Score (CSAT)

by offering real time personalized solutions to the customers.

Reduce the total touchpoints

by the right identification of the issue in the first go and providing accurate solutions.

Positively impact 

Average Resolution Time (ART)

by improving the resolution process by guiding them through complex form fill-ups in real time.
Key Industries to use co-browsing for customer support 
Co-browsing software is not restricted to any specific industry. It can help different industrial sectors and accelerate growth and efficiency. Some of the important ones that use co-browsing for customer service are as follows.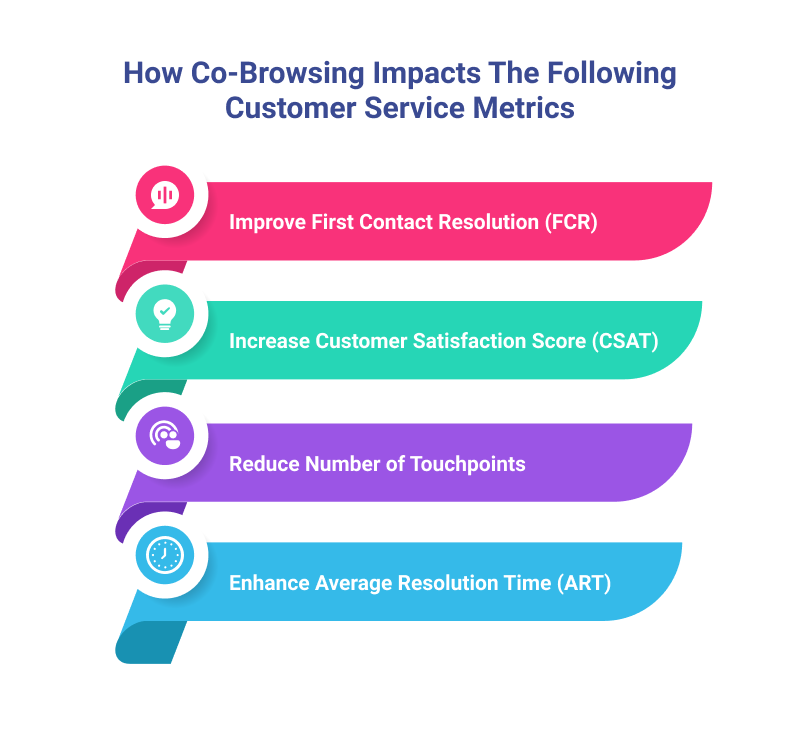 Banking, Financial Services, and Insurance (BFSI)

– Banks can provide faster solutions to their customers in real time and improve resolution time. The sales cycle can be shortened by knowing the problem clearly and deliver effective solutions in the first contact
Contact centers

– Co-browsing solution allows call centers to add proactive support to their existing channels. It seamlessly integrates with the existing call center systems without changing the system flow and delivers better live assistance to the customers.
Field services

– Co-browsing tool empowers your technicians with visual guidance to increase first-time fix rates while ensuring their safety. It drives the enablement of your customer support team.
Retail sector

– Customer experience plays an important role in the retail sector. Co-browsing allows the agents to view the same page in real time as the customer. It helps in upselling and cross-selling to existing customers and mass purchase deals.
Co-browsing is a must-have for excellent customer support
Using cobrowsing for customer service is not a perk, but it is a necessity. Visual customer engagement technology like co-browsing helps businesses increase customer retention rates significantly. Co-browsing is an important toolkit to deliver 'that unique experience' to your customers. You can deliver a long-lasting impression by combining co-browsing with live chat and video chat.
In case you are worried about the rise in customer complaints, lack of revenue growth, or decreased team productivity, it's high time that you adopt co-browsing as a part of your customer engagement strategy. Surely, you will witness a steady improvement in all the performance parameters of your business.