What next when your prospects have queries that can't be fixed by FAQs or product information pages? Live chat sales can help businesses to communicate directly with their prospects in real-time. It turns your website into a lead-generation machine to capture more leads and drive sales.
94% of customers who were proactively invited to chat were somewhat or very satisfied with the experience.
Lead generation is the process of identifying and targeting potential new customers known as leads with the intention of cultivating their interest in what your business has to offer.
How does live chat increase online sales conversions?
Live chat is an untapped potential for your business. Its use among customers has escalated substantially from 38% to 65% in the past few years. The growing numbers show that more and more customers are visiting company websites via live chat.
Here are the key ways how live chat increases lead generation.
Convert website visitors into leads
Live chat is a great option to maximize leads and optimize business return on investment (RoI). It helps in acquiring more leads and of course generates more sales. Online chat tools improve the response time of website visitors and improve the chances of sales.  
Shortened sales process
Send personalized messages to prospects through proactive chat triggers who need assistance with the product or price to make final purchase decisions. Live chat for sales experience between the company and its audience, helps to generate more leads through customer loyalty.
Key live chat stats about online sales and lead generation
Here are some compelling live chat statistics that prove the importance of live chat for lead generation.
Live chat can be used across different industries for different purposes. The different ways 
Let us discuss the top 9 ways how you can use live chat for your sales and online lead generation process. 
1. Live chat is fast
Live chat is one of the popular channels due to its prompt response time. Responding fast is one of the key features of superior customer service. The better and faster your customer service, the more repeat customers you will have and the more sales you will generate.
Delayed response time is a major reason, which is why customers leave your website.

Here is how responding faster can impact live chat sales and lead generation.
Real-time sales assistance

– As compared to reactive channels like phone or email customers need to wait to get a response, live chat provides real-time answers by using canned replies or intelligent routing.

Proactively guide customers

– Engage your visitors and customers by solving their issues or proactively communicating with them via live chat, which shortens response time to customer queries.

Assist to make quick sales decisions –

Live chat allows customers to get in touch with the sales representatives and get instant solutions that help in making quick sales decisions.
2. Automate your sales leads with chatbots
80% of marketers plan to start using a chatbot in some way or another by 2023. Businesses are deploying AI-enabled chatbots for lead generation to improve sales conversions.
Here are the key ways chatbots boost live chat sales and lead generation
Bots are
always active
AI chatbots are always-on to engage customers by promptly answering sales FAQs. Deploying a sales bot helps you to qualify leads by asking questions from the sales experts. Bots can identify the intent of your visitors and what to present next, which helps in lead nurturing.
Automate sales cycle
You can automate your sales funnel with chatbots. Bots provide in-depth business information to sales prospects and pre-qualified leads by asking specific questions prepared by sales experts. The qualified leads are then prompted by the sales team for closing sales instantly or schedule an appointment.
Better return on investment (RoI)
Bots bring in business opportunities by creating effective chat experiences for your customers. Cost savings of $8 billion annually by 2023 through the deployment of chatbots. Leveraging bots is an investment that needs a thorough understanding of the purpose and how it will enrich your overall lead-generation process.
Pre-qualifying questionnaire
You should train your sales chatbot to gather information from your leads by asking well-structured questions. Then prepare a list of questions that you would ask new leads. These questions should help identify whether the lead is a good fit for what you have to offer and which of your products are best for them.
Note: For many businesses, some human assistance will be needed during the sales process. If there is a complex query and your chatbot is unable to understand, it is handed over to the sales agent for immediate assistance.
Emirates Vacations for example, whose an average CTR for display ads that was at an all-time low of .35%. Keeping this in mind they created a bot within their display ads. The company targets different visuals and bot sequences based on the page the user is browsing. The engagement rates rose by 87% since deployment.

Key takeaways:
Always be relevant to the user journey rather than following the same message to everyone, use a separate sequence for your homepage, product pages, and Facebook business page.

Make sure to keep the user's goal in mind. Users have a purpose when browsing your site or Facebook page. Your bot needs to understand the intent and fulfill it with the right actions as quickly as possible.
3. Increase your website conversion with automated triggers
"Action is the real measure of intelligence" 
Measuring and understanding the level of engagement of your website visitors is key to increasing live chat sales conversions. The monthly website analytics report gives you only data from the past, not the actionable insights in real-time.
What if you could take all intelligence from your visitor information and act on it in real-time? 
Automated triggers are the best way to deliver personalized engagement experiences to your website visitors and boost sales conversion. 
Here are the key ways of how automated triggers can increase website conversion.
Personalized greeting messages –

Automated greetings can be a great way to start a conversation. It has the ability to engage customers and increase live chat lead generation. You can greet website visitors based on their geographic location.  

For e.g. – Configure welcome message in French to greet visitors from France.
Identify & engage returning visitors

– Returning visitors are those who have established a higher level of interest in your business and are very important as they make repeat purchases and have higher lifetime value (LTV). 

For e.g. – Create a personalized message – "Hello Zoe, Welcome again! How can I help you today?". 
Email campaigns for more conversations

– Email campaigns are a vital marketing strategy for acquiring more leads. And engaging prospects when they are on your website is imperative. 

For e.g. – You can set up a trigger based on campaign content, name or source with a contextual message attached.
Proactive engagement for quick decision making

– Usually prospects keep dropping off after spending some time on your website. Hence proactive engagement is vital when they spend a specific amount of time on a particular page. 

For e.g. – If a visitor spends more than 50 seconds on the pricing page, send a proactive trigger message to understand if they have any concerns and queries to negotiate a discount. 
4. Connect with your CRM tools for sales automation
"Keep track of sales leads in a CRM, not in your head."
You can seamlessly connect your live chat software with your customer relationship management (CRM) tools such as Salesforce, Hubspot, Infusionsoft. Integrating live chat with the CRM tools allows you to gather and store information from the website chat conversations with the visitors. 
Here is how CRM integration can impact live chat lead generation.
You get a detailed picture of the customer journey and you can provide better sales assistance.

When your visitors begin chatting on a website, they are considered as potential leads. By using live chat sales data across your funnel, you can generate sales leads with higher conversions.

Allows your sales representatives to gain additional perspective into each customer's history. You can resolve sales queries instantly that automatically boosts conversion.
With the CRM tools, the sales process is improved as the team doesn't have to look for the information required for engaging customers. The sales representatives can directly do it from CRM and have everything in one place. Thus, connecting with the CRM tools automates the sales process and improves team effectiveness.
5. Train your live chat sales team effectively
All your efforts to deliver great customer experience and increase sales conversions will go in vain if you don't have a well trained team. Your customers depend upon your sales agents for guiding them in the right direction and resolve queries in a quick yet pleasant manner.
Train your effectively to identify the objective of what the visitors and customers are looking for and offer the relevant solutions to them. 
Here are some training tips for live chat agents to increase live chat sales.
Offer proactive assistance

– You can ask relevant questions proactively to your visitors for qualifying them if they spend a certain amount of time on a certain page.

Provide prompt answers to the queries

– You can prepare sales responses for sales FAQs so that you can deliver immediate answers to customers.

Listen actively to your customers

– When you practice active listening, you can know what is the actual purpose of your customers and offer proper assistance.

Personalize each chat conversation

– Train your agents with

live chat best practices

 to personalize conversations to encourage visitors to make sales decisions and repeat purchases.
6. Capture leads with offline forms
The live chat lead generation process does not stop when you or your sales or support team is offline. 
Just imagine, what if your potential customer clicks on the live chat widget when your sales team is not available. The best way not to let this lead capturing opportunity let go is by setting offline forms.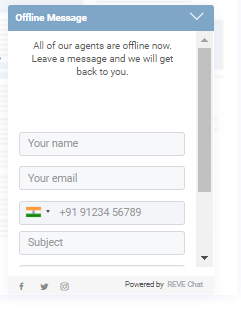 How setting offline forms helps live chat lead generation?
It gives a clear message about the availability of your sales team to respond to the queries.

Offline forms provide alternate contact options for customers to reach out in case of some urgency.
The other way when nobody's around to reply is to automate the process with a chatbot. The bot notifies when a visitor reaches out to the business. The chatbot collects all the necessary information, such as name, email, and written inquiry.
7. Use live engagement tools for the complex sales process
Live engagement tools help to connect with the customer in real time to identify and collect the first information on the problem. It allows collaboration with the customer to resolve the issue instantly and delivers an in person experience.
Providing real time assistance by using customer engagement makes your conversations effective and increase sales conversions.
What if your customer is browsing the service or the pricing page and needs to fill up a form, which he finds difficult?
You can use live engagement tools such as co-browsing, video chat to guide the customer in order to help to fill up the form successfully. Co-browsing solution helps to share the customer's screen temporarily to deliver immediate solutions. 
How using live engagement tools help to increase live chat sales?
Immediate solution to complex queries

– With co-browsing, you can guide customers for the sales demo to shorten the conversion cycle. You can also use these tools to help your customers in the application process or form fill up.

Effective solution in the first touchpoint

– Video chat helps to identify customer issues faster, provide effective solutions thus reducing the number of customer touchpoints. 
Personalizing chat conversations through video chat develops trust in customers and improves customer experience. Co-browsing solution helps the customer service reps to interact and guide during form fill up or for banking assistance to deliver better customer experience.
8. Route your sales chats to the right team
When a visitor or customer lands on your website and starts a conversation, they could be a new lead or a logged-out customer. You can auto route such conversations to the sales team for follow up. You can improve the resolution time and increase sales conversion.
Routing of chats
Intelligent routing helps to transfer new chats to the right team based on three rules such as time based, broadcasting, and URL based. 
How does routing help to increase live chat conversions?
It reduces response time by connecting customers to the right team or agent instantly and getting an effective solution.

Reduce queue time significantly by providing a prompt response to the customers.
Chat tagging
Using tags to live chat conversations helps to organize, sort and filter them. The sales team can further identify the tagged chats and follow up. Chat tags help the sales team to reach out more leads and close sales successfully.
9. Use analytics to understand your visitor journey
Do you want to learn about the people who visit your site? 
Visitor analytics does it for you. You can see where visitors come from, your most popular pages, and get in-depth insights and stats. You can use this information to initiate a proactive chat with your visitors and improve the chances of sales.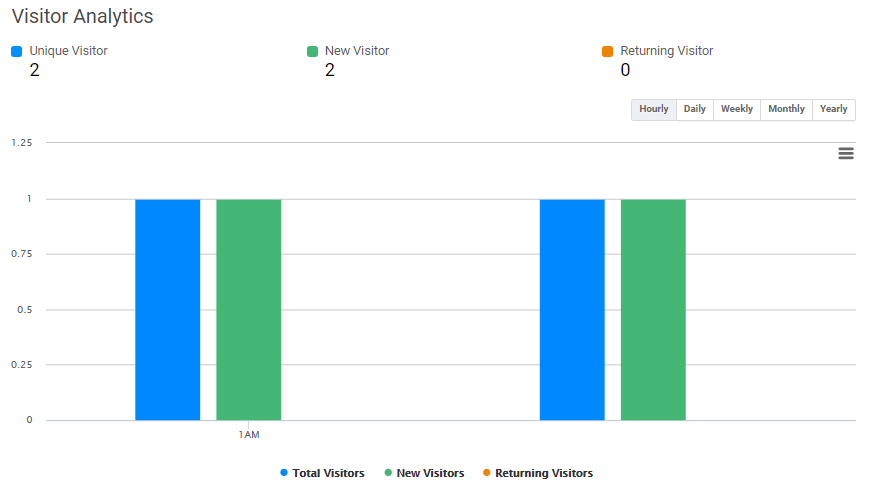 How to increase live chat sales conversion with the help of visitor analytics.
Live chat analytics analyzes the website visitor data and summarizes it into easy takeaways through which you can get actionable strategies.

The insights help to understand the behavior of the website visitors, which enables proactive sales assistance if needed. 
Key takeaways: why live chat is one of the best sales and lead generation tool
It's quite clear how live chat is your most powerful sales hack for online conversions and lead generation. Determine your conversions and sales follow up benchmarks internally, implement the above points and evaluate your results.
With the right implementation of the above strategies and connecting live chat with your CRM and other tools, you can immediately improve your sales cycle and follow up process.