Digitalization and technological innovations are changing the way businesses communicate with their audience, making relationships faster and highly customized.
With the rise of AI, VoIP, IM tools, and social networks, interactions with customers have become faster, data-backed, and highly personalized unlike traditional tools like emails or phones.
Implementing live chat software reduces friction and is a better way to communicate with customers.
The live chat statistics show that messaging is a popular channel for businesses and customers. As per Forrester, more than 41% of customers expect live chat on your website. For better understanding, we have compiled a set of live chat trends and insights that helps you across different business functions.
Key Live Chat Statistics for 2023
Live chat has become one of the vital functionalities of any website. The instant communication offered by live chat software has transformed the way brands interact with their customers. It has become a revenue source and an indispensable support channel that has the potential to grow a business. The below live chat statistics prove that it is one of the most preferred channels. 
Live chat helps to communicate with the business in real-time and generates satisfaction levels of 73%, compared to just 61% for email and 44% for phone. (

Econsultancy

)

63% of consumers reported that they are more likely to return to a website that offers live chat. (

Emarketer

)

The average resolution time is no more than 42 seconds for a query to be answered. (

Nicereply

)
In the below chart, you can see the top reasons that make live chat a popular channel and why it is considered to be the perfect tool to enhance business-customer communication.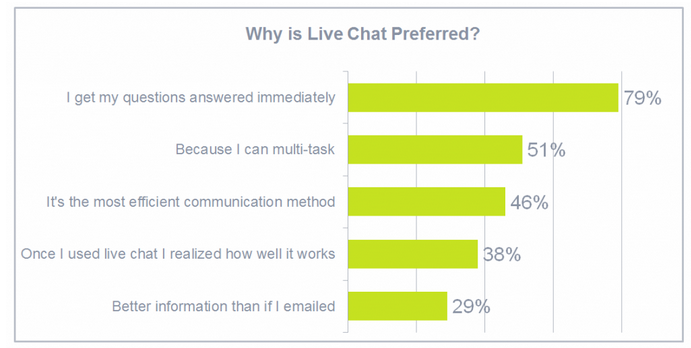 Live Chat Statistics: Customer Support 
Customer support and business success are associated with each other. With the growth of live chat, businesses are using it smartly to deliver excellent customer service. The live chat tool helps support agents to solve customers' queries in real-time without making customers wait for a long time.  
Customer Support Statistics
The live chat stats show the importance of live chat in delivering high-quality customer service. The statistics prove live chat is a convenient and effective support channel.
50% of consumers say that having a live person answer questions in the middle of a purchasing decision is one of the most important features a brand can offer. (

Forbes

)

In the U.S., customer service interactions via legacy channels like phone and email fell by 7%. (

Business Insider

)

66% of consumers think a company's customer service reputation is a critical factor while making a purchase decision. (Hiver)

54% of retailers were offering live chat features on their websites. (

Forbes

)

42% of consumers say they prefer to live chat over other support functions because they don't have to wait on hold. (

Inc

)

79% of customers say that they prefer to live chat because of the immediacy it provides. (

econsultancy.com

)

Live chat increases customer retention rates by 5% and increases profits by 25%-95%. (

Harvard Business School Report

) 

73% of customers say that valuing their time is the most important thing companies can do to provide them with good customer service. (

Forrester

)

62% of customers expect live chat to be available on mobile devices, and if possible, 82% would use it. (

ICMI

)
Key learnings
If response time is the main criterion of your business, the live chat tool delivers instant response and proves to be a faster communication channel as compared to email or phone.

Live chat on a website reduces resolution time with real-time visitor monitoring that tracks your visitor's activity to offer a customized solution and reduces the second contact. 

Your support operators can use canned responses and ready

live chat scripts

to improve the resolution time and help customers in quick decision-making.

Integrating your live chat in your SaaS app helps to provide in-app support and retain customers with your business.
Live Chat Statistics: Lead Generation
Lead generation is an important aspect of marketing. Having a lead generation strategy is imperative for every business. Live chat is an excellent way to maximize leads and optimize ROI. It helps to acquire more customers and of course, generate more sales. 63% of consumers who used live chat on a website are likely to return to that site.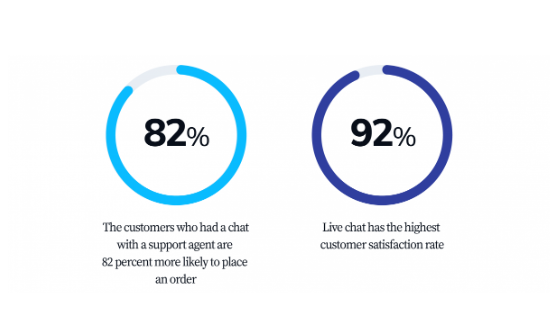 Having a chat tool improves the resolution time which increases the chances of sales conversions.  
Live chat conversion statistics
Live chat helps businesses to engage with prospects in real-time. The below live chat statistics show how the chat tool turns your website into a lead-generation machine to capture more leads and drive sales.
Key learnings
Live chat allows your representatives to track your website visitors and effectively convert them into leads by triggering the right and timely messages. The first good impression converts your first-time visitors into potential customers.

Live chat sales

strengthen relationships between the company and its audience, helping to generate more leads through customer loyalty.

You can use proactive triggers to send messages to the prospects who may need to ask a question about your product or price to make a decision for a final purchase. 

Connect your live chat with CRM tools so that your sales team can instantly follow up with prospects.
Live Chat Statistics: Chatbots
Chatbots are the modern ways of boosting your business ROI while offering convenience and automated sales support assistance. Bots are a smarter option to ensure that customers receive the immediate response that they are looking for without making them wait in a queue.
Chatbot statistics
Automating your repetitive sales or support tasks with chatbots is a worthy investment. It impacts business growth and improves customer experience. The stats below provides insight into the present and future chatbot trends.
21% of consumers see chatbots as the easiest way to contact a business. (

Chatbot Report

)

67% of consumers worldwide used a chatbot for customer support. (

Business Insider

)

Bots allow businesses to up-sell and cross-sell in a personalized, conversational, and engaging way. 57% of businesses agree chatbots deliver large ROI with minimal effort. (

Accenture report

)

1 in 5 consumers would consider purchasing goods and services from a chatbot. (

Ubisend report

)

The average time it takes a company to respond to a message is 10 hours on messaging platforms. Over 50% of customers expect a business to be open 24/7. (

Oracle

)

Businesses can

reduce customer service costs by up to 30%

by implementing a conversational chatbot. (

Chatbots Magazine

)

By using chatbots, businesses and consumers will save a combined 2.5 billion hours by 2023. (

Juniper Research

)

Chatbots can help businesses save on customer service costs by answering up to 80% of routine questions. (

IBM

)

67% of US millennials said they are likely to purchase products and services from brands using a chatbot. (

Chatbots Magazine

)
Key learnings
If your customer expects an instant response, typically less than 30 seconds, use chatbots to deliver instant support 24×7.

AI bots are active 24×7 to engage customers to handle information-based questions and reduce support tickets. The top

potential benefit of using chatbots

is 24-hour customer service.

You can build better relationships by delivering personalized and tailored customer experience by sending the right messages to the right customers using chatbots.

Chatbots are easily scalable during peak hours or when your support team is busy or unavailable to engage customers.

Deliver hybrid support to your customers by automating FAQS with chatbots and the complex chats to be handled by human agents.

Bots are able to segment the target audience and qualify them by asking the pre-defined sales questionnaire and converting them into leads.
Live Chat Statistics: Customer Satisfaction
Customers prefer using live chat over other ways of getting support. Real-time support is one of the best features of live chat that boosts customer satisfaction. The ability to have questions answered right away or log an issue and know someone is working on it gives a great feeling to customers.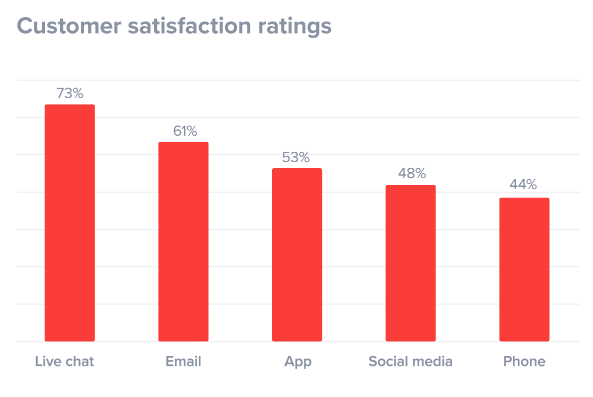 Customer satisfaction statistics
Key learnings
You can make your conversations interactive by using live tools to deliver real-time support and boost customer satisfaction.

With live chat support, you can reduce the queue time and provide immediate solutions. Instant response to customer queries with live chat means a higher live chat satisfaction rate.
Live Chat Statistics: Customer Engagement
Customer engagement is the connection between any business and its customers forged through effective communications. Live engagement tools help to connect with the customer in real-time to identify and collect first-hand information about the problem. It allows real-time collaboration with the customers and delivers a virtual in-person experience.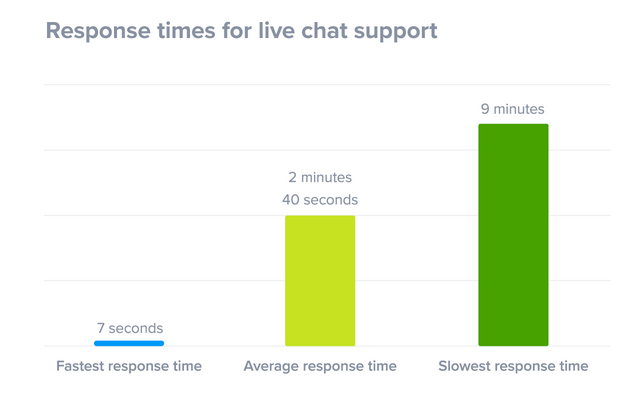 Customer engagement statistics
Customer engagement is vital as it creates a bond between you and your customers that encourages long-term loyalty based on mutual growth. The live chat stats listed below shows how live chat helps in customer engagement.
Key learnings
Live chat offers a complete suite of customer engagement tools that helps to identify the issues faster and offer effective solutions at the first contact.

Co-browsing

solutions help real-time collaboration to identify the root cause and help in filling up complex forms or applications. 

Video chat helps to deliver one click for real-time sales & support assistance and build trust by personalizing your conversations.
Conclusion
Undoubtedly, live chat is a must-have tool for businesses of all sizes and sectors. With the right implementation of the software across the different business functions, you can witness a significant increase in sales conversions, and deliver superior customer service that will enhance the customer experience.
As most businesses are shifting online, and customer expectations of 24×7 instant response will continue to rise. The real-time conversations with live chat will open new opportunities for your business to understand & serve customers better and strengthen business-customer relationships.