Lead generation is one of the important aspects of every business in B2B and B2C. Without a good lead generation program, businesses face challenges to increase sales conversions.  HubSpot research says, 61% of marketers say generating traffic and leads is their top challenge".
Hence, businesses need to depend on lead-generation tools as it aids in generating traffic to websites where they capture more qualified leads. Having the right lead generation platform not only drives traffic but also helps in acquiring new customers which in turn increases business revenue. 
Implementing a single tool to generate leads is not enough. You need to have multiple lead generation software to take the right marketing actions to reach out to potential customers. Following such programs help you in building effective B2B lead generation strategies.
What is a Lead Generation Tool?
Lead generation tool or software refers to the marketing process with the objective of stimulating and capturing customer interest in the products/services in order to build a sales pipeline.
Digital channels are often used for lead capturing and the advent of new online lead-generation techniques has brought significant changes. The abundance of information available online has encouraged buyers and the new tools prequalify visitors prior to directing them to the sales team.
Best Lead Capture Software for B2B and B2C Businesses Across Different Categories
When businesses plan to implement tools for lead generation, they think of popular, full-suite sales and marketing tools. Here is a list of different categories of best lead generation tools that can help your business in finding good quality leads.
Let's discuss the best lead generation tools and how they help in capturing leads and increasing conversions. 
Customer Engagement
Customer engagement is a key element of lead generation programs that helps to convert customers by interacting with them in real-time. A fully-engaged customer represents 23% more revenue than the average engaged customer. By engaging customers with an omnichannel lead generation technique, you can significantly improve your sales conversions.
Here are some of the best website lead capture software for customer engagement that help your business in capturing leads.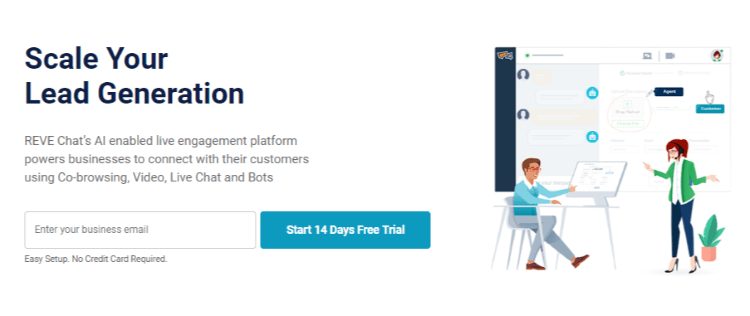 REVE Chat is an AI enabled live chat platform that maximizes leads across multiple channels such as website, mobile, messaging apps, and automates lead generation with the help of chatbots. You can deploy bots to prequalify leads even if your sales reps are not available. 
REVE Chat also offers a complete suite of live engagement tools like co-browsing & video chat for the sales demo to shorten the conversion cycle. You can also use these tools to help your customers in the application process or form fill up.
Here are the key features that REVE Chat offers as a website lead capture software.
Live chat:

You can deliver immediate sales assistance to your customers and increase sales conversions. Live chat helps you to reduce the sales cycle and generate more leads.

Co-browsing:

Collaborate with your customers in real time to guide them through a complex form fill up or an application process. The high level interactive engagement allows agents to explain things more clearly.

Video Chat:

Have face to face personalized conversions with customers and provide faster effective solutions in the first contact thus, reducing the number of touchpoints significantly.

Chatbots: Automate your online lead capture software by deploying chatbots. You can prequalify website visitors into leads by asking them a predefined sales questionnaire and direct them to the sales team for further assistance. A chatbot could boost your B2B sales strategy in a big way. 
REVE Chat offers three pricing plans with the 'Standard' plan starting at $15 per user, 'Advanced' plan is at $25 per user, and the 'Enterprise' plan at $45 per user. You can also choose the chatbot module at an extra $50 per month.
REVE Chat also provides 30+ ready integrations with third-party business tools ranging from most popular CRM, CMS, or eCommerce platforms.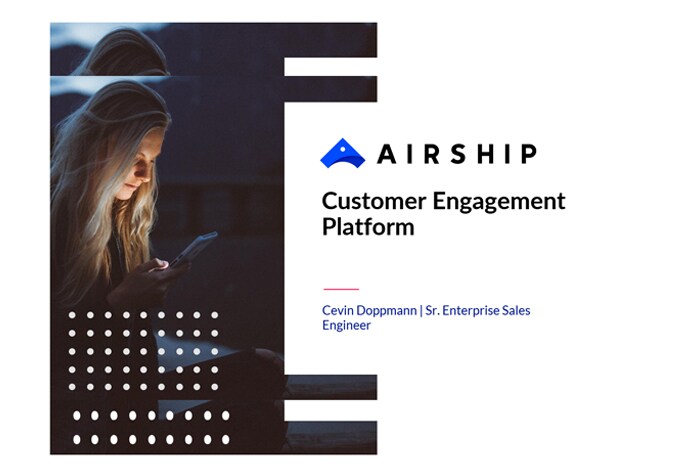 Airship is one leading customer engagement that helps you engage customers by sending the right personalized messages at the moment that defines your brand and increases conversions. It helps to increase your customer lifetime value (CLTV) by smart offers to upsell and cross-sell.
Here are some key features of Airship that helps in lead generation programs.
You get more chances to acquire new customers with 

direct channels and maintain a direct connection

with them by using this website lead capture software.`

With Orchestration solutions, you can send users the

right opt-in offers at the right time with high-context personalized messages

.

Identify the

channels with the highest engagement and conversions

for which audience segments.
The airship has pricing structures to fit your unique needs and allow you to easily add new capabilities to your engagement strategies. You can get pricing details by submitting a request.
Email Outreach 
Emails are the oldest and still the best way to contact customers. All you need to do is get hold of their email address. Email outreach can be much more powerful when you add some additional tools. 
Let us discuss the top lead tools for email outreach in order to capture qualified leads.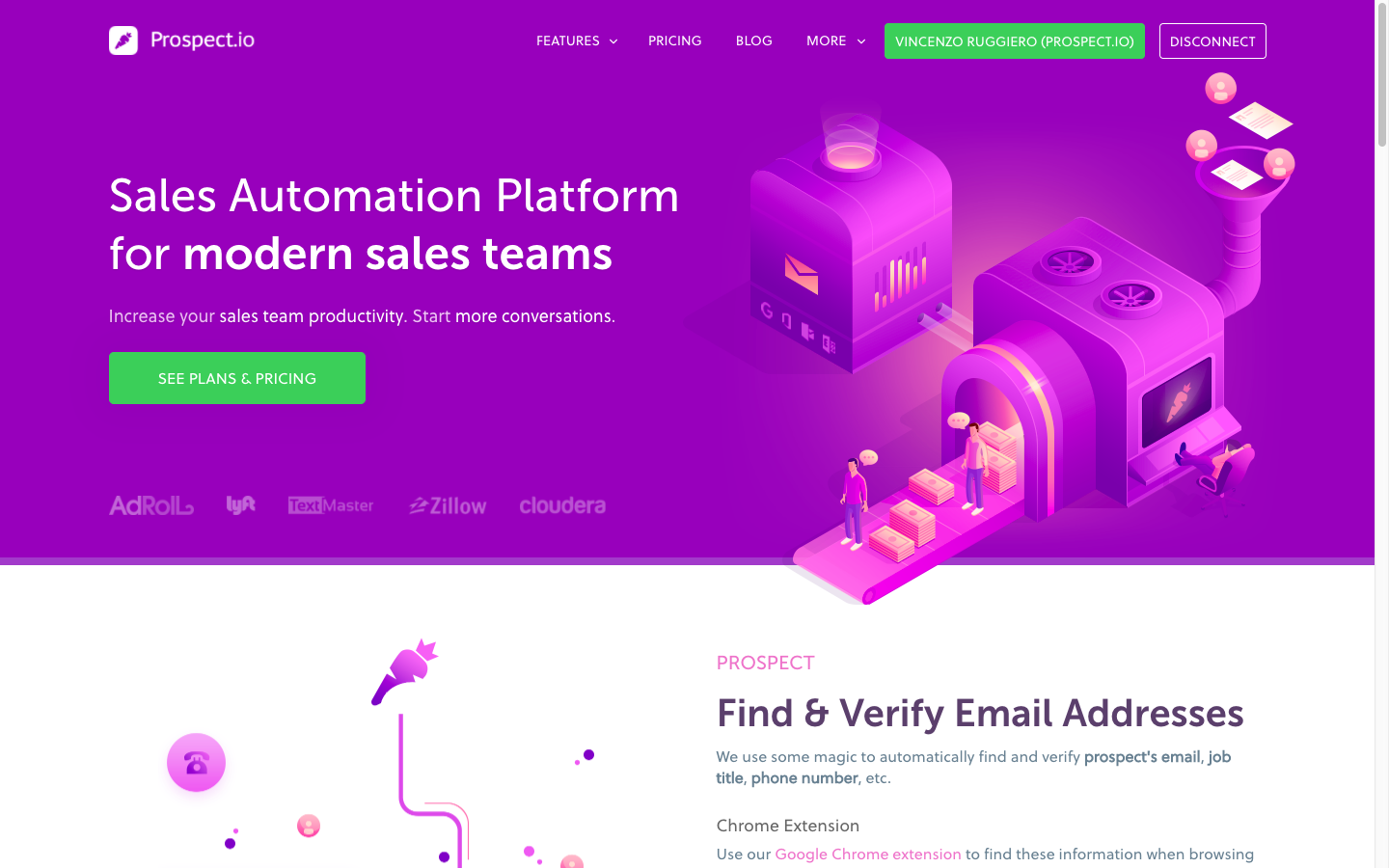 Prospect.io is a leading sales automation platform that helps to boost your outbound sales team productivity. It automates your outreach process and helps you to find, organize, and visualize prospects' information by verifying names, emails, etc. in a single click. 
Here are the key features of the best lead-generating software.
Build your target customer list with the help of tools and send personalized messages to your prospects, which is a vital aspect of outbound sales.
Automate outbound sales by creating email sequences combined with emails and follow-up calls in external tools to reach prospects and boost sales productivity.

The lead generation platform saves time by finding the right information in no time. It helps the sales reps to make the best decisions while staying focused and productive.
Prospect.io offers two pricing plans with a 30-day money-back guarantee. The 'Essential' plan starts at $79/ month (then $29/ month per additional user) and the 'Business' plan is at $129/ month (then $39/ month per additional user).
Hunter.io is one of the best lead capture software related to emails that help marketers to find contact information (email addresses) from any website in a few clicks. It empowers you to search for email addresses in seconds and make new connections that are important for your business. 
The key features of the sales lead capture software are as follows.
With domain search, Hunter.io helps to find who to contact in business. It provides a list of email addresses available on the web with confidence scores, and sources in just a few seconds.  

The email finder helps you to make new connections by combining your email formats, email addresses, and verifications to find the right contact information in seconds.
The pricing for Hunter.io starts at $49.00 per month for the 'Starter' plan, $199/ month for the 'Growth' plan, and $399 for the 'Enterprise' plan.
Marketing Automation 
Marketing tools for lead generation are vital for every business. Businesses implement marketing automation tools in order to scale their marketing operations and streamline efforts. It helps your team to focus on other efforts that drive revenue.
Here are some amazing marketing automation tools that help from lead capturing and nurturing.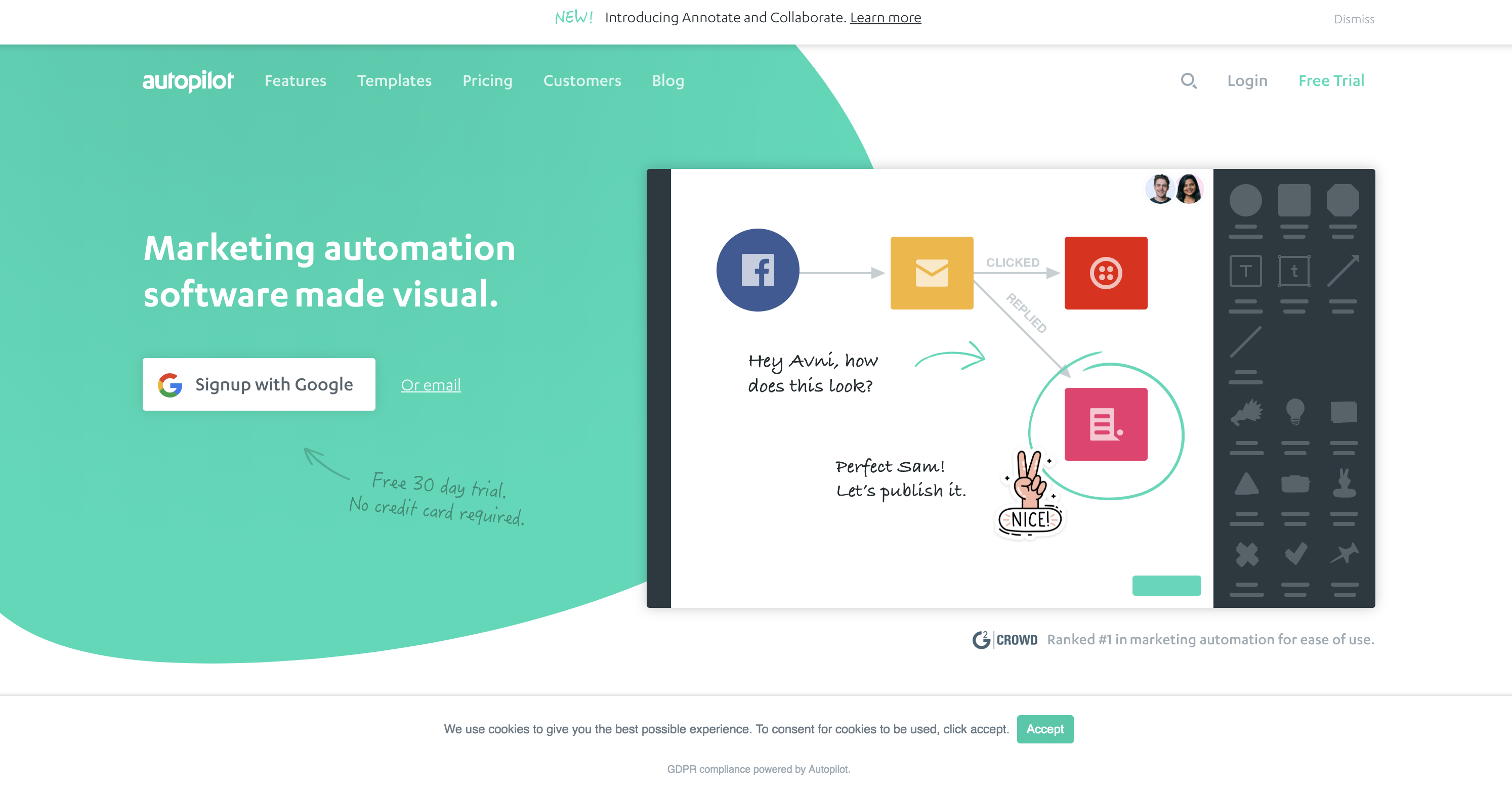 Autopilot is a feature-rich marketing automation tool or software that helps to create customer journeys to capture and convert leads. It helps to develop a strong content strategy that engages your target audience and uses the visual canvas to design lead-generation strategies with forms, Facebook ads, emails, SMS, landing pages, and more.
Here are the key features of Autopilot as the best lead generation software.
You can create customer journeys with Autopilot to help capture and attract leads. Put your prospects onto the path of becoming customers by transforming them into sales-qualified leads. 

Strengthen your relationships with new customers and accelerate their buying journey through regular communication.
Autopilot offers three plans to grow your business. The 'Silver' plan starts at $40 per user, 'Gold' at $149, and 'Platinum' at $249 per user. You can try any plan for free for 30 days.

GetResponse is all-in-one marketing software that helps to create content, boost sales, and increase traffic to your website. It provides eCommerce features, webinar hosting, landing pages, and automated sales funnels.
The key features of the GetResponse automation tool for lead generation are:
With integrated email marketing, autoresponders, and landing pages, GetResponse allows you to automate essential tasks and launch effective marketing campaigns. 

The advanced analytics simplifies tracking conversions, leads, and ROI, and understanding what your customers want. 
GetResponse's pricing starts at $15/month for up to 1,000 subscribers (Email Plan), $25/month for 2500 subscribers, and  $65/month for 10,000 subscribers. All plans include unlimited emails and autoresponders.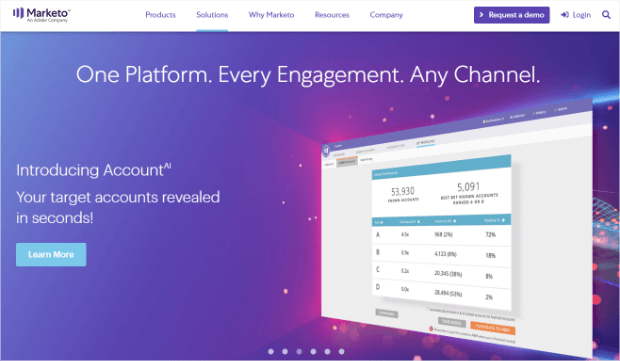 Marketo offers advanced lead management solutions that help businesses to develop relationships with the prospects prior to their interaction with the sales agents. You can also grab the attention of top-up funnel traffic through inbound and outbound marketing programs thus, improving the quality of the sales leads.
The highlighted features of Marketo that help in lead generation programs are.
It helps to draw top-of-funnel traffic through inbound and outbound programs, and convert leads with landing pages and progressive forms.
You can develop and qualify potential buyers prior to directing to the sales team with relevant, personalized nurturing campaigns and robust scoring capabilities. 
Prioritize best offers and focus sales conversations for the sales-ready prospects with quality and urgency ratings.
Marketo offers different pricing plans based on database size. You need to submit a request for pricing.
Sales & CRM 
Customer relationship management (CRM) software can help by synchronizing customer communications among business units. Sales, marketing, and customer service can all get on the same page. It acts as a system of record for contacts and accounts throughout the customer lifecycle. 
With the help of CRM tools, businesses can track, automate, analyze, and optimize customer interactions. Here are some of the best CRM & sales software that acts as lead capture tools.
Outreach.io is an email outreach and sales engagement platform that helps to boost communication with outbound sales prospects through email and other touchpoints like cold calling. The next-gen email outreach software helps you to reach out to sales prospects and create automated sequences for effective lead generation. It uses machine learning to improve sales performance. 
Here are the key features of Outreach.io as email lead generation software.
With the powerful sales outreach tool, you can streamline lead generation activities with powerful sequences. The sales cadence comprises sub-tasks that are assigned to your sales teams to engage in prospecting systematically.

It provides detailed analytics about your cold email outreach campaigns in real time for you to take desirable actions to turn around the scenario.

With the sales engagement tool, you can analyze sales process insights for better engagement. It also integrates all your sales processes and CRM activities into one platform.
The pricing plans for Outreach.io start at $100/ month per user.
HubSpot CRM is an effective lead management software that offers free inbound marketing tools for more qualified leads and conversions. It helps in tracking interactions and nurturing leads, which helps your sales team to stay updated. With detailed reports on sales activity, productivity, and individual performance, you get full visibility into your sales pipeline in real-time.
The key features of HubSpot CRM software that help in capturing leads.
You can log and track emails easily and keep a record of all email communications and where the prospect is in the sales funnel by using this best lead capture software.

It allows you to create a library of the latest marketing & sales content for your entire team and easily add a link to them in your emails with this tool. 

With the help of the Meetings tool, you can share Meetings links with your contacts to help book time and sync links with your calendar, so you will have updated appointments.
HubSpot offers plans starting at $40/ month for the 'Starter' plan, $800/ month for the 'Professional' plan, and $3,200 for the 'Enterprise' plan. CMS hub is a new add-on that starts at $240/ month for the 'Professional' plan and $900/ month for the 'Enterprise' plan.

Salesforce offers the number one CRM solution that accelerates business growth by connecting sales with service, marketing, and more. It helps you to acquire high-quality leads that convert by combining marketing automation with sales pipeline intelligence. It can easily integrate with a large number of sales and marketing software to help businesses to gain more qualified leads.
The main features of Salesforce that help in lead management are:
It provides an overall view of your team's deals with opportunity management. You can view the stage, products, quotes, etc., and stay connected to the people you need to close every sale.

You can track your leads from click to close while optimizing your campaigns across every channel and helps to make the right decisions about where to invest.

Make use of Visual Workflow to hasten design and automate business processes with drag-and-drop simplicity with this online lead capture software. 

Salesforce uses Einstein analytics with high business intelligence that helps you to unlock complicated sales as well as service insights faster. 
Salesforce's pricing ranges from $25 for the 'Essentials plan, $75 for the 'Professional' plan, $150 for the 'Enterprise' plan, and $300 per user for the 'Unlimited' plan. 
Social Media 
Businesses implementing social media lead generation strategy to undertake action on social channels to collect new leads. Once new leads are generated, they are further nurtured through the customer journey, or the sales funnel.
Some of the social media tools for online lead generation are as follows.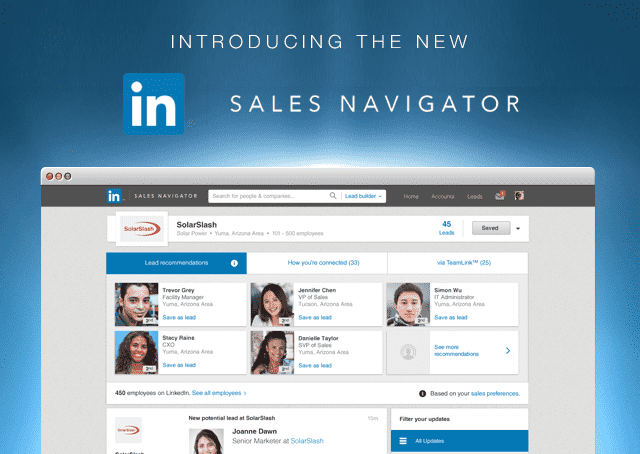 LinkedIn sales navigator is an advanced platform that aids your sales teams to pump your pipeline with new leads and build customer relationships on the network. It helps in finding the right referrals for you to approach new contacts by using the search and filter features. It provides actionable insights that pave the way for a deeper understanding of leads and prospects. 
Some of the key features of the LinkedIn lead generation tool are as follows
InMail is a key feature for salespeople who are on the hunt for leads. With Sales Navigator, reps can reach out to fresh leads which gives them more opportunities to build relationships with leads outside their direct network.

TeamLink enables reps to view and search their team's connections to identify who has first-degree connections with a prospect in the pipeline. 

The TeamLink Connections filter helps you to find prospects easily who meet your search criteria and share an acquaintance with you.
If you are in B2B sales, LinkedIn's Sales Navigator is a great tool for capturing leads.
LinkedIn Sales Navigator offers three subscriptions. The 'Professional' subscription starts at $64.99, 'Team' subscription at $103.33 per user, and custom pricing for the 'Enterprise' subscription.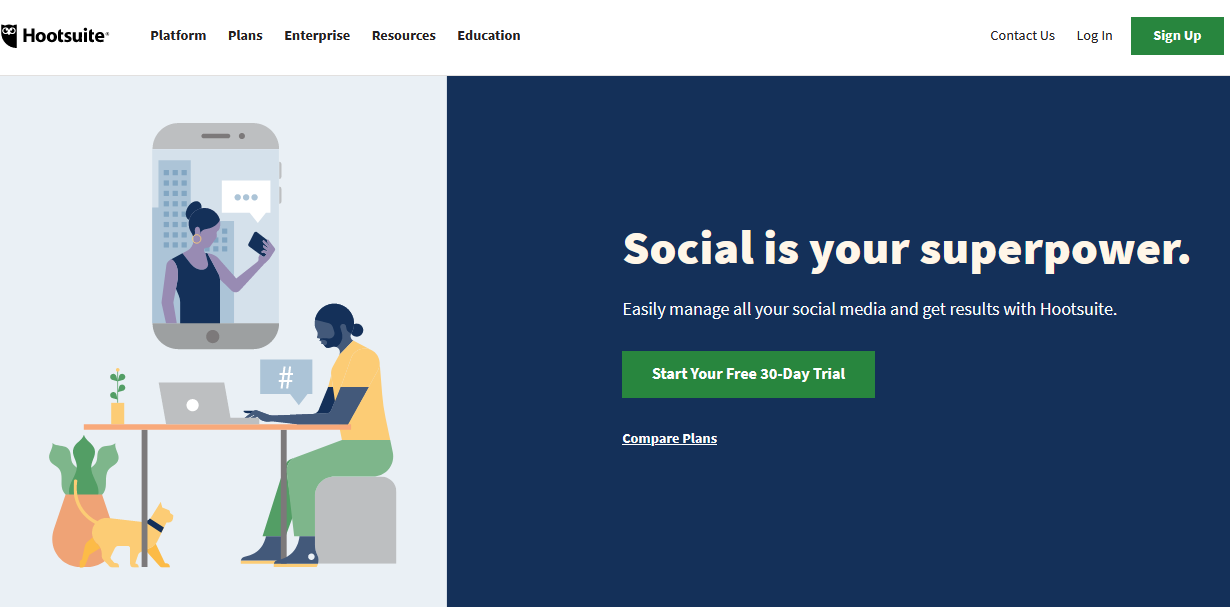 Hootsuite is one of the top social media management tools that businesses leverage for lead generation. It helps you to find qualified leads on social channels and make them aware of your products and services. You can then nurture those leads and build strong relationships with them. Also, measure leads and store social insights on your CRM.
The key features of the social media management tool are as follows:
It enables digital marketers to create effective social marketing campaigns across multiple platforms like Facebook, Twitter, and Instagram.

You can generate the best leads easily with a wide range of professional-looking social media campaigns including sweepstakes and caption content.

It helps to listen actively and connect with people who are important to your business and join related conversations.
Hootsuite offers different plans based on different business requirements. The 'Professional' plan starts at $29 per user, the 'Team' plan is at $129 for 3 users, the 'Business' plan is for $599 for 5 users, and custom pricing for the 'Enterprise' plan.
Quora is the best place to gain and share knowledge. Whenever you answer a relevant question on Quora it means you are selling to somebody who has expressed that they need the help that you have to offer. These people are identified as leads who are likely to take action, by clicking your link or reaching out to you.
Some of the key features of Quora as the best lead generation software are.
You can answer industry-specific questions by understanding the intent and sharing the relevant answers. 

It helps to improve your SEO activities. When viewers use the link and refer to your content it boosts your SEO and drives traffic to your site significantly.

You can identify the trending topics within your specialization. When you know the kind of questions and answer the most popular ones, it allows you to use this as research to develop even better questions. 
Quora offers three types of ads: text ads, image ads, and promoted answers. Quora Ads have two big advantages for B2B marketers. They are great for targeting leads based on specific interests, and many potential leads will come to Quora to research purchasing decisions.
Forms & Landing Pages
The form builder apps are user-friendly for making a contact form, a sign-up form, or a survey. With the help of form builder tools, you can create web forms, with drag-and-drop questions, multiple form fields, and different color and structure options. 
Irrespective of the form builder you select, there are some crucial steps that need to be followed while creating a form for the purpose of lead generation. Here are some of the best form builder tools that act as the best online lead capture software.
Leadpages provides you the best experience of the online website builder that allows you to create a high-converting website with code-free customizations in a breeze. It helps you to design the most effective websites with the power of 100% conversion. 
The main features of the Leadpages website builder tool are:
The website lead capture software helps you to create a high-quality converting website with professionally designed mobile responsive website templates.

Allows code-free customization. It means you have to simply drag and drop your content into the appropriate place.

You can set up automated lead notifications to get new subscriber data sent straight to your inbox.

It allows you to send your digital products to your subscribers instantly with the in-built lead magnet delivery system.
Leadpages offers plans starting at $199 for the 'Advanced' plan, $48/ month for 'Pro', and $25/ month for the 'Standard' plan. 
ConvertFlow is the all-in-one platform for converting your website visitors to create, personalize, and launch popups, forms, surveys, quizzes, sticky bars, and landing pages. It helps your business to grow by allowing you to create, personalize, and launch forms, pop-ups, surveys, and landing pages, with zero codings.
Key highlights of ConvertFlow as part of the lead generation system:
ConvertFlow's form builder helps you to create powerful forms for collecting lead data from your website visitors.

With the landing page builder, you can create smarter landing pages that generate more leads and increase your sales.

It helps increase conversions by personalizing your website by sending the right messages to the right visitors and guiding the visitors to the next step.
ConvertFlow offers three plans starting at $29/ month for the 'Marketer' plan, $99/ month for the 'Pro' plan, and 'Business' plan starting at $300/ per month.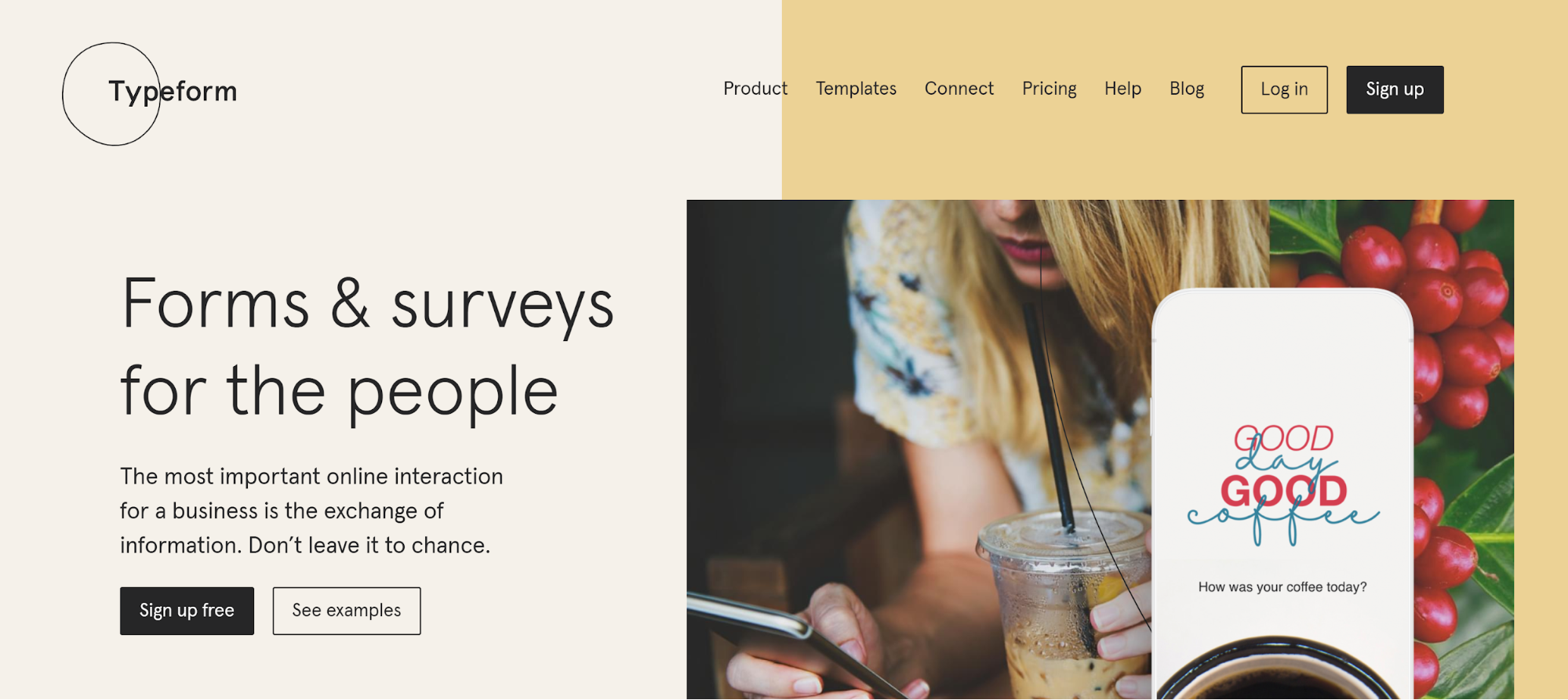 Typeform is one of the best data-collecting tools that makes asking easy and answering fun, whether it's forms, quizzes, surveys, or something new. It creates beautiful, dynamic forms that are a pleasure to fill out. It is intuitive to create a form within your account, and you even can customize the visual aspects.
The key features of Typeform that aids as a lead generation technique are:
It allows you to engage your customers in a conversational way and collect better-quality data and insights.

Typeform quickly anticipates question types as you jot them down. You can attract your 

audience with many design options.
Typeform offers three plans for you to choose from that work best for you. The 'Essential' plan starts at $35/month, the 'Professional' plan is at $35/month and the 'Premium' plan is at $70/month. It also offers a free plan for users.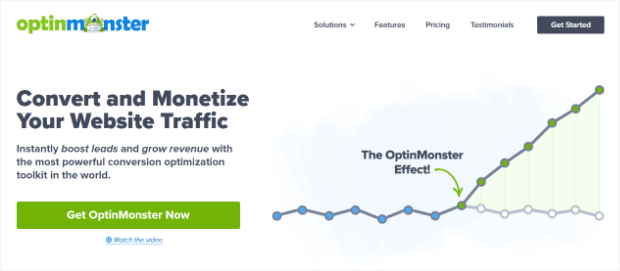 OptinMonster is a cloud-based solution for lead generation and marketing automation that allows users to create and A/B test a range of custom opt-in forms. It offers a wide range of features and functionalities designed to help businesses generate quality leads.
Some of the key features of OptinMonster are as follows:
The drag & drop builder of OptinMonster helps you to create visually appealing Optin forms that are optimized for the highest conversion rates.

You have to select the perfect campaign type to display the most attractive offers to your visitors for maximum engagement.

Gain valuable analytics that is vital and take the right action to improve your lead-generation strategy.
The top lead generation tools are available at affordable pricing plans. The 'Basic' plan starts at $9, the 'Plus' plan at $19, the 'Pro' is at $29, and the 'Growth' Plan is for $49 per month. 
Advertising 
Advertising is a vital aspect of marketing and lead generation as customers are not able to buy products unless they know what they are and where to get them. Businesses can employ a variety of different advertising tools to inform consumers about the benefits of their products and services, increase brand awareness, and drive sales.
Here are some of the next-gen advertising tools that act as the best lead-generation software.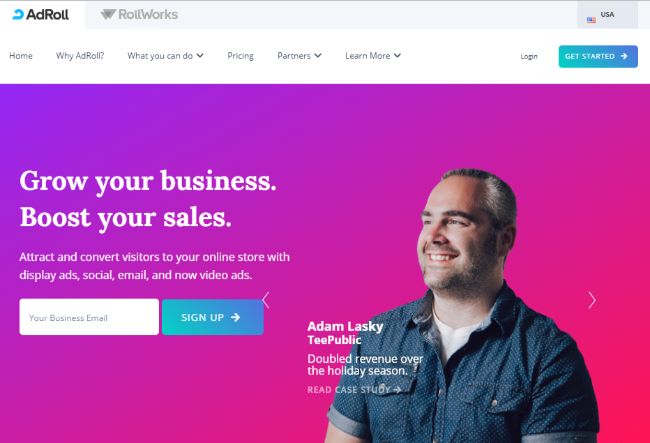 AdRoll's marketing platform centralizes essential marketing and advertising activities, in one place so that you can monitor your entire customer journey. By unifying your data, channels, and measurement, it is easier to bring relevance to your customers through the right messages in the right places at the right times helping you to increase revenue.
The key features of the Adroll advertising tool that helps with lead management are:
You can personalize shopping experiences by automatically showing shoppers the relevant products via ads, email, and personalized product recommendations to increase revenue.

The AdRoll lead capture software helps you identify opportunities to increase lifetime customer value (CLTV) with advanced measurement and attribution.

Reengage your website visitors and past customers with targeted, highly-personalized messages that keep you top of mind, throughout your customers' journey.
AdRoll offers the Starter plan for free. The popular 'Essential' plan starts at $9/ month and the 'Growth' plan is at $19/ month.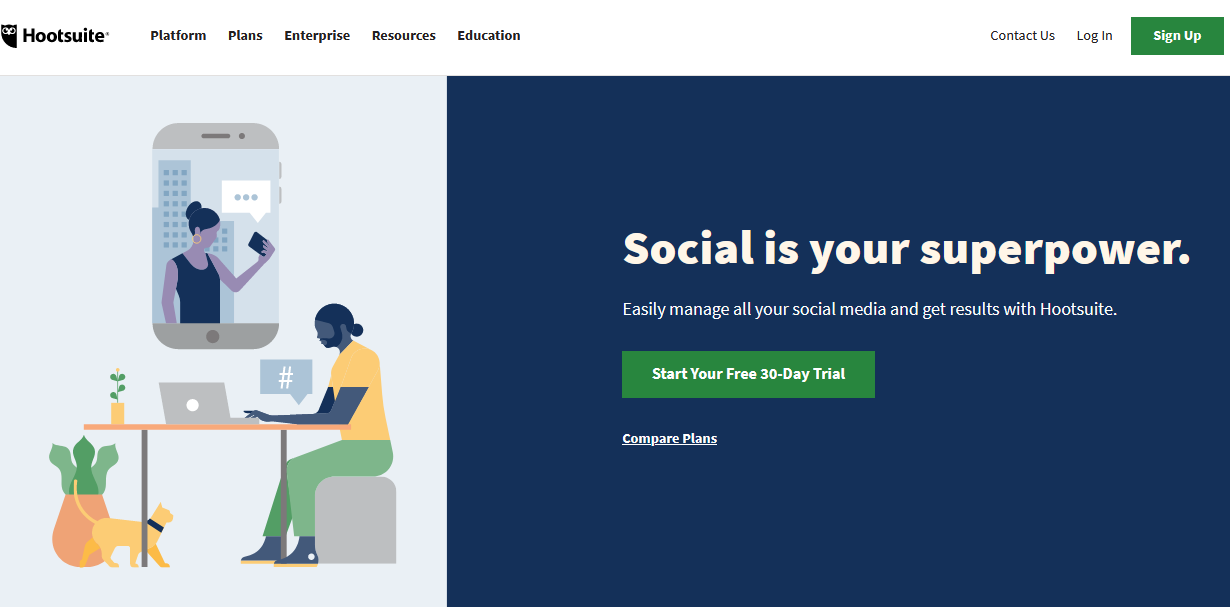 Hootsuite's AdEspresso is a simple yet powerful Facebook, Instagram, and Google ad manager, helping retailers sell more products, grow their customer base, and increase engagement within their community. You can measure the effectiveness of the ads with the help of valuable analytics.
Key features of AdEspresso with lead generation are: 
It helps you in creating your advertising campaigns across multiple channels like Facebook, Instagram, and Google Ads in minutes.

You can easily manage all the advertising channels in one place which saves you time and money.

It allows you to analyze your campaigns and gain valuable insights whenever needed.
AdEspresso offers three plans starting at $9/ month for the 'Starter' plan, $99 for the 'Plus' plan, and $259 for the 'Enterprise' plan. 
Others
There are tools that do not fit under any specific category, such as booking system software and a sales funnel builder, but they are equally important as lead generation tools. These are niche tools that have a great impact on the entire lead-generation process.
Here are some tools that turn out to be great lead-generation solutions for your business.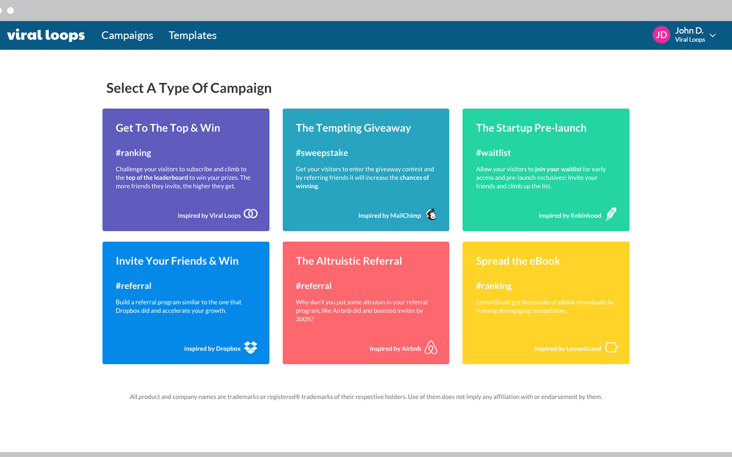 Viral Loops is a complete referral marketing program that helps you to launch your product and acquire new customers through the power of word-of-mouth and referral marketing. Turn your existing happy customers into motivated brand ambassadors so you can leverage their network and expand your reach in minutes. 
Some key features of Viral Loops as a lead generation process are:
You can manage your campaigns by tracking the overall activity and getting a clear overview of the number of participants, the expiration time of the campaign, etc.

You can build your pre-launch campaigns, sweepstakes, and competitions, as well as referral programs, which can be integrated into your website or mobile app in minutes.
Viral loops offer three pricing plans starting from $34/month for 1000 participants. It increases with the plans you choose.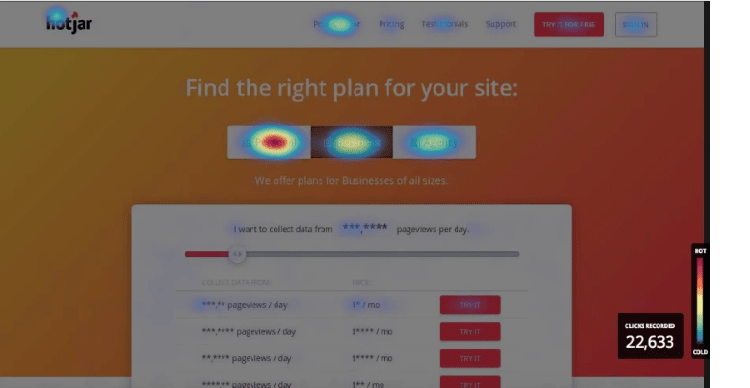 HotJar is one of the best lead-generation tools that is implemented by many businesses to increase their audience. It is a highly recommended B2B lead capture software for conversion optimization research. It gives you the ability to perform in-depth A/B tests on any page of your website. 
The key features of HotJar that help the lead generation system are:
Form analysis improves online form completion rates by identifying the fields that take a long time to fill up to know why visitors abandon your form or page.

Heat maps are visual tools that help you to view how people interact with specific pages and raw heatmap analytics data can be used to measure your optimization efforts.

On-site polls help to understand your customer behavior, and wants, and improve performance.
HotJar offers plans for businesses of all sizes. It starts at $89/month to $389/month. The pricing differs from the number of page views for collecting data.
#22. VWO (Visual Website Optimizer)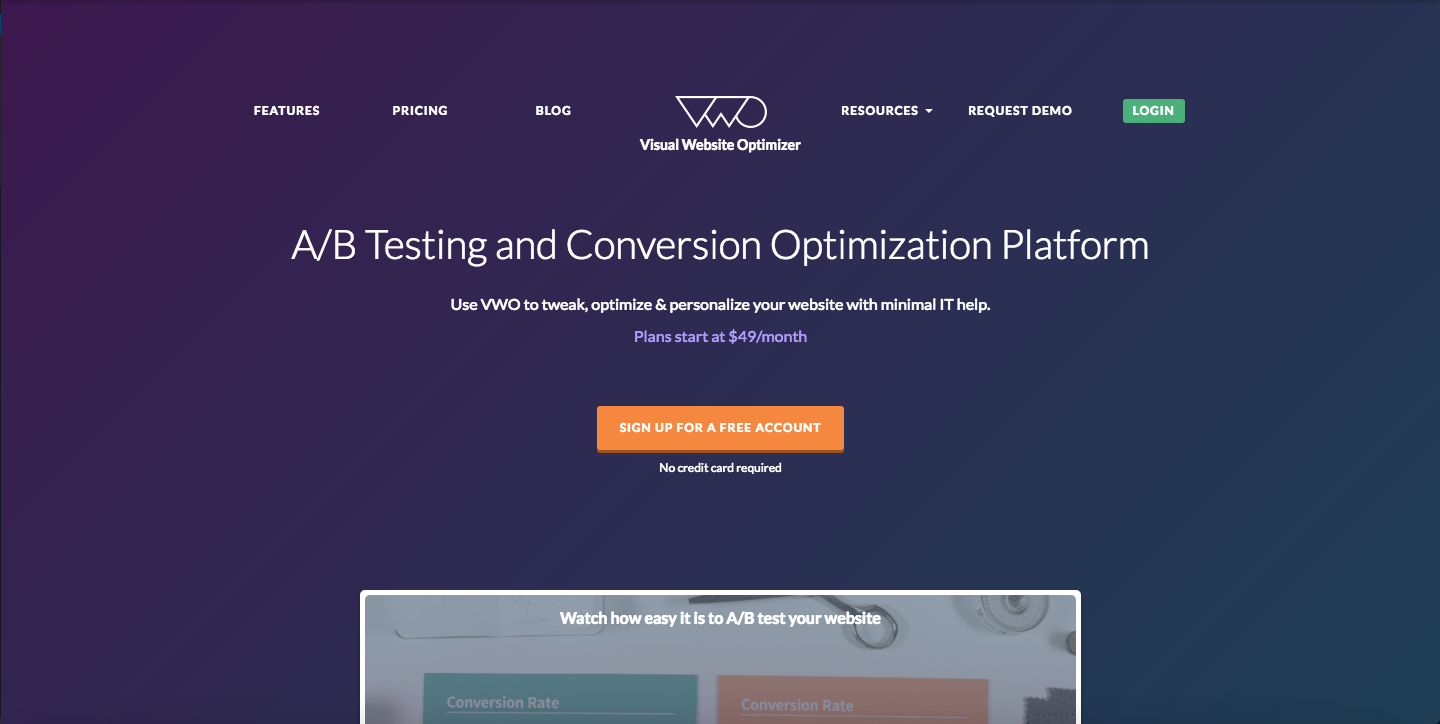 VWO (Visual Website Optimizer) is a cloud-based solution that helps enterprises to create and perform A/B tests on products, features, campaigns, or websites. By using the visual editor, professionals can modify existing pages or create multiple variations of the same page by changing elements such as layouts, headlines, background colors, borders, etc. 
The key features of VWO as a lead capture tool are:
VWO allows businesses to conduct tests based on website visitors' behavior including clicks on an element, time spent on pages, exit intent, and page scroll.

It facilitates integration with various third-party applications such as Google Analytics, Kissmetrics, Demandware, Magento, and more.
VWO offers three affordable pricing plans. The plans start from $699/ month to $1899/ month. Businesses can choose as per their requirements.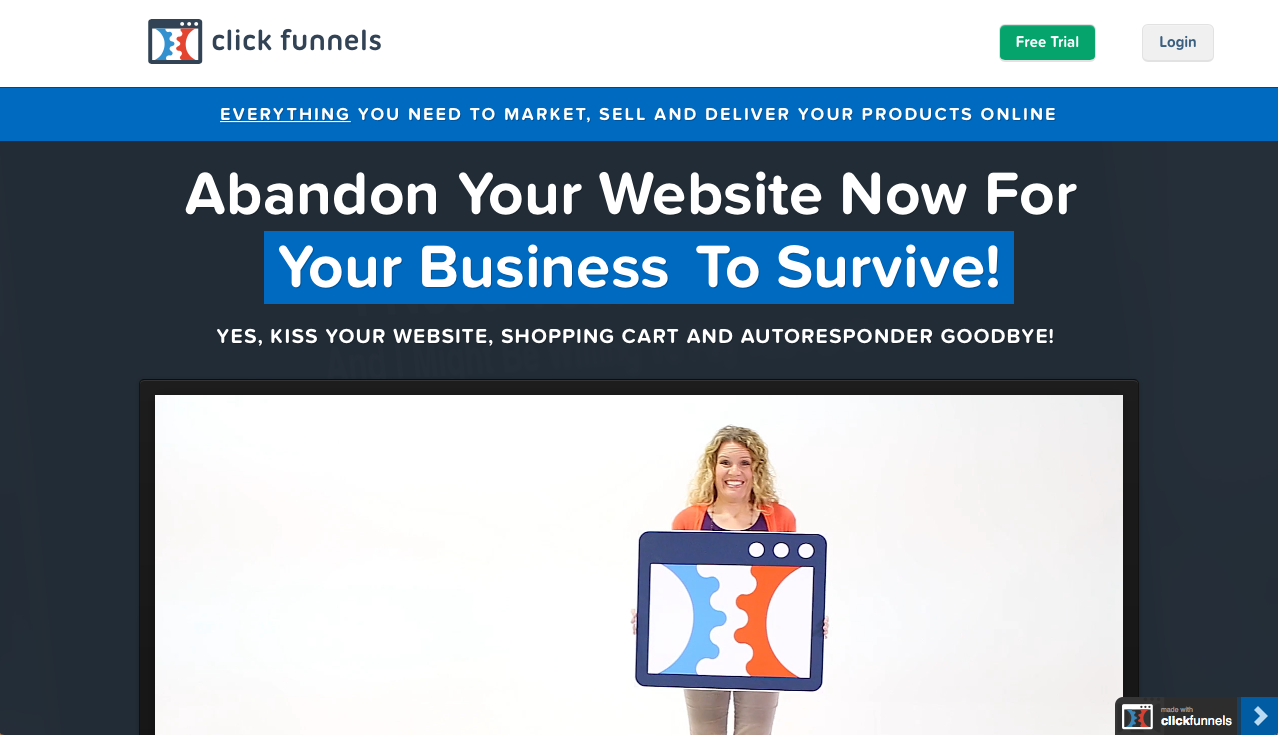 ClickFunnels is a cloud-based sales funnel builder platform that helps B2B businesses of all sizes in eCommerce, consulting, and other industries as sales and lead generation solutions. It offers a plethora of interactive tools that can help users design their own websites as well as create marketing funnels to get their audience engaged while driving sales.
The key features of ClickFunnels that help as sales lead generators are:
The launch funnel allows you to launch new products or services. It works well for selling expensive products as you have more time to sell customers on the perceived value.

A sales letter or a video sales letter funnel helps in selling products that need more explanation, or a presentation to sell people on the perceived value. The funnel uses one-click upsells to generate additional profit per customer.
ClickFunnels pricing plans start at $97/ month for the 'Standard plan, $297/ month for the 'Platinum' plan, $2,497/ month for the 'Advanced' 'Two Comma ClubX plan.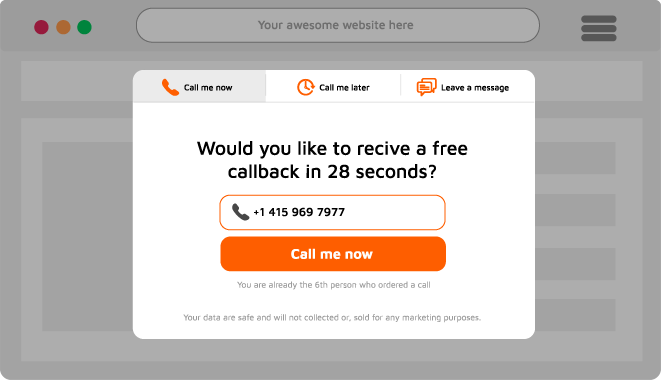 Callpage.io acts as one of the best lead generation software directly from websites. It allows you to call back your potential customers in just 28 seconds and get more inbound leads. When a customer places a request, Callpage.io automatically connects a potential customer with an available representative. There is no need for extra mobile or desktop apps.
Some of the key features of Callpage.io as a lead generation solution are:
With the call recording feature, you can record conversations with visitors for further listening and analysis and increase conversions.
The best lead capture software displays the ratio of the number of visits, pop-ups, and leads, with a total conversion, for any desired period.

Reach out to your prospects from any form on the website that they fill out with their phone number through our system.
The pricing plans for Callpage.io starts at $119/ month for the 'Professional' plan and $284/ month for the 'Premium' plan. The basic plan is offered free of cost.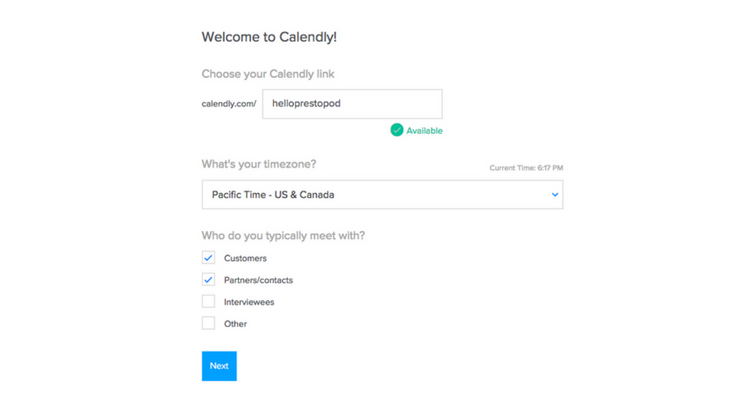 Calendly is the best meeting scheduling software and the Chrome extension makes it easier to access and share your event types & meetings. It allows scheduling meetings without the hassle of emails. Calendly works with your calendar to automate appointment scheduling.
Here are the key features of Calendly as a lead capture tool.
It adjoins your calendars to automatically check availability and help you connect with your best contacts and prospects.
You can automatically distribute meetings to your team based on availability, priority, or equity.
It allows hosting multiple invitees at the same event for webinars, training, and more.
Calendly pricing plans start at $8/ month for the 'Premium' plan, $12/ month for 'Pro' plan. The 'Basic' plan is free of cost.
Limecall is a callback solution that enables you to connect with your prospects in a convenient manner. It helps you generate inbound leads instantly into qualified sales meetings and shortens the sales cycle with click-to-call, call tracking, voice automation, and call scheduling.
Correspondingly, you can make the first connection with your prospects in less than 28 seconds. It also has native integrations with Slack, Zendesk, Intercom, Facebook Ads, Google Analytics, Zapier, and WordPress.
Here are some key features of Limecall that help in lead generation programs.
Callbacks have been proven to lower abandonment rates by 32%. – By employing a call-back solution, customers can choose to receive a call when an agent is free, reducing abandonment and giving customers back what they value most – their time.

Eliminating hold time improves the customer experience (CX). – Replacing hold-time with a call-back improves the experience you provide to customers, exceeding their expectations and improving your bottom line.
Limecall comes with a free plan, along with two paid plans that are priced at $149/month and $399/month. 
REVE Chat's Chatbot: 2023's Smart Lead Generation Tool
REVE Chat 's chatbots for lead generation is one of the best tools that help marketers to connect and engage with their prospects in 24×7 even when the sales team is busy or not available. Lead qualification bots can boost operational efficiency and bring cost savings to businesses while offering higher satisfaction to customers. 
Deploying chatbots acts as an AI lead generation tool to ensure many advantages for your business.  
Automate sales conversions: You can automate your sales funnel with bots to prequalify leads by asking specific questions and based on their response directing them to the right team for further nurturing. 
Higher return on investment (ROI): Lead qualification chatbots to bring in business opportunities by creating effective customer experiences. They can prove a great investment to improve your overall service.
Being active round the clock: Chatbots are always-on to engage customers with instant answers to sales queries, so you can qualify leads by asking questions as per your business needs and know the intent of the visitors, and use it for lead nurturing. 
How Live Chat Can Help Businesses in Lead Generation
Live chat can help businesses to communicate directly with their prospects in real-time. It turns your website into a lead-generation machine to capture more leads and drive sales. Live chat is used among customers has escalated substantially in past few years. Live chat leads to a 48% increase in revenue per chat hour and a 40% increase in conversion rate. 
Here are the key ways in which live chat acts as the best lead-generation tool.
Convert website visitors into leads: Live chat is a great option to maximize leads and optimize business return on investment (ROI). It helps in acquiring more leads and of course, generates more sales. Online chat tools improve the response time of website visitors and improve the chances of sales.  
Shortened sales process: You can trigger personalized messages to prospects through proactive chat triggers who need assistance with the product or price to make final purchase decisions. Live chat for sales experience between the company and its audience, helps to generate more leads through customer loyalty.
Top Lead Generation Tools are Essential for Businesses
Having the right lead capture software for your B2B or B2C business strengthens your marketing strategy and improves capturing more qualified leads. It is important for initial prospecting, nurturing, and conversions.
Check out the above-mentioned lead generation solutions that will help in streamlining your sales and marketing processes, optimize your online lead generation efforts, and close more deals successfully.