Great customer experiences are not built in a day. It is crafted with deep planning and delivered mindfully. There is no one for all approach to customer experience. Business who have mastered the art of delighting customers are great examples for other brands.
The differentiation of the experiences you offer is unique to your business strategy, your brand and your knowledge of your customers. Customers are ready to pay more for a better experience, better quality.
Oracle studies found out 86% of customers will pay more for better customer experience. 
What is customer delight?
Customer delight is defined in simple terms as going above or beyond meeting the customer expectations and providing a delightful experience. Customer delight can be measured with customer satisfaction metrics such as NPS or CSAT.
How do you know customers are delighted? By listening and understanding customers needs.
How customer delights benefits? Benefits your business with increased revenue, greater brand loyalty, and is differentiated from competitors.
What are the essential skills to delight your customers?
Businesses adopt tools in order to deliver a better customer experience. There are companies that turn dials in ways to delight customers.  
Great customer experience
When your customers are satisfied with your customer service it improves your brand experience. Reaching out to customers in real time without making them wait for a long time.  
Omni channel customer support
Deliver your customers a superior customer service by streamlining all the conversations across different channels such as website, social, text, messaging, under a single platform and offer support on the preferred channel.
Quality of products & services
Customers do not compromise with quality. You can gain your customer's confidence with excellent quality of product and services. They become your loyal customers and also advocate your brand with positive word of mouth.
8 ways to impress and delight your customers
So, here we have discussed some of the best strategies to help you in retaining your existing customers, delighting them and making them the brand ambassadors for your brand.
1. Provide real time support
Have you ever thought how do your customers feel about wait time in a phone queue?
Does it really have any worth when you say them "your call is important to us".
American Express survey found that the maximum amount of time customers are willing to wait is 13 minutes.
Your customer expectations align with reality when your business adopts new technology to provide real time support to your customers. Gartner study says customer experience is on pace to exceed price and product as the number one differentiator for companies.
And great customer experience can be achieved by using live chat software and live engagement tools that boost customer satisfaction rate.
Live Chat
Live chat is the most preferred channel over other communication channels such as phone and email. The real time support it delivers to customers makes it popular. Econsultancy reports say, 79% of customers say they prefer live chat because of the immediacy it offers compared to other channels.
Live chat instantly connects you with your customers and allows to address customer issues in real time.

Live chat software allows triggering proactive chat messages to guide customers in their buying journey and improve customer experience.

Live chat addresses customer issues promptly and effectively that reduces the number of touchpoints.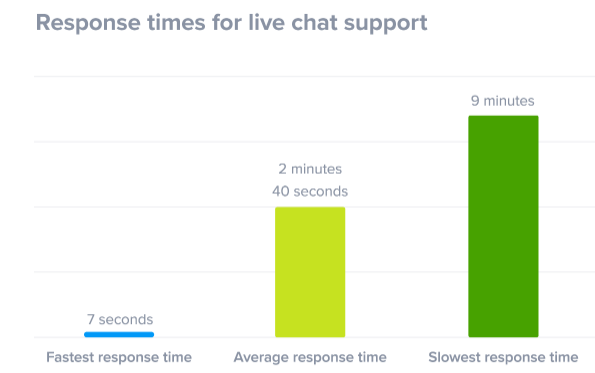 Source: Superoffice
Engagement tools
You can collaborate with your customers in real time with the help of live customer engagement tools such as co-browsing, video and voice chat. These tools allow customers to communicate in real without letting customers wait and improve the response time.
With the live engagement tools, you can temporarily share the screen of the customers and guide them in the right direction and deliver a virtual in person experience.
You can combine

co-browsing

with a phone call or web chat to provide multi channel communication experience.

Chat conversations can be personalized via video chat and develop trust in customers and increase customer satisfaction.

Co-browsing solution helps the customer service reps to interact and guide the customers in order to deliver better customer service experience.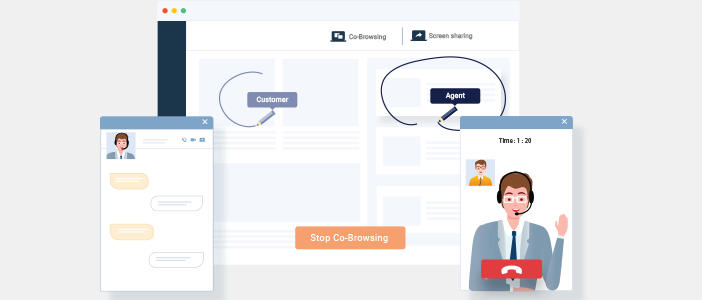 2. Deliver consistent omni-channel customer service
Google Research says, 98% of Americans switch between devices on the same day.
Customers expect excellent consistent experiences across multiple channels as they use various channels for making a single purchase. And when the experience is not consistent from one channel to the next, it feels it will not work.
Marketing Week says, 15 years ago the average customers typically used two touch-points when buying an item and only 7% regularly used more than four. Today's customers use an average of almost six touchpoints with nearly 50% regularly using more than four.
You have ensured that your service is consistent across all the channels such as Facebook Messenger, live chat, Viber, etc. The customer satisfied with your social support over Facebook messenger should be equally convinced with your quality of website support.
Benefits of consistent omni channel service:
Streamline all the conversations under one platform

Reduces the average response time

Gain faster and high first contact resolution (FCR) rate

Gain deeper insights about the customer profiles
Example – Bank of America
Bank of America is one of the biggest known brands follows consistent omni-channel service to its customers. The bank allows for everything from depositing checks to scheduling an appointment scheduling to be handled by the company's mobile and desktop apps.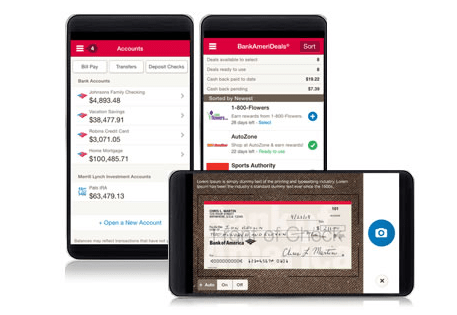 3. Empower your team
Why empowering customer service team is the pillar for customer service?
When you empower your employees it means you give them the authority and freedom to take independent decisions to make customers happy. Empowering customer service teams require employees to be well trained to identify and act on opportunities to enhance customer service.
Benefits of empowering customer support team are:
Freedom of decision making

– The employees hold the complete authority to handle customer's queries independently. They have complete ownership to make customers happy.

Perform as a team

– Empowering your team will allow them to perform together to take a move to deliver superior customer service and business success.

Employees feedback

–  The feedback from employees are directly aligned with the company's objective. The mission of the company and the opinion of your team are linked that makes them valued.
Giving employees ownership for their own work will result in improvements in motivation, customer service, and morale, but also to improvements in quality, productivity, and quick decision-making.
The best example to empower customer service team –
Ritz Carlton Hotels
The Ritz-Carlton Group believes in 'the key to making customer service visionary is team engagement.'
Ritz-Carlton focused on customer service and gave its employees the authority to spend up to $2,000 per day to delight their guests with their service.
You can structure and incentivize your team so that your employees can work independently to resolve customer queries keeping themselves in their foot. Empower your customer service reps by measuring the feedback collected and total resolved queries that were assigned.
You may also like to read – How to Empower Your Team to Deliver Great Customer Service Success
4. Analyze customer feedback
"A satisfied customer is the best business strategy of all."  
Customer feedback is the core of any business and is one of the main factors of growth. It is the one thing that gives a business a clearer view of how it is doing. Collecting feedback requires asking customers to share their feedback about the product, service or about their overall experience.
The right moment to ask feedback to the customers is right after a customer service conversation. You are already in a conversation with the customer so it feels natural to ask feedback.
Analyze customer feedback by following the below-mentioned strategies:
Categorize the feedback comments

– It will help you to find out what your customers are saying about the way you handle or run your business. The feedback may include product delivery speed, after sales services, customer service approach, etc.
Divide the categories

– Once you have sorted your feedback into categories, divide some specified items that deserve their own branding and attention into subcategories.
Creating sub-categories helps you to get in touch with the little parts of your business operation that you think nobody notices but makes a huge difference to your overall business reception.
Nature of the feedback –

Customer feedback comes with negative and positive comments. The positive comments provide a concrete idea of what you are doing and can be extremely effective in building customer loyalty. 

Negative comments, on the other hand, would guide you towards changing some aspects of your business that your customers do not approve.
Consolidate results and plan your next move

–  Finally, amalgamate all the results to make a plan of action as to how you intend to respond to each of the issues raised. Make a feasible and effective plan that would address all the problems your clients think your business is having while keeping the good services still functioning.
You have to train your customer support team to ask feedback questions at the right time, choose the right channel to ask feedback to customers, tailor the feedback questionnaire, direct the feedback questions to the right team.
5. Personalize your communication
Monetate says, 79% of organizations that have exceeded revenue goals possess a documented personalization strategy.
Personalization has become a buzzword in the marketing world. True personalization is all about understanding the behavior of your customers, then tailoring your messaging around that behavior. The power of personalization is no secret to marketers today.
Today's customers expect business interactions to be customized to their needs and preferences. They really get frustrated when they receive information that doesn't resonate from email. , especially when it comes from trusted advisors.
With the right technology, to collect customer data and turn it into actionable insights, you can personalize each customer interaction and provide unique messaging for each and every one of your clients regardless of their preference of channels.
Ways to personalize customer relationships
Use a tone that matches your customer personality. Some prefer short and direct communications and some like longer conversations and sharing opinions.
Match your customers to right agents with appropriate skills to handle the conversation.
Listen to your customers and empower them. Asking your customers about their preferences both personalizes the experience and builds their confidence in your brand.
Understanding your customers' backgrounds by having authentic conversations helps to personalize each relationship.
Showing your brand's appreciation is a great way to personalize your customer relations. Make kind gestures by sending send follow-up messages to customers after each purchase or service interaction to thank them and offer further assistance if required.
Recommend products and services to your customers based on their purchase history. Personalized cart recommendations influence 92% of shoppers online.
6. Empower your customers with communities
Customers love to part of a community or group. Building communities that benefit customers create a positive feeling and improve your brand image. Communities can be used as a resource for sharing useful information related to products and services.
When you foster a special place for customers to interact with one another, your business is adding extra value to the customer experience both before and after the purchase. Generally, customers trust other customers, when they intend to purchase.
So, the sponsored community forum can be used to help to guide in their buying decisions.
Case to the point: Southwest Airlines
With a purpose of holding up the of a growing business, Southwest Airlines has invested in an owned, online community as a place for customers to share stories, exchange knowledge, and find inspiration from other members.
The corporate blog launched by Southwest Airlines gives the customers behind the scenes look at Southwest's involvement in the communities they serve, information on products and services.
The discussion forum's taxonomy is aligned to common support inquiries, including boarding, check-in, general travel policies, international travel, rewards program, travel assistance for customers with disabilities.
7. Under promise and over deliver
As defined by McGraw-Hill, "under promise and over deliver" is a service strategy in which service providers strive for excellent customer service and satisfaction by doing more than they say they will for the customer or exceeding customer expectations.
Don't make a promise you can't keep and keep the ones you make.
Over delivering on customer expectations would raise customer satisfaction and be good for business. It develops trust and loyalty in customers and stays associated with your brand for a lifetime.
To keep customers highly satisfied, you must continue to deliver more value because their expectations will keep increasing.
If you set the tone from the start of under-promising and over-delivering, then your customer is going to expect that same experience of getting more than promised with every interaction.  You are setting yourself up to fail and for your customer to be disappointed. A better method might be to deliver on your promises.
8. Listen to your customers
Voice-of-the-Customer (VoC) tools comprise of relationship and transactional surveys, advisory boards, user experience research and many more. Integrate and analyze to see where you can have the greatest impact on customer experience and business results, and take action on what you learn.
Listening to customers helps you to know:
The customer experience with your products and services

Impact of your customer service

Brand experience and customer satisfaction
Stop trying to delight your customers
"To win customers loyalty, forget the bells and whistles and just fix their problems".
When it comes to customer service, businesses create loyal customers mainly by resolving their issues faster. Customers resent having to contact the customer support repeatedly, to get an issue fixed, having to repeat the complete information and switching from one channel to another.
You can reduce these efforts with the CES (Customer Effort Score) metric, that has 1 to 5 ratings, where 5 stands for the highest effort.
Final thoughts to delight your customers
Customer service, no matter good or bad, has a profound effect on customers long-term buying behavior. How customers feel after engaging with your brand could mean the difference between a loyal customer who recommends your store to family and friends and one who shares their negative brand experience over social and never buys from you again.
If you want to be on the right side of the customer service road then get together with your team today and plan different ways on how to impress and delight customers. Some basic static procedures are workplace culture that should be centered on positive customer experience.