For today's businesses, the reality is that happy customers mean more than just a sale. In fact, 84 percent of consumers state they are more likely to buy from a brand that cares about social causes.
Satisfied customers come back for more, and also they refer you to their friends, which can be a great way to build a loyal base of interested customers.
Having happy, and satisfied customers build brand loyalty and can help you generate new customers. If you want your business to succeed, it's time to take action and ensure that you're providing your customers with the service they deserve, and give them a reason to choose you over your competition.
In this article, we'll share some of the best, most famous, exciting, and funny customer satisfaction quotes. 
Most Popular Customer Satisfaction Quotes
Having happy customers is one of the easiest ways to ensure a successful business. Customer satisfaction is an indicator of the positive experience that a consumer has when interacting with a business. 
It indicates how likely someone is to return or to make a recommendation based on the level of service that they have received and how important this experience was to them.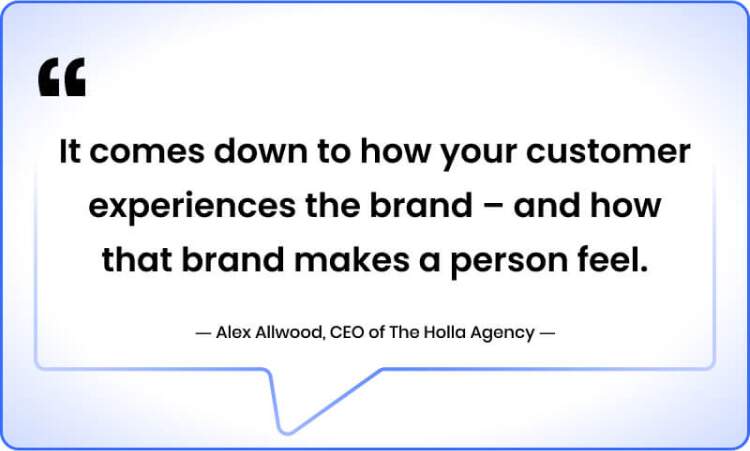 Here are some most popular customer satisfaction quotes.
Let's take most of the money we would've spent on paid advertising and paid marketing and instead of spending it on that, invest it in the customer experience/customer service and then let our customers do the marketing for us through word of mouth." 

―

T

ony Hsieh, CEO of Zappos 

"It comes down to how your customer experiences the brand – and how that brand makes a person feel." 

― Alex Allwood, CEO of The Holla Agency

"Get closer than ever to your customers. So close that you tell them what they need well before they realize it themselves." 

― Steve Jobs, Co-Founder and former CEO of Apple

"People will soon forget what you said. They will never forget how you made them feel." 

― Dr. Maya Angelou, Poet/Educator

"The basic of business is to stay as close as possible to your customers, understand their behavior, their preferences, their purchasing patterns, etc." 

― Indra Nooyi, former CEO of Pepsi Co

"None can destroy iron, but its own rust can. Likewise, none can destroy a person, but his own mindset can. " 

― Ratan Tata, Chairman of the Tata Group

"The purpose of a business is to create a customer who creates customers." 

― Shiv Singh, Best-Selling Author

"It takes 20 years to build a reputation and 5 minutes to ruin it. If you think about that, you'll do things differently." 

― Warren Buffett, CEO of Berkshire Hathaway
Customer Satisfaction Quotes for the Retail Industry 
When you want to build a relationship with a new customer, offering something that they want that's related to your product or service is one way to go. It shows them how much you value them and how much you care about your business.
If you don't offer good customer service and experience, then people won't want to do business with you.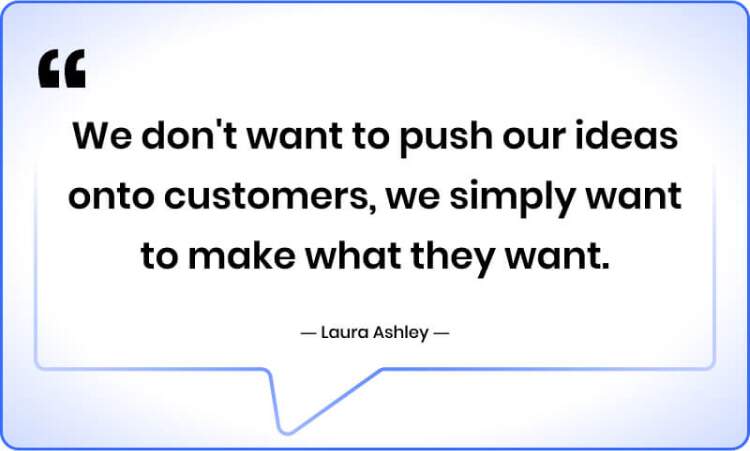 Let's take a look at some of the inspirational customer satisfaction quotes. 
"We don't want to push our ideas onto customers, we simply want to make what they want." ― 

Laura Ashley, Welsh fashion designer

When you assume negative intent, you're angry. If you take away that anger and assume positive intent, you will be amazed."

― Indra Nooyi, Former CEO of PepsiCo

"A brand for a company is like a reputation for a person. You earn reputation by trying to do hard things well."

― Jeff Bezos, CEO of Amazon

"Customer service shouldn't just be a department, it should be the entire company."

― Tony Hsieh, American Internet Entrepreneur

"Instead of focusing on the competition, focus on the customer."

― Scott Cook, American businessman

"As a membership site, we're always focused on reducing churn and increasing satisfaction. We know that collecting feedback from customers throughout the customer's lifecycle has allowed us to achieve both."

― James Bake, English singer-songwriter

"You are serving a customer, not a life sentence. Learn how to enjoy your work."

― Laurie McIntosh, Author 

"What sets us apart as a company is that we want to deal with anyone that owns our product, regardless of where you bought it. If you have an issue with a Santa Cruz Bike and come to us with your issue, we'll help you resolve your issue."

― Kyle Harder, Makeup Artist

"Happy customers are your biggest advocates and can become your most successful sales team."

― Lisa Masiello, Founder, President at TECHmarc Labs, Inc
Encouraging Customer Satisfaction Quotes for Call Center
One of the virtues of every call center is its success as a part of customer satisfaction and support. At the end of the day, the products sold are means for the call center to survive and be competitive, but without customer satisfaction that would be impossible.
Agility, flexibility, and performance … are the key attributes that characterize work philosophy and that reflect a commitment to ensure customer satisfaction in each of the areas. 
Let's take a look at some of the positive attitude customer satisfaction quotes. 
One customer well taken care of could be more valuable than $10,000 worth of advertising.

― Jim Rohn, American Entrepreneur

Always give people more than they expect to get. ―

Nelson Boswell, Author
Quality in a service or product is not what you put into it. It is what the client or customer gets out of it. – Peter Drucker, Austrian-American Educator

Let no one ever come to you without leaving better and happier.

― Mother Theresa, Nun

You are serving a customer, not a life sentence. Learn how to enjoy your work.

― Laurie McIntosh, Author

People will soon forget what you said. They will NEVER forget how you made them feel.

― Dr. Maya Angelou, Poet/Educator

The key is not to prioritize your schedule but to schedule your priorities.

– Stephen Covey, Educator

Success isn't permanent and failure isn't fatal.

– Mike Ditka, Former Football Player

Talent wins games, but teamwork and intelligence win championships.

– Michael Jordan, Chairperson of the Charlotte Hornets
Quotes About Customer Satisfaction for Agency
How important is customer satisfaction when it comes to an agency? Why has customer satisfaction become such a vital component in an agency?  
Customers need to remember they are the ones who will decide whether a business will last in the market or not. It is not enough that they are satisfied with your service, they need to feel they can reach out to you if there is a problem or if they have questions.
It is important to make this type of customer feel they are valuable. As a business, you need to be aware of their needs and try to anticipate their problems. This way, you will be able to create a good reputation and have more customers.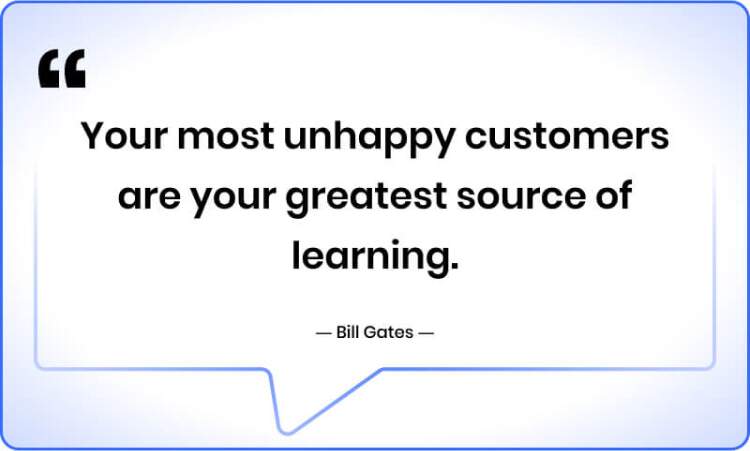 Here are some quotes about customer satisfaction for the agency. 
    27."There is only one boss. The customer. And he can fire everybody in the company from the chairman on down simply by spending his money somewhere else." ― Sam Walton, Founder of Walmart
    28."Your most unhappy customers are your greatest source of learning."― Bill Gates, Founder of Microsoft
"We see our customers as invited guests to a party, and we are the hosts. It's our job every day to make every important aspect of the customer experience a little bit better." ― Jeff Bezos, Founder of Amazon

"The magic formula that successful businesses have discovered is to treat customers like guests and employees like people."

―Tom Peters, Writer

"A lot of people have fancy things to say about customer service, but it's just a day-in, day-out, ongoing, never-ending, persevering, compassionate kind of activity."

― Christopher McCormick, CEO of

L.L.Bean

"The single most important thing is to make people happy. If you are making people happy, as a side effect, they will be happy to open up their wallets and pay you."

― Derek Sivers, Founder of CD Baby

"Ask your customers to be part of the solution, and don't view them as part of the problem."

― Alan Weiss, CEO of Weiss Analytics

"When you help others feel important, you help yourself feel important too."

― David J. Schwartz, Author

"People will forget what you said. They will forget what you did. But they will never forget how you made them feel."

– Maya Angelou, Poet/Educator
Customer Satisfaction Quotes in the Software Industry
Customer satisfaction is an important part of large customer relations in the field of software development. For creating a good impression on clients, it is extremely important to give them a clear understanding of the existing project, but most importantly, it is very important to provide them with constant support throughout the process.
Satisfied clients are more likely to return and tell their friends about your products and services. Therefore, it is important to understand and meet their expectations in order to retain clientele. 
Let's take a look at some of the positive quotes for customer satisfaction in the software industry.
"The best customer service is if the customer doesn't need to call you, doesn't need to talk to you. It just works."

― Jeff Bezos, CEO of AMAZON

"It is important to have a feedback loop, where you're constantly thinking about what you've done and how you could be doing it better."―

CEO of Tesla Motors

"Get closer than ever to your customers. So close, in fact, that you tell them what they need well before they realize it themselves."

― Steve Jobs, Co-founder of Apple 

"Know what your customers want most and what your company does best. Focus on where those two meet."

― Keven Stirtz, Author

"A satisfied customer is the best business strategy."

― Michael LeBoeuf, Author

Get closer than ever to your customer. So close, in fact, that you tell them what they need well before they realize it themselves"

― Steve Jobs, Apple 
"Serving more people, increasing your customer base, and making them more deeply engaged is by itself good business." ―  Mark Zuckerberg, CEO of Facebook
How REVE Chat Can Help to Improve Customer Satisfaction? 
In order to make the best experience for customers and at the same time minimize costs for business owners, REVE Chat ― an omnichannel customer engagement tool has been created. 
This AI-powered chatbot allows businesses to answer customers' questions in a quick and effective way. It also gives customers the ability to easily contact businesses. All of this saves time and money and improves customer satisfaction.
A recent study shows that customers are happier when they are able to use cue cards. In fact, a survey of 1,000 customers found that:
64% of customers who use chatbots are more satisfied with their customer experience.

68% of survey respondents who used chatbots have a positive opinion of the company that offers the service.

72% of people prefer to use chatbots.

81% of people believe that services that use chatbots are more efficient.

85% of people like to use a service that uses chatbots.
REVE Chat is one of the best chatbots that can be used to take your customer satisfaction level to the next level. It is easy to set up and it helps you increase sales and improve customer satisfaction by offering live answers around the clock. So, what are you waiting for? Sign up now and enjoy 14 day free trial.