Artificial Intelligence (AI) and Machine Learning (ML) are an integral part of many businesses. Leveraging a chatbot or AI virtual assistant, you can not only boost your business revenue but also save cost and create an excellent customer service experience.
It is no surprise that virtual assistants and chatbots have been on the rise. 
They are very similar to one another. The main difference between a chatbot and a virtual assistant is design and purpose. 
While virtual assistants are made to handle a variety of requests, chatbots are typically more specific with their offerings. 
Both increase the delivery of personal assistance. Help with everyday tasks, along with its assistance to work as a second person, freeing you from routine and tedious work.
In this article, we will show chatbot vs virtual assistant comparison, its key differences, how it works, benefits, and more. 
Key Differences Between Chatbot and Virtual Assistant 
What are the key differences between a chatbot and a virtual assistant? Both chatbots and virtual assistants use Natural Language Processing (NLP) to understand the intent behind a user's question or request, and then feed it back to them in a conversational manner.
What is a Chatbot?
A chatbot is a digital assistant that you can use to converse with your customers in natural language and answer their questions or perform some other tasks. 68% of customers like chatbot because it answers the customer query faster and the current Chabot user trends are rising. 
However, why is a chatbot designed for? 
24×7 customer engagement

– Primarily it is designed to engage customers 24×7 and answer their common queries instantly rather than just doing administrative tasks. 

Increase lead generation

– Chatbots are deployed to understand the user intent and analyze the context of the conversations better then it responds more naturally. 

Recommendations

–  AI bots can carry on a conversation even if they encounter unexpected issues or questions. 
What is a Virtual Assistant?
Virtual assistants are programs that help businesses with various administrative tasks like scheduling appointments, answering emails, and so on. 
They respond to requests from people who don't want to contact a person directly but still want to get their issue resolved quickly.  
Handle various customer requests –

Virtual assistants, like Siri, Alexa, and Cortana, are increasingly being used by consumers to assist them with a wide range of tasks in their daily lives. 

It makes daily life easier –

Virtual assistants are numerous and they are here to make our life easier, to simplify tasks and decisions, or to entertain us.

Improve customer service standards –

A virtual assistant has a great ability to improve efficiency and deliver support for employees as well as customers. 
Intelligent Virtual Customer Assistant Vs Chatbot: How Does It Work?
Chatbots have been a topic of much discussion in recent years, but there's a new kind of automation that's gaining steam: the virtual customer assistant.
Siri and Alexa are examples of voice assistants, which provide immediate access to information and services with just a few spoken words. 
While virtual assistants are becoming more sophisticated with each passing day, chatbots are still struggling to find their place in online business.
Let's get to know how virtual customer assistants and chatbots work. 
Virtual Customer Assistant
A virtual customer assistant (VCA) uses artificial intelligence to understand and respond to a customer's request in real-time. This digital assistant can either work independently or complement a live customer service rep.
It combines machine learning (ML) & Artificial intelligence (AI) –

VCA uses artificial intelligence and machine learning to understand speech and text. It is trained with millions of conversations to improve its ability to answer complex questions and understand slang and unique pronunciations.

Collects data, analyzes, and answers –

it can recognize voice and text messages. Also, it can answer any question with information from the internet and files it has access from your office computer.
Did you know more than 80% of orders are being placed over the phone, e-retailers need a way to engage with shoppers over the phone and provide a positive experience for those who want to speak? In this case, a virtual assistant is an ideal solution. 
Chatbot 
A chatbot is a special technology that allows you to have a conversation with a computer. The bot can learn to answer questions, make recommendations, and book reservations, just like a human being.
It's the relationship between dialogue and content processing. User responses are matched with the appropriate predefined content and the content process is delivered to the user. It is the best way for a user to communicate with the computer in a natural way.
Pattern matches –

to answer any messages or voice, bots use pattern matches to the group then it delivers an appropriate response. 

Natural language understanding (NLU) –

this chatbot algorithm examines the sentence and it doesn't have any historical contexts of the user conversation. It means if it gets a response to a question, it is asked recently, it will not recall any query. 

Natural language processing (NLP) –

Chatbot uses the natural language processing (NLP) method to convert the voice or text into structured data. To complete the entire process it goes through a series of steps, such as tokenizations, analysis sentiment, normalization, name recognition, and dependency parsing.
Which One Fits Your Business Better Chatbot or Virtual Agent?
We compare the pros and cons of each type of bot so that you can choose which one is right for your business.
A chatbot simulates human conversation through auditory or textual methods.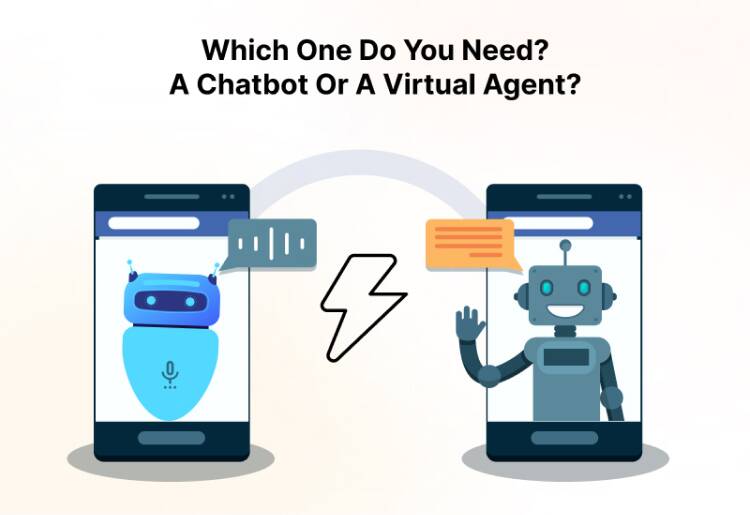 A virtual agent also known as a virtual assistant, or VA is a program but with similarities to an actual assistant: they can answer specific questions, perform specific tasks, and even make recommendations. Both virtual agents and chatbots can drive sales while satisfying the customer's needs.
In theory, both a chatbot and virtual agent can be programmed to handle the most common customer queries. 
As a semi-automated system, a chatbot can handle simple problems more quickly and efficiently than a human can. However, if an issue is complicated or requires an urgent response (e.g., fraud), then the virtual agent wins out.
Voice Assistant Vs Chatbot: What Are the Benefits? 
In the chatbot vs virtual assistant comparison, now I will demonstrate the key benefits of having a chatbot or a virtual assistant. The advancements in artificial intelligence have made it possible to develop technology that can be used by everyone.
One example is through voice assistants and chatbots. Because of this, it has become easier for people to do their daily tasks, as well as get things done by using this technology.
They can usually carry out a variety of tasks like setting reminders, conducting searches on the internet, opening applications, and responding to commands.
You are probably wondering what are the benefits of a voice assistant and chatbot. In the chatbot vs virtual assistant comparison, now let's take a look at the key benefits. 
Benefits of Voice Assistant
The major benefits of a voice assistant are ease to access, enhanced privacy controls, and seamless user experience. Let's take a look at the key benefits of voice assistants.
Excellent at organizing and streamlining:

many people like to use voice assistants to check their schedules, read important news, check the weather, and even create shopping lists. It helps with keeping you organized and on top of things by giving you an update on what is going on in your life.

Smooth navigation while traveling:

if you travel, for instance, a voice assistant has the capability of navigating for you. This can be a great way for you to have your hands free for other things like eating or texting. They can also provide you with entertainment during your trip.

Personal assistant:

By using voice assistant software, you can accomplish more with less effort and frustration, letting you get things done without having to stop what you're doing.

Hassle-free communication:

You'll be able to send an email, text, and social media messages, schedule meetings, and events, and complete online tasks much faster than ever before. 
For example, Staples tied up with a chatbot to provide superior customer service. Staples Messenger chatbot answers customer common questions related to order, tracking, and return. 
It can also remind you of important tasks using their voice and process information in different languages.
Benefits of Chatbot
Chatbots can be used for a variety of tasks, like getting information about products and services, shopping online, setting reminders, making polls and surveys, and so on.
There are many key benefits of chatbots that everyone should know.
Chatbots will help you find the information you need much faster than you could on your own.

Bots can talk faster than customer service employees.

AI Chatbots can surpass the language barrier and provide accurate information in various languages to customers around the world.

AI-enabled bots can automate many of your business processes, making it faster and easier for customers to find needed info and ask questions.

Chatbots provide omni channel support that makes it easy for customers to get answers when they need them. It allows streamlining the conversion to engage the customers through

co-browsing

and

video chat

across all the channels. 
What Are the Features of a Chatbot?
A chatbot can be anything from a personal assistant or custom artificial intelligence or even a simple quote machine to handle customer service requests and fulfill basic tasks, all of which would have previously been completed by a human employee.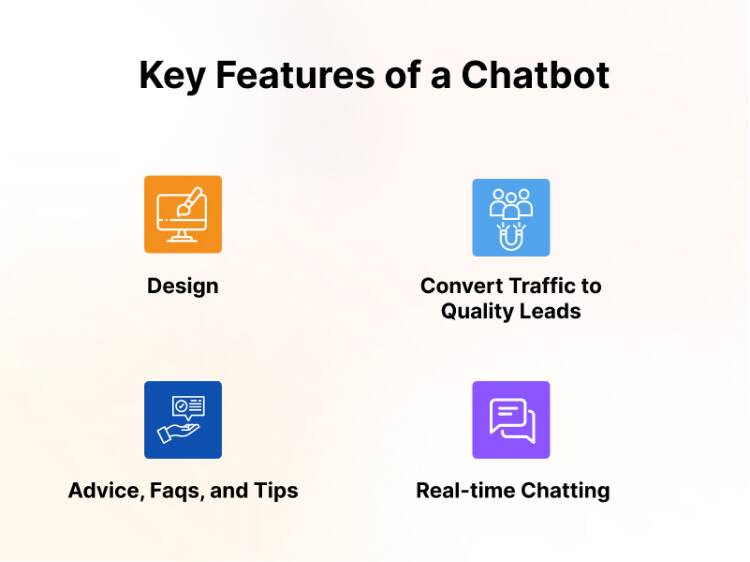 Let's take a look at the top features of a chatbot with details. 
Design
An essential aspect of any chatbot is its design. The features of a chatbot are like a bot's personality with which it creates a connection with its users. 
The structure and design of a chatbot can be fascinating especially when its features are not only entertaining but also meaningful.
When it comes to creating the features of a chatbot, there are several elements to keep in mind:
The tone of voice:

the words that the chatbot uses with its users should be friendly, fun, and leave an impression on the user.

The language it uses:

for effective communication with users, makes sure that the language a chatbot uses is simple and understandable. This allows better interaction and helps make conversations easier to comprehend for its users.

Seamless integration:

its features that interact with other platforms like SMS or email should be well developed.
  2. Convert Traffic to Quality Leads
A chatbot can hold entire conversations and understand context, which allows it to collect critical information from your website visitors and respond in a way that feels natural. It can even provide potential customers with answers to questions they don't even know they have yet.
Over 1 billion of the world's biggest companies use their chatbots and websites to convert their traffic into leads. For example, Sephora is a good example in the retail industry which uses chatbots to generate leads. 
Identify potential customers:

Knowing the potential customer is crucial to making the service or products attractive. A chatbot helps to understand your customers. It collects customers' demographic data then focuses on their persona and observes the competition which helps better lead generation.

Understand customer needs:

knowing customers' needs is important to develop communication. Chatbot helps to know the potential customer likes, dislikes, and interests. 

Create meaningful content:

at the time of the lead generation campaign, meaningful content can improve the entire marketing strategy.  
When used correctly, chatbots drastically reduce the workload for customer service agents by allowing them to focus on complicated customer service issues while the chatbot handles basic inquiries.
3. Advice, Faqs, and Tips 
An intelligent chatbot can answer customer questions, provide tips, and serve as an advisor to a person. The chatbot can answer questions about the company's products and even give practical advice to the average consumer. The chatbot can also provide information about events and the company's sales.
4. Real-Time Chatting 
Real-time chatting, live chat, co-browsing, and video chat are the hottest trends in marketing right now and there is no doubt that they can help you convert website traffic to quality leads. It offers real-time communication and you can engage your audience in a real-time manner. 
Around 73% of customers find real-time chatting is the most satisfactory form of communication. 
For example, a popular bicycle brand Canyon which has diverse customers across the world. They are supporting a variety of customers from different nations with different languages. 
They use the best AI-powered chatbot to connect the customer faster to the suitable sales or support team with their customer-preferred language.
What Are the Features of Virtual Assistants? 
There is no debate that virtual assistants are becoming increasingly popular in all areas of our lives. They are used for everything from work to home help. 
According to Forbes, the future of business is automation. They report that "the application of everything" is inevitable and "workers are about to be ringed with a circle and set of rules, to be followed without deviation.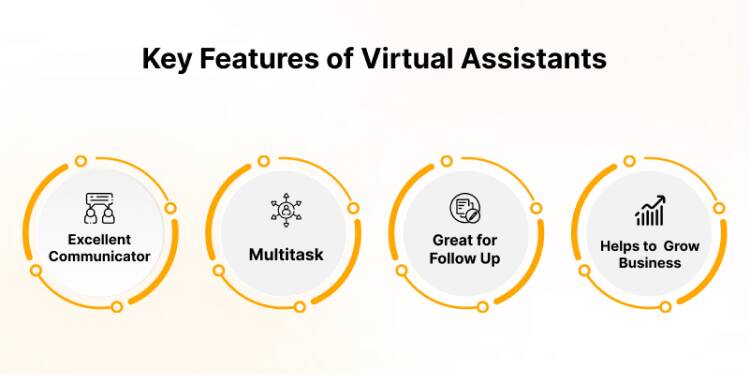 Let's have a look at the key features of virtual assistants with details. 
 1. Excellent Communicator 
Every business needs to communicate with the customer properly. Virtual assistants are capable of giving you the expected outcome since they are well versed with the best communication strategies. 
Always clear and concise –

 to be successful in any business clear and concise communication is vital. A virtual assistant provides clear and concise instruction which increases engagement with the customer.

Automate email –

VA can send personalized automated follow-up emails which are especially useful to engage the customer with the business. 
Aside from their communication skills, virtual assistants are also knowledgeable about diverse fields such as law and science. 
2. Multitasking 
It will also save you money by handling tasks for you that would otherwise cost money, for example booking your next holiday instead of doing it yourself. You can save up to 78% of business operating costs just by a virtual assistant. 
A virtual assistant can complete the following task below; 
Emailing

Scheduling 

Booking travel

Managing your social media accounts 
 3. Great for Follow Up
Organizing a schedule is one of the best parts of having a virtual assistant. Not only can it remind you about important deadlines for your business, but it can also help you remember to follow up on tasks you have left undone.
 4.  Helps to Grow Business 
There's a multitude of tasks you can think about. It helps from time-consuming administrative work to handle all incoming messages when you are out of the office.
It lessens efforts & increases productivity –

Virtual assistant plays a key role to decrease the stress of coordinating with various enterprise applications.  

Increase customer engagement – AI-powered voice assistants play a key role to engage better your customer with a business website. Observing customer behavior and user experience is crucial for a brand to increase sales. A leading brand, for example, Volvo

developed a conversational assistant to guide the drivers

.

 

It helps to build a personalized marketing strategy – Data management is indispensable for any business, however, the challenging part of it is, tracking the process of massive data sources. AI assistant works as a seminal data processing business tool here. It can process massive real-time & historical data and observe user intention. When you have sorted data then you can develop a marketing strategy to engage customers. 
Chatbot Or Virtual Assistant: Which One is Suitable for My Business?
A chatbot or virtual assistant powered by AI is designed to be more human-like. So while they do use machine learning, they are not working towards being autonomous (without human direction). 
There are many big companies, for example, Starbuck is utilizing a chatbot to make the ordering process easier and stand out in the competition by serving the customer faster. 
Why chatbot?
The cost of operation of a chatbot is much lower than that of a virtual assistant.

Chatbots are focused on understanding natural language the way humans do. 

Chatbots are more convenient, efficient, and faster as compared to having a real physical assistant.

It is a new way to interact with consumers. Instead of going to a website, or through an app, you can simply chat with a brand or business directly in Facebook Messenger, Telegram, Slack, and soon in WhatsApp.

It can be connected in various APIs.

Chatbots can automate tedious and repetitive tasks.
Why AI virtual assistant?
They can take over tedious and repetitive tasks, free up your time to do more important things.

They can work 24 hours a day non-stop, 7 days a week. And, they don't get tired, or sick — and they don't ask for vacation.

AI virtual assistants can minimize your workload and maximize profit.

It provides better customer engagement and service by automating the customer onboarding process.
A virtual assistant, as well as a chatbot, will require a dedicated team and investment, but a chatbot can be operated with much less investment and team.
How Reve Chat Can Help You Grow Your Business? 
In the increasingly competitive world of eCommerce, chatbots can help companies reach out to more customers and provide them with a seamless shopping experience. REVE chat will help you to increase customer engagement, improve customer retention rate, reduce the number of customer service calls, etc. 
REVE Chat is an intelligent AI chatbot that reaches your prospects and customers in real-time, then converses with them. And it does all this within the familiar platform of Facebook messenger, Whatsapp, Viber, Telegram, and website. 
28% of consumers prefer to interact with businesses via live chat. Sign Up now and start a free trial today.