Chatbots are quite a rage these days. Everybody seems hooked on them as they wield immense power and possibility. And their popularity is growing by the day, inspiring awe and creating excitement in the minds of people from all walks of life.
Not only the professionals in the tech industry, but even scientists, journalists, and politicians are chuffed up about them. Maybe for that reason, the internet is full of quirky yet interesting quips about chatbots. 
Chances are you may also have come across those funny or inspirational chatbot quotes that either make people chuckle or think. And if you haven't so far, worry not you're about to find them.   
In this blog, we compile together some of the funniest, most popular, and most helpful chatbot quotes. Read them to know what others think about bots and tech. 
Popular Chatbot Quotes 
Chatbots are widely considered the next best thing after the emergence of the web. Quite like the internet, they have the world in thrall for the underlying capabilities and potential. Everybody wants a piece of chatbot benefits and the reasons are obvious for that. After all, they make life easier for businesses and individuals alike.  
Let's savor some of the popular chatbot quotes and get a good idea of how advancements in technology are shaping the world. 
1 –  I think chatbots are the future of engagement between a fan and a brand or celebrity."  —  Christina Milan ( Forbes)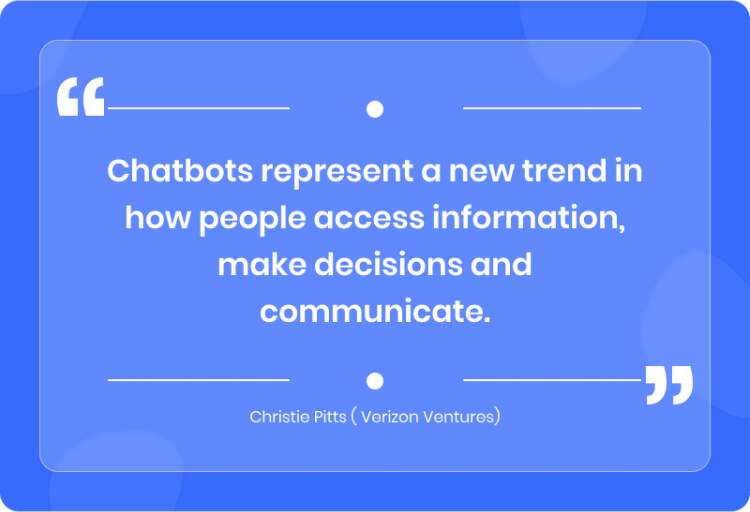 2 – Chatbots represent a new trend in how people access information, make decisions and communicate."  — Christie Pitts ( Verizon Ventures)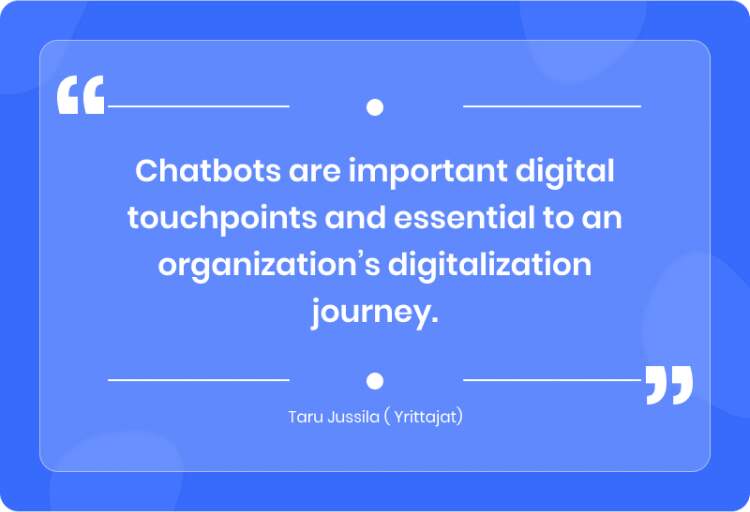 3 – Chatbots are important digital touchpoints and essential to an organization's digitalization journey." — Taru Jussila ( Yrittajat)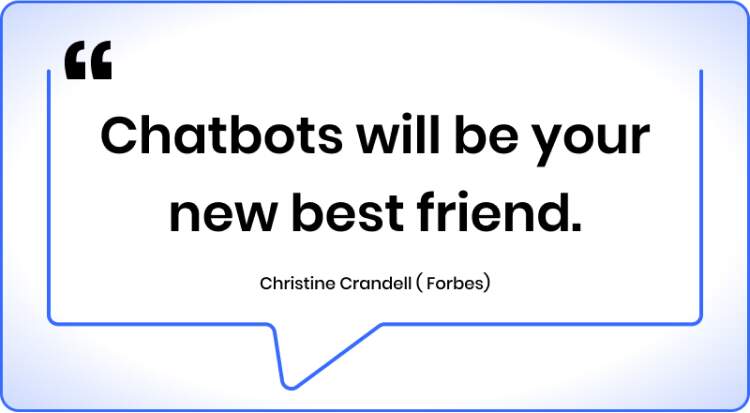 4 – Chatbots will be your new best friend." — Christine Crandell ( Forbes)                                                      
5 – The chatbot benefit is the ability to "close the loop with the customer along a process, efficiently and in a delightful way." — Matt Gillin (CEO of Relay Network)  
Best Quotes About Artificial Intelligence (AI) 
Intelligence is no more just a gift of God. It has become artificial. And that could be good or bad, depending on how you look at it. But one thing is sure, AI has got the world's attention, purely for the capability to replace human intelligence and power. Most experts even fear how conversational AI might take over the world and rule over mankind in the future. 
Dive in for some of the top quotes about artificial intelligence (AI) and get a peek into the advances, utility, and perils of the most powerful technology invented so far.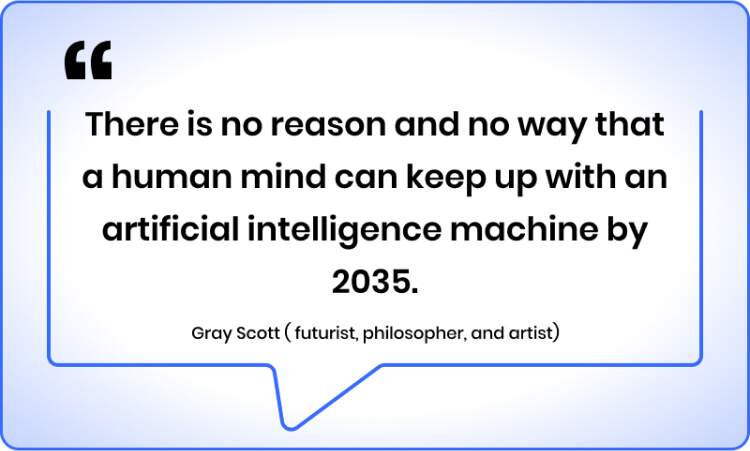 6 – There is no reason and no way that a human mind can keep up with an artificial intelligence machine by 2035." —   Gray Scott ( futurist, philosopher, and artist)                                                                                                                    
7 – Success in creating AI would be the biggest event in human history. Unfortunately, it might also be the last, unless we learn how to avoid the risks." — Stephen Hawking (theoretical physicist, cosmologist, and author)              
8 – It is difficult to think of a major industry that AI will not transform. This includes healthcare, education, transportation, retail, communications, and agriculture. There are surprisingly clear paths for AI to make a big difference in all of these industries." — Andrew Ng (computer scientist and technology entrepreneur)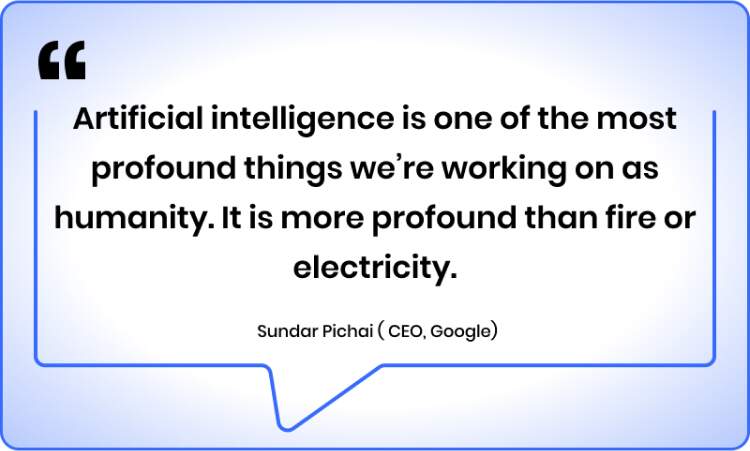 9 – Artificial intelligence is one of the most profound things we're working on as humanity. It is more profound than fire or electricity." — Sundar Pichai ( CEO, Google)                                                                                                                                                       
10 – There's no one thing that defines AI. It's more like a tapestry of modern intelligent technologies knit together in a strategic fashion that can then uplift and create a knowledge base that is automated — where you can extrapolate findings from there." — John Frémont ( founder and chief strategy officer, Hypergiant)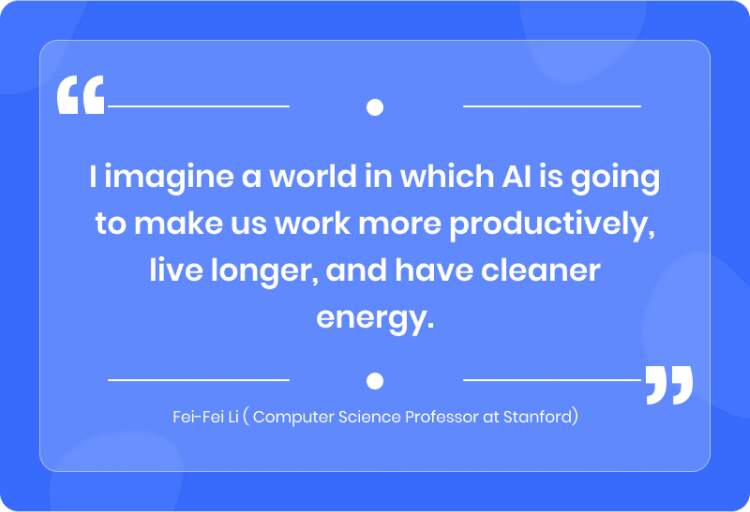 11 – I imagine a world in which AI is going to make us work more productively, live longer, and have cleaner energy." –    Fei-Fei Li ( Computer Science Professor at Stanford)                                                                                                 
12 – No company is going to survive in the future without implementing, or at least gaining an understanding of, artificial intelligence and how it can be used to better grasp data they collect." —  David Gasparyan ( President of Phonexa)
Quotes about Machine Learning  
Machine Learning (ML) is the future. It's one of the most exciting technologies of our time. So versatile and powerful is it that top-most organizations in the world rely on it, be it Amazon, Netflix, Facebook, and many more. Its ever-growing potential is touted to help organizations in the core operational part of functioning. Plus, the global machine learning market is expected to reach $117.19 billion in the next five years.     
Have a look at some of the popular quotes about machine learning that will give a good idea of how technology is set to change the world we're going to live in.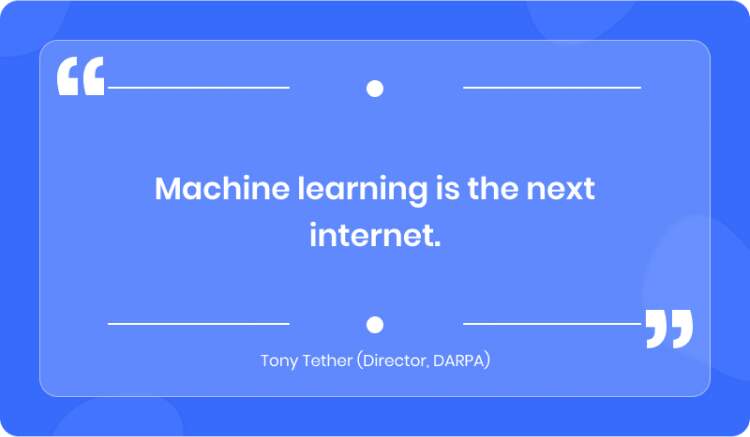 13 – Machine learning is the next internet." — Tony Tether (Director, DARPA)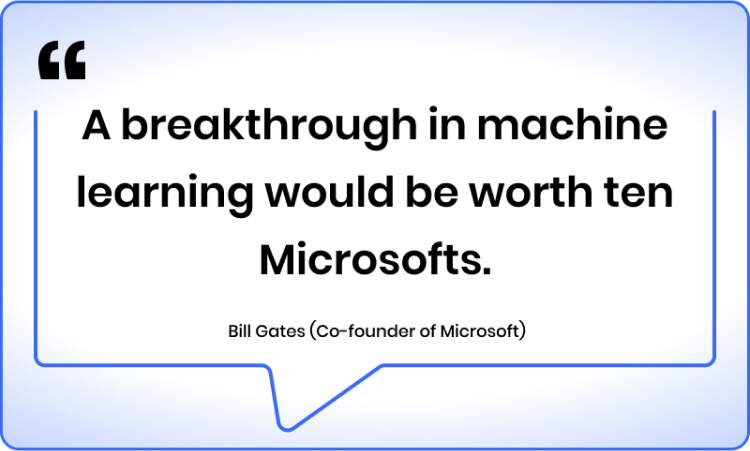 14 – A breakthrough in machine learning would be worth ten Microsofts." — Bill Gates (Co-founder of Microsoft)                                                                                                   
15 – Machine learning is the science of getting computers to learn without being explicitly programmed." — Sebastian Thrun (Computer scientist)                                                                                                             
16 – A baby learns to crawl, walk and then run.  We are in the crawling stage when it comes to applying machine learning." —  Dave Waters (The founder of Deeplearning.ai)                                                                                                            
17 – Machine intelligence is the last invention that humanity will ever need to make." — Nick Bostrom ( philosopher and AI expert)                                                                                                               
18 – We are entering a new world. The technologies of machine learning, speech recognition, and natural language understanding are reaching a nexus of capability. The end result is that we'll soon have artificially intelligent assistants to help us in every aspect of our lives." –Amy Stapleton ( Amy Stapleton ( CEO & Co-founder, Chatables)                                                                                   
19 – Much of what we do with machine learning happens beneath the surface. Machine learning drives our algorithms for demand forecasting, product search ranking, product & deal recommendations, and much more……quietly but meaningfully improving our core operations." — Jeff Bezos ( Amazon CEO)                   
Inspirational Tech Quotes 
Technology dominates the globe. It lords over nations. In fact, the tech industry makes up 35% of the total world market. But yes, the purpose of technology is to inform, entertain and enlighten. It also exists to add value to mankind and bring a transformational change to the way lives are lived. A good piece of technology is one that inspires generations and creates awe in the minds of people. 
There are some technology quotes that really inspire and give you an idea about their larger purpose per se. 
20 – Technology like art is a soaring exercise of the human imagination." — Daniel Bell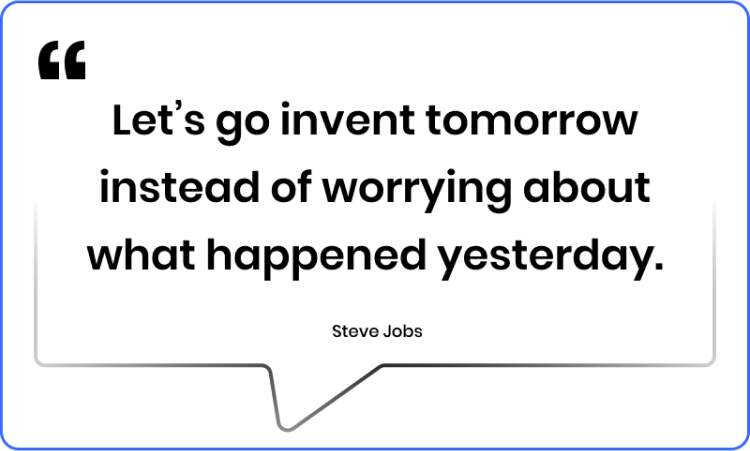 21 – Let's go invent tomorrow instead of worrying about what happened yesterday." — Steve Jobs                                                                                                                                      
22 – If future generations are to remember us more with gratitude than sorrow, we must achieve more than just the miracles of technology. We must also leave them a glimpse of the world as it was created, not just as it looked when we got through with it." — Lyndon B. Johnson ( Former President of the United States of America)                                                                    
23 – Technology is best when it brings people together." — Matt Mullenweg, Social Media Entrepreneur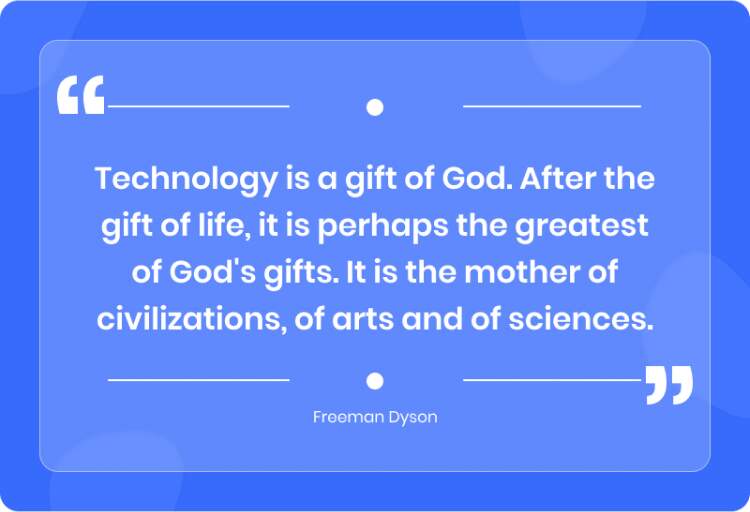 24 – Technology is a gift of God. After the gift of life, it is perhaps the greatest of God's gifts. It is the mother of civilizations, of arts and of sciences." — Freeman Dyson                    
25 – The technology keeps moving forward, which makes it easier for the artists to tell their stories and paint the pictures they want." — George Lucas                                                                                                                                                                                                                  
26 – We want to build technology that everybody loves using, and that affects everyone. We want to create beautiful, intuitive services and technologies that are so incredibly useful that people use them twice a day. Like they use a toothbrush. There aren't that many things people use twice a day." —  Larry Page, co-founder of Google                           
27 – Technology is anything that wasn't around when you were born." — Alan Kay (Computer Scientist)  
Funny Quotes about Technology and Innovation      
Technology not only elevates experiences but also delights the hearts. And if you search for fun out of all the tech and innovation around, the web is surely the best place to be. There are plenty of bone-ticklers going around which help you gain a better perspective on tech.
Some really funny quotes about technology and innovation can make you laugh for sure. 
28 – A computer once beat me at chess, but it was no match for me at kickboxing."– Emo Philips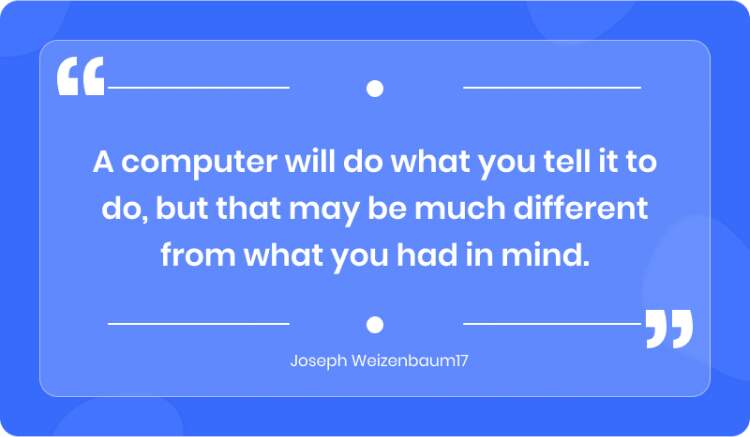 29 – A computer will do what you tell it to do, but that may be much different from what you had in mind." — Joseph Weizenbaum17                                                                                                                                                                       
30 – Give a man a fish, and he will eat for a day. Give a man Twitter, and he will forget to eat and starve to death." — Andy Borowitz                                                                                                                                                                 
31 – People who smile while they are alone used to be called insane until we invented smartphones and social media." — Mokokoma Mokhonoana                                                                                                                                                                                   
32 – Technology is a useful servant but a dangerous master." — Christian Lous Lange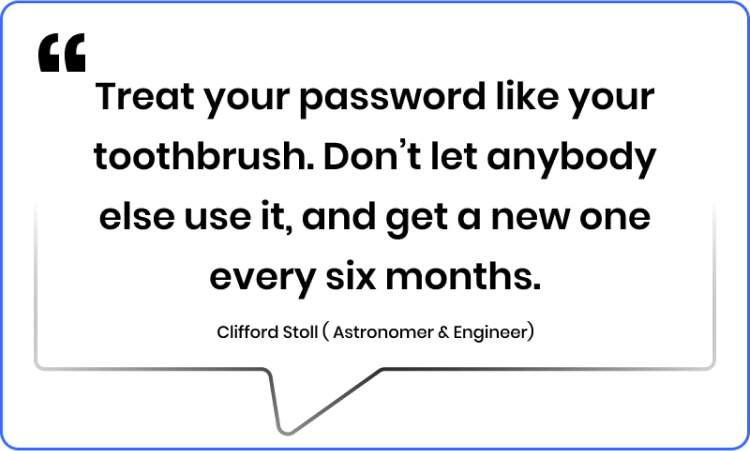 33 – Treat your password like your toothbrush. Don't let anybody else use it, and get a new one every six months." — Clifford Stoll ( Astronomer & Engineer)                                                                                                                        
34 – Technology is like a fish. The longer it stays on the self, the less desirable it becomes." — Andrew Heller 
Create A Smart Chatbot with REVE and Grow Your Business 
Building a chatbot should be easy and fun. It has to be hassle-free even for those who're not tech savvy.
We, at REVE Chat, are aware of the challenges that people often face in creating a chatbot. To help people, our chatbot platform enables a zero-code process to build a bot.
Anyone can now create an AI chatbot using our drag-n-drop kind of platform and add great value to their website or business or social channels.
More so, our AI-powered chatbot comes with a range of important features such as live chat software, video chat, co-browsing, etc which makes the bot even more powerful.
Once the bot is ready, you can deploy it across channels, give omnichannel experiences to your customers, and take your business to the next level. 
Benefit From REVE's Chatbot Platform and Take a Lead in Innovation 
Chatbots are the future. They are the pinnacle of tech growth and innovation. And if you're still not leveraging them, you're then allowing competitors to edge ahead.
With the REVE Chat platform, you can easily design and develop a chatbot in sync with the specific needs of your business. 
You can start a free trial of chatbot now and see how an AI and ML-driven machine can put your enterprise on the path of growth and success.