You may have a website with high traffic but lack enough human resource to manage customer service efficiently. Some customers want instant assistance and leave the website if they don't get it. On the other hand, as some customers are shy to ask, you need to engage with them proactively for offering help. Worried? You don't need to. We have the solution. REVE Chat's 'Auto Trigger' system allows to send automatic chat invitations to the website visitors after a certain time.
Suppose a website visitor is browsing your 'Feature' webpage for a while and someone getting an idea about the product details is a great signal that he is actually interested in your services. So with the live chat trigger, you can reach proactively to that customer to start a conversation and all these will be automated.
What is Auto Trigger?
Auto Triggers are basically some messages that are automatically pushed after a pre-defined time to the website visitors for initiating a chat session. In this case, you don't need to send chat invitations to customers manually, it will be completely automated.
Types of Triggers:
Right now REVE Chat offers 4 types of live chat triggers.
Time Based: Automated proactive chat invitation will be sent to the visitor after he spends the given time on your website.
Location Based: Automated proactive chat invitation will be sent to the visitor who is from a specific country or location.
Page URL: Automated live chat invitation will be sent to the visitor who is visiting a certain webpage.
Referral URL: Automated proactive chat invitation will be sent to the visitor who has come from a specific URL.
How does 'Auto Trigger' work?
'Auto Trigger' helps you to provide automated live chat service based on certain predefined situations. All you need to do is to set some responses and exact timing, and those messages will automatically pop up in front of the visitor after the predefined time.  
How to set the Auto Trigger?
Login to REVE Chat dashboard, go to 'Customization' and next select 'Auto Trigger'.

Next click on 'Add Trigger'. Here you need to provide the below mentioned information. For example, you want to create a trigger for your 'Pricing' page.
Trigger Name: Here you need to mention the exact trigger name. Let's say, 'Pricing page trigger' will be our 'Trigger Name'.

Welcome Message: Enter the personalized welcome message of your choice. Here it will be 'Hi, Thanks for visiting us. May I assist you regarding pricing?'

Type of Trigger: Next, you need to select the type of trigger. Here you have 4 options to choose from. Let's select 'Time Based'.

Seconds: You need to set the exact time after which the automated message will be sent. Finally, click on the 'Create Trigger' button to save your changes.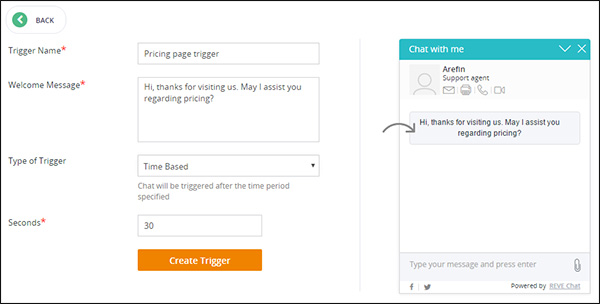 Here you will see our newly added 'Pricing page trigger' under 'Trigger Name'.  Any time you can edit or delete a specific trigger by clicking on the 'Edit' and 'Delete' symbols placed in the same row under 'Action'.

'Auto Trigger' allows you to personalize your customer support service. If you have any queries or suggestions regarding this, please feel free to post in the 'Comments' section.