Voice & Video Recordings
Voice & video recordings are an excellent feature to help businesses get a better understanding of customer conversations. By recording customer support calls, valuable insights can be gained to improve the customer engagement strategy. The use of recording feature can also be extremely helpful in analyzing the agent's performance and assessing whether the team needs training or coaching for maintaining the standards and etiquettes of customer support.        
Recording calls can prove beneficial in many ways: 
Businesses can understand customer needs better and do a better follow-up which ultimately helps improve customer service. 

The performance of the support team can be assessed and analyzed to achieve higher customer satisfaction. 

A superior customer engagement strategy can be devised based on the assessment of the conversation history of the team and customers both.
How to enable voice and video call recording?
Reve Chat has two options to enable voice and video calls: 
Agents can initiate the recording during any chat session 

The recording is enabled by default whenever any chat starts
In order to enable voice and video recording you have to follow the following steps mentioned below:
Step 1: From your REVE Chat dashboard -> Click on the 'Settings' menu -> Click on the ' General Settings' menu
Step 2: It will show the 'Recordings' option -> Click on it.
It displays the options to enable 'Voice & Video Call Recordings'.
Audio call recording
You can enable the audio call recording option to understand the complex and lengthy conversations better to deliver superior customer service. 
Video call recording
You can enable the video call recording option to understand customers' needs in a better way. You can track whether or not your customers are satisfied, categorizing the areas that bring results from those that need improvement.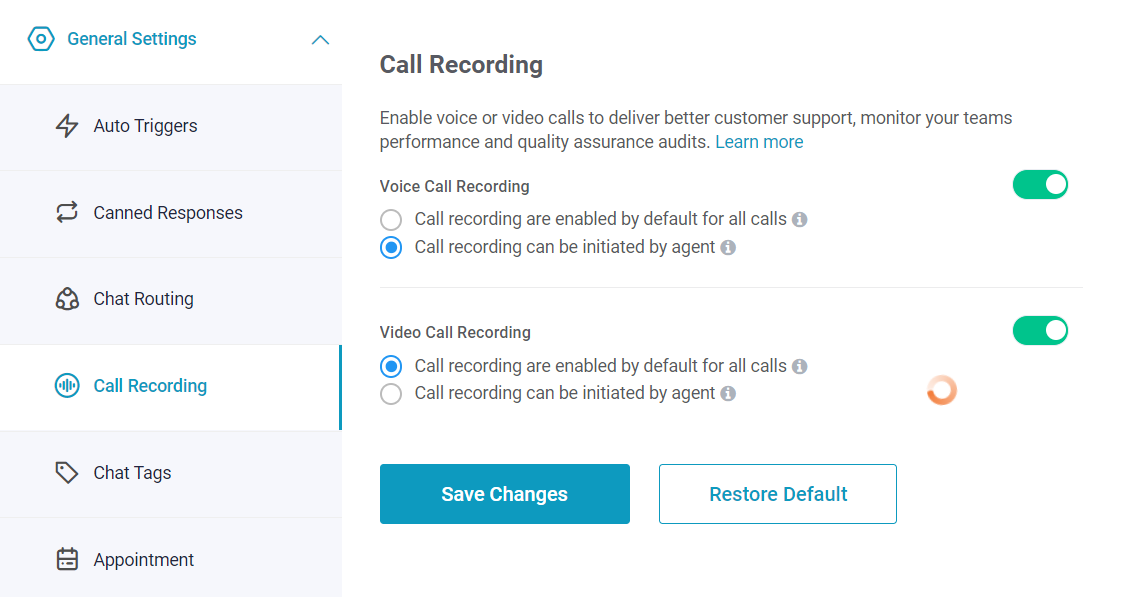 Step 3: When you enable the Voice & Video call recording option and then click on the 'Save Changes' option.
Step 4: The recording is now successfully enabled. You can record your conversation as:
Current Storage for Recording
It shows how much recording storage has been utilized and the remaining capacity.
What Next?