Video Chat Settings
REVE Chat's voice & video chat solution helps businesses with customer service support, engagement, and sales for websites, web and mobile apps. You can provide real time personalized live assistance and enhance the customer experience.
Some key benefits of voice & video chat are as follows:
Faster resolution time

– Attend your customers quickly by identifying the problem and resolving them in minimum time. Customers look for the quick response and prefer one-on-one help offered by video chat. 

Offer personalized voice and video sessions

– Get in touch with your customers instantly and guide them in quick decision making. Video chat helps in personalizing the sessions and save customers from tripping out. 

Build deeper relationships

– Exceed your customer expectations by personalizing conversations with live engagement tools. It develops trust in customers and builds long lasting relationships with your business. 

Boost your sales conversions

– Accelerate your business sales conversions by guiding your customer throughout the buying journey. Good customer experience develops trust and loyalty among customers opening scope for future sales.
How to enable voice & video chat ?
Step 1: In order to enable a video chat solution, you have to log in to your dashboard -> click the Customization menu ->  go to Widget Features option.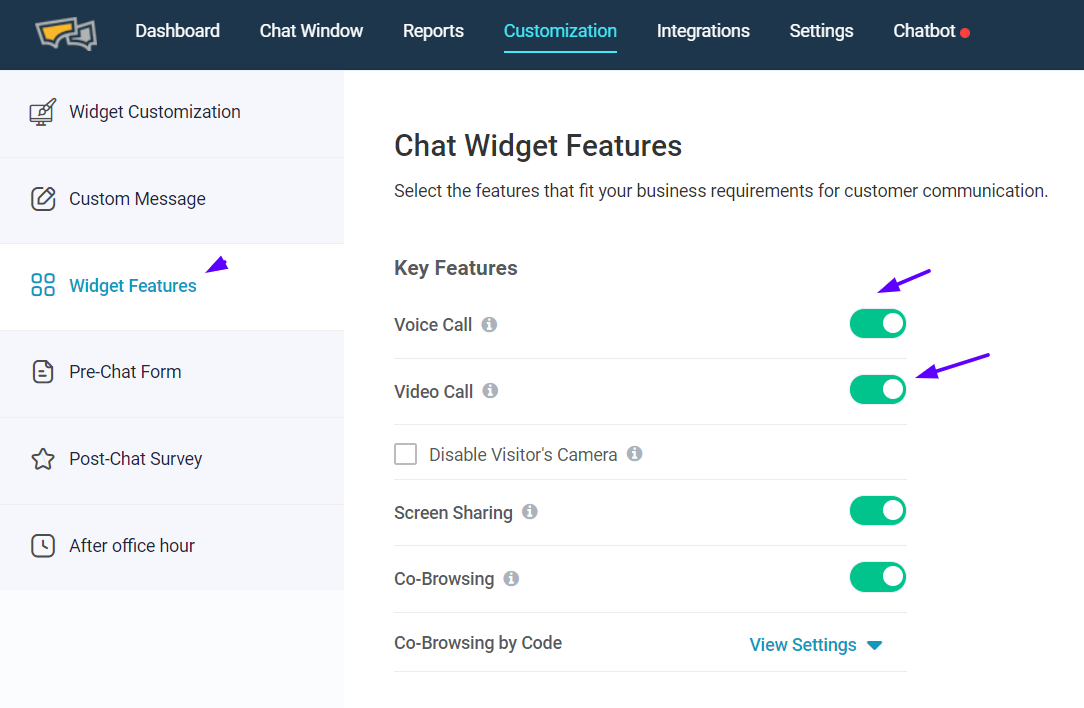 Step 2: Enable the Voice & Video call option -> Save the changes by clicking the Save option at the bottom of the page.
How your customers can see the video chat option?

When your agent initiates video chat and the visitor accepts it, the icon appears on the top right side of the chat window.