Proactive Triggers
Proactive Triggers
REVE Chat allows you to target website visitors based on specific pages and duration. Sending personalized triggers at the right time ensures specific targeting. 
Setting up triggers empowers your agents to:
Connect with your website visitors & customers at the right time.

Send personalized messages based on your visitors' journey to engage with them. 
Trigger Table
Under the trigger table, you can find different elements such as priority, trigger name, message, status, and action.

Trigger Name helps to identify the trigger for the specific page with an appropriate name.
Trigger Message allows you to set a personalized message that can be used to start a proactive conversation.
Adding proactive trigger
You can add triggers with a suitable title and personalized message. You can enable or disable the status as per requirement.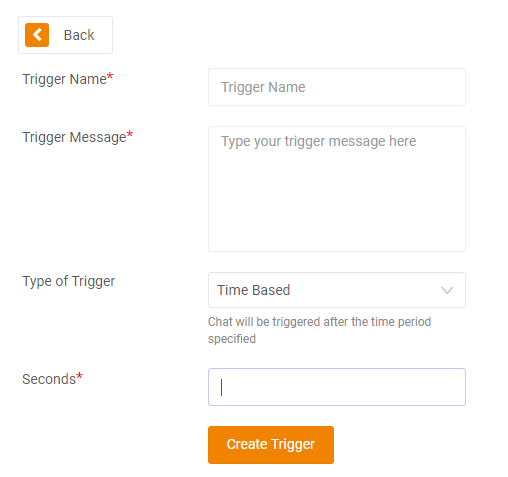 Name
You have to give a title to the triggers you add such as pricing page trigger, integration trigger, etc.
Message
You can set a personalized message that helps you to provide a relevant experience right from the start.
Types of Triggers
You have to choose one type form the types of triggers:
Time based

– The actions are time-dependent and are executed at a specific time. When that specific time passes, the workflow rule re-evaluates the record to make sure that it still meets the rule criteria. 

URL based –

You can personalize triggers based on the pages that are mostly visited by your visitors and customers.

Referral based –

If a visitor is coming to you via some other websites, you can set triggers accordingly.

Location based –

You can create messages based on the location of your visitors.
Duration
You need to define the exact duration to trigger the specific message.
Once you fill up all the fields you have to click "Create Trigger" to add triggers to the Trigger Table.