Frequently Asked Questions – Billing
You might have questions about managing payments, changing your payment method, getting discounts, and many more. Find answers to some commonly asked questions related to REVE Chat billing and subscription plans.
1. How many agents can be added to a subscription plan?
REVE Chat offers three subscription plans. 
Standard version starting at $15 per license/month, 

Advanced version starting at $25 per month/agent, 

Enterprise version at $50 per  license/month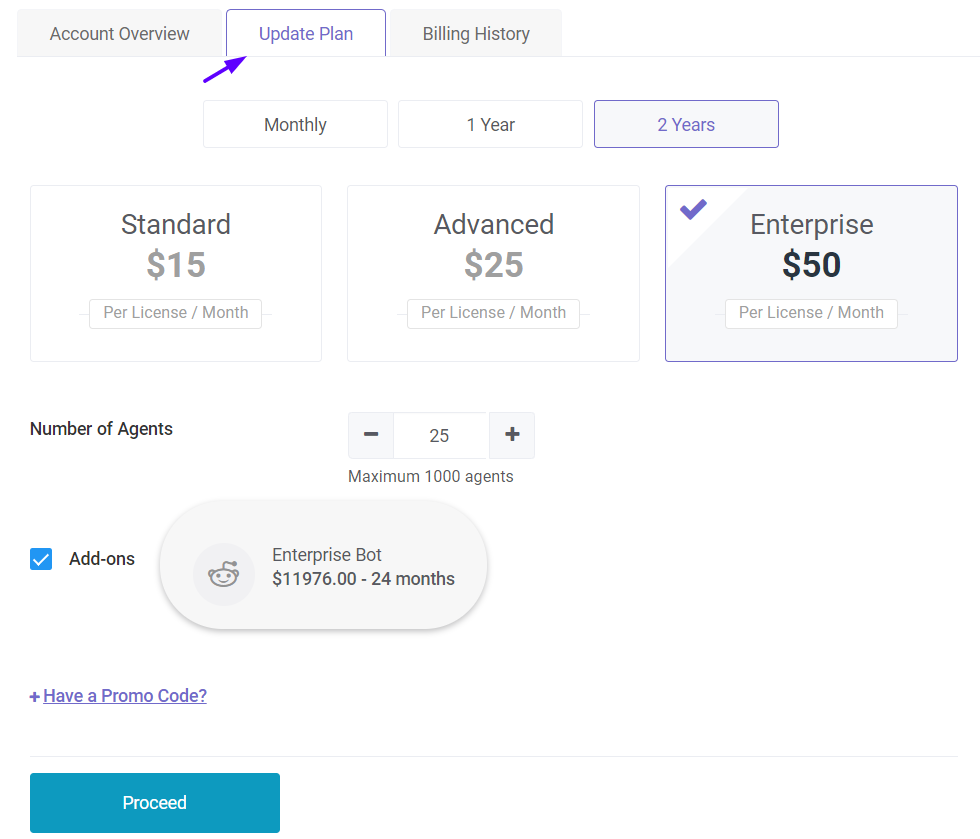 REVE Chat allows you to add up to 99 agents for any subscription plan you choose. In case you have specific business requirements of adding more than 99 agents, you can contact our sales team at sales@revechat.com.
2. What happens when the 14-day demo expires? Do I need to re-register if additional time is needed to purchase the subscription?
REVE Chat offers three subscription plans and a 14 days free trial period. While you are exploring the dashboard in the trial period, you will be notified through the registered email id about the expiry of the demo period.
In case you need some more time to use the REVE Chat dashboard, you can reach out to the sales team and place your request for additional time. They will extend the demo period without the need of registering again. 
3. Is it possible to switch over to different payment methods? 
Yes, it is possible to switch over different payment methods. REVE Chat offers payment via credit card, Pay Pal, and wire transfer as an online payment option. 
4. Can I get any bulk discount?
REVE Chat has better pricing plans for a higher number of agents. You can email our sales team at sales@revechat.com to discuss your business requirements.
5. What is your refund policy?
REVE Chat offers annual and monthly plans. If you have made the payment for the whole month or annually and in between you change your mind, there is no refund option for the paid subscriptions. However, you can use REVE Chat for the subscribed period and once the period is over, access to REVE Chat will be over.