Social media might not be the first thing that will strike your mind when it comes to lead generation, but it should be. Social media impacts in fostering sales leads and branding offering businesses greater RoI, enabling them to reach a broader audience at a minimal cost.
75% of B2B buyers and 84% of C-level executives are incorporating social media as a key part of their decision-making process. Businesses using social media lead generation strategies and tips are likely to achieve better results throughout the funnel – right from building brand awareness to boosting sales conversions. 
Social media listening is about monitoring the social channels of your brand for any customer feedback and direct mentions regarding specific topics or industries. It helps in establishing a bond with prospects and customers at different stages of social interaction. Most importantly, it creates a sense of community for advocates and followers.
What is social media lead generation?
Social media lead generation is all about implementing strategic marketing tactics specially designed for capturing qualified leads and pull them into your sales funnel.
Acquiring leads on social media helps businesses to identify people who are interested in them. More importantly, these leads act as a bridge to the potential customers to make special offers and convert them as loyal customers.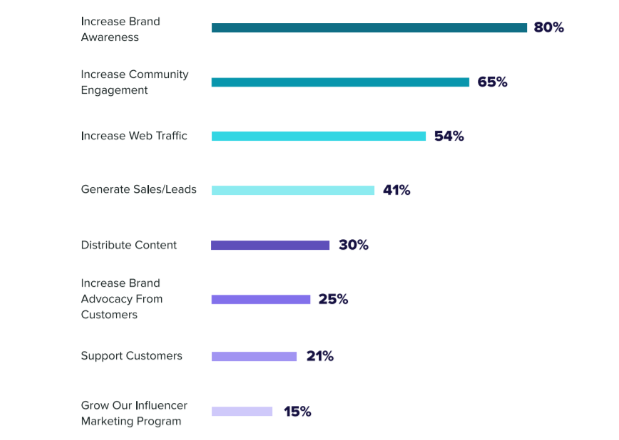 Here are the key objectives of how businesses use social media as part of their lead generation process.
Increase brand awareness:

Statista

predicts that there will be 3.02 billion social media users worldwide by 2021. With more & more people taking to social media to research and sound off on brands, getting your target audience's attention is easier to create brand awareness.

Boost web traffic:

The social media sphere is home to more than

3.4 billion active users

. Social media is a great source of driving traffic to your website. They bring in ample of opportunities to gain the business visitors and convert into leads.

Reach out to new customers:

The best way to build an active and engaged audience on social media is to focus on the people who already know you best. By sharing relevant content, promptly interacting with them, and acknowledging their feedback, will help you to expand your audience size and strengthen your relationships.
Social media lead generation vs lead nurturing
When we talk about lead generation, it has a few important components. They are as follows:
Social media lead generation
It refers to the activities undertaken by businesses on social platforms to acquire new leads. Feeding leads into the sales funnel, qualifying the leads through different channels (chatbots, email, social, phone, meeting or sales call) and then converting the prospects into actual sales.
Social media lead nurturing
Nurturing leads is about building relationships with potential customers even if they are not currently looking to buy a product or service. They may have signed up online to receive your newsletter or follow you on social media, but they aren't necessarily ready to make a purchase. 
Social media lead conversion
Conversion is the final stage of social media leads. It refers to the process of converting your potential prospects so that they make final purchase decisions.
You can figure out the differences between lead generation and lead nurturing from the below video:
How to use social media for lead generation
Whether you are B2B or B2C business, you can use social media across your sales funnel. It allows your prospects to become customers and nurture those new relationships, leading to better connections and eventually conversions. By choosing the right lead generation tools, you can not only acquire qualified leads but also increase your brand visibility.
Here is a lead generation guide including strategies for leveraging social media to attract new customers and keep them engaged.
1. Automate your social media lead generation with bots
Instant messaging & chatbots are in vogue and have become powerful weapons for marketers today. Chatbots allow businesses to connect with their prospects even better than humans can, while at the same time dramatically lowering overhead costs.
You as a business won't succeed by asking customers to reach out to you, in today's omni-channel world. Instead, you have to meet them where they already are. 12% of people on the planet use Facebook Messenger in any given month. Hence, it is vital to allow consumers to make purchases without leaving the app.
Here is how chatbots helped customers of Omega bank to focus their research.
When customers ask for information about credit cards, the chatbot pulls options from Omega Bank's website for them to browse. If they come across a product that interests them, they can click for more details or choose to browse a more targeted list. For example, when clicked "See more like this," the chatbot displays other Omega credit cards that offer rewards.
Here is how chatbots help in lead generation through social media.
With AI bots, businesses can serve up predefined responses to customer queries across social platforms.

Bots can decipher the intent of your visitors. If you know the intent, you know what will be your next action, which acts as the secret sauce of lead nurturing.

Chatbots can use the previous interaction history to develop a specific profile of each customer, allowing them to deliver personalized messages, content, and product suggestions.
2. Use social media for content distribution
Content distribution is obviously part of the equation when it comes to content marketing. It is not enough to create and curate exceptional content, until & unless you don't distribute it wisely. 
Social media has a great impact on the content you post. A strong social media content strategy has the power to turn your brand to limelight overnight and turn your followers into fans.
If you want to stand out on social media, you have to identify specific goals, create valuable posts that align with your goals, and distribute content on the right platforms. Then only you can measure your results and fine-tune your strategy over time.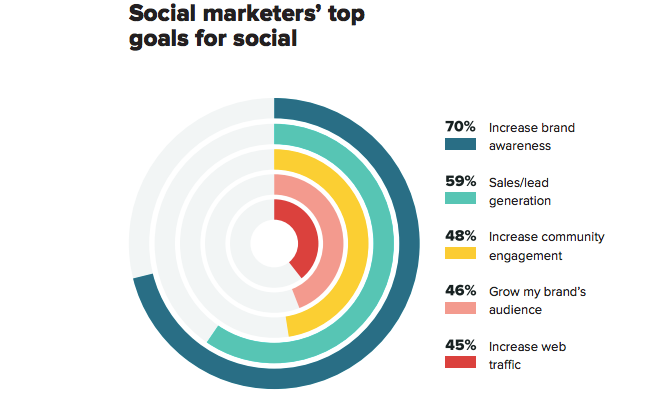 Source: sprout social
Here are some recommended steps to build out a plan that has longevity and helps your brand and business grow.
Identify your business goals:

Outlining your marketing goals will give you better clarity on tailoring social media content to meet those goals. 

Planning of social content:

Make a content audit to learn which social posts performed well posted on each platform to allocate resources & serve the audience better. Then create a social content calendar to visualize ideas and make strategy easier to execute.

Distribute your content:

Develop a content distribution strategy that identifies ways to actively distribute your content & get maximum exposure. Once it is established, you can schedule your posts to share more widely.

Measure the results:

Tracking the activities with the right KPIs can help you to optimize your plan over time. Some key social media metrics to measure are engagements, awareness, return on investment (RoI).
3. Build a social media community 
Is your business having a social community?
If NO, build it right now. You might ask why is it necessary to build the community on social media?
It can be the best way you can stay connected with your customers. When you engage your social followers on their ways, you increase your visibility and reach. Having a community of loyal customers can make a big difference to your business and help to sustain in the market for a long time.
Singapore Airlines for example on how they used Twitter as a strong tool for branding. Their Twitter account is used for branding having gorgeous photos that have the Singapore Airlines logo in the bottom right hand corner. 
Here are some social media lead generation tips for both B2B & B2C businesses to expand followers.
Host social conversations:

If you want to host social conversations, make sure that you unite them over their interest zone. It boosts the activity and builds momentum for your business. 

Provide incentives to your community members:

You can showcase your social followers about the most shared content or start exciting conversations on your page. Give back to the members who go beyond in terms of engagement.

Build personal relationships with customers:

 You can show your community people how dedicated you are to them by responding quickly to their posts and questions. The personal touch you give builds relationships and makes them feel connected to the community.

Give your followers a voice:

Your social community members will definitely feel special about being part of the bigger picture. You should provide them enough room to share their views and opinions.
So it is very important to listen to what the members of your community have to say and highlight their inputs. 
4. Run contests on social media channels
Running contests is a great way to increase brand awareness and generate social media leads. It is one of the best ways to promote your product on social media channels.  
The two ways a business can reap benefits by running contests are:
Gain leads and increases the customer base of your business

The participants share their experience further with friends and colleagues that will create a viral impact.
IKEA for example, a well-known brand as they sell furniture all around the world. IKEA made a decent following across social media, with millions of Facebook fans and hundreds of thousands of Twitter followers. Its catalogs are full of striking visuals that are perfect for sharing via social.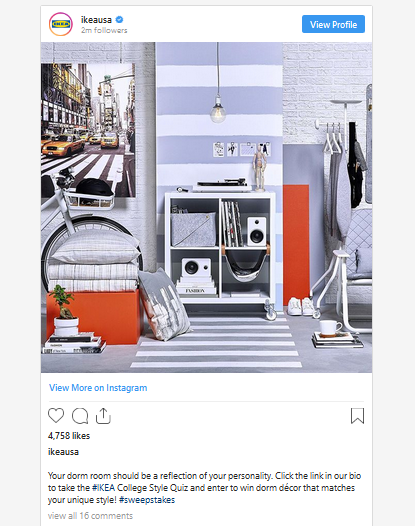 They used social platforms for running content and acquire new leads. Ikea's US page is far very popular attracting 1.7m fans. It is updated far more regularly, with three or four posts each day.
Here are different ways to allow people to enter a contest for lead generation through social media:
By retweets, shares, likes & following –

Probably this is the easiest way so you can get a large number of entrants. Thus you can generate social media leads.

Click through to the landing page –

As it is not a direct way you can expect comparatively fewer entrants than for a contest. But you can gather information through a contest entry form.
5. Run social media ads
As per Gartner, "CMOs spent more than 21% of their marketing budget on advertising with 66% of that going to paid social media digital channels".
Businesses that run paid ads campaigns encounter benefits such as reaching out to the exact audience, increased engagement, fan growth, and many more. But what about paid social media advertising strategy?
Running paid social media ads involves capturing the right data, getting vital insights, and using them to make your paid social media more powerful and effective than ever. If done in the right way, it acts as a great lead generation tool by saving business time and costs.
AdEspresso is a great tool that helps your social media lead generation strategy to rise above the fray.
Here are some key tips on how to run a successful paid advertising strategy.
Define your paid social media objectives and core KPIs

– Is it for increasing brand awareness and start conversations or increase purchases that can be directly attributed to your social efforts.

Connect all your owned ad accounts in one place

– One of the core challenges faced by marketers is proving marketing ROI, and to do that, they need to connect data across channels data in one place, then measure & analyze it all together.
6. Use social media listening
Effective social marketing demands a lot of hard work. So, you need to think of the best way to stand out? It is only possible with effective social listening solutions. 
The social media listening platforms help you to understand your audience, the posts they follow, their online conversations in a better way and improve your digital marketing strategies. The added benefits of active social listening are for online selling, monitoring brand reputation, and customer service.
Adweek says "54% of customers prefer social messaging channels for care over phone or email".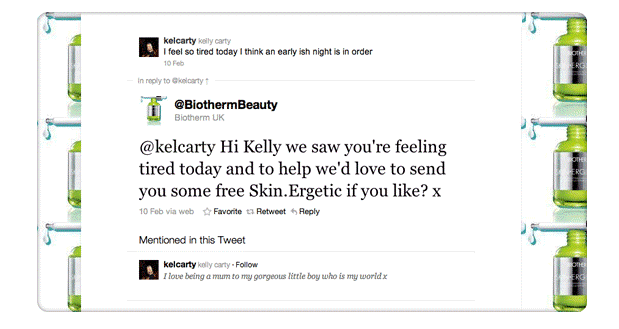 Key B2B lead generation tips through social media listening platform.
Identify prospects & draw them with offers:

The idea behind using the social listening strategy is to find out your potential customers and nurture them to use your product or service.

Look for customers who are unhappy with your competitors:

This can work well as a good B2B lead generation hack. With social media listening across platforms, you can find out competitor's customers who unhappy and let them know how they can have a better experience with your brand. 
Note: Regular practice of social listening helps you to build brand awareness, increase word-of-mouth, and acquire new leads from social media directly and indirectly.
Best platforms for social media lead generation
Facebook, Twitter, LinkedIn, and Instagram are four main social media platforms that most of the businesses choose for lead generation and brand promotion. 38% of organizations plan to spend more than 20% of their total advertising budgets on social media channels.
Let's discuss the best social media platforms for lead generation.
1. Facebook for social media lead generation
Facebook is the most popularly used social media platform for lead generation. There are 60 million active business pages on Facebook. It has the lowest CPC rates is one of the reasons why many businesses use it to promote their products.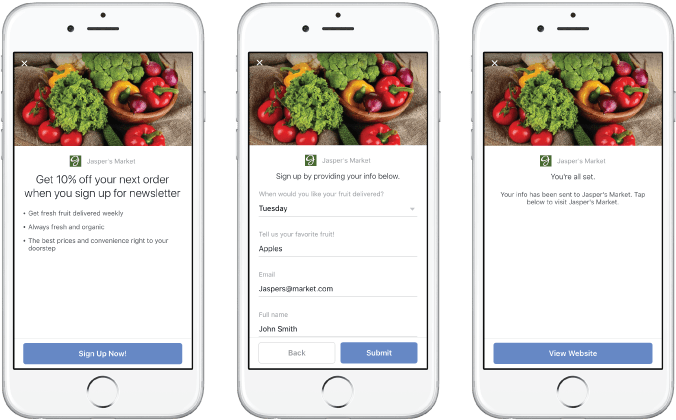 The key ways to generate leads with Facebook are:
On-page promotion:

Businesses can create their own FB page. The people who like the page are a potential lead.

Off-page promotion:

It indicates promoting lead generation content on Facebook communities, groups, and other pages.

Paid promotion:

Businesses prefer paid promotions as it brings instant results. A variety of social ads with a specific purpose is offered by Facebook.
2. Linkedin for social media lead generation
LinkedIn is one of the best platforms when it comes to B2B social media lead generation. LinkedIn has over 575+ million users, with more than 260 million monthly active users. Of those LinkedIn users who are engaging with the platform monthly, 40% access it on a daily basis.

LinkedIn paid generation
LinkedIn ads help businesses to meet their key objectives :
Target a unique audience:

More than 

675 million active professionals

are on LinkedIn. You can target them based on job title, function, industry, etc.

Create effective ads:

LinkedIn ads perfect for acquiring leads, brand awareness, or even event registrations.

Control your costs:

You can control your spending with flexible pricing options. You can also start with and stop your ads at any time.
3. Twitter for social media lead generation
Twitter has amassed 330m active users with $70m spent on ads on the platform a year. It is also a big social platform for lead generation.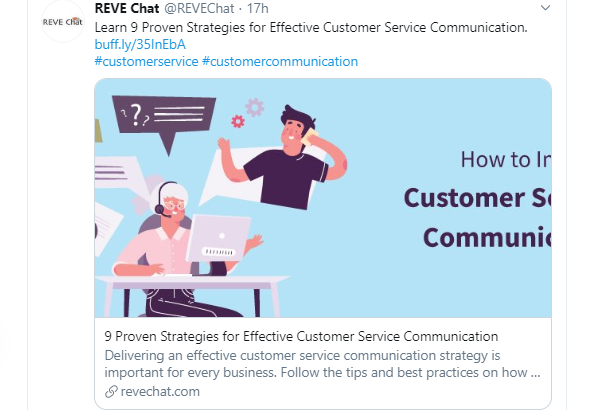 With the help of Twitter ads, your business can launch something new as well as reach your target audience.
Keyways to capture leads on Twitter
Outline your campaign objective such as raise awareness, attract new followers, or send traffic to your website.

You can choose the audience you want to reach by using targeting features. Select geographic areas, or target people's interests.

Select your daily budget for your ads. You can start with at least $30/day to consistently reach audiences throughout the day.
4. Instagram for social lead generation
There are 800 million Monthly Active Users on Instagram and it acts as a very good social platform to generate leads. Through Instagram, you can reach the people out to your valuable audience. 
You can make your ads reach the exact audience you want using our precise targeting options such as location, demography, interests, behavior, automated targeting, etc.
Social media lead generation must be a critical part of your marketing strategy
As the proverb says – Rome was not built on a day. Similarly, lead generation on social media is also a time-consuming task. However, the above mentioned best practices and tips to use social media for lead management will help your business to acquire more leads and accelerate your business growth.