Customer support has evolved from traditional channels to omni channel customer support and with the advancement of Artificial Intelligence (AI) and Machine Learning bots are an important part of customer service. 
Today's customers expect real time support over their preferred channels. However, it may not be possible to deliver 24×7 and that real time. 
"The first step in exceeding your customer's expectations is to know those expectations." Roy H. Williams
So, it becomes crucial for businesses to make it convenient for customers to get in touch with you.  64% of consumers say that they expect companies to respond to them in real time over their preferred channel. If they are unable to connect with you probably they may get annoyed and leave. 
What is omni channel support?
Omni channel customer support means streamlining all the customer conversations across all the channels such as social media, website, messaging apps, phone, etc.under one platform and delivers seamless customer experience. 
Businesses can understand the customer lifecycle with conversation history and deliver better real time support. Integrating all the communication channels to centralize under one platform ensures consistency regardless of channel or touchpoint used by the customer to get in contact with your business. 
What is multi channel support?
Multi channel support means when any business offers multiple channels for customers to contact and interact with the business. Providing multiple channels to connect gives customers options they can choose from based on their preferred channel or issue at hand.
All channels are managed independently. The customer data is not shared across the channels. The conversations across channels do not give a unified view so the effectiveness of customer support is not measured effectively to deliver a consistent experience. 
Now comes the question – which one is more appropriate for your business?
Let us find out comparing the major differences between omni channel customer support and multi channel support. 
Omni channel vs Multi channel support

Choosing the right customer support approach depends on your business sector, size, and audience.

Omni channel customer support approach connects all the channels and helps to gain a better understanding of customer behavior by analyzing the customer journey to deliver consistent customer service.
Below listed are some of the main areas that prove omni channel customer support is better than multi channel customer service strategy.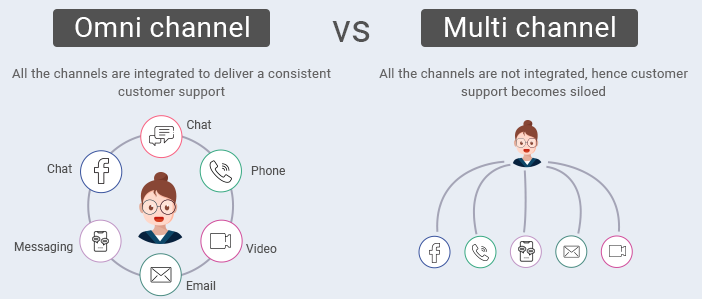 Unified customer conversations 
Omni channel support helps businesses to streamline all the conversations across all channels and seamlessly engage your customers over their preferred channels. With multi channel support, it doesn't happen. 
Consistent customer experience  
Omni channel customer support allows brands to deliver a consistent experience across all touchpoints no matter where they come from. In multi channel support, it becomes siloed. 
Better team performance 
Omni channel strategy helps in managing your team better with meeting the metrics effectively and accelerate the growth of your business. Multi channel support lacks that capability.
Clearly, omni channel is a better choice for businesses. Customer support teams have become more omni channel to keep pace with customer expectations. However, omni channel customer support has an edge compared to multi channel support
How to deliver omni channel customer support 
According to Google, shoppers who buy through multiple channels have a 30% higher lifetime value than others. By implementing omni channel strategy and latest technology you can exemplify better omni channel experiences. 
Let us discuss the 7 benefits of how omni channel delivers customer support in a much more holistic way.

1. Streamline all your customer conversations in one place 
Omni channel support unifies all your customer conversations in one place and helps in better understanding of your customer journey. The valuable insights help in engaging them across their buying journey across all touchpoints.
The companies that follow omni channel strategy retains an average of 89% of customers compared with 33% for those with weak omnichannel strategies.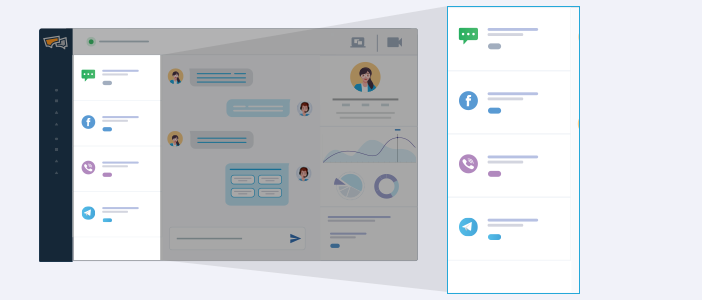 There are various channels that your customers might choose to reach out to you such as website, social media, messaging apps, mobile, call center, online forums, physical stores, etc. Being active over all the touchpoints and offering them real time support enhances the customer experience.
You should focus on three core parameters to give a better experience to your customers:
Identify your customers' most preferred channels

Create a strategy to engage and support them across all those touchpoints

Deliver a consistent experience throughout their customer journey
Great example of omni channel customer support strategy – Oasis
Oasis's Instagram account is an excellent example of social engagement point of view. It created a special gallery of user-generated Instagram content, substantially encouraging customers to model the clothes they have bought from Oasis store.
2. Understand your customer journey to gain insights 
Mapping the customer journey helps to understand the customer needs and recognize the opportunities they present. 
Omni channel communication strategy helps to gain insights into how the customers have interacted with the brand so that you can use customer journey maps to meet or exceed your customer needs. Thus, delivering an optimal omnichannel experience and increase opportunities to interact with customers.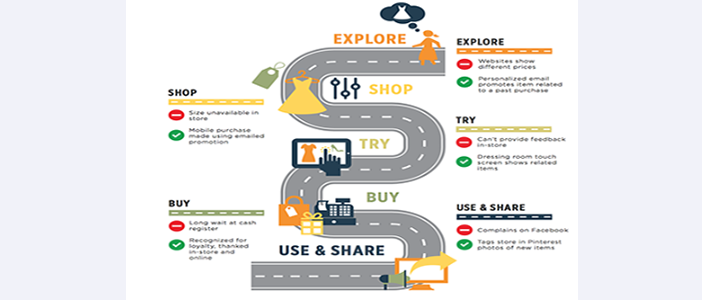 When you understand how customers interact with your brand across multiple channels, you can begin to optimize your processes to reduce customer frustration, bridge the gaps in the process, and help nudge customers towards conversion. 
How does customer journey help to create an omni channel experience?
Understand your customer behavior through their journey and structure your approach of conversing with them.

Identify the areas where they may need your assistance and be active to 24×7 support.

Take proactive actions through the behavior stages to assist your customer to make faster decisions.

Create a process to deliver customer support with the right channel. It could be a self-service portal, live chat support or co-browsing as well.

Collect customer feedback and continuously improve your customer support processes.
3. Engage your customers with live assistance
Customer engagement is one of the important factors in achieving business goals.  The main goal of any business is to deliver better customer service and this helps to grow your business as well as the relationship with the customers.
By providing real time solutions with a chatbot, video chat, and co-browsing tools, customers develop trust for the brand and get actively involved with the company's products or services.
Co-browsing

– You can collaborate with your customers in real time by temporarily sharing the browser screen, and guiding them through the complex form fill up or the application process. 

Aberdeen Group

shows that co-browsing is helping companies accomplish far greater annual improvements to customer satisfaction, achieved by reducing customer effort by having the customer and the support agent able to navigate the website in real time.
Chatbots

– With

chatbots

, you can automate your sales and support processes to deliver 24×7 assistance to the customer queries and reduce the number of support tickets.
Video chat

– Video chat allows brands and call centers to interact and engage directly with your customers to gain more details about the issue and offer right solutions much faster reducing the number of touchpoints attempted by the customers for the same issue.
4. Deliver social customer support 
Social media is considered a great customer service tool that helps to drive customer satisfaction rates. 80% of consumers use social to engage with brands.
You can manage all social media conversations over all channels such as  Facebook, LinkedIn, Twitter, Instagram is hectic. You can implement social media tools for monitoring and listening to your audience and offer consistent service across all social platforms.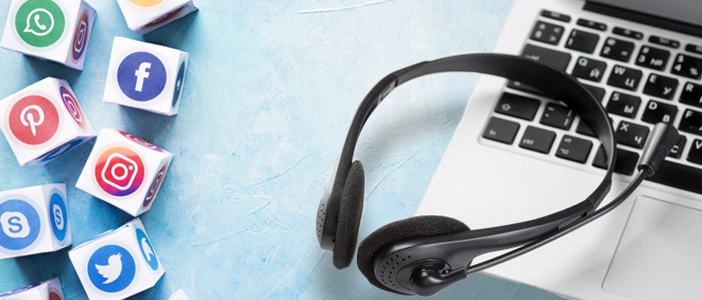 Sprout Social Index says 90% of surveyed consumers have used social media in some way to communicate with a brand. Over 34.5% said they preferred social media over reactive support channels like phone and email.
How social media impacts your business growth?
Customer service –

Customers choose social media as the main source to interact with a brand as they get instant attention. Promptly responding to your customers improves your customer service. 

Brand awareness –

Social media

increases your brand engagement and acquire new customers by knowing about your target audience and positioning the product or service for them as the best option.

Word of mouth

– The satisfied customers turn as your brand advocates by sharing their experiences over social channels.

Ambassador

says

71% of consumers

who have had a good social media service experience with a brand are likely to recommend it to their friends and relatives.

Social listening

– Social listening allows your brand to monitor, respond and further engage with your customers across different social channels to improve customer service.
Social media customer service example:
JetBlue Airways
Often customers take to Twitter and Facebook to voice their complaints on social media publicly.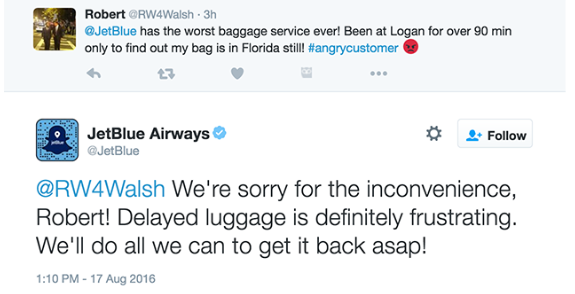 Source: JetBlue Airways
The example shows the frustration of an angry flyer and how a JetBlue customer service representative handles it.  While replying to such responses being polite and using positive words can make customers feel heard.
Tips:
Promptly respond to social media comments and posts.

Mind your social tone. Keep it conversational.
You may like to read – Social media customer service
5. Deliver consistent customer experience
Users choose to engage with business across various channels, including the web, social media, email, mobile devices, kiosks, online chat, and by visiting physical locations (storefronts or service centers). Creating consistency among every channel improves the customer experience as well as the brand image. 
Google Research says, 98% of Americans switch between devices on the same day. 
Omni channel customer support strategy focuses on delivering seamless customer experience across all the channels. It means the channels are centralized under one platform to bring stability, ensuring consistency across the board.
For e.g. your customer, who is satisfied with your social support should be equally convinced with the quality of phone support. 
So, the customer experience is consistent regardless of the channel or touchpoint used by the customer to get in contact with a company. The support agents can share context and notes about the previous interactions with all agents and channels. The customers don't have to repeat their issues more than once.
Here are some benefits of consistent omni channel experience:
Streamline all the customer's conversations and manage under a single platform.

Connects with the customers in real time and reduces the average response time.

Improves customer satisfaction with high first contact resolution (FCR) rate.

Helps to gain valuable insights about the customer profiles analyzing their journey.

Businesses can build trust and credibility by the consistent experience of all channels.
Example – Bank of America
Bank of America, a globally acclaimed brand delivers consistent omni channel service to its customers.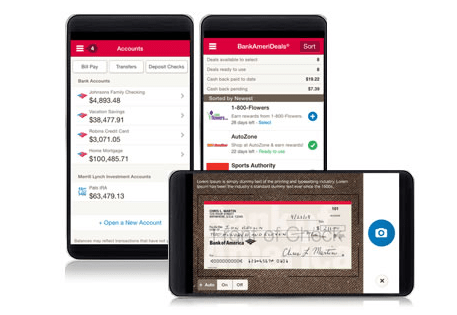 The bank allows for everything starting from depositing checks to scheduling an appointment to be handled by the company's mobile and desktop apps.
6. Better team productivity
Usually, support teams waste a lot of time in resolving one single issue by having many back and forth conversations with the customers.  Omni channel dashboard provides agents with real time feedback about their interactions on their customer interactions handled on each channel. 
The real time data helps an agent to improve performance and increase overall team productivity. The customer interactions are effective without the need for customers to contact businesses again for the same issue. 
Businesses that adapt omni channel strategy go beyond just solving customer's problems for delivering customer delight at every contact point. Such businesses not only boost the customer satisfaction rate but also improves the productivity of their customer support team.
Omni channel support helps to meet the important KPIs for improving your team productivity. The important metrics are as follows:
First Contact Resolution (FCR)

Total Resolution Time

Average Response Time

Missed Chats
Being able to meet the above KPIs has a positive impact on customer satisfaction, at the same time reduces your support interactions and increasing the efficiency of your support team.
7. Boost your customer retention rate
Omni channel customers are 30% more valuable to your business over the course of their lifetime. Brands that make the effort to engage their audience with a consistent omni channel customer support strategy enjoy the maximum improvement in customer retention rates.
When businesses open all the gateways for the customers to connect with time, customers find it most convenient and tend to retain your business for a longer time. 
Studies show that 90% of customers expect their experience with the brand should be consistent across all platforms. 
With omni channel communication strategy, you empower your customers to connect through their preferred channel and also make a transition in the same interaction. Empowering customers is the key to great retention rates. 
When your business focus on retaining more number of customers helps in building customer relationships and ultimately this will create an emotional connection between customers and company.
You may like to read – Customer retention strategies
Conclusion
Finally, choosing between omni channel vs multi channel support depends upon your business requirements and customer support strategy. If you want to retain your customers with your business then you must offer them omni channel customer support.
Following omnichannel customer support strategy allows you to deliver a cohesive, positive customer experience. Your customers not only reach their own level but also they expect exemplary customer support no matter where, when or how they reach out.
As far as customer support advice goes, "Select omni channel customer support" is a tip that will always be in fashion!