Businesses no matter small or big would survive by growing? For that, you need to ensure how can your business grow. Businesses can grow either by acquiring new customers or by working on improving customer retention. 
Harvard Business School Report says, on average, increasing customer retention rates by 5% increases profits by 25%-95%. This substantiates the importance of customer retention in driving sales and revenue.
How improving customer retention will drive growth?
Ever heard the phrase "the customer is always right"? It's true. Your customers are your most valuable assets. Take care of them!
Improving customer retention is not that simple. It involves many challenges and today's most of the growing businesses focus on retaining their customers as the strategy can drive three times the growth of customer acquisition.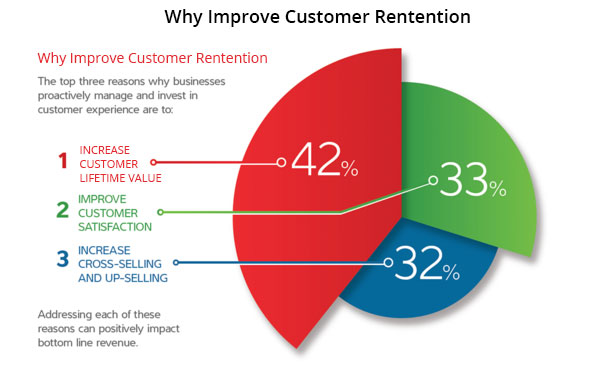 Investing in customer retention strategies is necessary for a business in three major ways:
Increase customer lifetime value

– You can build customer lifetime value by communicating with your customers on an ongoing basis. The secret to building a powerful brand is developing a relationship with customers that leads to brand loyalty and brand advocacy over time. 

Drive repeat purchases

– By cross-selling and upselling you can entice your customers to buy more by offering upgrades, additional products (cross-selling), one-time offers or other add-ons to their initial purchase to increase the amount of the final order.

Build a network of loyal customers

– When you deliver superior customer service, customer satisfaction increases and you develop loyalty in customers who retain with your business for a long time.
When you create a strategy around customer service and retention, your churn rate will certainly decrease because it's widely known that improving customer satisfaction and customer engagement rates are the best ways to improve customer retention.
How to improve customer retention rate?
Here's a quick dive into the concept of customer retention, why it's so important for businesses and some actionable strategies for improving your customer retention rate with live chat software.
1. Deliver consistent experience with omni channel strategy
"A consistent and predictable experience creates customer confidence which can lead to loyalty". Shep Hyken
Consistency is one of the things that the modern customer demands. To deliver superior service to customers is one thing, but quite another to achieve this with regular consistency is crucial. Customers choose to connect with businesses across channels like the web, social media, email, mobile devices, kiosks, online chat, or by visiting store locations.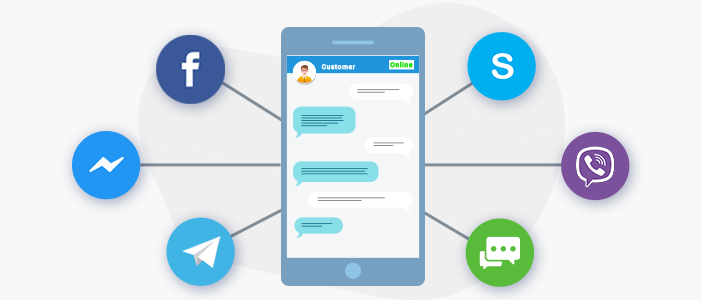 Omni channel support approach delivers seamless customer experience across all the channels. All the channels are centralized under one platform to bring stability, ensuring consistency across the board. For e.g. a customer, who is satisfied with your social support should be equally convinced with the quality of phone support. Thus, keeping customer experience consistent across channels or touchpoints attempted by the customer.
Benefits of omni channel experience:
Improves customer satisfaction with instant assistance across customer's preferred channels.

Connects with the customers in real time and reduces the average response time (FCR rate)

Helps to gain valuable insights about the customer profiles analyzing their journey.

Businesses can build trust and loyalty by the consistent experience of all channels.

Streamlines all the customer conversations under one platform to deliver unified support.
Let's take the example of Bank of America, is a worldwide acclaimed brand that delivers consistent omni channel service to its customers. The bank allows omni channel support for all the banking related tasks starting from depositing checks to scheduling an appointment to be handled by the company's mobile and desktop apps.
2. Integrate live chat for real time support 
Live chat is just the catalyst not the turnkey solution for customer retention. The entire process requires choosing the best live chat software, training of support team and strategizing where the live chat will be placed on the website. 
You should integrate live chat widget on the homepage of your website and define when your website visitors will be notified about the chat option and when it should be hidden. You can integrate live chat within your apps as it is a powerful way to engage customers efficiently and deliver better quality support.
 Localytics says in-app messages boost engagement by 3 times. In-app support allows in one on one chat with the customer and identifies where are how the customer is facing the problem and assist accordingly. 
For example, if you are a SaaS business, it is vital for you to deliver in-app support to your customers as it is quite obvious that they would look for support when they are within your product.  When you are able to deliver the best quality support to customers on the go, it improves the customer experience and accelerates your business growth and productivity. It helps to acquire new drives customer retention. Live chat messaging has played an important role to improve customer retention in many areas.
Some best practices you can follow:
In-app messaging support helps in user onboarding by to understand the core features thus increasing mobile engagement. 

Integrating your live chat within your SaaS app helps to provide in-app help desk support. It boosts customer retention rate of your business.
3. Connect with your customers over social media
Social media has changed the business landscape. It is one of the most important aspects of digital marketing, which provides incredible benefits that help reach millions of customers worldwide.
71% of consumers who have had a good social media service experience with a brand are likely to recommend it to others. The satisfied customers turn to be your brand advocates by sharing their experiences and stories with a good word of mouth.
Social interaction between businesses and customers is a growing trend that improves customer retention and brand loyalty. Reports say more than 65% of businesses are on social media to boost customer satisfaction by instant replies to their posts or queries.
Here is how social media can be used to improve customer retention:
Helps to build trust and loyalty in customers for your brand and they are likely to stay for a long time.

Engage in social media is to respond to your followers and use social media as a customer service tool.te

Listen to your customers to know their needs so that you can align your posts according to their preferences.

Respond to your customer's posts and queries promptly to make them feel valued and boost customer satisfaction.
JetBlue Airways for example. Customers often choose Twitter and Facebook to voice their complaints on social media.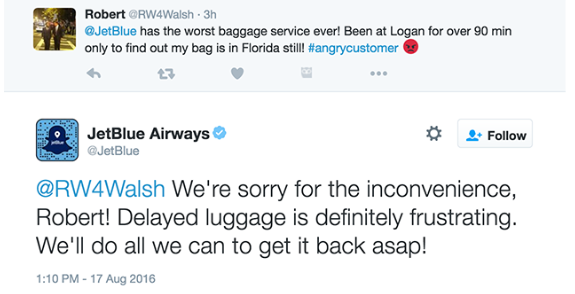 The above image shows the frustration of an angry flyer and how a JetBlue customer service rep handles the situation by listening to him and sorting out the issue.
4. Deliver premium support to your loyal customers
Aspect Consumer Experience Survey found out that 76% of consumers say they view customer service as the true test of how much a company values them.
Loyal customers are like assets to your business. They improve your brand image but advocating your products and services with good word of mouth. Businesses should go the extra mile and define certain premium support services for their loyal customers.
According to Motista, customers with an emotional connection to a brand has a 306% higher lifetime value, stay with a brand for an average of 5 years, and will recommend brands at a much higher rate.
You can offer premium customer support for your loyal customers by using live engagement tools like co-browsing and video chat. Live tools allow interactive customer engagement with personalized conversations. It acts as one of the best customer retention solutions by boosting customer satisfaction and enhances the customer experience. Such premium support makes them feel valued and retain your business for a long time.
For normal customers, you can automate customer support with the help of AI chatbots to deliver 24×7 consistent support. Chatbots answers the basic queries by the customers and engage them in real time, thus increasing customer satisfaction and improving customer retention rate.
Thus, using live tools and bots you can retain your customers by decreasing the value of purchases made through competitors.
5. Provide real time assistance with live engagement tools
Live chat software fuels the rate of customer communication ensuring that your customers do not have to wait for a long time. Live engagement tools such as co-browsing solution and video chat can be used to make the chats interactive through personalized conversations and deliver real time assistance.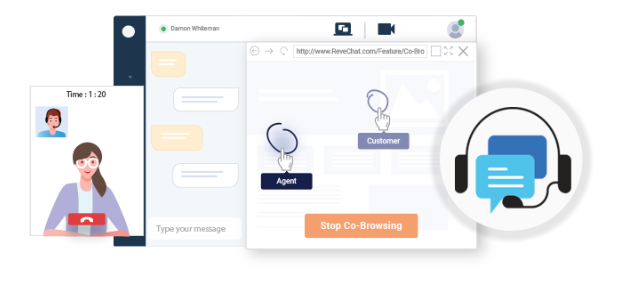 The live customer engagement tools allow customers to communicate in real time and guide them towards the right solution giving them a virtual in person experience. With these tools, you can improve first contact resolution (FCR) rate and enhance the customer experience.
Co-browsing

: It allows to collaborate with the browser of your customer to identify the issue and virtually guide through the complex form fill up or the application process. You can combine live chat with co-browsing and video chat to make chat interactive and effective. 

Aberdeen Group

shows that co-browsing is helping companies accomplish far greater annual improvements to customer satisfaction, achieved by reducing customer effort by having the customer and the support agent able to navigate the website in real time.
Video chat:

It allows businesses and contact centers to engage directly with customers to acquire more information about the reported problems. It delivers the right solutions much faster and reduces the number of touchpoints for the particular issue. 

Video chat develops and loyalty in customers through personalized conversation and retains customers with your business for a long time.
Importance of customer engagement tools
Provide real time assistance by sharing browser and guide through complex processes.

Identify the issue to offer faster resolution and reduces the number of touchpoints made by the customer.

Improves FCR rate, which is an important metric to measure team productivity.

Develops trusts and loyalty in customers with face to face chats.
6. Collect real time customer feedback for customer satisfaction 
"Your most unhappy customers are your greatest source of learning."  Bill Gates
And how do you know your customers are happy or not?
The easy way to measure customer satisfaction success is by asking feedback to your customers. The best time to ask for feedback from customers is right after a customer service conversation. 
Acquiring customer feedback is essential for every business as it is a key factor that determines the growth of your business. The customer feedback gives a transparent view of how it well your business performing. Live chat is the most preferred channel to ask feedback through rating the customer service unlike reactive channels like phone or email.
Customer feedback can level up your different business aspects. It helps toLF
Enhance customer retention

Improve your customer communication

Provide a better customer experience to your customers

Raise the standards of products and services

Measure the level of customer satisfaction
Metrics to measure customer satisfaction
Customer satisfaction is a key metric that measures how well your business or its product and services are meeting customers expectations

Net Promoter Score (NPS):

NPS measures your customer satisfaction and loyalty. On a scale of 1 to 10, customers are asked about their willingness to recommend your brand to family or friends. 

Customer Effort Score (CES):

With this survey methodology, you can measure ease of experience with your company by asking customers, on a 5 point scale of "Very Difficult" to "Very Easy". 

Customer Satisfaction Score (CSAT):

CSAT metric directly measures the levels of customer satisfaction. It is calculated by dividing the number of responses that are rated above 4 with the total number of responses. 
7. Re-engage with your customers with personalized messages
Triggers are the best way to start a conversation with a visitor on your website. You can configure an automated and customized message like a welcome greeting to initiate chat. 
A right greeting reaches visitors at the right moment with a contextual message encouraging them to start a chat with you. For example, when a visitor is looking through your products, you can ask them: "I notice you are interested in our products. Can I help you with…?"
Why personalized triggers is a good idea to use for customer retention?
You can engage your customers in the right way and turn them into loyal customers

Personalized chats based on visitors actions improves customer satisfaction

You will have more chats with customized messages and improves sales rate
Customized messages or personalized triggers can be created for different types of visitors: for a first time visitor, for returning visitors, visitors from specific countries or cities, visitors who spent some time over a specific page. 
Here are some use cases for triggers:
Triggers for first time visitors
For a travel website – "Hi, I see you're looking at a trip to Singapore. Let me know if you have any queries while planning it."
Triggers to engage returning visitors
"Hi Sarah, welcome back. Good to see you. Looking forward to answering your questions."
Triggers for pricing page
"Hey, would you like to know more about our products?"

 
You can increase your customer retention rate with automated/customized messages that trigger on your website's bottleneck. 
You may also like to read: automate live chat support with personalized triggers
8. 
Provide dedicated account manager
Successful businesses are built on trust. When customers find that your business is not trustworthy they switch to your competitors. A bad experience is a nightmare. The worse part of it that the unsatisfied customers spread their experience with bad word of mouth.
A survey made by Concerto Marketing Group says 83% of customers will recommend your brand to others if they trust the brand. While 82% will stick to your brand if they trust it. Delivering consistent customer service may not be enough. Customers also look for great experiences. Having an account manager or specialist is beneficial for your business.
An account manager becomes the voice of your brand and understands the requirements of the customers to make sure their expectations are fulfilled. The specialist becomes a bridge between the customer and the business and develops a healthy relationship of trust between them by working with them & helping them throughout their journey. Indeed an account manager can improve customer retention and help your business to prosper.
Final thoughts on how to improve customer retention
From small startups to enterprise, the above-mentioned ways to improve customer retention with different strategies have been implemented – and the results intrigued even the pros. By the way, which ways have you implemented to your business and how did it work for you?