Your business will grow and prosper if your customers are happy. But how to keep your customers happy? Or how to know their opinion about your product?
To ask for customers feedback the right way is the key to get meaningful feedback.
Customer feedback is the backbone of any business. One of the best ways to know about customer satisfaction is through feedbacks. Feedbacks have valuable insights that can improve your product and business process. However, most often customers end up ignoring feedbacks.
This creates a very unique problem for which the solutions aren't many.
As the saying goes, "For every customer who bothers to complain, 20 other customers remain silent."
Gartner survey says that the companies that implement customer experience projects begin by focusing on various ways they collect and analyze customer feedback. This is a great starting point for meeting the expectations of your customers.
Why asking for customer  feedback is important for you?
To run business means to do your best to please your customers, satisfy their requirements and keep them loyal to your brand. But finding out what customers think about your service is very important to deliver them the best customer experience. Thus customer feedback acts like a magic wand to adjust your business to fit customer needs more accurately.
There are many business facets where customer feedback plays an important role to:
Improve products and services

Measure customer satisfaction

Enhance your customer communication

Deliver a better customer experience

Improve customer retention
Customer feedback and responses are a vital ingredient in the success of every business. It helps you to transform your products and services of your brand to better suit the needs of your customers. This will, then, ultimately increase the profit of your business, since there is a higher chance that more and more people will consume and purchase your improved products and services.
Here are a few important points on why customer feedback is important for you and your business.
Businesses will identify the feedbacks – They will know what customers feel and what opinion they have regarding their products or services.
Identify the gaps between the customers and the business – With the meaningful feedbacks, eradicate problems, you will end up with a product that is sheer perfection.
It opens up a conversation

– You come to how much your customers are benefited out of your business. You also develop a better relationship with them which will benefit you for years.
Customers feel appreciated

– They feel you care about their opinion regarding the product. Hence, customer feedbacks are necessary from an engagement point of view.
What questions you should ask for customer feedback?
As you know now how important it is to ask customer feedback, you can't overlook the fact that you should also know what kind of feedback questions to ask your customers. The feedback questions you ask your customers to determine the feedback quality.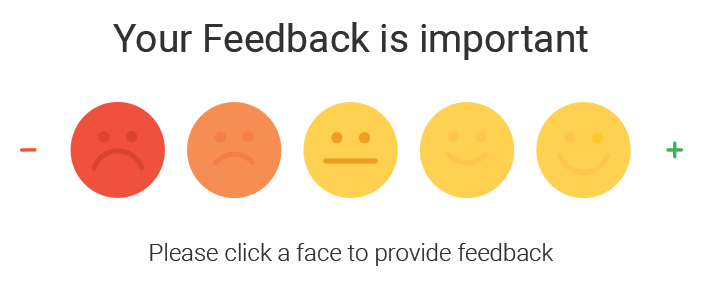 A couple of the most important feedback questions to ask customers are indexed for you to use while you ask customers for feedback.
How likely is it that you would recommend our service or product to a friend or colleague?

How would you rate your experience with us?

If you could change one thing about our product or service, what would that be?

What other options did you consider aside from our product or service?

What else would you like us to know about your experience with us?
Best practices for asking customer feedback 
"A satisfied customer is the best business strategy of all."  ~ Michael LeBoeuf
Customer feedbacks are the core of any business and are one of the main factors of growth. Let us discuss some best practices that can be followed to ask customer feedback. Right from the feedback questions to ask the various customer feedback methods, let's discuss the right way of blending them to get useful feedback.      

1. Ask customer for feedback at the right time
The most important thing – ask customer for feedback at the right time.
A right work done in wrong time is equal to undone. Similarly, if you approach your customers in the wrong time for the feedback it won't be meaningful or useful.
A great moment to ask for feedback is right after a customer service conversation. You are already in a conversation with the user so it feels natural to ask feedback – not about the specific customer service intervention but about their experience with your tool in general. ~ Stefan Debois
For example, If you need customer feedback, you are supposed to ask immediately after the demo or live chat session. To ask customer for feedback after 2 days would not make any sense as the customer might have moved away. Also, it is not recommended to ask customer feedback in the mid of any process. You should not interrupt your customer halfway through the flow. So, knowing the time is very important while asking for feedback questions to your customers.
It should is always right after –
A live chat session

– After every live chat session, you should ask customer for feedback about how was their chat experience.

After the transaction

-The best time to ask the customer for feedback is after a successful transaction checkout.

At the end of customer service request

–  Ask customer for feedback once you meet your customer service request via email, chat or phone.

Ask after a demo –

Just after the product demo, ask your customer to provide the product feedback.
2. Select the right channel to ask feedback to customers
If you want to know what your customers really think, select the right channel to connect with them. And to be very honest there is no one channel you can rely on. There are various channels such as website, social media, live chat and get feedback from customers about their reliable channels helps you to focus on the channel for customer service.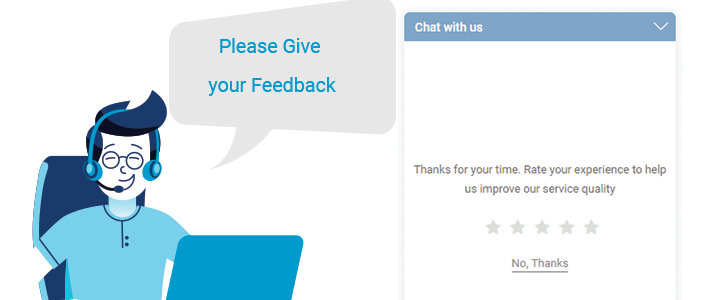 Live Chat –

Live chat

is becoming an important customer feedback methods and gaining more preference because it is the best way to ask customer feedback through rating the customer service.
Email

– Email is a simple yet focused way of collecting valuable feedback.

Study by Forbes

says email is one of the popular ways to engage customers. Email should be simple, yet focused to encourage customers to take your desired conversion action.
Phone –

Phone helps you to understand customers by talking to them. Reach out to your customers through the phone. It is a personalized and proactive customer feedback method that generates the best responses.
Website

– Having a feedback widget is an easy way to ask customer for feedback on your website. You can use

"Feedback", "Talk to Us",

or something similar for your widget text.
Social media polls

– Today's businesses choose to collect valuable customer data through polls conducted across main social media platforms to engage customers informally through easy questions displayed promptly after the customer votes.
Conduct video sessions

–

Video chat

customer feedback method helps to get authentic feedback in real time by face to face interaction with the customer.
3. Tailor your feedback questionnaire
People are busy and do not respond to general questions. So you need to think the actual purpose to ask customers for feedback customers. Whether you are trying to improve your website, offer better customer support, or shape your product roadmap, getting feedback from your customers is something you need to do.
It's better to ask more specific questions. The answers will clearly show you what works well and which areas of your activities need improvements.
Your questions should be tailored to the kind of service or product that you offer. Asking the right questions is the key trick to getting honest and useful feedback. To get honest feedback it is recommended to keep questions open ended.
Open ended questions – The questions are broad and can be explained in details for original or unique responses of customers. Some examples can be:
How visually appealing is our website?

What originally attracted to our website?
Close ended questions – The questions typically are multiple-choice or ratings. Some examples can be:
Can I help you with that?

Have you already gone through the product features?
Based on your qualitative or quantitative feedback requirements, you can prepare questions to get better and actionable insights.
If you are a part of a marketing, product or sales team, asking the right questions via online polls and surveys helps you to collect qualitative feedback to create better user experiences. That eventually results in business growth and increase sales conversions.
4. Measure your customer satisfaction score
Incorporating customer satisfaction measurement to your customer success strategy will help you to find out where you currently stand and know the areas of improvement. Measuring customer satisfaction again comes down to collecting customer feedback via different methods. You can receive customer feedback through email or during a live chat with rating view after the session.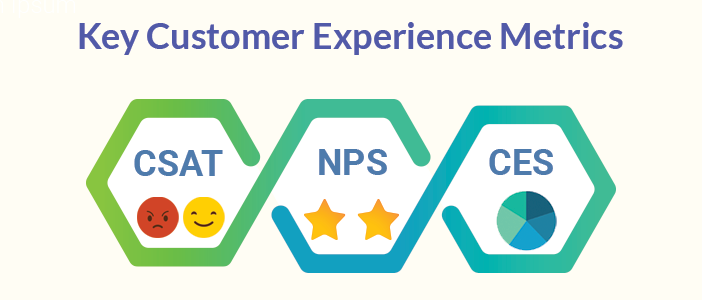 There are many ways of gathering feedback and analyzing the data. There are different types of customer satisfaction metrics and they serve different needs. CSAT, CES, and NPS are the three popular metrics to simplify the process of collecting customer insights and measure customer satisfaction.
Net Promoter Score (NPS)

The Net Promoter Score (NPS) is a metric used to measure your customer satisfaction and loyalty. Customers are generally asked about their willingness to recommending your product/company to a friend or colleague, on a scale of 1 to 10. The customers are then categorized and the NPS score is calculated.
NPS questions run around the sum total experience of the customer with the company. It is combined with open ended question like " Please give your opinion", "Care to tell us why?" in order to get qualitative feedback that can guide improvement from support to marketing.
NPS survey questions should be triggered through various survey channels like email, web, text etc during any stage of the customer lifecycle. For eg:
Once the customer has made the purchase

While customer takes an action on your website

Weeks before a subscription is going to end
Customer Effort Scroe (CES)

Customer Effort Score (CES) is a well-known customer satisfaction survey methodology. It is used to measure the ease of experience with the company by asking customers, on a five-point scale of "Very Difficult" to "Very Easy". CES surveys are generally used:
Immediately after customer support interaction

After customer interaction based on product/service/purchase/subscription

In case the business wants to measure customer experience with its products and services
The total effort required by the customer to use the product or service to assess how long they continue using it or paying for it. CES can be used immediately after interaction with customer service after an interaction with a product led to a purchase and measure total experience customer has with your brand.
Customer Satisfaction Score (CSAT)

Customer Satisfaction Score (CSAT) measures the true satisfaction of your users. This customer experience (CX) metric directly measures the levels of customer satisfaction. CSAT score is calculated by dividing the number of responses that are rated above 4 with the total number of responses.
CSAT survey asks customers about their satisfaction with the recent interaction after a purchase or customer service call over a rating scale. It is recommended to keep questions open-ended but it depends as per your requirements, you can use multiple questions, both open and close ended questions and the scores are expressed in percentage from 0% – 100%.
The above metrics can be implemented to measure overall customer satisfaction, as well as the satisfaction in the specific area of your business, product or offer.
5. Reach out to right customers
Reach out to the right group among the two groups of customers i.e. promoters and detractors is highly imperative. It is very important to identify who are your brand promoters and detractors. You need to prepare a separate set of questionnaires for asking feedback from both groups.
It is not wise to ignore the detractors. HBR webinar says acquiring a new customer is anywhere from 5 to 25 times more expensive than retaining the existing one.
NPS surveys help to follow up the detractors, who are really not happy with your product or service and improves customer retention.
What could be done to get honest feedback from this group of people?
Create personalized follow-ups or automated response workflow

Respond or contact detractors personally
6. Escalate customer feedback to right team
Simply gathering data won't do you any good. This data must be handed over to professional analysts who can generate valuable insights for you. Once you have these insights, you can use them to create a better product or to improve customer service.
Also, these insights will form the basis of your future business plannings. Essentially, once you receive customer feedbacks  you need to
Discuss the customer feedback internally so as to improve the quality of product or services

Involve all the team members of various departments to give an extended picture of customer expectations

Identify the gaps between your business and customers. Plan new business strategies to shorten the gaps and gain more customers
7. Value your customers time
I really get annoyed when my time is wasted. Don't you?
Approaching customers for feedback respecting their time makes the difference. Keep a note of certain things while obtaining feedback.
Don't ask irrelevant questions

– Keep your questions open ended to know what the customer thinks about your product or service. Ask relevant questions that serves your purpose and get better responses.
Make feedback process simple

– A simple feedback process does not annoy the customer and saves time. Avoid repetitive or general fields like name, email etc.
Keep the conversation short and focused

– Keep minimum questions for getting accurate answers. Keeping your surveys short will also encourage more customers to complete them.
Show your appreciation

– You can be kinder to your customers by appreciating them for their feedback and time. You can incentivize them with discounts coupons or good offers.
8. Do it regularly
Consistency is always an important factor in ensuring success. If you consistently send out customer feedbacks, you'll have more information about the problems with your product.
However, you must keep in mind not to do very often. You don't want to send feedback forms so regularly that your customers get frustrated and unsubscribe from your mailing list. According to our estimates, sending feedback forms quarterly or half-yearly yields the best results.
Conclusion
Collecting customer feedback helps you get outside your own comfort zone and see your product from the customer's perspective. Good feedback has the power to close the loop and build better relationships with your customers. While the feedback that you collect might not always be positive, it will help you to improve your business.
Put insightful thought into crafting your questions so that you not only collect feedback but collect valuable feedback.