Most organizations are either sales-driven or give too much importance to products or services only. 
Customers are never a top priority for the majority of companies and whatever little priority is given, it is only restricted to certain functions such as marketing.   
This should not be the case as brands that offer superior customer experience have 5.7 times more revenue than others.  
Naturally, your business will grow only when it keeps customers at the center of attention or develop a customer experience culture. 
To do that successfully, you need to have the systems and technology in place so that you can provide them personalized communications and amazing experiences at every step of the way. 
Your organization also needs to streamline processes and operational capabilities in a way that helps devise a customer-centric approach and ease the adoption of the required mindsets and values.    
What is Customer Centric Culture? 
Customer centric culture by definition means the way of doing business keeping the customer at the center of everything. It's an approach where each person within the organization has to make customers the most vital part of their job with total responsibility to ensuring great experiences.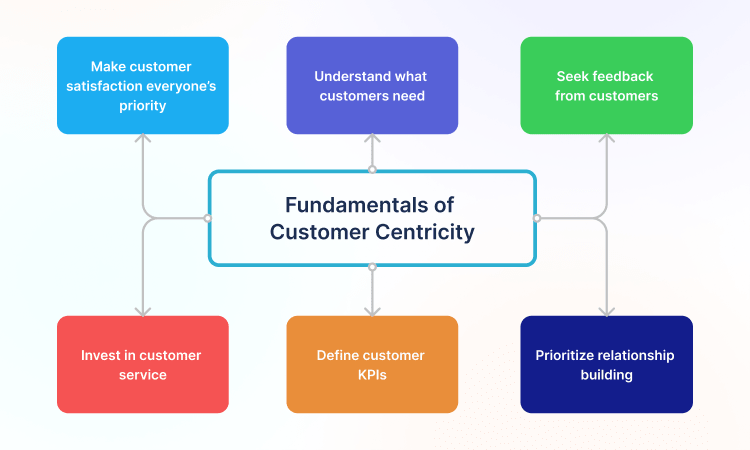 When an organization is customer-focused, it has set all the policies and operations around customers in a bid to give them the experience of a lifetime. Having such a culture means always striving to provide the best customer experience both at the point of selling and post-selling to generate profit and gain a competitive advantage.         
Why Customer Centric Culture is Important?
According to Henning Hansen, "You can't deliver a winning customer experience with a culture that doesn't embrace the concept."
Giving customers amazing experiences is no longer a choice, it has become a necessity now. Unless your company embodies the concept of customer-focused culture, it can never truly achieve a strong customer experience.  
There is so much value to gain when your customers get top priority for your business: 
You are aware of what the

customer needs

, so can develop products or services according to it.

You are able to build meaningful relationships with customers to boost their experience with the products or services.

You can use customer data properly to analyze, plan and implement a strategy that focuses on keeping the customer happy.

 
Tips to Build a Customer Centric Culture in Your Organization  
Building a customer centric culture is a strategy to align different ideas, beliefs, and systems in a way to put customers at the core of everything your business does. It's an approach to streamline processes and personnel together in order to give more emphasis on customer needs and prioritize customer goals above everything else.  
A variety of best practices are there to follow and implement when you plan to make your business customer centric. 
1. Invest in Customer Service
2. Understand What Customers Need
3. Make Customer Satisfaction Everyone's Duty
4. Be Where Customers Want You
5. Train Your Team in Customer Handling
6. Drive Decisions with Data
7. Outline Customer Service KPIs
8. Implement a Customer Feedback Collection Strategy
9. Prioritize Relationship Building
Let's discuss each of the ways in detail. 
1. Invest in Customer Service 
Customers expect businesses to engage them and provide them quick responses across channels. 
And when it comes to engagement and handling queries, the customer support team is always the most trusted asset of any organization. 
If your business doesn't have the best of resources for support tasks, it will fail to understand customer service trends and may not deliver value to customers.   
This is why you need to think of investing significant resources in your support team so that customers are handled in the best possible manner. 
Tips to invest in customer service  
Give more emphasis on measuring customer happiness

rather than being stuck with response time. 

Motivate your employees,

empower the support service team with the latest tools

, and give them the freedom to do their tasks easily. 

Provide training to your team on a regular basis

and keep them up-to-date with the changing landscape of customer service. 
2. Understand What Customers Need 
The road to adopting a customer centric service starts with understanding the needs and demands of your customers and continuously adapting.
To know what customers need means to be in regular contact with them, seek out what they love/ed about your company and what they hate/d the most.
You also need to be there at every step of the journey from searching for products to buying so that you can analyze the trend and devise a solid customer experience strategy accordingly. 
When you have a strong understanding of the customers, it can make them stick with you for life, helping you build a solid foundation of a good customer oriented culture.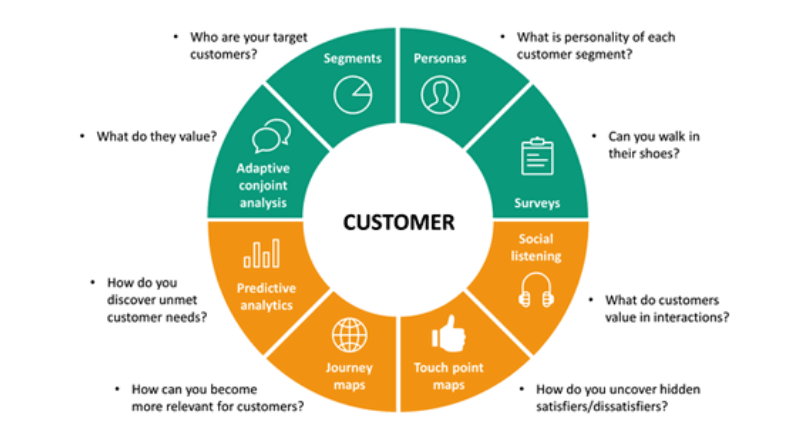 How to understand what customers need? 
Map your customer journey

– To meet your customer needs, you need to understand the different customer touchpoints and how they interact with your business across these points.

Ask customer feedback

– Getting customer feedback is always a key element to knowing them better as the feedback can be used to enhance your products in a way that suits their needs better.  

Devise an omnichannel service strategy

– You need to focus on building an omnichannel service strategy in order to provide consistent support across all channels and understand customers better. 

 
3. Make Customer Satisfaction Everyone's Duty 
Customer satisfaction should never be the responsibility of the support team only.
Every employee within your organization — from top to bottom — must spend some time in dealing with customers and getting an insight into common problems customers face.    
Instead of relying only on a few individuals, you have to involve everyone and urge them to take the responsibility to develop a customer service culture.
In order to bring everyone together for the same cause, it's important to first get rid of the organizational silos and facilitate a seamless collaboration of customer data between departments.
Ways to involve everyone in customer satisfaction 
Operationalize customer empathy

–  Every employee in your organization must get to understand customer issues from a close hand so that they can develop a sense of empathy.   

Unify customer data

– All the customer data should be available in a single place for access and analysis as it can give a better insight into customer issues and prepare you for customer centric service. 
4. Be Where Customers Want You 
Customers always like to connect with brands in a hassle-free manner. They don't want any hassles in reaching out to a business to meet the demand.  
And if they are able to reach you easily, this means you are able to interact with them easily and improve customer experience at the same time.  
So, your focus should always be on ensuring value to customer communication. 
Tips to make customers reach you easily
Adopt a multi-channel approach

– Your business needs to be present on multiple channels together to give customers an opportunity to easily reach from the channel of their choice. 

Implement a direct employee-customer contact

– Customers would be happier if they got a chance to chat with the employee responsible for the issue they are facing, which can happen only when there is a culture of direct customer-employee contact.    
5. Train Your Team in Customer Handling 
Poor customer service costs businesses approximately $41 billion a year. 
Well, your business just can't afford the cost of bad customer service. And if the great experience is not delivered, it can adversely affect the business growth  
Unless your team is trained, it can never enhance the customer experience. And for that reason, you need to implement the right customer support training program.
And you also need to remember that, the quality of support your customer service team delivers will define the customer success and experience.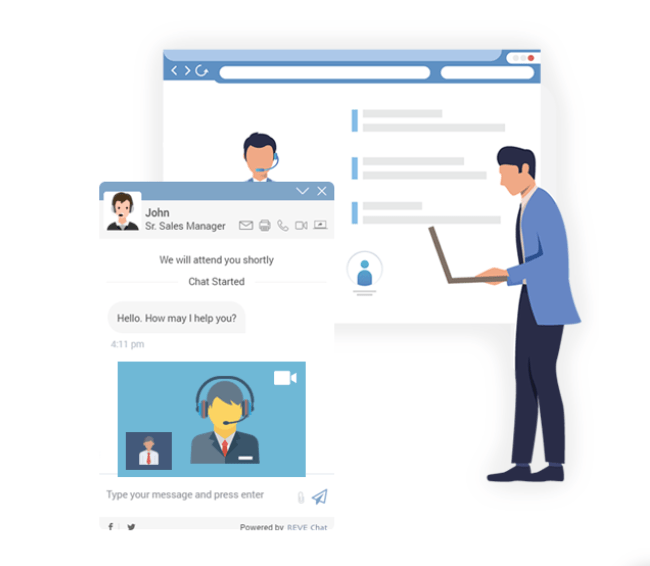 How to train your team in customer handling 
Product knowledge

– Your customer service team must have an inside-out knowledge about the products or services so that it can answer customers confidently and improve their experience with your business. 

Customer etiquettes training

– Dealing with customers is an art and your support team must have a proper understanding of customer etiquettes to do the job successfully.  

Define internal processes

– Make sure your internal processes are properly defined so that the service team has a good idea of the standards to follow and the steps to take in handling customers. 
6. Drive Decisions with Data
Businesses need to make customer-related decisions on facts rather than intuition or gut feel. 
When data-driven insights are used, it always gives a clear picture of where your business stands when it comes to customer service.  
The use of analytics can help you not only find the reason why something is happening but enable you to forecast the future in some way and know what to expect next from customers.  
With facts on your hand, you can easily assess the problem areas and pain points and then work on them to enhance the customer experience with your business.  
Benefits of making decisions with data
The use of data will help you

get a deep insight into the type of customer service

your business is offering

and the areas where improvements are needed. 

Your business can always

provide a personalized experience to customers

when it has analytics regarding the demographic, geographic, interest, and preference data.  

Data is always helpful when a business wants to

enhance customer experience

and efficiently handle the issues that are affecting the quality of customer service. 
7. Outline Customer Service KPIs
It's important to define customer service KPIs for your business and keep measuring it on a regular basis to understand the quality of service provided by your team. 
Your support team will find it easy to monitor and analyze its performance against the metrics and then take steps to boost customer service success. 
Key Customer Service KPIs 
Net Promoter Score (NPS)

– It will help you measure customer loyalty by asking questions related to the willingness to recommend your products to peers or groups. 

Customer Service Satisfaction (CSS)

– Your business can use forms, live chat, pop-ups, or surveys with every interaction to measure customer satisfaction with the post-purchase service.  

Customer Satisfaction Score (CSAT)

– Having happy customers matters to every business and you can measure the satisfaction level using a scale and understand whether customers are pleased with your product. 

Customer churn rate (CCR)

–  A business needs to know the churn rate to know the percentage of customers it has lost over a period of time as then it can take steps to retain the existing ones.  
8. Implement a Customer Feedback Collection Strategy 
Your business can't cater to customers in the best way unless it knows where they stand and what they want.  
With customer feedback, you listen to customers and easily gauge their expectations and needs from your business. 
And when you're an organization with customer centric approach, collecting and implementing feedback should always be a top priority.  
This will help you stay on top of the ever-changing expectations of your customers.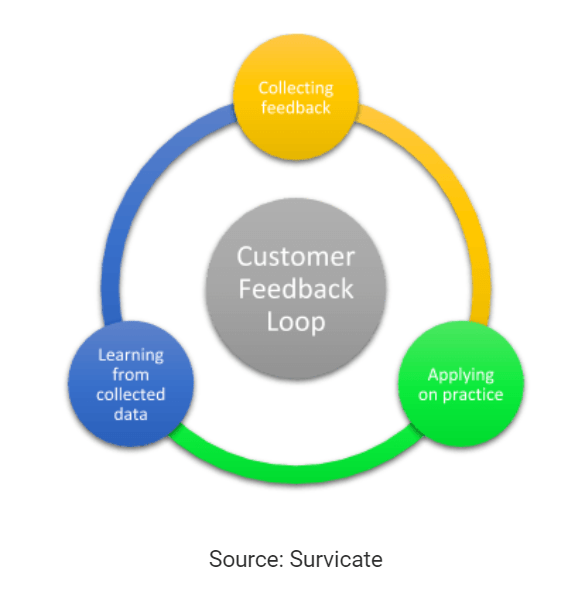 Methods to collect customer feedback 
Live chat

– The use of

live chat software

can prove very beneficial in getting real-time feedback from customers and be always there to chat with them. 

Email

– Brands continue to trust email as a top method of collecting feedback from customers as it gives a personal touch to the matter and thus customers like it.  

In-App –

If you don't want to use formal surveys for customer feedback, then in-app is the best way as customers are already using your products and they won't mind giving the feedback. 

 
9. Prioritize Relationship Building 
Customers should never be your number games, whether for sales or support.
They are humans too with lofty expectations and trust in your business. 
Rather than focusing on winning customers for the sake of it, you need to work on prioritizing relationship building so that costumes can stay with you forever. 
Building a long-term relationship is easily among the best customer experience tips you need to focus on.  
And when you give priority to relationship building, it can always ensure increased customer lifetime value (CLV), decreased customer churn (CR), and enhanced brand loyalty. 
Tips to prioritize relationship building  
Personalize the relationship

– Customers like brands to connect to them at a personal name as when you do that it can boost loyalty, drive higher conversion, and ultimately increases revenue.  

Offer proactive support

– Going out of the way to proactively help customers is always a great strategy to win their trust and make them loyal for long.

Reward loyal customers

– Your business can implement incentive programs such as discounts, free products, premium services and early access to services, etc. to build loyalty with customers. 
Make Your Business Stand Out with Customer Centric Culture  
Customers are the reason why your business exists and flourishes. Keeping them at the center of attention is the only way to continue growing and realizing the true potential of your business. By investing in customer centric service can help a lot in improving the overall experience for your clients and making them loyal as well. 
For that reason, having a customer centric strategy becomes important as then you prioritize great experiences to the most valuable asset to your organization. So, make sure everyone in your organization rallies behind this common cause and take steps to focus more on customers.