Are you searching for some easy ways that can help in speeding up the performance of your support team?
Let's presume that you have just integrate live chat software on your website. Now you will be able to chat with your website visitors in real-time and provide instant assistance. One of the most important feature that you will find in any good live chat software is 'Canned Responses.' Your well trained support team should know how to make use of it very effectively and thus provide instant response to the customer queries.
Let's discuss it in detail!
What is Canned Response?
As its name suggests, 'Canned Responses' are some predefined responses to a set of predefined queries. Here you need to type the reply once, save it under few keystrokes and reuse it during your live chat sessions.  You can use these canned messages for replying to the most common questions asked by your customers. It will not only shorten the response time of your support agents, but also eliminate typo errors and customers also will be satisfied with your support service.  
When the live chat agents can use it?
While handling customers, your support team should offer personal assistance as there will not be any kind of identical sales scenarios. In such cases, using templates should be avoided, but canned messages are useful for sending replies to common questions and it will also improve the overall performance of your support team.

If the customers ask very common questions like 'Tell me about your return policy' then using the canned reply is the best idea to save time and reply fast.

Canned responses should be delivered with a personal approach and in a very professional manner.
Examples of a few canned responses:
Greetings should be professional, short and simple 
"Hello"- Hi, Welcome. How may I help you today?

If the customer starts with telling a problem 
"Sorry to hear"- I am very sorry to hear that. I completely understand and will be happy to help you.

How to ask for more information? 
"If I understood correctly"- So you are saying that………….

How to say 'I don't know'?
"I don't know"- I'm not sure about it. Let me find it out for you.

How to admit any mistake? 
"I am sorry"- Very sorry. This is my fault.

How to say no? 
"No"- I am very sorry, it's not available right now. May I help you with something else?

Pricing details 
"Pricing"- Currently we have 3 price packages.

Refund policy
"Refund"- Our refund policy is very simple. ………………………………………

How to wrap up? 
"Wrap up"- Thanks for chatting with us. Have a nice day. Bye.
 Setting up Canned Responses on REVE Chat:
To add a canned reply, follow the below mentioned steps:
First login to your REVE Chat account using your registered email ID and password

Click on 'Canned Response' under 'Customize' section

Now clicking on the 'Add' button, you will be redirected to a new page, where you need to provide the 'Key' and 'Message' as per your choice. Finally, click on the 'Add' button to save your changes. Click on the 'Reset' button if you want to change anything.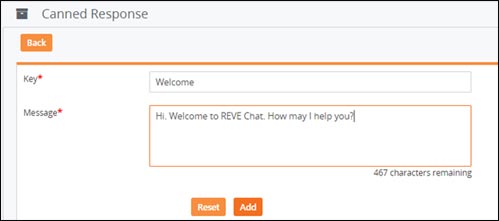 How to edit?
Select 'Canned Response' under 'Customization' section. Here you will see the list of added responses. Click on 'Edit' button placed just beside of a specific 'Key' which you want to edit.

Here you can change the 'Key' and 'Message'. Finally, click on 'Submit' to update.
While assisting customers, one thing you should always keep in mind that they are all human beings and always need personal attention. To convert your website visitors into customers, you need to provide excellent support services and fast response. Canned responses always help to do the smart tricks by speeding up the response time and providing personal assistance to customers.