Customer expectations in the banking industry are evolving like never before.  
Even though there are digital or app-based banking facilities, the tech-savvy consumers certainly want more — they actually want frictionless experience in everyday banking.    
So, banks need to see the 'writing on the wall' and stay prepared to enhance customer service and deliver prompt responses.  
It is where Artificial Intelligence (AI) enters the scene – bots can save banks 4 minutes per inquiry and therefore, can hugely impact the way customer service is delivered.   
Chatbots in banking can help combine technology with a human touch to improve service and make everyday tasks convenient and seamless.  
For that reason, more banking firms now look to devise a conversational strategy to offer a personalized customer experience and free up agents for more complex issues.

Benefits of Chatbots in Banking
Automation has the potential to transform digital banking and bring many advantages to both customers as well as businesses alike. In fact, bots are so intelligent that they can easily interact with customers, offer prompt answers, and speed up response time, therefore making the human touch redundant to some extent. 
Chatbots are effortlessly enhancing the digital customer experience in banking and also achieving a range of other benefits, such as: 
Improved customer service

– Banks should use AI bots to provide 24×7 support, give prompt answers and enhance customer interactions, which in turn, can prepare them to face the future challenges of

conversational banking

easily. 

Personalized customer experience

– Banking sector firms need chatbots to effectively leverage customer data/analytics and successfully deliver a personalized customer experience. 

Automated banking queries

– Bots are quite an excellent tool to automate common queries related to products, services, offers, etc., and banks can benefit from them to ensure quick responses and enhanced experience to customers.  

Higher productivity of banking agents

– Automation makes agents more productive by allowing them free time and by letting them focus on more complex problems rather than being stuck with basic customer queries. 

Reduced customer support costs

– The use of

AI chatbots

is an opportunity for banking companies to automate most of their customer-centric processes and save a lot of support cost that is otherwise spent on human resources doing the banking tasks.  
Chatbots for Banking: Examples and Use Cases 
Bots are quite an innovative piece of technology as they can seamlessly be put at the center of different banking activities. From balance inquiry to account opening to quick replies, banking bots can help serve users promptly and efficiently, therefore enhancing the customer experience manifold.   
Banks have a variety of chatbot use cases to leverage and deliver great experiences to their customers.  
Let's look at each of the use cases in detail; 
1. New Customer Acquisition 
When it comes to engaging customers, bots have no parallel.  
They can start conversations, understand queries, decode sentiment and deliver instant replies, all in a blink of an eye. 
And for that reason, banks are using them to generate leads and gain new customers. 
In fact, more banking firms are embedding lead generation bots to the website or app to proactively reach out to visitors and convert them into leads.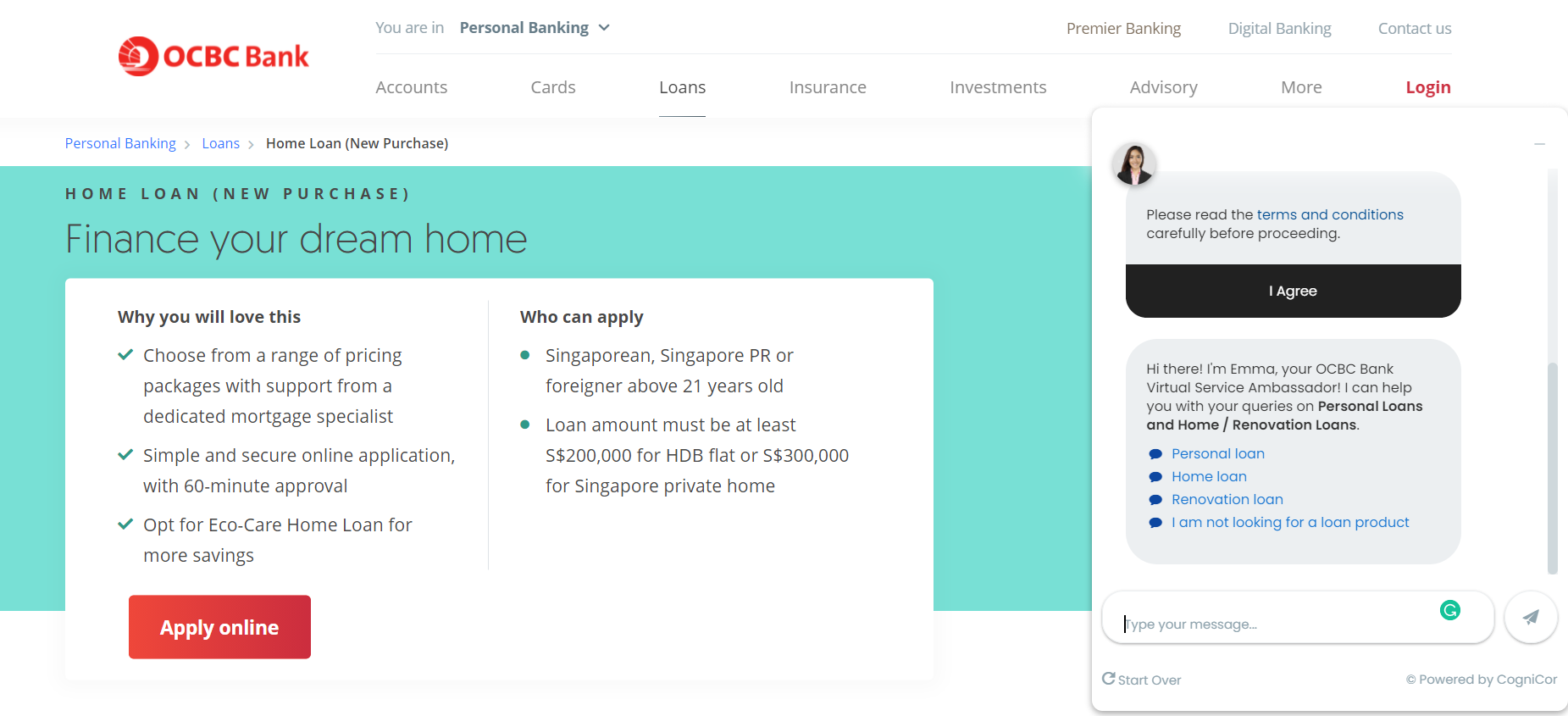 The OCBC Bank is a great example of how to use a bot to gain new customers. Its chatbot "Emma" has proved its worth in turning cold leads into pre-qualified leads with a total of  USD$7,117,945.30 in loan applications within 3 months.  
How chatbots can help banks gain new customers?
Conversational banking is a great tool

to know whether visitors need anything, or if they have an interest in any product or service. 

Bots can help capture leads

which are then sent to the sales team for further follow-up and this is how new customers are gained. 

Chatbots can be available 24×7

to answer the queries of the prospects and convert them if needed.  
2. Automated Support for FAQs 
Customers will obviously have a lot of questions as and when their hard-earned money is involved.
So, this keeps banking agents forever busy with queries, not giving them ample time to ensure good experiences for everyone.
Thanks to AI bots, banks can think of automating support for common queries and focus more on serving the customers in a better way. 
In fact, customer service chatbots are smart enough to successfully handle various non-complex queries related to banking products and customer accounts.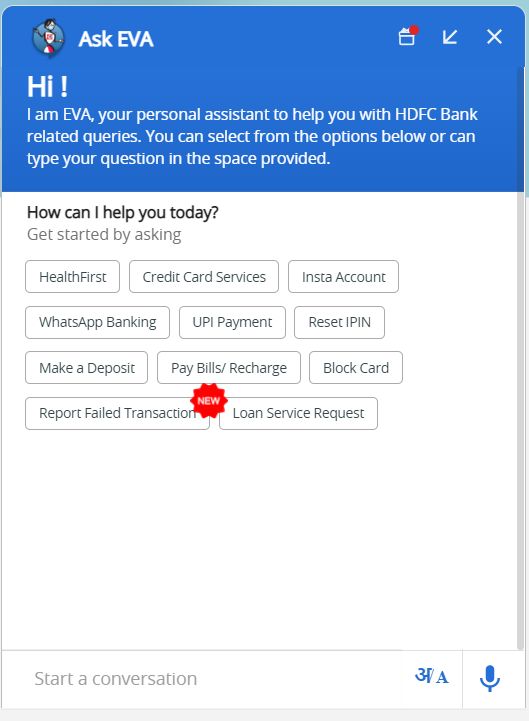 HDFC Bank's EVA (Electronic Virtual Assistant) is an AI-powered chatbot that offers quick answers to customers related to FAQs, eligibility & interest rates, and payments. It has over 85% accuracy and holds over 20,000 conversations daily with customers from around the world.
3. Notifications and Reminders 
A lot of banks are using chatbots to send timely reminders and routine notifications to customers. 
Some of the popular reminders that customers always get include bill payment deadlines, the last days of some loan offers, etc. 
The reminders that banks routinely send include updated credit scores, banking news, etc.  
The purpose is to always keep customers aware of the activities useful to them so that they can stay with the time.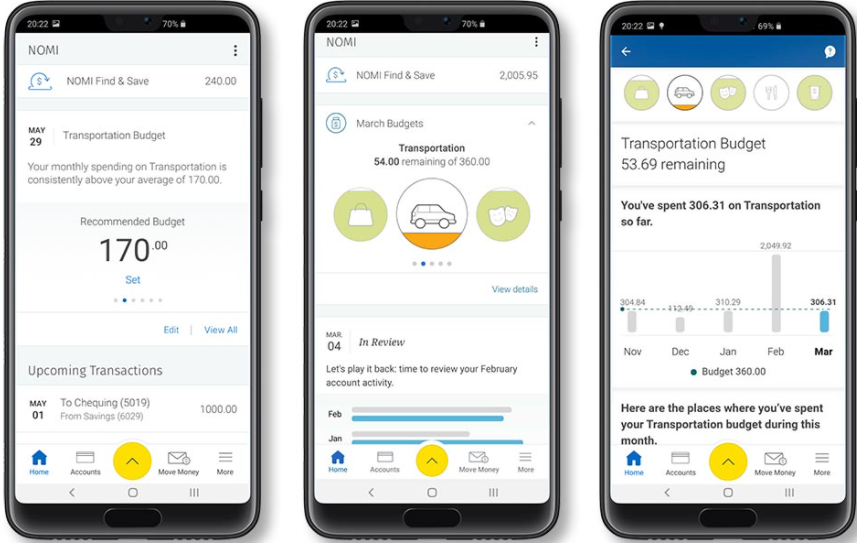 Nomi chatbot from Royal Bank is a good example of how to benefit customers from an advanced virtual assistant and help them make smarter decisions. The bot sends regular notifications to customers, recommends budget settings, and sends timely reminders about payments. 
Benefits of sending reminders and notifications  
Customers can

understand banking services in a better way

and stay up-to-date with the products and features.

A great value is ensured to customers when

push notifications or reminders are received in a timely manner

. 

 
4. Proactive Communication with Customers  
Chatbots give banks a great opportunity to proactively engage with customers and improve their experience.
In fact, all banks should start reaching out to customers since conversational baking is the future, and the sooner one implements it the better.  
AI-powered bots can be deployed within an app or on the website, or on browsing pages to pre-empt customers with quick answers. 
And when customers are timely engaged, there is always an opportunity of converting them into leads.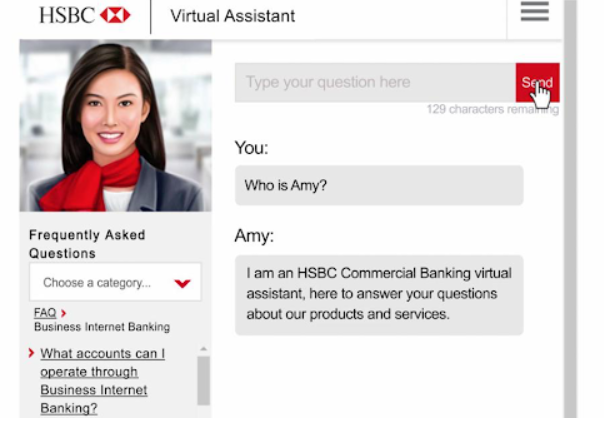 Amy is an AI-powered chatbot solution for corporate banking at HSBC Bank (Hong Kong) that provides real-time responses to customer support queries. Apart from helping customers access information regarding the bank's products and services, the bot has the capability to process and analyze customer feedback to help scale up its customer support. 
How banks can use chatbots for proactive communication?
Bots can help start proactive conversations with visitors to

understand their needs better and serve them efficiently

. 

The use of chatbots will let banks

analyze customer interests or behavior and then offer relevant information

or services to them. 

Banks can also rely on AI-powered bots to

proactively ask customers about their interest

in any particular banking product or service.   
5. Assistance with Financial Advice
Banks are using bots to provide financial advice to customers. 
Not only a  financial advisor but AI bots are smart to also assist customers with different aspects of their finances. 
You can easily find bots deployed on the bank websites or within the app as a personal financial guide on anything, from investing money in properties to buying a new house. 
In fact, banks will have many ways to use chatbots for financial services and improve customer experience.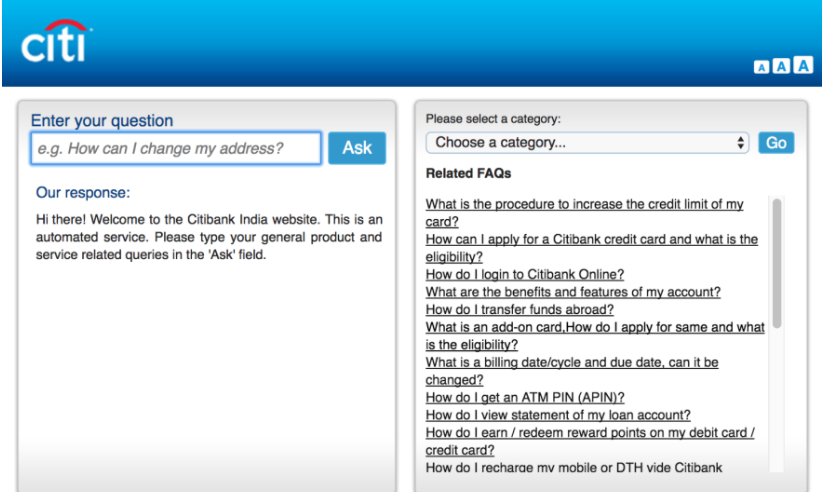 Citi Bank's Citi Bot SG is a chatbot that delivers answers to customer questions through Facebook. The bot works as a financial advisor by answering queries related to account balance, transactions, payment details, credit cards, etc. 
How can banking chatbots work as financial advisors?
Artificial intelligence (AI) bots can

offer regular advice and recommendations to customers

for better money management.  

Bots can track spending habits, offer credit scores, set & manage budgets to

give customers insights into their money

.  

Banks can

use the bot to turn complex finance terminology into simple language

to help customers and save time with support requests. 
6. Account Monitoring
Banks don't need a dedicated staff to handle all customer requests related to the account. They also needn't worry about long wait times that customers had to bear during peak days. 
After all, chatbots have become quite advanced now and can efficiently manage account-related queries on any scale and enhance customer experience efficiently. 
What's more, chatbots developed with the current trends in AI make it easy for customers to monitor and manage their accounts with seamless conversation.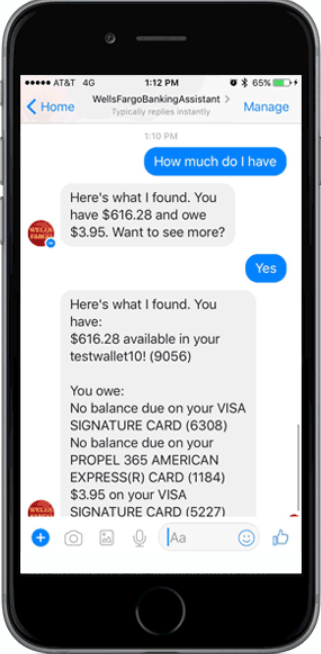 Wells Fargo is an American multinational bank whose chatbot does a great job when it comes to account-related queries of any type. Customers ask for their account balance, most recent transactions, expenditure on day-wise, etc., and get prompt replies.  
How do banking bots manage the accounts efficiently?
Bots are linked to the main database of the bank to

quickly retrieve customer account details such as recent transactions

, account balance, due payment dates, etc. 

AI-powered chatbots can also

understand customer intents and work as a personal financial management tool

to effectively manage various account details.   
7. Payment Processing 
Banks are using chatbots to help customers submit and process different types of payments in a quick manner. 
Such bots can proactively inform customers of due payment and amount, and can also confirm receipt of payments.  
When bots are used for payments, it saves customers the inconvenience of giving details each time with a transaction. 
The use of artificial intelligence means the bot can authenticate customers in order to access their account information securely and do the needful verification from the bank system itself.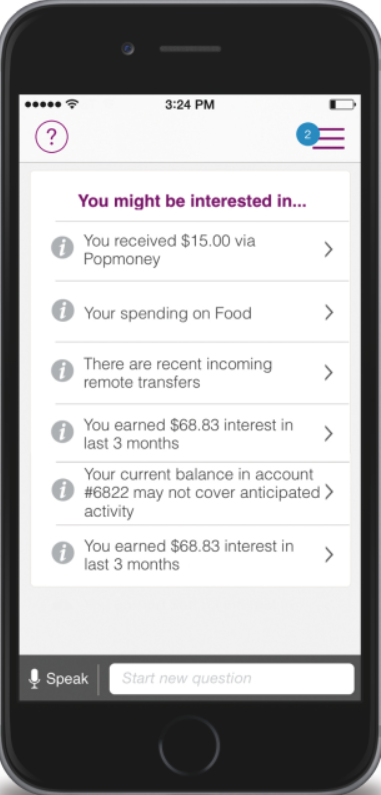 Ally Bank uses a virtual assistant within the Ally Mobile Banking app and it can be accessed via voice or text command. The bot can help to carry out a range of activities such as making payments, transfers, and deposits. 
8. Fraud Prevention 
Banks keep so much sensitive data and information that they can not always rely on human touch for customer support. Plus, insider theft is always a big risk, not less than outsider hacks.  
By deploying chatbots, banks can totally remove humans from the loop of PII exchange and thus increase overall security. 
Chatbots can also be programmed to follow all the data privacy and protection policies to ensure safe access to the data. 
Similarly, bots can send notifications about suspicious charges, provide quick help in case an account has been hacked, and prioritize requests when connecting to a live agent. 
How do chatbots in fraud prevention?
Chatbots can be instructed to access the banking data

in alignment with the data privacy and protection policies to engage customers for conversations. 

Banks can u

se the voice and facial recognition capabilities of AI chatbots

to add another layer to the security and stop cases of identity theft. 

AI Bots can enable banks to

provide personalized, data-powered advice by improving customer's data security

and therefore preventing any fraudulent activity.    
9. Customer Feedback Collection
Chatbots can help simplify the way banks collect feedback and surveys from end-users. 
They can be deployed on the site or within the app to learn what customers like and dislike. 
Some banks use chatbots to ask questions in a conversational manner to keep customers engaged and squeeze a better submission rate. 
Based on the feedback received from customers, banks can easily redirect the conversation accordingly and enhance the experience. 
With a conversational survey format, chatbots can become a vastly better alternative to the long, static feedback forms, therefore boosting the rate of feedback collection. 
How do banking chatbots help to collect customer feedback?
Chatbots are powerful and can easily

collect tons of data from interactions with customers

and help banks get a better picture of their customers.

Financial institutions can use bots to

run surveys and collect direct feedback from customers

.  

                               
Future Trends for Banking Chatbots 
Artificial intelligence is helping banks build great digital financial capabilities to keep pace with modern times and deliver an improved customer experience. In fact, more players now look to leverage the type of banking chatbot that combines the best of  AI features with facial recognition, authentication processes, and security to change the way customers interact with them.  
Future trends for banking chatbots include: 
Chatbot usages in baking will continue to grow

at a rapid rate and it's estimated to ensure operational cost savings of

$7.3 billion globally by 2023

. 

The role of

artificial intelligence is set to accelerate further

in enhancing the bank's ability to quickly detect and resolve usability problems against the systems and applications. 

More banks will

deploy bots to detect the problems such as payment order execution

, clearing, settles, etc. early before customers do and ensure reduced churn. 

Banking companies may look to

leverage AI systems to understand the best times to reach a customer

and ensure personalized solutions.  
Delight Customers and Redefine Experience with Banking Chatbots 
Chatbots have become indispensable to the financial sector where providing high-quality customer support is the key to success. Banks need to understand the evolving tastes of customers and plan to integrate AI-driven technologies into the workflow if they want to keep pace with the changing tides of today.   
The use of AI-powered bots can help deliver a quick and personalized banking experience together with helping banks meet and exceed lofty expectations easily. Thanks to the advancements in artificial intelligence technology, it's possible to redefine customer experience in banking and deliver great value like never before.