Frequently Asked Questions – Setup
When you sign up for REVE Chat, there might be some important questions for you to ask.  Let us discuss some of the commonly asked questions related to setting up REVE Chat.
1.Will REVE Chat work in a corporate network?
REVE Chat is a cloud-based solution, hence it can work in any network. There are no restrictions on any network. For any kind of support issue, you can contact our customer support team at support@revechat.com.
2. How to view chat transcripts and email the chat log?
REVE Chat provides detailed reports, conversation summaries, and complete chat transcripts for every interaction. You can use the chat log to your full advantage in order to identify and better serve your customers' needs.
If you easily view the chat transcripts for the closed conversations. Follow the simple steps for the same.
Go to the Reports section on your dashboard
Click on the Chat history option under the Chat option
You can click on any conversation to view the log
At times, customers like to keep an additional archive of the chat transcripts. If clients have requested to receive a chat log by email, you can easily provide it to them with REVE Chat from the option available on the top right-hand side.
Sending chat transcripts through visitors
Customers can directly email the entire conversation to themselves by using the email option available in the chat widget. During the conversation, you can see the email and contact details of the visitors on the right-hand side. You can immediately email the entire chat log in case the request is made by the customer or visitor.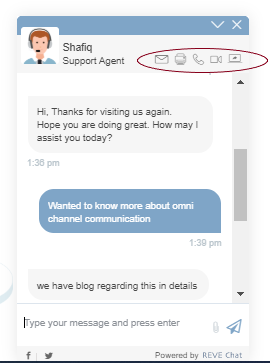 Having a copy of the entire conversation helps customers through the product information provided by the agent and they can reach out to them in case there is an issue in the future. 
3. How to enable and configure REVE Chat for the GDPR policy?
Under General Data Protection Regulation (GDPR) policy, REVE Chat ensures that personal data is gathered legally and under strict conditions, but also protect it from misuse and exploitation, as well as to respect the rights of data owners. 
It creates consistent data protection rules across Europe and applies to companies that are based in the EU and global companies that process personal data about individuals in the EU. For more information, check out our GDPR policy.
4. How can I resell or be an affiliate of REVE Chat?
REVE Chat offers a complete affiliate program to help resellers and affiliate to promote REVE Chat to their customers.
We provide a 30% commission recurring commission on every sale and a $25 performance bonus incentive every time you close 10 customers. 
REVE chat's affiliate program is ideally suitable if you are:
Freelancers

Bloggers

Consultants

Hosting providers

Website services

Marketing services
For being our partner, you just have to sign up by providing few basic information.

Once you are REVE Chat's affiliate, you get access to your own dashboard and track your commissions.
5. While agents are chatting with customers, can we show them advertisements or product messages on the chat widget? 
REVE Chat does not have any options to display advertisements during the ongoing chat session. You get a totally ad-free experience. If you want you can show product-related messages on the chat widget, which provides information to customers about your products or services.
6. I am unable to login. How can I fix the issue?
Please check whether you have entered the correct username and password or not. If you are still unable to login to your dashboard, please click on the "Forgot Password" option to reset your password.
Alternatively, drop an email to support@revechat.com and we will help to resolve the issue at the earliest.
7. How to know who ended the chat – the customer or the agent?
Live chat conversations can be ended by both customers as well as the agents.
When agents promptly address the customer's query and the issue is resolved they are happy and satisfied. They can then end the chat by rating their service. Agents can end the chat when they need some time to provide solutions to the customers. 
8. Do you provide customer service agents?
No, REVE Chat does not provide customer service agents. It is a cloud based SaaS solution. It offers solutions for improving your business communication. 
9. How many websites can I install REVE Chat onto?
You can install the REVE Chat snippet code to as many websites you want or identified are trusted or authentic.
10. How to turn on the Service Quality Rating?
Quality assurance is an integral part of providing a consistent service. It ensures whether or not agents are meeting and exceeding your expectations.
Under the Customization option on the dashboard

Go to post-chat survey settings

Customize a thank you message along with choosing a feedback option.
Note: You can choose your own way to obtain customer feedback. For example, multiple-choice, specific question, drop-down, etc.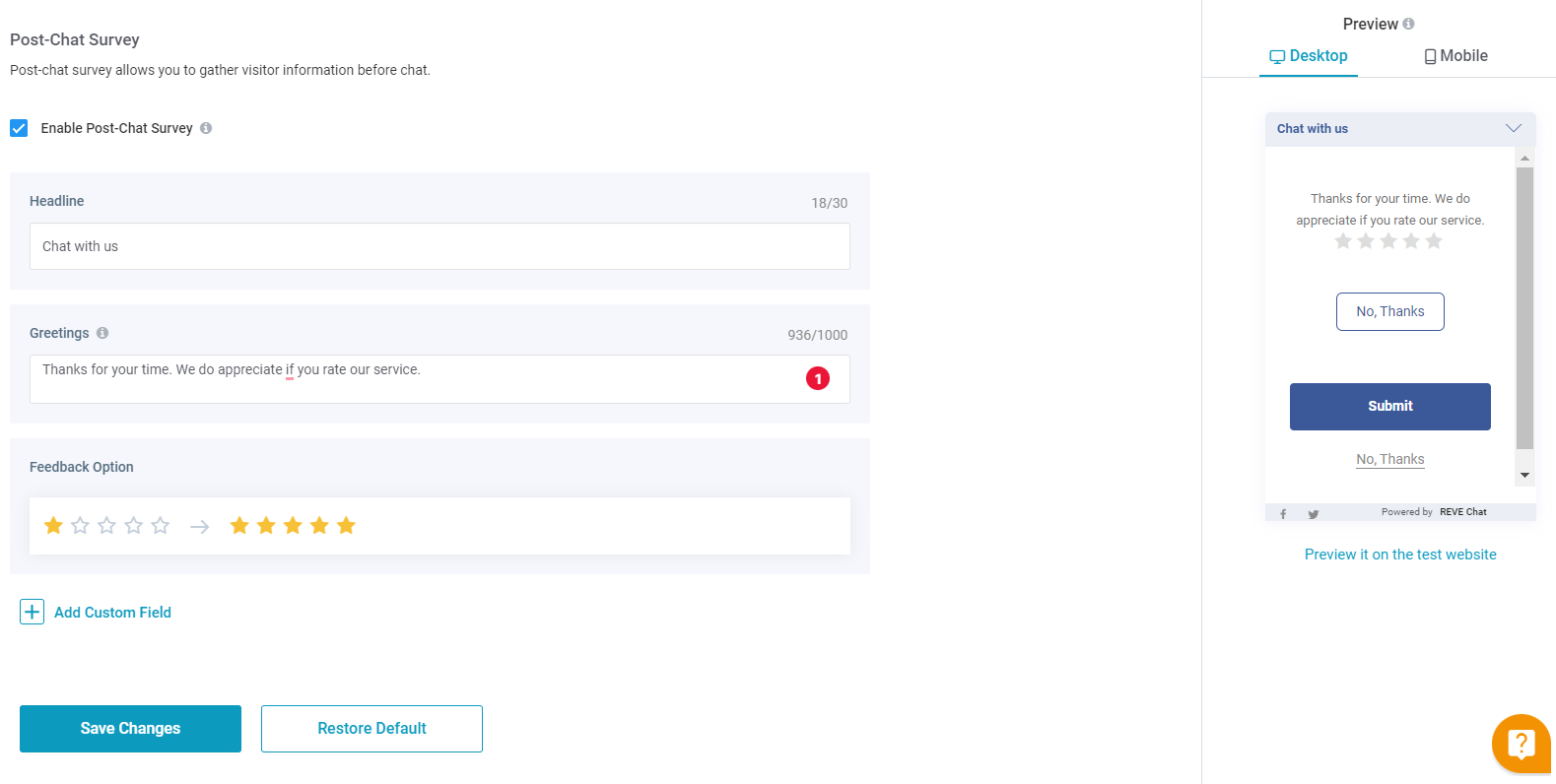 Once you turn on your service quality rating, customers can rate your service at the end of every conversation. It helps you to evaluate their satisfaction level with your customer support.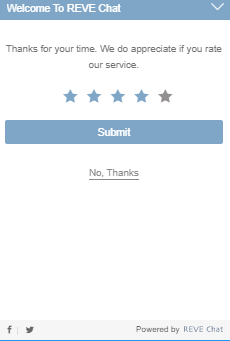 The feedback gained from customers ensures that each agent is providing the best quality service to the clients or not. It also helps you to identify the strong and weak areas and plan out the next course of action in order to improve customer satisfaction.
11. How to set up REVE Chat for a multilingual website?
If you as a business have customers from different countries/demography, you can manage your conversations by setting up your live chat. 
Follow the steps: 
Go to the 'Customization' option on your dashboard
Under the 'Theme Settings', go to 'Select Language' 
Choose your preferred language
Click to save the settings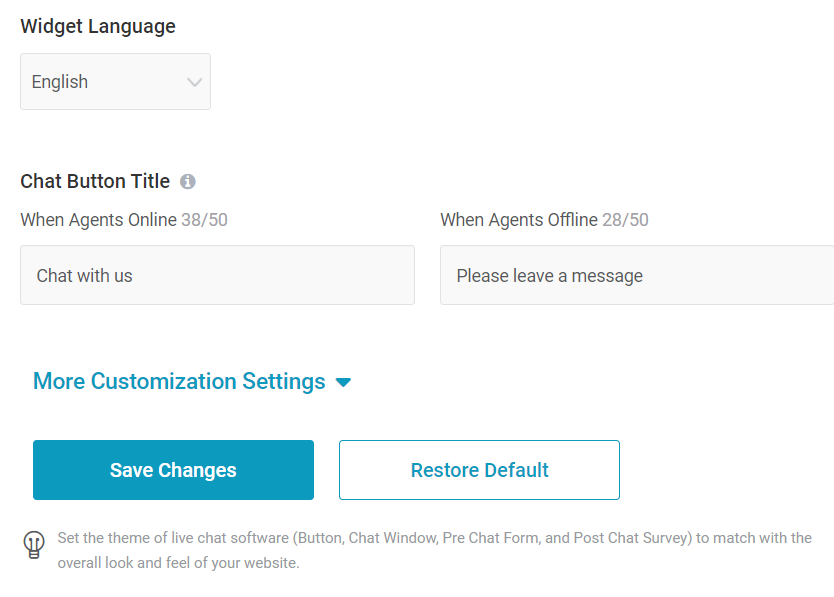 12. How to install REVE Chat code on your website?
You can identify the web pages where you need to install the REVE Chat snippet code. 
Follow the steps to add live chat on your website:
Go to the Integration menu on your dashboard
Copy the snippet code and paste on the website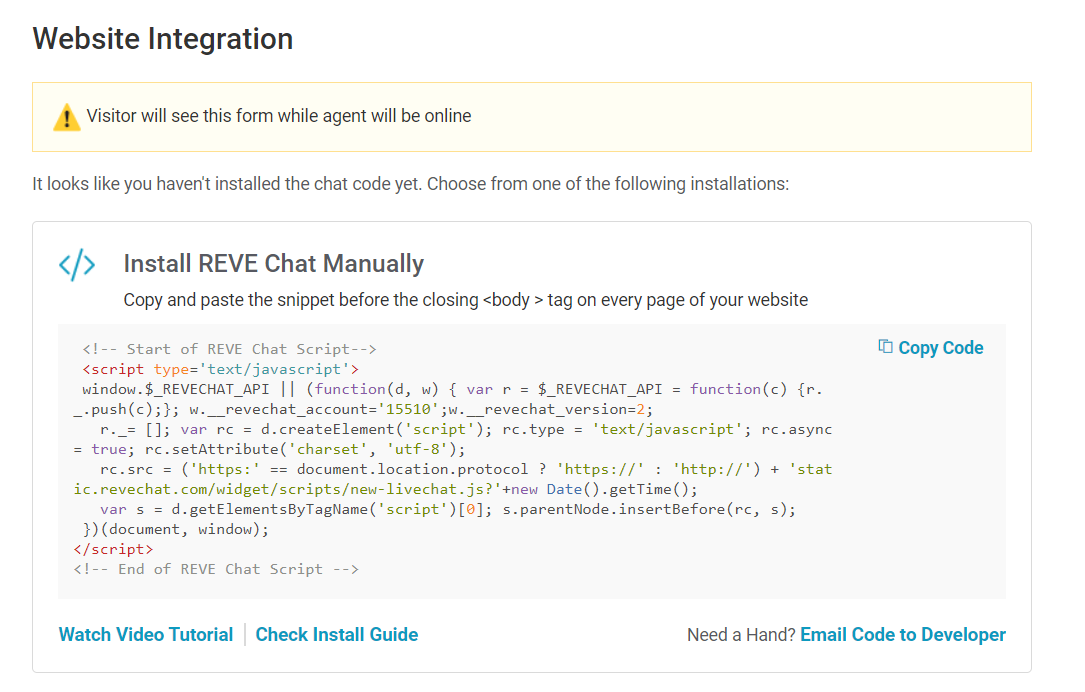 Once done, you have to check the website to see if the REVE Chat widget is visible. In case it is not visible means there is some issue and you need to contact support@revechat.com.
13. Is our data safe? What data safety norms you follow?
Data privacy & security is very important for REVE Chat. There are some important security norms and privacy policy adopted by REVE Chat to protect our customers data.
14. How to delete REVE Chat from my website?
If you want to delete REVE Chat from your website,  you must be an account administrator. Once you have deleted the account, you will be restricted to sign in to REVE Chat. Prior canceling your account have a thorough check on the important things so that they are not left behind.
Prior to deleting your live chat account, it is vital to visualize the consequences.
Once you delete the code, REVE Chat stops working. Make sure you have removed the code from the pages installed.
In case you want to delete for a temporary period, contact support@revechat.com to reinstate the account.
Check that all the dues are clear before you delete REVE Chat account. 
After you delete your REVE Chat account, you will unable to retrieve any data. So, export all the crucial data from the account.
Follow the steps for deleting the account:
Click on the Billing option under Settings from the dashboard
Then click on 'Yes, I want to cancel REVE Chat account'.