Enterprise live chat solution is not a new term anymore. More and more businesses across the globe are implementing live chat solutions on their websites, web apps or mobile apps. It is not only fulfilling the never ending needs of your customers but also gives an extra dimension in giving your customer the best chat experience.
Thing is, there are thousands of live chat solution out there. Which enterprise live chat solution is best for you? Before answering that question you must ask yourself what are the criteria you want to fulfill from a live chat solution. Interestingly you do not have to ask these questions for yourself. We have prepared a complete checklist of criterias for choosing enterprise chat solution only for you.
What is enterprise live chat solution?
Enterprise live chat solution provides an omni channel live chat experience with the flexibility, interoperability and custom deployment that can be adapted to any businesses. For some enterprises like telecom live chat support, governments or travel companies etc.
Now, 63% of visitors return to a website providing live chat support.
1. Is your data secured and protected?
Is your chat application robust? Because it is an absolute necessity nowadays. Data breaches and cyber hacking is so common these days that you must ask these following questions to your vendors before selecting your enterprise live chat solution:
How often does the vendor backups data?

What is the recovery plan?

Is there any active firewall for preventing data breaches and hacks?

How well is the data protected from incoming hackers or unauthorized accesses?

Does the vendor ever mix up clients data with other clients?

What are the privacy policies your vendor have implemented?
If you get enough satisfactory positive answers from these questions you can move forward and pick the live chat solution. Because now you know this application can do a great job securing your confidential data and handle load at crunch times.
2. How much customization can I do?
Enterprise live chat solution provides live chat widget which can be found at the bottom right side of your website (most probably). Now, you have successfully build a brand image but your chat widget doesn't look like you at all will probably won't work.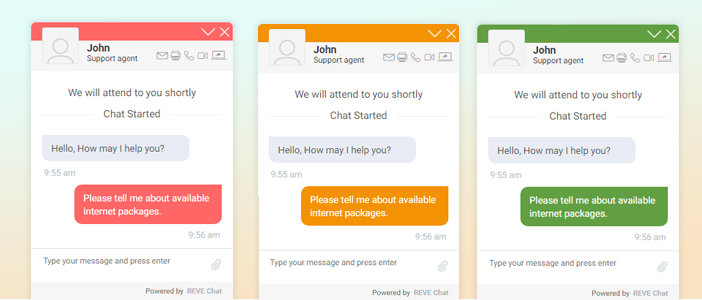 One of the important criterias of choosing enterprise live chat solution is advanced customization. Your chat software should be aesthetically appealing in terms of UI experience. Also you could customize it as per your brand style to give a familiar experience to your incoming visitors.
3. Am I able to engage with my customers using other channels?
Enterprises often rely on multiple channels or tools to engage with customers as they understand the all customers are not same. Hence when choosing a live chat solution, it becomes an important factor to look from an omni channel perspective.
Before you do that, you must first understand your objectives of customer engagement
Do I wanna talk to visitors using video chat?

My customers need any assistance or demos as part of sales or support?

Do I want my customers to reach out to me through other channels such as Facebook Messenger?
Having an omni channel enterprise live chat solution brings all of the above features in one unified platform for that can manage in a better way
4. Does it provide developer API and SDK?
Another important criteria to look in enterprise live chat solution is whether they have an open developer API or SDK. An API or chat SDK helps developer to connect their business or IT application with chat solution to provide the business with all the data they need and manage their operations more efficiently.
You can use developer API for the following scenarios
Add live chat inside your web or mobile application for

in-app messaging support

Exchange the data between multiple apps for better business operations

Automate your data migration of chat conversations for effective collaboration between different teams
5. Is the chat solution scalable as per your business needs?
Most businesses use live chat as their integral part of sales and real time support functions. So if the performance of the chat solution is not able to match your business growth then it will not just affect your website or application performance but it will also have direct impact on your growth and revenue
Imagine you expect 3x more traffic on your website during a festive season or special trade show events. This is the right opportunity for you to generate higher revenue, collect more leads and convert them. Now due to the scalability or performance issues, it takes almost 2 x time to load your website, which will make your visitors drop off before they even contact you.
6. Does it allow integrations with CRM or other 3rd party software?
Integrating live chat solution with CRM software is necessary. Because CRM system allows you to gather and save customers information.
Everyday you are chatting with thousands of customers and you must want to save their information. Imagine one of your customers like nike shoes and regularly purchases from you. Now without keeping track of this information you are offering him under armour brand. This will not only dissatisfy the customer but also you can lose him.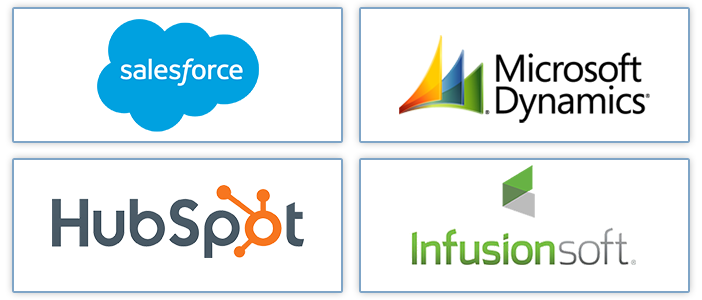 Some of the benefits you are going to enjoy if your chat solution allows CRM integrations are:
Quick customer recognition

Makes support team's life easier

Helps your team to sell more

Finally, saves a bucket load of time hence making your business a sales powerhouse
So, your hand-picked enterprise live chat solution should allow third party software integrations like Salesforce, Hubspot, MS Dynamics, InfusionSoft etc.
7. Does it provide comprehensive reporting?
As a business you should test your selected chat software if it has comprehensive reporting feature. Without proper record keeping your returning customer can get frustrated if they have to start from the beginning every time. Recording chat courses and tracking previous chat sessions will save a lot of time. It will also speed up the troubleshooting process with your customers.
Also the chat solution can give you a comprehensive report by analysing customer's behavior,  geolocation, language, chat style, background etc. These indicators are a great way of learning your customers and giving them the best customer service.
8. How good is there customer service?
As an enterprise, you may need to support large number of your customers across across multiple time zones. If you are providing customer service through live chat then finding a live chat vendor that provides the equal or even more quality of support may become your top criteria.
Hence your live chat solution vendor needs to meet your SLAs and KPIs that you have set to deliver your customer service.
9. What about deployment?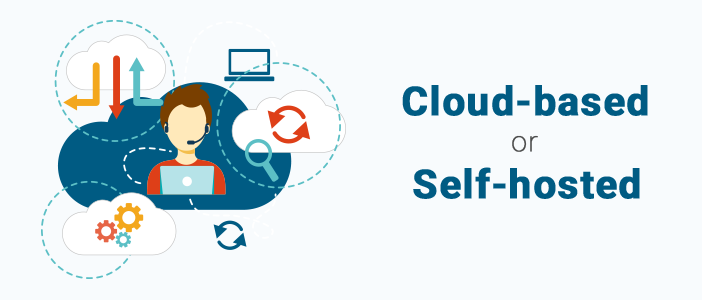 Finally, you have 2 options of enterprise live chat solution deployment – cloud or on-premise. You have to know the differences between these 2 before picking a solution.
Basically, cloud hosted software situates on a 3rd party server and these vendors will be responsible for everything. It is more user-friendly, hassle-free, can be accessed from anywhere, flexible and much more cost-effective.
On the other hand, on-premise deployment requires a dedicated server maintained by your inhouse IT team. It is more secured as it is private and hosted on your server. But it is expensive and most of the times not user friendly.
Going forward
Although choosing the best enterprise live chat solution depends on your business type, what is your main goals, how you want to fulfill your requirements. Implementing live chat software on your website, web apps or mobile apps to deliver the better customer experience your customers deserve.