As marketing efforts are going to drive relevant traffic towards your brand, for the sole purpose to convert them into leads and eventually loyal customers.
But what if your website funnel is leaky or not able to convert the visitors into prospects?  It means that your marketing activities are not resulting in enough sales. 
This is the moment when customers should be notified that you are there for them – by giving them the chance to contact you with real-time sales assistance. Else, they will be frustrated and leave.
56% of customers globally have stopped doing business with a company because of poor customer experience (CX). As one of the most important attributes of a good CX, as per the customers themselves, is a real time response.
Hence, real time sales assistance is as important as your marketing activities to increase your website conversion optimization.
What exactly is real time sales?
Real time sales refer to conversations that are initiated proactively to help customers when they are looking for sales assistance. It is a strategy created that focuses on delivering immediate responses from customers. 
The methodology of real time selling is a way for brands to interact with their customers using stuff that's actually happening at that time. The real time sales are based on insights into a customer's online actions. 
The main goal with real time selling is to take advantage of events important to your business at their peak moment. Above all, it's a customer-centric selling approach that aims to add value rather than push the products.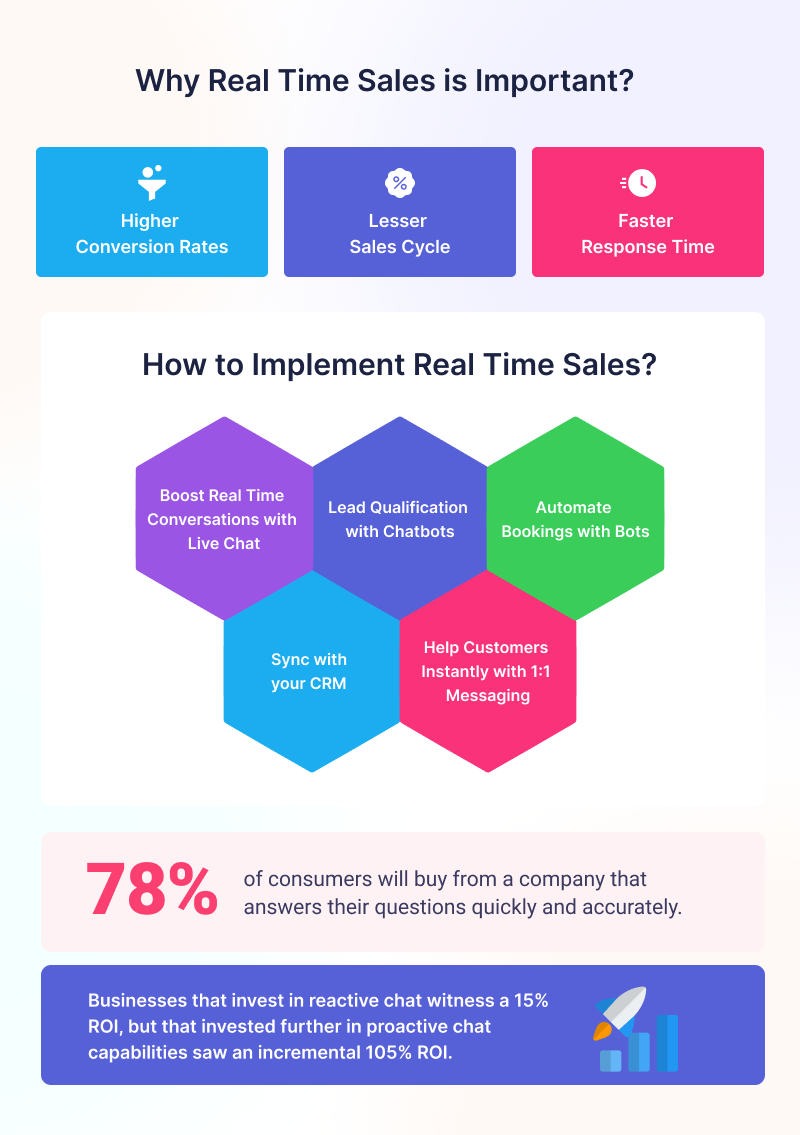 Here are key benefits businesses can witness on offering real time sales.
Higher conversion rates
Leveraging the sense of urgency into your marketing offers and sales promotions like with a limited number of coupons, a deadline for a promo code, or a one-day sale can incentivize customers to engage with your business, which means higher sales conversion.
Lower sales cycle
When a prospect receives real time help the number of touchpoints is reduced and customers can make faster decisions. Thus, when customers are engaged with the right context in the first go, the sales cycle is reduced. 
Faster response times
With 59% of customers expecting immediate assistance and are more likely to buy when brands answer their queries in under a minute, offering real time sales becomes crucial for businesses. By deploying live chat and chatbots, you can engage customers 24×7 and offer faster responses even when your support team is not available.
So how can you implement real time selling as part of your sales process?
How real time sales drives revenue

With 76% of brands claiming that using real time sales increased their customer engagement. Looks like real time selling really can bring customers and companies closer together. Following such a strategy, doesn't just drive engagement, it can increase sales conversions and positive brand sentiment.
When it comes to real time sales, it is important to understand how to apply the methodology to reap maximum benefits.
Live chat boosts real time conversions
Do you know that 78% of consumers will buy from a company that answers their questions quickly and accurately? 
Live chat is a great messaging channel to maximize leads and optimize business return on investment (RoI). 
As compared to reactive channels like phone or email customers need to wait to get a response, live chat provides instant answers by using canned replies or intelligent routing. Businesses that invested in reactive chat witnessed a 15% ROI, but companies that invested further in proactive chat capabilities saw an incremental 105 % ROI.
Businesses using live chat for sales and lead generation can proactively engage their customers based on their journey.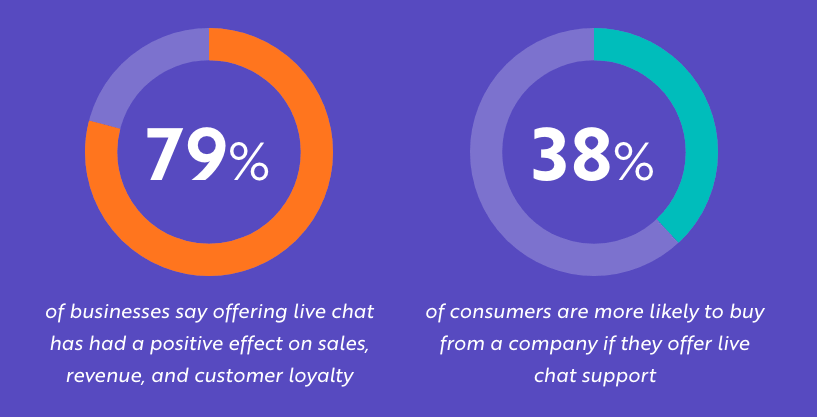 It also increases the chances of sales and improves the response time metric that shows that the conversations are being looked into at priority.
Addressing the queries with fast responses reduces the sales process and encourages customers to make quick decisions.
How live chat can help in real time selling and boost conversions
Place live chat strategically

– Integrating live chat at the important pages (products, services, and pricing) helps you to provide proactive help to customers who need real time sales assistance. 

Set up the right triggers

– Personalized messaging can improve customer conversion rates on websites by up to

40%

. With proactive live chat triggers, you can deliver real time sales data that helps to make quick sales decisions and generate more revenue. 

Route chats to the right sales team

– You must escalate the conversations to the right sales rep, who can provide effective solutions in the first go. Intelligence routing helps to deliver real time sales help and save time.
Automate your Bookings with Bots 
Though live chat is a great channel for real time sales assistance, the agents are not available all the time.
That's where chatbots come into the picture.
A chatbot template for appointment booking can help businesses to manage and schedule bookings. It helps you to schedule appointments without getting overwhelmed with calls.
Businesses do not have to worry about booking hassles or extra costs to hire resources to handle the incoming appointment traffic. 
Deploying chatbots can help you in the following ways.
Schedule appointments or meetings when your sales team is not available.

Automatically capture leads 24×7 by fill up forms.

Send email notification once the appointment is done along with customer contact details. 

Engage your customers offline over a call and confirm the same.

Route the conversation to the right sales agent who can provide the right solution.
Lead qualification with chatbots 
More than 28% of top-performing companies use AI for capturing leads.
Hence using chatbots for lead generation and sales are one of the key areas where companies can witness the direct impact.
Generating leads with automated conversational forms will be easier to acquire more customers for the future. A conversational form turns the most utilized user interface online – the web form – into a conversation. 
Contrary to traditional contact or survey forms that present all questions at once, conversational forms can create a connection with the user, take one question at a time, and personalize the questions in real-time.
You can automate your B2B sales funnel with chatbots to prequalify leads by asking specific questions and based on their response direct them to the right team for further nurturing. Being able to engage customers instantly increases the number of leads and conversion rates.
How do chatbots deliver real time sales assistance?
Chatbots are

always on to engage customers with immediate answers

to all the sales queries. 

By leveraging a sales bot, you can

qualify leads by asking preset questionnaires

as per your business needs. 

Chatbots help to

learn the intent of the visitors

and what to say next, which is the secret sauce of lead nurturing.
Help customers instantly with 1:1 messaging 
Real-time marketing through social media channels is a great way of reaching people interested in your business, whenever and wherever they are.
40% of consumers expect brands to respond within the first hour of reaching out on social media.
As customers are preferring shifting their conversations to social channels with an expectation to get a faster response, it becomes more crucial for brands to engage customers by responding to them in real time.
Customers and businesses exchange 8 billion Facebook messages. Customers rely on you to respond quickly.
In addition, it also allows you to open up a dialogue with social customers at the moment that they are most engaged with your business, and therefore most likely to become a customer.
Key benefits of real time sales across social channels
Real-time assistance to pre-sale queries can positively influence sales as a direct result

Demonstrates a solid

customer engagement strategy

that drives trust in your brand

Customers are always connected and expect your business to be always connected too

Ability to deal with any potential problems quickly and effectively as they arise

Perceived as helpful, aiding positive brand perception
Syncing with your CRM
Without a CRM system, 79% of all marketing leads are never converted to sales.
You've spent time and resources attracting and generating new leads, but now what? 
Are they getting passed on to your sales team, and if so, do your reps know which opportunities are the best? 
Time is of the essence hence, make the most of your marketing tools — email, social, marketing automation — by connecting them to a CRM platform. 
Both sales and marketing will have a complete view of leads and prospects so they can create and target engaging communications to turn prospects into customers and reach key decision-makers faster.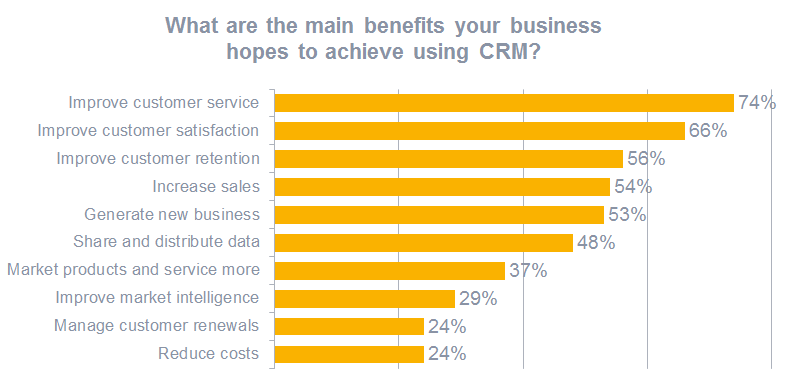 A CRM system can help you improve business performance by:
Improving sales efficiency

– Prioritize leads and opportunities that are highly likely to convert and close based on customer interactions with your company.

Boosting sales effectiveness

– Know which customers are engaged and the right time to reach out for an optimal response.

Increasing upsell & cross-sell opportunities

– See all the opportunities that are a good fit for add-on deals already in progress.

Uncovering referral business

– Identify untapped opportunities in existing relationships instead of paying for dead-end leads. 

Reducing time to close

– Instantly align your team on the next steps to close a deal when you have a 360-degree view of your customer.
Real time selling is the future of sales
There is no doubt that real time sales and marketing helps businesses to learn about the customers in an authentic way. 
Marketing your business isn't always about reaching more people or new people. It's also important to nurture existing customers and connections. Real-time sales benefit your business by getting more customers in your existing network.
Real-time sales and marketing also enable you to increase quantities of engagement with your target audiences, such as the number of people you reach or the number of times you interact. However, this is not at the expense of quality.