A customer service reformation is taking place. It's radical, far-reaching, and being driven by consumers which is why customer service has become the deciding factor when it comes to purchasing.
With time, customer service has been shaped by the advancements of technology and Artificial Intelligence (AI). Hence, the future of customer service or the trends will evolve based on consumer expectations.
Satisfied customers have a 60% – 70% chance of returning to make future purchases and are inclined to tell others about your business when they experience excellent customer service.
The simple way of keeping customers satisfied has always been at the heart of customer service. Current business leaders and customer service experts visualize the landscape of customer care has changed, and where it's headed as technology and communication continue to evolve.  Here are the key elements that influence the future of customer service.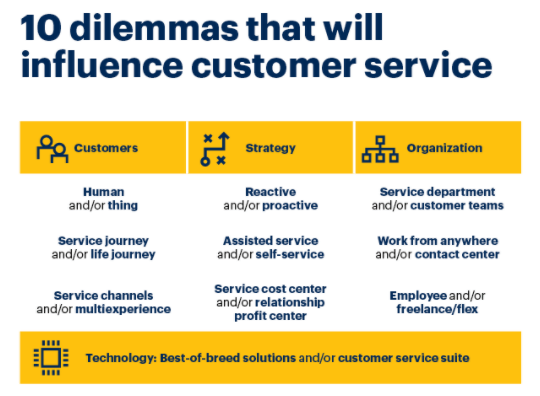 10 technological trends that will impact future of customer service 
There are many transformations taking place in the customer service industry from the sheer number of channels through which customers can contact your business to automated support or real time customer engagement.
We have outlined a list of the top 10 trends in customer service that are going to dominate in the near future.
Let us dive into a comprehensive discussion of innovative trends in the customer service industry.
1. Deliver consistent support over omnichannel
Modern businesses should function in an omnichannel way still, many of them are reluctant to do so and are at risk of losing customers. 89% of consumers experience frustration in repeating their questions to multiple customer service reps. 
Managing customer communications under one platform is the new norm. 
Omnichannel customer service integrates with all online and offline communication channels (text, social, website) to provide a consistent brand experience. In case the customer switches between multiple channels yet still experience the quality of service.
A consistent user experience, regardless of platform, is one of the key components of a successful omnichannel user experience. Consistency across channels builds trust with customers.
How will the omnichannel approach be a part of the future of customer service?
Increase customer retention –

When businesses deliver consistent real time support across all the channels with the help of digital engagement tools, customers are highly satisfied and they retain with the brand for a longer time.

Data based support

– It is impossible to meet customer expectations without understanding them. In order to learn customer needs and preferences, businesses need to gather feedback and behavioral data with live chat software. 

Better accessibility for customers

– Every customer has a different preferred channel of communication. Some prefer face-to-face interaction, some via a messaging app. They also expect every channel to be open, easily accessible, and integrated. To facilitate this, businesses need to ensure agents access information across channels.
2. Chatbots will reign the future of customer service
The deployment of chatbots for customer service is on the rise. That's because customers want real time responses 24×7. However, now the chatbots function with a limited number of questions and answers by using a decision tree or using Artificial Intelligence (AI).
Going ahead, the bots will use Natural Language Processing (NLP) to interpret nuances of language and better understand the intent of a question. For example, NLP technology can distinguish the different intent behind these two similar questions:
Is your fresh food organic?

Is your organic food fresh?
Here are few trends that customer service bots will adopt.
Bots will interact via text & voice

–  In the future, chatbots will morph into what some people are now calling Intelligent Virtual Agents (IVA). An IVA enables customers to communicate with a company through multiple devices. Voice-driven virtual personal assistants such as Siri, Alexa, and Cortana are rapidly becoming widely adopted.

Chatbots will be deployed to new channels

– Bots will communicate across different channels, like social media ( Facebook, Twitter) and texting platforms (Facebook Messenger, WhatsApp). They will fit right as those channels are conversational.

Power up conversational marketing

– Whether they do research online before going to the store, shop on websites, or social media, it is no more personal. Conversational marketing steps buyers through your marketing & sales process using real-time conversations. It begins when the bot uses targeted messaging to engage users on your website, app, social media, etc.
3. Data driven customer service decisions
Predictive Analytics is becoming the status quo. Data is the newest trend that is being smartly used to meet customer needs. Companies are now consolidating their customer data from social media platforms. The insights help them to offer exceptional customer satisfaction by reaching out to them on different channels.
Predictive Customer Analytics is transforming customer service to be proactive and personalized. It helps businesses in making more informed decisions that impact significant growth.
Key ways Predictive Analytics is making customer service more efficient.
Make smart decisions

– Predictive analytics aims to help companies predict their future based on past performances. It involves studying unstructured texts like customer reviews, feedback, and complaint forms. This information helps you make accurate decisions and plans.

Streamlined shipping services

– With more customers demanding next-day and same-day deliveries, predictive analytics helps retailers and their shipping partners ensure reliable, on-time arrivals. Predictive analytics enables businesses to enhance the customer experience.

Reduce customer churn

–  Predictive analytics can be used to identify customers presenting a high churn risk and help businesses take proactive attention to enhance customer experience and serve their needs better. 

Forecasting customer needs

– Predictive analytics can provide early detection of precursors to change in customer behavior. It allows brands to be more proactive, enabling them to tailor their messages in anticipation, effectively serving the customer before they even know they have a new need.
4. Real time customer engagement will surge
Real time collaboration with customers on channels with visual engagement tools will swirl eventually as a part of the future of customer service. According to Forrester, live customer engagement tools and other live assist channels have much higher satisfaction ratings
As businesses and consumers continue to become more comfortable and capable with video, the importance of visual engagement will increase. The different visual tools are:
Video chat – It allows agents to diagnose the issue faster and acquire first-hand details. Then provide the effective solution via personalized conversation that improves response time and develops trust.
Co-browsing – Agents can collaborate with customers in real time and take the browser control to guide them through complex form fill-up or technical processes. It improves the chances of first contact resolution and reduces the number of touchpoints.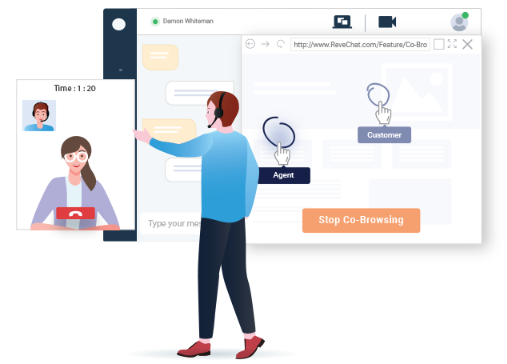 Some of the key ways customer service agents can use visual engagement:
Helping customers

navigate to specific information on the website

, such as technical specifications or assembly instructions.

Assisting customers to

complete an online purchase, form, or other processes.

Demonstrating a product such as a software feature or a small device.

Diagnosing and

resolving problems such as incorrect software installation

or the damage to an item during shipping.
5. AI-based self-service experiences
Machine Learning (ML) and Artificial Intelligence (AI) will be powering a new generation of self-service tools that will differ from the existing self-service experience.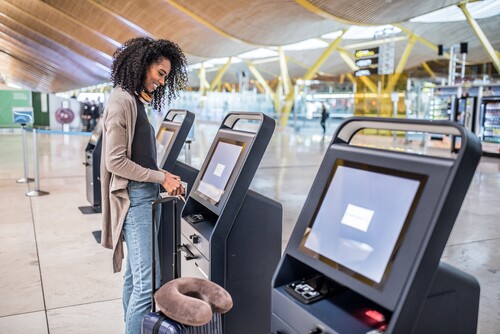 Key ways AI will impact self-service experience.
Customers will have far

more control over the experience

. Instead of reading through FAQs, support articles, or community answers, customers will be able to ask for help in their own words. Furthermore, instead of being trapped in a complex decision tree, they will be able to quickly move between topics.

The experience will

shift from being static to dynamic

. Instead of manually identifying your case drivers, new self-service tools will alert your team of where and when it should be focusing its time. The tools will learn from your customers' activity and empower your team to do more strategic work.

The future self-service experience will

substantially increase the percentage of your customer base

. Customers are more likely to engage with your company when there is less friction and interacting with a person is not needed. The resulting increase in customer data stands to have a dramatic impact on the role of support in your company.
Eventually, in the future, the strategic decisions of the company will be made based on the insights collected by the new gen self-service support tools and the control and accessibility they afford customers.
6. Hyper-personalization
Research says 71% of consumers are frustrated by impersonal experiences. So, it is clear that personalized customer service has a significant impact on profits.
Consumers expect highly personalized shopping experiences from retailers and are willing to spend more money when brands deliver targeted recommendations.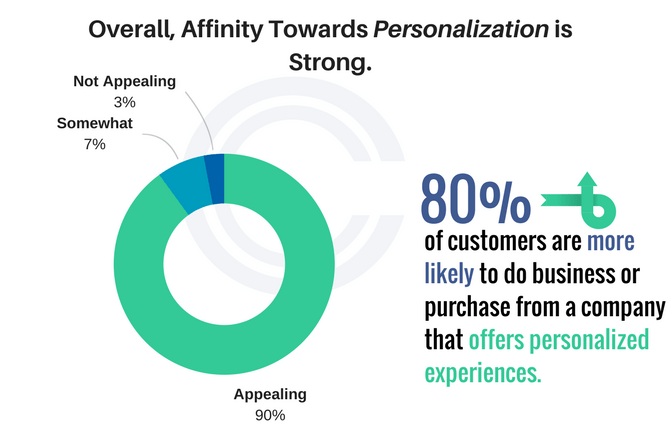 Hyper-personalization will be the next level of future customer service. 
Let's find out how?
Seamless in-store to online experience –

In-store employees should be aware of what customers purchased online. It is good to have an online store and an app, but they can not live in a silo. Leverage an omnichannel approach and make all the info available to all stakeholders.

Accurate product recommendations –

Recommendations should be on point. Since they drive impulse buys, they should be specific and personalized.

Faster and effective assistance –

Brands should interact on a personal level right away. If a customer calls for help, your rep should know their purchase history. Should a customer come from a social media post, tailor their experience around that. 
7. Machine learning + human support
The advancement of intelligent machines is taking over human functions, and the customer service sector is no way behind.
Usually, most of the customer issues are common ones or are the identified issues. As 86% of consumers prefer to interact with a bot for getting real time solutions. Only if the bot is not able to resolve the issue, human intervention is needed.
For example, if a customer is looking for some legal advice, the bot may not have the knowledge and sensitivity training to handle such a complex scenario. When it comes to machine learning, there needs to be someone behind the data looking for trends and exceptions to the machine to be more responsive.
Moving forward customer service agents will be working hand-in-hand with machines. 
When an issue will be reported that is not easily solved by the bot, it will immediately be handed over to the intelligent human who can comprehensively analyze to get the solution without making the customers wait.
With the right use of technology, the resolution speed of customer service issues will be accelerated. Hence, it is a wise decision for companies to invest in systems that aggregate customer data and allow support champions to treat each customer as an individual.
8. Voice-based assistants 
Voice interfaces are advancing at an exponential rate in all industries, with notable growth in healthcare to banking, as companies are racing to release their own voice technology integrations to keep pace with consumer demand.
According to Juniper, voice commerce will continue to grow, eventually reaching more than $80 billion per year by 2023.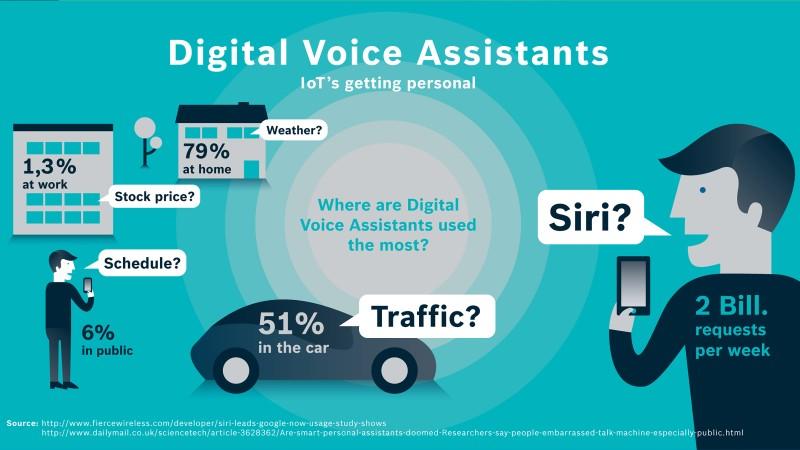 The main driver for this shift towards voice user interfaces is changing user demands. There is an increased overall awareness and a higher level of comfort demonstrated specifically by millennial consumers. 
How voice assistants will enhance customer service in the future?
Personalized conversations

– Voice assistants will help in setting up the right tone during a customer conversation. 

Understand client's goal clearly

– The main purpose of voice assistants' knowledge is to understand your client's prerequisites accurately. It can comprehend the whole setting of the discussion and not only a couple of sentences.

No queue time

– Prior to any demo, customers are usually requested to give individual details. This procedure can be streamlined with voice assistants as they respond significantly quicker in perceiving numbers, names, or address spell-outs without putting the customer on hold.

Improve first contact resolution (FCR) rate

– When you optimize voice bots, customer service interactions reduce by handling queries effectively. It improves the FCR rate, which is one of the important

customer service KPIs

. 
9. Highly skilled customer service agents 
Going forward, Artificial Intelligence (AI) will become an integral part of different aspects of customer service. Although AI is going to replace support agents rather it is going to play a more crucial role.
Businesses will focus more on training customer service agents for jobs that require more advanced technology and management skills. Adequate training of products, services, and handling FAQs will help them to guide customers in the right direction without further assistance.
Ritz-Carlton empowers reps to spend up to $2000 to make a customer happy. 
Here is how highly skilled agents will be the part of customer service trends
Extensive training will help them to guide customers instantly rather than connecting to the senior executive. 

They will have adequate knowledge and authority to close the conversation successfully.

Managing conversations effectively helps in improving team productivity.

The agents would put greater focus on high-level and complex customer issues.
Therefore, customer service agents would evolve into a higher-level position in the future.
10. Social media will be more prominent
Social media already dominates internet activity. With over 1.5 billion Facebook users and 400 million Instagram users, the power of social media is ever-growing and becoming increasingly accessible to people all over the world. With so many users, brands are able to reach an unlimited number of potential customers.
90% of users prefer to use social media over other methods to communicate with brands. Understandably, people don't want to wait hours for a response or sit waiting on hold. Customers require instant gratification, and now expect companies to use social customer service to answer issues and problems immediately.
Here is how social media will be a more prominent part of the future of customer service.
Increase brand reputation

– Providing outstanding customer service on social channels will play out in full view of the public. Your audience will be able to see that you are a trustworthy business that cares about your customers, and brand awareness will grow accordingly.

In-app social support

– Companies should make a priority of improving their ability to provide customer service through messaging apps. As it is clear that the relevance of messaging apps will continue to grow and consumers are also becoming more demanding.

Integrated marketing approach – A successful integrated marketing campaign can succeed if it is backed by solid customer service. Nailing the social customer service experience is particularly important as potential customers are likely to look up reviews before purchasing your products or services.
Digital technology is a vital part of the future of customer service
No matter what industry you are in, it is more worth it than ever to invest the necessary time and resources into providing the best possible customer service. Additionally embracing digital technology like AI and ML will help you to be in the race for a long time. All customer interactions have the potential to be a lasting experience of how your company treats its customers and it's in your best interest to make it an unforgettable experience.