The emergence of new technologies in the e-commerce sector has led to paradigm shifts in recent years. Today, with the headway in e-commerce trends, it has become easier for businesses to reach out to their customers anytime, anywhere.
As per Statista, the global retail e-commerce revenue will amount to $4.88 trillion by 2021. The high-tech innovations have transformed the way people shop and the retailers market a product/service.
But the question comes how can you stay competitive?
In order to differentiate yourself, you need to be proficient in the latest e-commerce trends in 2022,  which are often a result of advancements in technology and changes in consumer preferences and behavior.
Top 10 e-commerce trends 
While maneuvering over the latest e-commerce trends, merchants are also making sure that the chosen technology should be worth their efforts. Here are some common changing e-commerce landscapes that will rule the future of e-commerce.
1. Plan omni channel strategy
Customers today do not prefer using just one channel to purchases. So delivering an omnichannel marketing experience to your customers is very important. 
Omni channel approach streamlines all conversations across the preferred communication channels by the customers under one platform for faster response. This approach connects the physical and digital channels with one another to deliver a cohesive customer experience. 
According to Omni channel Buying Report, 87% of consumers in the US shop offline. 78% of the survey respondents reported making a purchase on Amazon, 45% in a branded store online, 65% in a brick-and-mortar store, 34% on eBay, and 11% on Facebook.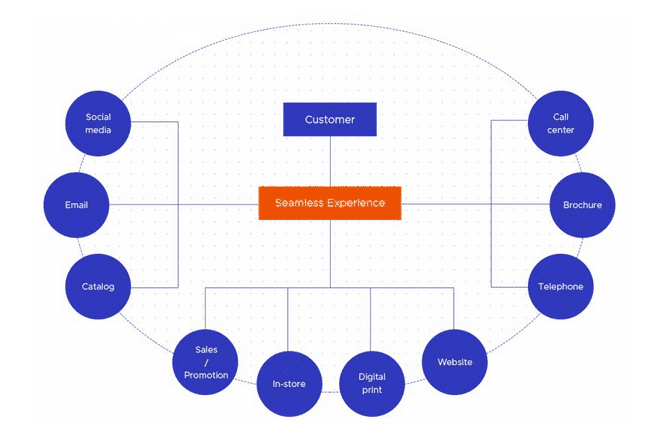 The main goal of e-commerce businesses is to provide customers with an integrated approach with an anywhere shopping experience. Big brands like Bank of America, Disney are using omni channel strategy.
To accelerate your e-commerce business growth, it is vital to make your business is available across all of the channels that your customers use. Apart from your website, this could be on social media and brick-and-mortar stores as well as other online stores.
2. Use AI to automate your sales
Gartner forecasts that 25% of customer support and services will be integrated with virtual assistants/chatbots by 2021.
But how Artificial Intelligence (AI) can be used for e-commerce business practically?
The use of artificial intelligence through the application of 'chatbots' is just one way to drive the conversation in this next era of conversational commerce. E-commerce businesses can use AI powered chatbots to better understand their customers, generate new leads and provide an enhanced customer experience.
How do chatbots help?
Customers look for prompt responses to their queries and chatbots help to keep up with the volume of chat requests coming in. 

Chatbot helps to automate order processes and are a cost efficient way of delivering customer service.

Chatbot solution reduces your team effort where bots can answer the frequently asked questions 24×7 taking up the query and provide answers to the customers in real-time. 

You can integrate chatbot solution into the shopping cart. It can work with all the stores based on the platform. The more shopping carts that your chatbot application supports, the more potential customers it has. 
Let's take the example of Getty images who used  Mintigo's AI solutions for sales. With Mintigo's software, Getty images have successfully generated significant new leads by capturing the data that identifies those business websites showcasing images from Getty's competitors.
Please watch the video
Getty can identify high quality prospects and their sales team get a competitive advantage to win new business. Practical sales intelligence is delivered at scale to Getty's sales team across millions of potential customer records. With AI and machine learning in place, Getty's system would not be possible at these volumes.
3. Use of Virtual Reality (VR) to transform your e-commerce business
Virtual Reality is going to be a popular e-commerce trend in 2022. Virtual or augmented reality bridges the gap between an in-store shopping experience and a mobile shopping experience.
VR and e-commerce are parallel in nature. Both are essentially the real world experiences that have been digitally replicated. Many online stores are using VR as part of their integrated marketing strategies. The two complement each other well, which means it is a sure-fire way of creating memorable customer experiences.
For customers, VR means a much richer buying experience with product visualization before buying, and in 2018, 24 million virtual reality and augmented reality products were sold.
A great buying experience for a customer is, allowing them to 'test out' homeware items within their homes and 'try on' clothes and accessories. And for businesses, this means higher conversion rates and fewer returns.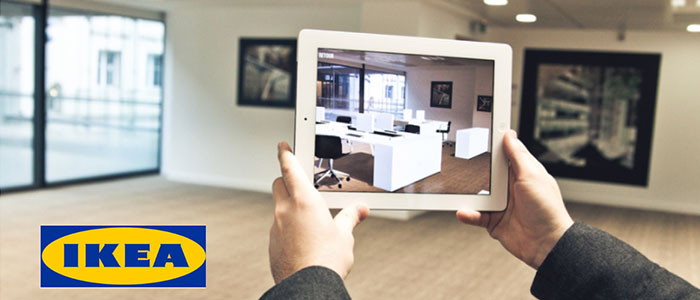 IKEA helps its customers virtually view what kind of furniture will look better in their home. This type of application attracts more users, and it is likely to increase conversions. From the user's perspective, it offers a rich online shopping experience.
4. Be mobile first
The increasing popularity of smartphones, the number of users is expected to grow over 4.78 billion by 2021. Being mobile friendly is one of the most important e-commerce trends. The main focus should be on mobile as the first channel.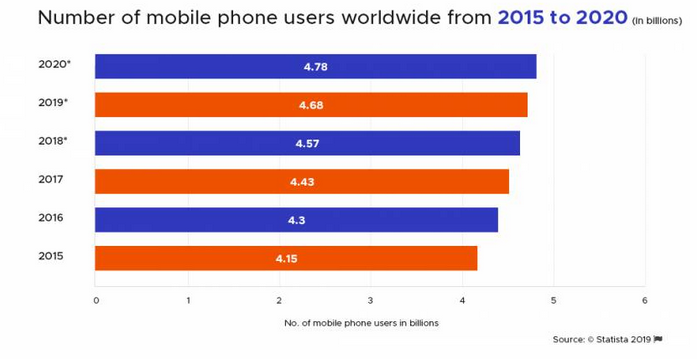 It is imperative for your e-commerce website is optimized for mobile devices. The websites that are not mobile optimized can be a major reason for the dropping sales rate. So, it could not be ignored. 
Generally, customers prefer using an app so you can build your own mobile application for customer engagement. The main reasons why customers prefer using apps compared to a website as listed below:
The mobile app is convenient and faster

Extra benefits and reward points for using it

You  get more personalized content

Better deals and discounts are offered
When the customers get so many benefits it indeed improves their experience and it helps you get more sales and growth in revenue.
5. Optimize your e-commerce business with advanced tools
For every business, investing in the right tools has a great impact on productivity and building the right processes. Similarly, you need the right tools to balance your business demand and finance of your e-commerce business.
There are a lot of tools available for e-commerce business that differs in features, price, and support. You can optimize your e-commerce site for conversion by using advanced tools to build your e-commerce marketing strategy.
But then the question is what are the activities for which you need a tool?
Here are three main aspects of the future of e-commerce business and the suggested tool.
Social Media Management Tools 
There are a variety of tools that can be used for managing your social media marketing such as Hootsuite. It allows social media management from a single dashboard, sending posts to your social accounts. It also provides powerful analytics data for your social media accounts. 
Inventory Management Tool
SkuVault is a user-friendly, web-based inventory and warehouse management system for eCommerce retailers, that helps you take control of your inventory. It easily manages your inventory and streamlines warehouse operations. 
Cart abandonment Tool
CartStack cart abandonment solution allows e-commerce stores to recover abandoned shopping carts with an affordable email reminder solution that easily integrates with any website. It is the most recommended cart abandonment solution for online stores.
6.  Use engaging video content
With the evolution of digital marketing, one thing that has been noticed is today's customers are favoring videos. 87% of online marketers use video content.
"Video presents the product more personally while engaging the customer." Jihyeon Kim.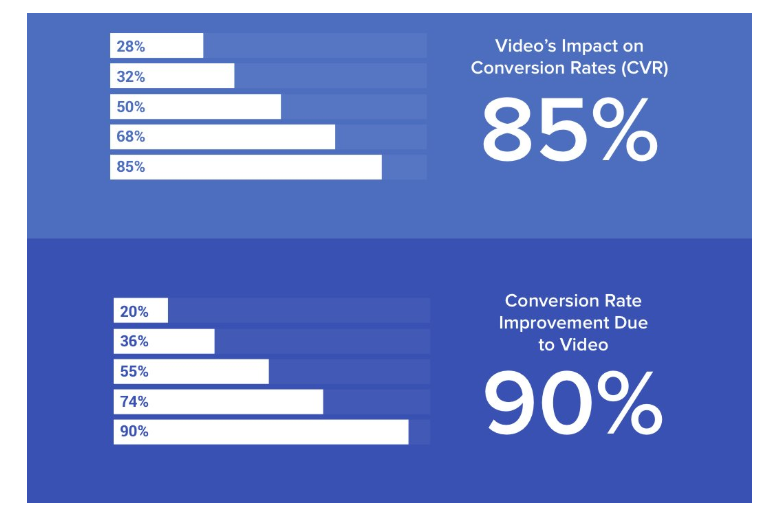 If we are able to interact with the product before we make our final purchase, it kicks off all the hesitation of buying online. The product visualization answers all the questions that are in the mind prior to buying.
How videos help customers?
Explain how to use your products

Get understanding and relatability regarding the product/brand.

Describe all of the features and functionality

Gain new customers by offering useful content that helps fulfill their needs

Share happy customer reviews

An effective video explains the product and its benefits

Create a story around your product

Drive home the benefits and what makes you stand out
Getting a close view of the product removes all the feelings of a doubt before purchasing. E-commerce product videos have also proved to be more engaging. 
7. Give your customers more options for digital payments
One of the long-standing hurdles for e-commerce businesses is the lack of digital payment options. You have to allow different wallet payment options to your customers to pay for the products and services on your website.
Make the e-commerce checkout process simple and get maximum sales turnover. Apple Pay option is getting popular as an e-commerce trend. If we look at the checkout page of Best Buy we can see the different payment options it offers to its customers.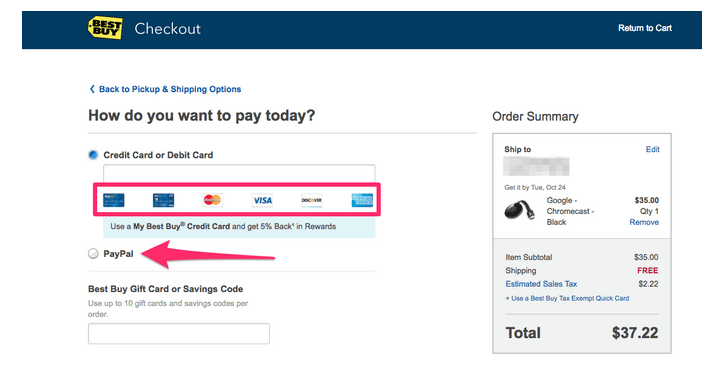 Businesses gain more customers and recognition who offer payment options such as GooglePay, PayPal, Phonepe, Kypto currency etc. Often purchase is not complete as the payment option is not available. 
If you accept payments through a few modes such as Visa or MasterCard, many of your potential customers will be turning away. Make sure that you have options for accepting debit cards along with credit cards.
8. Personalize your customer journey
Supercharging the personalization experience for your customers is not just about fine-tuning the marketing product that lands in their inbox. It is about forging real connections, knowing your customers and provide them the best experience accordingly. 
Accenture studies say 75% of shoppers are more likely to buy from sites that use some form of personalization.
You can provide a personalized experience throughout your customer's journey:
By using triggers

– Triggers are the best way to start a conversation with your website visitor or customer. You can configure an automated and customized message like a welcome greeting to initiate chat for different types of visitors: for a first time visitor, for returning visitors, visitors from specific countries or cities, visitors who spent some time over a specific page.
Browsing history

– You can engage your visitors and customers based on their browsing history. Based on their last purchased you can offer AI based product recommendations to your customers with some best deals. 
9. Give a visual makeover with real pictures and video testimonials
Customer reviews or testimonials is a great way to attract customers but if the message lacks a face it fails to convince your customers. 
What you can do is take a step ahead to make it worthy and convincing.
You can add the real pictures and name of the customers along with their success stories, reviews, and testimonials.

You can also add video testimonials where customers speak about their challenges and their successful journey with your brand.
10. Dropshipping
The Merchant eCommerce Report surveyed and found that out of 450 online stores, 16.4% were using dropshipping.
The businesses using this model experienced average revenue growth of 32.7% and had an average conversion rate of 1.74%.
What exactly is dropshipping?
Dropshipping refers to the retail fulfillment method where a store doesn't stock the items to be sold. When there is a purchase made it ships the product directly to the customer by buying from any third party.
The main difference between dropshipping and the standard retail is no inventory stock needed. The dropshipping business model is recommended for startups. It is easy to start with and involves minimal risk. 
Benefits of dropshipping and has benefits such as:
It minimizes the risk as money does not need to be paid upfront to acquire the inventory.

It reduces cost as new products involve less launching costs and no investment is needed before they can be sold.

There is no inventory storing costs involved. 

You also have minimal overhead costs.
Final thoughts on e-commerce trends
In today's uber competitive e-commerce environment, companies seek to attract customers through a radical approach by providing highly engaging and meaningful user experiences. The advancements, the upcoming years will bring in new trends in the e-commerce industry.
The technologies, merging with trends in the e-commerce industry aims to provide an exponential hike in sales and customer satisfaction. The future of e-commerce will be revamped with augmented reality and businesses will be able to give the best visual shopping experience at the convenience of their homes.