Chatbot marketing is a common expression in global business, and the benefits of enterprise chatbots are rapidly enticing more companies to begin experimenting with the capabilities of Artificial Intelligence (AI).
The chatbot market size is expected to grow from $2.6 billion to $9.4 billion by 2024 at a compound annual growth rate (CAGR) of 29.7%.
Wondering why enterprises are investing so heavily in chatbots?
Enterprise chatbots are making enterprise communications easier and this is the reason that they are gaining popularity across industries. Also, the marketing, sales, and customer service operations can all benefit from AI-powered chatbots.
The next-generation enterprises are adopting these bots quickly as they are the future of conversations.
What is an Enterprise Chatbot?
Enterprise chatbots can be defined as conversational solutions built for especially larger organizations. They are designed to work with enterprise resource software, integrate with complex workflows, and overcome challenges businesses face at the enterprise level. 
An enterprise chatbot like other bots helps businesses connect with customers at scale. As conversational commerce continues to grow in importance, chatbots are moving from a "nice to have" to a vital part of any enterprise tech stack.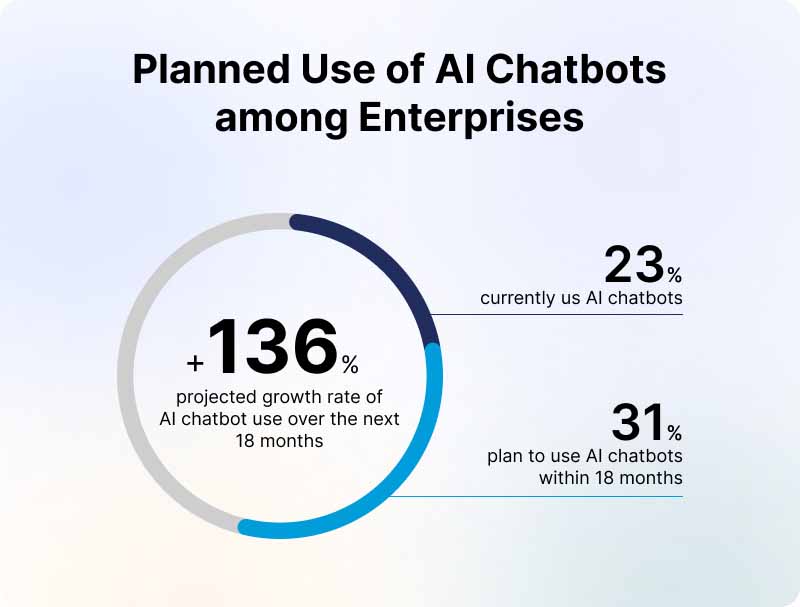 The enterprise bots are designed to meet the use cases in the workplace in order to deliver a better user experience as well as improve team productivity. 
Where regular chatbots might be made for one specific use case such as responding to FAQs, ordering a pizza — enterprise bots likely have to handle many different use cases.
Enterprise leaders across different industries are embracing chatbots because of:
Easy usability and need almost no user training

Very easy to build and develop with the right enterprise chatbot platform

Allows to iterate by focusing on initial use cases and then expand eventually

Enterprise AI chatbot solution is cost-effective
What Makes Enterprise Chatbot Successful?
Well designed chatbots always focus on the conversation quality and have features that ensure a superior experience.  There are many real-life chatbot examples that combine the elements of technology, flow, and design to prove effective in handling customer interactions without requiring any human support. 
Key features that make enterprise chatbots successful.
Deliver faster & contextual responses:

Enterprise bots have the ability to understand the context so that users feel like talking to a real person. By deploying the advancements of natural language processing (NLP), bots can understand the context without asking validating questions.   

Easy human handover:

Chatbots designed for enterprises are smart to understand the sense of urgency and complexity of a conversation. Even when a

chatbot template for online order

fails to understand the query, it can still intelligently hand over the chat for human support.

Intuitive UI/UX:

  AI chatbots for enterprise should be easy to use in order to make conversations interactive. The more simple the design is, it will be easy to use them for answers. 

Well-trained with FAQs:

 

Chatbot benefits

enterprises in different ways when they are trained. Regular training makes bots powerful and enables them to handle user questions effectively.  

Provide personalized support:

 AI bots can easily comprehend user conversations and respond in real-time. It can analyze the user input to understand the intent to deliver personalized experiences. 
Key Benefits of REVE Chatbot Platform for Enterprises
Enterprise chatbots are the best tool for forging long lasting customer relationships. Businesses can leverage it to build strong connections by engaging with website visitors in real time. With enterprise bots, you can drive sales and improve customer service. 
There are many different ways REVE Chat as an enterprise AI chatbot platform impacts customer communication and drives business growth.
1. Increase Customer Engagement 
Well designed enterprise chatbots can take customer engagement to the next level. 
With the help of conversational AI bots, engagement is driven based on user data and made more interactive. They also deliver consistent answers, which boosts customer satisfaction level. 
By providing relevant and quick responses, customers show more interest in staying longer on the website and continue the conversation.  
Here is how REVE Chatbot helps enterprise to boost customer engagement 
Personalized conversations:

Enterprise chatbots are backed with ML and NLP that helps to analyze responses and further helps to engage users at a personal level.

Instant response for customer queries:

With enterprise bots, wait time for customers is eliminated as the chatbot is instantaneous and customers can reach out on demand at any time.

Sentiment Analysis:

Chatbots can understand the user sentiment in their input and provide relevant responses that delights customers.
2. Improve Sales & Lead Generation
Designing and deploying enterprise chatbots helps to automate your sales funnel. 
Bots assists sales & marketing teams to reach out to the customers faster. How?
Enterprise bots can initiate a conversation with potential customers while they are browsing through the products and services. It empowers you to qualify leads and direct them to the right team for further nurturing. 
Chatbots can provide extra information that a user may ask for regarding the services immediately. When you are able to engage customers instantly increases the number of leads and conversion rates.
3. Deliver Instant Response 24×7
A growing number of enterprises are choosing AI chatbots as a critical part of their customer service to improve response time and save operational costs. 
Businesses lose 75% of customers due to long wait times, it would be safe to say that 'not getting instant responses is easily one of the greatest customer frustrations, and also a major cause of customer churn. 
As bots can resolve simple questions quickly, your team will have spare time to tackle complex queries and contribute to enhancing the customer support experience. They are active 24×7 and answer customer queries even when your support team is not available.
How does an enterprise bot built in the REVE Chatbot platform deliver better support?  
You can train the chatbots to anticipate customer's needs and deliver relevant answers. 

AI bots for enterprises can be used as the first point of contact to reduce customer churn and set human handover for complex issues.

For businesses that receive repetitive queries, implementing enterprise chatbots can be a great way to provide instant support without making customers wait.

Even if chatbots don't understand the user problem, they at least provide an instant response relevant to the query that creates a good impression.  
4. Gain Customer Insights & Data Monitoring
A good enterprise AI chatbot platform like REVE Chat helps to build bots that excellently tracks the purchasing patterns and analyze consumer behaviors by monitoring user data. 
The customer data helps enterprises to market the products differently and expand their reach. 
Enterprise bots also collect feedback through simple questions and improve products or optimize the website. 
How REVE chatbots for enterprises helps in using consumer data
Create customer profiles:

Enterprises can use AI chatbots to collect customer information like name, contact details, etc., and create customer profiles for future use. 

Propose relevant content:

Enterprises can use AI-powered bots to provide customers with right product details and also suggest relevant content. 

Send push notifications:

Big companies can use bots to keep existing customers engaged through regular and timely push notifications.  
5. Maintains Consistency Across All Channels
The benefits of having an omnichannel strategy is quite evident.
Omnichannel experiences are proven to increase key metrics like customer satisfaction, loyalty, and customer lifetime value. 
Businesses that leverage omnichannel strategy achieve 91% greater year-over-year customer retention than the rest.
Many chatbot platforms require you to build individual conversational flows for each channel. As a result, the scope of enterprise chatbot projects can quickly spiral out of control. 
REVE Chatbot platform helps to build an enterprise bot and use it across all of your customer service channels. You can deploy bot across major communication channels like:
Website

Facebook Messenger

WhatsApp

Viber
REVE Chatbot platform helps to meet the enterprise chatbot use cases with omnichannel messaging support features with a single conversational flow.
Chatbots that enable omnichannel messaging support can help brands understand the interests and preferences of customers, and enable your agents to easily leverage past interactions to drive future conversations with customers. 
6. Enterprise Grade Security
When it comes to security, it is no joke at the enterprise level. 
A very small privacy or security issue can have major ramifications. As such, enterprises need an enterprise chatbot that can meet and exceed regulatory requirements. 
REVE Chatbot platform is highly dedicated towards information security, rigorous testing, and strict adherence to global privacy standards. 
As it is a GDPR-compliant service provider, we ensure that our clients save time, limit their exposure to data breaches, and avoid regulatory penalties.
Irrespective of where you are, you can be sure that REVE Chat's products and services comply with any privacy framework, including the GDPR.
7. Meet Customer Expectations
One of the top expectations of customers is to answer instantly when they reach out to the business.
Customers expect that their complaints or queries should be immediately addressed. And enterprise chatbots can help to automate some of the regular interactions and meet customer expectations.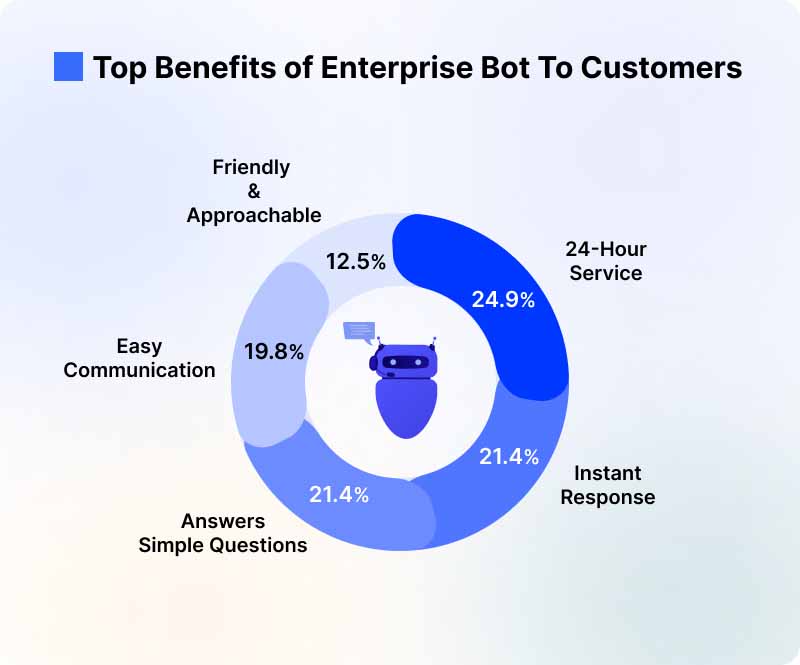 As automation is one of chatbot use cases, customers won't have to wait for human agents for engagement and it improves brand experience that further contributes to retention significantly. 
How enterprise chatbots meet customer expectations 
Proactively interact with customers:

Bots can help businesses proactively interact with the customers, deliver them quick responses. 

Deliver personalized experience:

An enterprise chatbot is very handy when it comes to delivering a personal customer experience across multiple touch points as it impacts conversion rates.  

Effective targeting of audience:

AI bots send visual content and give information about product, offers, discounts, that ensures effective targeting & boost user engagement.
Best Enterprise Chatbot Platforms
A right chatbot platform helps to build a strong bot for your website or on Facebook, engage customers 24×7, and provide quick information whenever they need it. It helps to design the best chatbot software for enterprise businesses that acts as the best medium line between customer problems and solutions.
REVE Chat offers an intuitive ready-to-use chatbot platform that allows enterprises to create customized bots with zero coding based on their requirements. You can build enterprise bots without any hassle, train the bots and as well as measure their performance. It is ideal for enterprises or SMBs that focus on managing conversations effectively.
Key Features of REVE Chatbot Platform
Visual Flow builder

– Allows you to create bot flow with the help of nodes and actions such as text, image, carousel, button, and others. You can set triggers as per the use case with no coding efforts. 

FAQs:

The advanced feature helps to train your bot regularly by creating FAQs. It allows the bot to identify the user intent and have effective communication with the users. 

Human handover:

You can set a live chat takeover in case the user asks a complex query that the bot is not able to answer.  

Fallback option:

You can set the

fallback options

using triggers or surveys to have a seamless conversation if the bot is not able to respond. 

Sentiment Analysis

: Understand your

customer emotions

and respond more accurately to deliver higher customer satisfaction. It trains the bot to nullify such responses and focus on the business objectives.

Bulk Machine Learning (ML) Training:

Import your own data in bulk to train your chatbot and improve the overall accuracy.

Data Sanitization:

Convert your unstructured data into a structured one so that chatbots can deliver accurate responses. 

Bot Analytics:

The additional reports generated helps to understand the leads generated by bots and its time trend.
Grow Your Business With Enterprise Chatbots
Technology today is evolving at break-neck speeds, offering businesses multiple opportunities to market their brands and enhance the customer experience. An enterprise chatbot is one of the most prominent technologies among these advancements.
Enterprise bots are industry-agnostic and can be implemented across different verticals. Chatbots not only help you save costs but, at the same time, ensure a superior customer experience that helps set your business apart.
At REVE Chat we offer chatbot solutions that help to scale their operations and bring an unmatched ROI. Our chatbot solutions automate your customer support and lead generation processes and integrate seamlessly with your existing systems.