WHMCS is a well-known web hosting automation platform for business. It handles the whole customer life cycle ranging from signup to provisioning and offering support. Basically being a centralized platform, it helps the web hosting businesses to manage their overall operations in a much more efficient way.
Adding REVE Chat on your WHMCS page
Want to offer live chat assistance on your WHMCS page? Here is the good news for you. Now REVE Chat can be integrated with WHMCS in a few minutes. REVE Chat is a multi-channel cloud based live chat software that offers instant assistance on your website and helps to boost online sales conversions.
To add REVE Chat on your WHMCS page, first SIGN UP for its 14 days free trial.
The integration process
For WHMCS integration with REVE Chat, please follow the below mentioned steps:
To add live chat, download the REVE Chat module from WHMCS market place.  To download click on 'Get It Now'.

The zip file will be saved under the name 'revechat'. Extract the file and place the folder in the /modules/addons directory.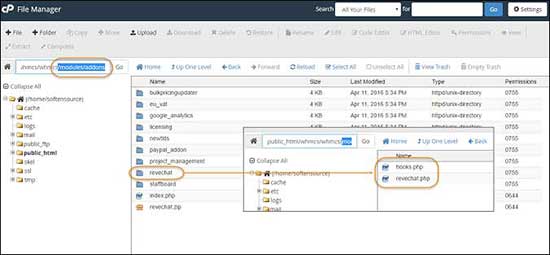 Next, login to your WHMCS admin panel. Go to 'Setup' and select 'Addon Modules' section from the drop down list.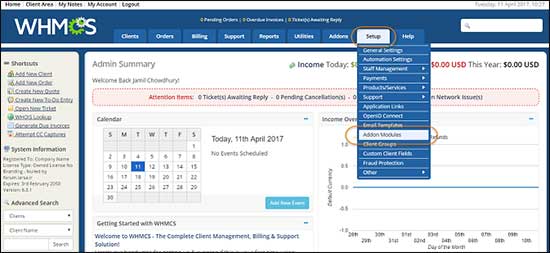 Find out REVE Chat on the list and click on the 'Activate' button.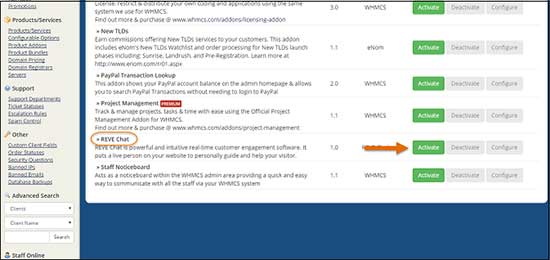 Once, it gets activated, click on the 'Configure' tab. Here you need to paste the 'Account ID' which you have got after signing up with REVE Chat.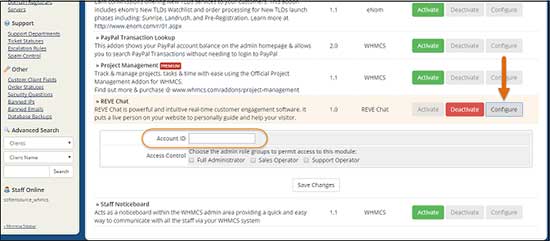 To get your Account ID login into your REVE Chat Dashboard. Go to Integrations> Website Chat Script and from there, you will get your Account ID.

Next, go back to the WHMCS admin panel and insert your 'Account ID'. Finally, click on 'Save Changes' to complete the integration process.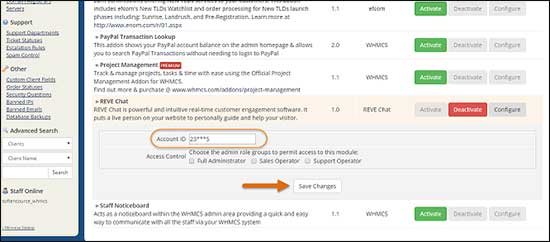 Once integrated successfully, REVE Chat banner will be visible on your website.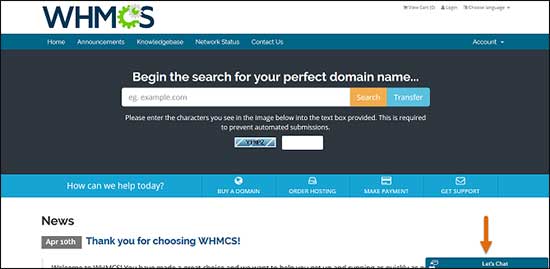 If you need any assistance regarding the WHMCS integration, please chat with us or mail at [email protected]