Co-browsing Solution
REVE Chat's co-browsing solution helps you to collaborate with your customers in real time on websites and mobile apps for the best experience. Cobrowse with your visitors and customers for your sales, support, marketing, or product onboarding.
The advanced co-browsing feature helps you to:
Reduce the number of touchpoints by providing effective solutions and improves first contact resolution.

Resolve queries faster by identifying the root cause of the problem and provide the right solution the first go.
How to enable co-browsing?
Step 1: In order to enable co-browsing solution, you have to log in to your dashboard, visit Customization -> Chat Window.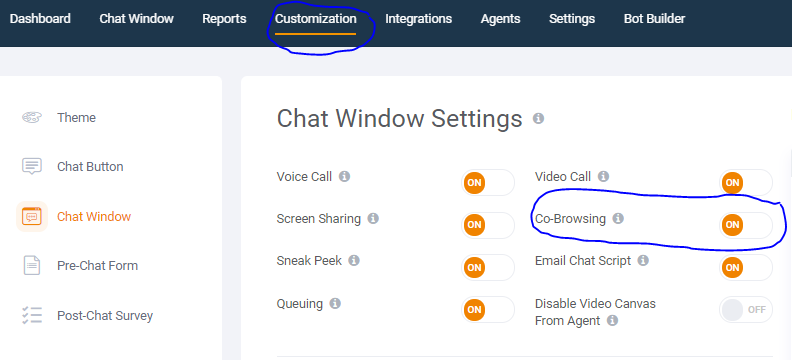 Step 2: Enable the Co-browsing option -> Save the changes by clicking the Save option at the bottom of the page.
How your customers can see the co-browsing option?
When your agent initiates co-browsing for assistance and the visitor accepts it, the icon appears on the top right side of the chat window.

The co-browsing solution with WebRTC, offers you specific benefits:
Highlighter

– Guide your customers in the right way by using the highlighting and drawing tools.

Point and Scroll

– Allows you to scroll the page up and down and show your cursor to the customers.  

Data masking

– Control the information you want to share with the agents and hide sensitive data like personal details.

Switch pages –

Navigate your customers seamlessly through your web pages by taking the control of swapping or shifting pages on their behalf.