Communication is one of the key determining aspects behind the success of any business. Analyzing the interests of your customers, you need to set up a communication strategy to keep your customers satisfied. Customers would want to communicate to you at different stages of their purchase journey like for pre-sale queries, help in using the product correctly, troubleshooting, etc. A live chat solution may be a great option to provide instant support to customers whenever they need help. In this article, we will explore a few scenarios where WordPress live chat solution will enhance your customer support.
How live chat solutions can enhance your customer support
Live chat solutions can enhance your customer support primarily due to the instant accessibility that it provides. Here we will explore some of the scenarios where it can be really valuable to your customer support efforts.
Provide faster support in real time
Your customers would absolutely love it if you are able to provide solutions for their concerns in real time. This is one of the most important priorities for many segments of customers in an eCommerce store. Compared to reactive channels like email, you can offer much quicker resolutions to a lot of concerns of customers through proactive live chat.
This is especially relevant if you are losing a lot of potential customers due to delays in resolving the issues. If you are able to respond to customer queries and resolve through live chat customers would retain with you. This way, a live chat window can help you improve customer experience and consequently associate them as loyal customers.
Moreover, your support agents will be more equipped too, to multitask and handle issues of multiple customers simultaneously.
Most of the popular WordPress live chat solution come equipped with advanced features that will make your live chat experience even better. For example, with REVE Chat, you will find features like 'department management' and 'intelligent routing' to optimize your customer support workflow. You can easily redirect customers to the right agent or department without any delays.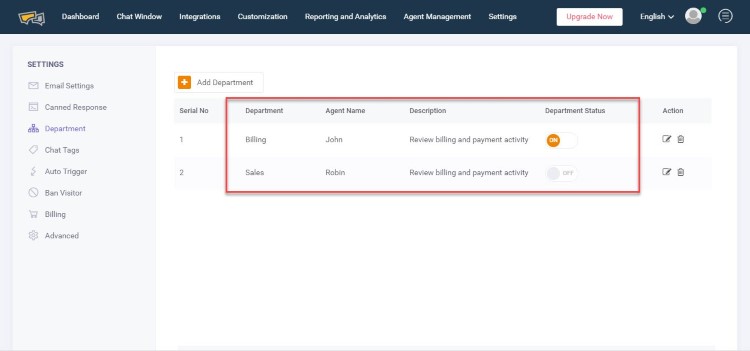 Proactive chat to help customers
One of the major advantages of a live chat is the convenience it offers to customers in resolving issues instantly. In fact, you can make it even better by proactively initiating chat at different stages of the sales funnel so that you can reduce the rate of customers dropping off from your site. You can go through your analytics reports to understand the pages on your site that has the most views. Similarly, you can also identify the pages where most customers drop out before the purchase. Proactively initiating a live chat window with custom greetings on these pages can improve your conversion rate.
This is particularly effective because a lot of customers would find chatting with a support agent more personal than relying on the static information available on a page. Customers tend to trust the brand more and go ahead with a purchase when they get assurance from a helpful agent regarding the product or service. Also, you are sending an indirect message that getting support is really easy on your site with the quick access through live chat window.
Most modern WordPress live chat solutions provide an option to initiate a conversation from the agent's side.

Integrate with your CRM tool for a more personalized interaction
When your agents interact with customers, it is more effective when they know details about the customer. These details include purchase history, lifetime value, previous interactions with customer support, etc. Your agent will be able to provide more personalized support to the customer in this scenario rather than simply using the first name as a routine behavior. For example, if you are using REVE Chat, you can find details of customer interactions over a period of time.
Another interesting feature you can find with popular live chat solutions would be the information on active visitors on your website at a particular point of time. There are several solutions that offer details like the IP address of the visitor, the page they are on currently, the operating system, the time they spend on your site, etc. These details can be useful for agents to initiate a conversation. You can also set up automated messages in cases where customers have spent more time than usual. With the help of WordPress live chat solution, you will be able to try out different strategies like this to improve your conversion rate.

Canned responses for faster resolution
Most often, customers approach the support team for certain simple issues. This can be regarding the installation of a product or getting started with a particular feature. Once your store and support team are a few months old, you will find certain repetitive patterns in your customer queries. Once you have identified a set of customer queries that are repeating quite often, you can create standard answers for them. Next time, when a customer repeats one of these questions, you can send them the previously designed answer.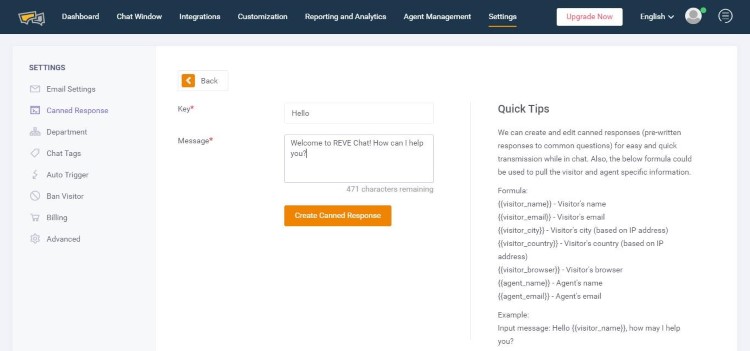 Most WordPress live chat solution these days provide templates for canned responses. You can easily insert these templates into the chat reply to a customer. The canned responses will provide a quick structure for the reply, and your agents can easily make modifications to it to suit the specific question they are answering. This will significantly improve the response time for common queries. As a result, your support team will be able to focus more on complex issues that require more time.
Detailed analytics
As you know, analytics reports are the guiding light for an eCommerce business. You will be able to get a bird's eye view of your customer support performance from the dashboard of a live chat solution. Most popular live chat solutions offer detailed metrics on visitor data, agent performance, resolution time, etc. It will give you a clear idea of areas you can improve. You will also be able to give feedback to your team regarding their performance over a period of time.
For example, with REVE Chat, you will find detailed information about your site visitors, including their demographics as well as past conversations. On the analytics dashboard, you can also view individual agent ratings, activities, performance, etc. Moreover, you can get customized reports to understand your customers and agents better.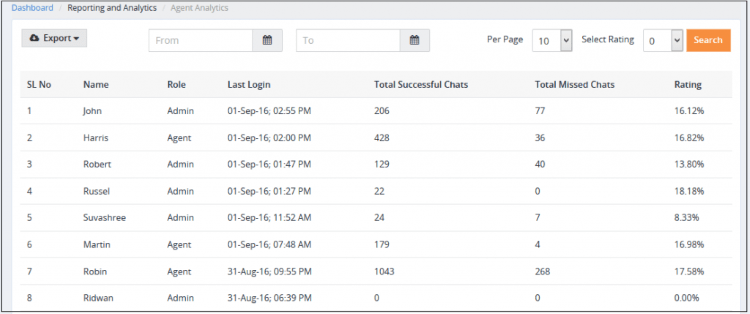 Offline communication
It may not be possible to be online on live chat all the time. So, you may have to figure out a way to deal with customer queries that come when there are no agents online. Also, it is important to communicate to your customers that you are offline during certain times. If a customer thinks you are online on live chat and expects a response, it can lead to negative consequences. So, you need to figure out a strategy to deal with offline queries when you are using a live chat solution.
For example, WSChat offers a pre-chat form, which helps users to contact you when no agents are online. You can capture details like the user's name, email and a subject line through this form, and reply to them via email during a convenient time. It also allows you to display your online status clearly.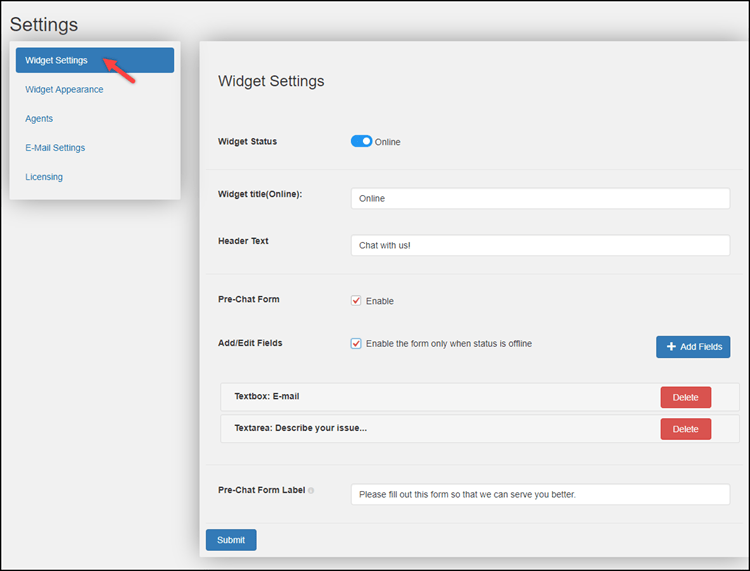 REVE Chat, on the other hand, provides 'missed chat reports', which provide details on the chats that your agents missed. This can be useful even in scenarios where an agent failed to respond to certain chat requests. The missed chat reports will have visitor's names, email, pin number, and location. In addition, the date and time when the chat was missed, and the name of the agent who missed the chat also will be there. It can really help you ensure that you are not missing out on any customer query and reduce the negative impact of a failed response.
Integrating live chat with your WordPress site
Live chat solutions are generally SaaS-based, which means you need to have a subscription to use it. However, if you want to use it integrated with your WordPress site, make sure integration is available. For example, REVE chat offers a WordPress plugin to help you integrate live chat with your WordPress site. You can install the plugin on your site and then sign in to your REVE Chat account to get it integrated with your site.
On the other hand, if you are using an on-premises solution like WSChat, you don't have to pay subscription charges. You can simply install the plugin and set up the live chat software on your site.
Both options have their own advantages and disadvantages. You can always check out the most popular WordPress resources for live chat and select the most suitable one for your site.
Tips to make your live chat more effective
As you have seen, there are several aspects related to a live chat solution that can help you enhance your customer support. So, naturally, you would want to set up a live chat option if you have an eCommerce store. However, it is best to consider the following points too if you are setting up a live chat system in your store.
Make the live chat window easily accessible to customers.
Set up a typing indicator to show users that an agent is already preparing a response.
Save chat transcripts and send them to customers after a chat.
Build and integrate a knowledge base for customers to avail self service.
I hope you got an overview of WordPress live chat solutions and how they can improve the customer support process in your eCommerce store. Leave us a comment if you have a query.